Best Home Theater Projectors of 2019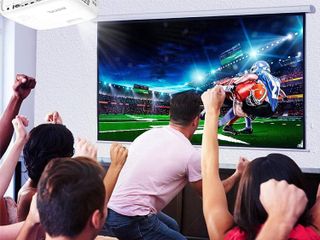 (Image credit: BenQ)
Having a home theater is the dream of almost all movie buffs and not a small number of sports fans. Being able to watch your favorite movies or the big game on a massive screen, with all your friends is an exciting prospect. It can be daunting picking your first projector, so we have a list of the top models in their categories.
Best Overall: Optoma HD243X (2019)
Optoma HD243X (2019)
Best bang for your buck
Reasons to buy
+
True HD 1080p
+
12,000-hour lamp life
+
Two HDMI ports
+
A powered USB port for Chromecast
Reasons to avoid
-
Some over splash is noticeable
-
Lamps aren't cheap to replace
When looking for an overall best projector, you need to look at a lot of different factors like price, the life of the bulb, and connectivity options. The Optoma HD243X — not the catchiest name — is an almost perfect blend of those features. Most importantly, the Optoma is a true HD projector with a native 1080p resolution. Often these projectors say HD, but it is upscaled and not very good. The Optoma looks crisp and clear when playing games and videos because of this native resolution.
The connectivity options are great with the Optoma too. If you are looking for a projector to replace your TV, you need it to have enough HDMI ports to support your cable/streaming stick and a game console, at the very least. The Optoma has two HDMI ports, as well as a powered USB that allows you to use a Chromecast to use your favorite streaming services.
While some people do report some "over splash" — that's when the image isn't crisp on along the edges — the effect is minimal, and the 3,300-lumen bulb does an excellent job at projecting a bright and clear image, even in a well-lit room. The lamp also has around 12,000 hours of life — that's eight years at four hours a day — before it needs replacing, which is extremely helpful when the bulbs can be a little expensive to replace.
Best Value: WiMiUS P21
WiMiUS P21
Cheap but solid
Reasons to buy
+
6,000-lumen brightness
+
Extremely cheap
+
Lifetime warranty
Reasons to avoid
-
The color saturation can be shallow
If you are looking to get into home theater projection on a budget, then the WIMiUS P21 is a fantastic choice. The low price, coupled with the native 1080p support and two HDMI ports, makes this an excellent starter projector. Although the color saturation can seem a little weak, at 6,000 lumens brightness, the picture is always bright enough to enjoy the 1080p crispness.
The WiMiUS also has a lifetime warranty on its lamps, which is suitable for 100,000 hours — or 11 years of continuous watching — much longer than standard bulbs. The projector also has a massive 300-inch potential size, though you would need to have no ambient light to project that big, that's a fantastic experience when you have all your friends around you.
Best for portability: Anker Nebula
Anker Nebula
Projection on the go
Reasons to buy
+
The size of a soda can
+
4-hour battery life
+
Android built-in
When it comes to portability, you can't beat the Anker Nebula. You could easily confuse this tiny projector as a Bluetooth speaker, and in fact, the Nebula can be used as one, but it also packs a projection unit capable of producing a 100-inch screen. Now, we wouldn't recommend using at 100-inch unless it was very dark, but for a night camping where you might project a 65-inch screen on your tent, the nebula is perfect.
The battery is said to last four hours while watching a video and up to 30 hours if you only listen to music. Four hours is enough to get through most movies — unless you are viewing the Lord of the Rings extended edition — and would let you watch several episodes of your favorite shows. The Nebula runs on Android, so you can stream all your favorite shows from Amazon Prime, Netflix, or Hulu so you'll never miss another Grand Tour again.
Best for affordable 4K: BenQ TK800M (2019)
BenQ TK800M (2019)
Beautiful inside and out
Reasons to buy
+
Beautiful design
+
HDR 4K resolution
+
High brightness and contrast
Sometimes you want to break away from the bland white or black boxes that represent the regular projectors. This 4K HDR unit from BenQ is a much more beautiful design than you usually see and packs a lot of projector in its sleek body. You get 4K HDR visuals that are stunning to look at, and a brightness level that makes it usable in most conditions. It even has an indoor and outdoor mode to help you get the most light possible.
The only downfall to this machine is the noise. It can be pretty loud, but if you are making a full home theater, your speaker should easily drown it out. Having to turn the volume up is a small price to pay for picture quality this good, however, so don't the noise put you off.
Best short throw laser projector : VAVA 4K UHD
VAVA 4K UHD
High fidelity sound
Reasons to buy
+
Built-in Harman Kardon speakers
+
100" screen at only 7.5" away
+
4K UHD quality
Reasons to avoid
-
It's very pricey
-
The Android interface is not very pretty
Short throw laser projection is the best way to create a home theater, but it's pricey. There is no way to get this much technology at a low price, but if you are willing to spend the money, this projector from Vava is a fantastic buy. The quality is unmatched at 4K HDR, and because it is a short-throw projector, you can get a respectable 100-inch screen by placing the projector just 7.5 inches away.
The only real complaint here is the interface. It isn't the most beautiful or the most intuitive, but that shouldn't stop you from picking one up. If the image quality isn't enough to sway you — and it should be — then maybe the built-in Harmon Kardon soundbar will be. No need to buy separate speakers with this impressive-sounding system.
Bottom line
There is a lot of projectors to choose from out there, and some are so cheap it feels too good to be true. The Optoma HD243X (2019) (opens in new tab) is that perfect balance between cost and great visuals. Using it for games is a lot of fun, and the color and brightness make watching the latest movies a real treat, especially outside at night.
If you have money to burn, though, you would be hard pushed to find a better machine than the Vava short throw projector. (opens in new tab) The 4K HDR visuals are mind-blowing, and the sound is just as good. Of course, if you need a projector on the go, the Anker Nebula (opens in new tab) amazes me every time I think of a projector this good that's so small. It's worth picking one up if you do a lot of camping.
Credits — The team that worked on this guide
Credits
James Bricknell James enjoys playing video games on his home projector as well as watching movies with the kids on the lawn. He even has little wooden cars to sit in, so it's a drive-in.
Since the days of the HTC Hero James has had two or three Android phones stuffed into pockets. James is always on hand to offer advice on phones, apps and most recently, PlayStation, especially VR, It's now something of an obsession. Find him @keridel wherever Media Socials itself.
Android Central Newsletter
Get the best of Android Central in in your inbox, every day!
Thank you for signing up to Android Central. You will receive a verification email shortly.
There was a problem. Please refresh the page and try again.