Google Pixel Tablet: Everything we know so far
It'll be a portable Google Home hub powered by Tensor G2 when it launches next year.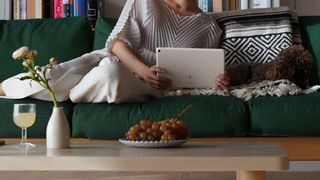 (Image credit: Google)
Google is pushing to create a complete Pixel ecosystem, with software communicating between the Pixel phones, Pixel Watch, Chromebooks, and the upcoming Pixel Tablet. When it launches next year, it'll complete the new Pixel family as the "perfect companion" to your Pixel phone, Google says. But we still have plenty of questions about the device.
Announced at Google I/O and further revealed at the Made by Google event in October, the Google Pixel Tablet will ship with a Charging Speaker Dock that converts the Pixel Tablet into a Google Assistant smart display, like a portable Nest Hub. And outside of its smart home uses, the Pixel Tablet will use its Tensor G2 chip to enable machine learning tools.
Based on everything Google has revealed, as well as leaks concerning the tablet, here's everything we know about the Google Pixel Tablet.
Release date and pricing
Google has yet to confirm when exactly the Pixel Tablet will launch, nor how much it'll cost, except to say that it'll arrive sometime in 2023. It might not officially launch it until Google I/O 2023 in May, but given Google already teased its launch during its October event, it's possible that it could arrive even sooner. And we have reason to hope it'll arrive sooner rather than later.
As for pricing, Google hasn't released a tablet since the Pixel Slate, which cost anywhere from $599 to $999 or more depending on which configuration you chose. The inclusion of the Charging Speaker Dock will affect the price; and 9to5Google (opens in new tab) found code references to a possible Pixel Tablet Pro that would likely cost significantly more than the base model.
Given its 11-inch size, rather basic-looking design, and economical Tensor G2 chip, we think it could easily be priced as a mid-range device, cheaper than the 11-inch Galaxy Tab S8 that launched at $700 or the $600 iPad Air M1. But this is mere speculation, based on the fact that most Pixel phones cost hundreds less than comparable devices.
Google Pixel Tablet design
Ignoring the dock, the Google Pixel Tablet design is rather generic. The bezels, which will come in white or black depending on which color finish you choose, are noticeable but not overly thick for a mid-range tablet.
On its back, it has rounded edges and a matte finish, which Google described as "premium nanoceramic finish." It doesn't look particularly stylish in photos, but will probably feel more comfortable to grip and attract fewer fingerprints than a typical metallic-backed device — though it might also be proportionally heavier than other 11-inch tablets.
Although none of the Pixel Tablet promo images have shown it, leakers have suggested it will ship with a USI 2.0-certified stylus, the same standard supported on most of the best Chromebooks. And Google did mention encouraging app developers to add stylus support in its Made by Google presentation, which would track with Google bundling a stylus with its new tablet.
The Pixel Tablet comes with a Charging Speaker Dock that speaks for itself. The tablet magnetically attaches to the dock whenever you want to charge it, and Google says it "took special care" to make sure it both docks securely but unattaches easily. The dock has built-in rear-facing speakers for enhancing the tablet's audio.
Otherwise, it essentially turns the Pixel Tablet into a Nest Hub, with all the same perks like always-listening Google Assistant and Google Home controls. Except that it's subjectively much more attractive than the Nest Hub, and has the obvious perk of being portable.
Google Pixel Tablet specs
Google has yet to reveal a lot of the Pixel Tablet's specs. We don't know the exact dimensions or weight, battery size, display resolution or refresh rate, number of speakers and mics, memory, camera specs, and authentication methods. So there's plenty still to learn.
As for what we do know, it will use the Google Tensor G2 chip, which sports two Cortex X1 cores (2.85GHz), two Cortex A78 cores (2.35GHz), and four Cortex A55 cores (1.80GHz) — the same as the Google Pixel 7 released at the end of 2022. Google says that the chip has "all your favorite Pixel phone features" that use "advanced image processing and machine learning."
A 91Mobiles leak revealed the Pixel Tablet's possible storage options: 128GB and 256GB. That's fairly standard, but the lack of 512GB or 1TB options (allegedly) makes us hope that it will have a microSD card slot for expanded storage. That same leak also confirmed it would support Wi-Fi 6, though this could mean a lack of Wi-Fi 6E support.
Next device is the Pixel Tablet - T6:According to the code, it has two sensors, both of them IMX355 - the same 8MP sensor as the selfie cam on regular Pixel 6. It's probably used as a good cost saving measure.July 25, 2022
The only other leaked Pixel Tablet specs we've heard about is that its front and rear cameras may both use 8MP sensors, according to leaker Kuba Wojciechowski. Specifically, he says that it will use the same IMX355 sensor as the Pixel 6's front-facing cam, which combined with the Tensor G2 could probably take some decent selfies.
Google Pixel Tablet software
We know that the Google Pixel Tablet will launch with Android 13, which has all of the upgrades for larger tablet and foldable screens added during the Android 12L release. Using the Material You skin, the tablet will have a quintessential Pixel look that fans of the phones will appreciate.
Since recent Pixel devices have all received three OS updates and five years of security updates, we can assume the Pixel Tablet will eventually jump to Android 16 and receive software support through 2028.
Google also said during its recent briefing that it had partnered with developers to make sure their apps take advantage of the new Android tools for large screens. So we can hope that most popular Android apps won't just look like blown up mobile apps as they have in the past.
Through its Google Home UI, you'll be able to control your compatible Google Home devices like your smart lights, Nest cams and thermostats, and smart locks. You'll either be able to access quick controls on the device or use hands-free Google Assistant for commands.
Google Pixel Tablet wishlist
As you can tell from the information above, Google may have revealed the essence of the Pixel Tablet but has plenty of crucial details left to explain. Because of that, our Tablets Editor Andrew Myrick has compiled a list of everything he hopes Google will add to its Tablet to help it succeed against the best Android tablets.
A desktop interface
I won't sit here and bemoan the fact that the interface on Android tablets is abysmal. Along with announcing Android 13 Beta 2, Google also took this time to share that it would be updating various applications to take better advantage of the screen real estate offered by large-screened devices. Really, all Google has to do is to look within and then ask Samsung for some help on the implementation. A desktop-like mode would do wonders for those of us who want a great Android tablet for the sake of portability, while still being able to get work done.
AOSP has had this functionality for years, in some capacity, as you used to be able to plug your Android phone into a display of some sort and could interact with windowed apps. But the functionality has either been abandoned or buried, as this isn't what you'll find when plugging in the best Android phones that aren't named Samsung. It's the same story on the tablet front, but Samsung DeX on the Galaxy Tab S8 lineup is an absolute dream. You have access to the best Android apps, without being limited to only using two or three apps in a forced split-screen mode.
Competitive pricing
Some of us wouldn't mind Google taking another shot at the premium tablet market, similar to what was attempted with the Pixel Slate and Pixel C. Despite the fact that there is only a handful of official renders available, it's pretty apparent that Google won't be releasing an iPad Pro or Galaxy Tab S8 Ultra competitor. Google has to play a bit of a balancing act here, as it doesn't want to instantly cannibalize another piece of hardware, but it needs to have enough features and power to keep up.
Little is known, even through leaks, about the Pixel Tablet at this point, but it definitely looks like we might be looking at a Pixel 6a-type situation. Google Tensor chip, accompanied by solid specs, all housed in a plastic and glass shell. If we had to guess, pricing would likely start around $500, and that's exactly where Google should keep it. Really, we would love to see a re-incarnation of the beloved Nexus 7, but if the Pixel Fold actually comes to fruition, Google likely wouldn't want to have two separate devices so close together in size.
Commitment
This one goes back to the section above in regards to the software. It's great that Google is updating its most-used apps to look and work better on tablets (and foldable phones). However, for years, Google just ignored the tablet platform on the whole and only now is the company refocusing its efforts. There was a time when Google actually cared about tablets, but seemingly lost confidence following the unsuccessful release of the Pixel Slate and the Pixel C before that.
Releasing a new Android tablet is only one piece of the puzzle, and updating its apps is another piece. But if Google is really serious about tablets and getting app developers on board with the upcoming changes in Android 13, it needs to stick to it.
This whole initiative to improve the experience can't just be forgotten if Google's tablet doesn't sell as well as it hopes or plans. Of course, we can't really get too much of an idea as to what the Pixel Tablet will offer, and we still have quite a while to go until we can get our hands on it. But we're keeping our fingers crossed that the announcement was just the catalyst for a "new" vision for Google.
Better keyboard cases
This one is a bit of a personal gripe, as keyboard cases for most existing tablets are just not good. Samsung's Galaxy Tab S8 Ultra Book Cover Keyboard has all of the functionality you could want, but is far too overpriced for something that you can't actually use comfortably on your lap. The keyboard available with Lenovo's P12 Pro and Chromebook Duet 5 is better. Still, the connector flap is also a bit too flimsy for our liking, and lacks powerful magnets to keep the keyboard attached even if you shift around on the couch.
It's unlikely that Google would just rip off the Magic Keyboard that Apple released for its iPad Air and iPad Pro, but that's closer to what we would like to see. Something that's portable, sturdy, and makes it easy to attach or detach the Pixel Tablet from the keyboard. Or maybe, just maybe, Google could partner with Brydge to make its keyboard case for the Pixel Tablet instead of some off-the-wall solution that is released. Whatever Google does, we're just hoping that it's better than what's already available.
An included stylus
There have been a few leaks and rumors rolling around in regards to the Pixel Tablet, with the latest suggesting that Google is implementing USI stylus support. This comes as a little bit of a surprise, but it might point to Google aiming to push the USI stylus market to grow even further than it already has. Among our favorite Chromebooks, brands like Penoval, Lenovo, and HP have all adopted the USI standard. By following suit, Google could create a one-size-fits-all stylus that could be used with your favorite Chromebook, along with your Pixel Tablet.
We're also really hoping that Google includes this in the box, as opposed to forcing you to pay for something else after-the-fact. Samsung gets a lot of brownie points for continuing to bundle its S Pen with its tablets, even as the company decided to ditch the included charging brick. It's safe to say that the inclusion of a stylus, USI or not, would likely help bolster interest in the Pixel Tablet overall.
Something unique
Stock Android is clean and fast to receive updates, but also arguably lacks the draw of other operating systems. Plus, people looking at the Google Pixel Tablet may already have a Nest Hub (2nd Gen), Nest Hub Max, or another smart display that fulfills their smart home needs. The combination tablet/smart display idea is compelling, but we need to know more than that.
Does the addition of Tensor G2 give you faster responses to your commands? Since it's more of a home device than a Pixel phone with Google Assistant, will Google double down on more fun at-home functionality for when it is in docked mode? Basically, we just hope Google has more up its sleeve to make the Pixel Tablet more attractive for people that have bought iPads, Kindle Fires, or Galaxy Tabs for years.
Conclusion
No matter how you look at the Pixel Tablet, it's really an exciting time for the Google ecosystem on the whole. A hybrid Nest Hub / Tablet sounds truly intriguing, but we're just excited to see that Google is starting to care more about tablets and foldable phones again.
Of course, it all comes down to execution, but things are lining up for Google to enjoy a big year in 2023. Now, we just have to find something else to keep ourselves occupied until the Pixel Tablet finally makes its entrance into the ecosystem.
Senior Editor, VR/AR and fitness
Michael spent years freelancing on every tech topic under the sun before settling down on the real exciting stuff: virtual reality, fitness wearables, gaming, and how tech intersects with our world. He's a semi-reformed Apple-to-Android user who loves running, D&D, and Star Wars. Find him on Twitter at @Michael_L_Hicks.