For the most part, Google didn't try and reinvent the wheel with the Pixel Tablet. As an Android tablet, it's pretty much the perfect tablet for almost everything. But it really flexes its muscles when attached to the included Charging Speaker Dock, transforming it into a supercharged smart home display. There are a few quirks here and there, but honestly, it's nothing that's earth-shattering.
Pros
+

Pixel experience comes back to tablets

+

Includes Charging Speaker Dock

+

USI 2.0 support

+

Could be a look at the future of Google's Nest products

+

Design is reminiscent of the Pixel 5
Cons
-

Not ideal for serious gaming

-

No first-party stylus or keyboard options

-

Removing the tablet off of the dock takes a bit of practice
Why you can trust Android Central Our expert reviewers spend hours testing and comparing products and services so you can choose the best for you. Find out more about how we test.
I've used my fair share of tablets over the years. Predominantly, my time has been spent with an iPad Pro of some sort, but I do enjoy a good Android tablet whenever one is actually released. Like many of us Android nerds, we've been longing for Google to get back into the tablet game, and our prayers were finally answered with the Pixel Tablet.
I've been longing for a Google tablet that can capture my interest in the same way that the Nexus 7 did. And after a couple of weeks with the Pixel Tablet, Google is definitely onto something here.
Google Pixel Tablet: Price and availability
The Google Pixel Tablet was first introduced at Google I/O 2022, before making it was officially released in June 2023. There are three different colors available, as Google is offering it in Porcelain, Hazel, or Rose, complete with matching a Charging Speaker Dock in the box. Pricing starts at $499 for the 128GB model and goes up to $599 for the version with 256GB of storage.
Google Pixel Tablet: Brand new, yet familiar design
The first thing that I noticed when I took the Pixel Tablet out of the box is the feel of the back cover. It reminds me of the finish found on older Pixel phones like the Pixel 4 XL and Pixel 5. It's soft to the touch, yet comfortable to hold and there aren't any worries about fingerprints turning this into a smudgy mess, at least on the back.
This isn't the same sentiment when it comes to the display, thanks to the glossy finish, which will likely show fingerprints as soon as you unwrap it. But something else I noticed is that Google didn't want to go down the same path as the Galaxy Tab S8 or iPad Air here. Instead, the bezels are large enough so you don't have to worry about accidentally touching the screen. It's likely the same approach Google made with the bezels on the Pixel Fold, and it's actually been a bit refreshing.
Admittedly, the larger bezels do make the Pixel Tablet look like a device that was released a few years ago. Well really, the Pixel Tablet looks like the Nest Hub with a better screen, but more on that in a bit.
That being said, I'm also a big fan of both the selfie camera and fingerprint scanner being placed in the correct positions. It seems that every other company, besides Apple, has learned that the camera should be orientated for landscape use, not at the top of the screen. And the fingerprint scanner, even with a case on, is still accessible and has been more reliable than the in-display one in my Pixel 7 Pro.
Google Pixel Tablet: Performance is what you'd expect
I won't bore you with benchmarking scores and a spec breakdown because basically, the Pixel Tablet is a Pixel 7 wrapped in a larger screen. Google's getting the most out of the Tensor G2 chip, which debuted along with the Pixel 7 and is now powering a total of five devices in Google's lineup (including the Pixel Fold.)
What that means is that it'll handle pretty much all of the best Android games, while the 8GB of RAM is enough to take advantage of the changes to multitasking in Android 13. In fact, I'm sitting here writing this review with the Pixel Tablet propped up on my desk connected to a Bluetooth mouse and keyboard.
The new taskbar is similar to what you'll find on the Galaxy Z Fold 4 and other large-screen devices. With just a swipe up from the bottom, the taskbar appears, revealing your most recently-used apps, along with an app drawer button. Touch and hold on an app icon and you're able to drag it into split-screen mode, but it's not all sunshine and roses.
For example, you can't have more than two apps open at a time when working on a split-screen. And this decision honestly has me scratching my head a bit. I haven't even been able to get a third app to open as a floating window, which is pretty disappointing if I'm being honest.
Then again, Google isn't positioning the Pixel Tablet as a productivity device, at least not yet. The software changes for Android tablets are more than welcome, especially on a large-screen device from Google. And you can still adjust the size of the app windows by dragging the line in the middle of the screen left or right.
If there was one thing that surprised me about the Pixel Tablet announcement, besides the obvious stuff, is the included support for USI 2.0. This means you can use the same USI pen from your Chromebook with your Pixel Tablet. My go-to USI pen has been the Penoval USI 2.0 stylus, and it's worked pretty darn well, whether I'm trying to find a song to play or jot down some quick notes. You can even install the Google Canvas web app, along with any of the other best note-taking apps for Android, and don't have to worry about dealing with a pairing process just to use a stylus.
Keeping with the stylus for a moment, I'm not someone who takes a bunch of hand-written notes on tablets or foldable phones, but there are times when being able to do so just comes in handy. But I can't help but feel like there's just a little bit too much lag between what I write on the screen and when it actually shows up.
At first, I thought maybe something was up with the Penoval pen I was using, but it also happened with my other USI pens. Perhaps there's a setting in Developer Options that will let me tweak things, but I also wouldn't be surprised if improvements are made with future software updates.
Google Pixel Tablet: My new smart home hub
I have more smart displays and speakers in my house than I can count, but none of them are being actively used in my office. Until I/O 2023, there was a Nest Hub on a shelf, accompanied by a Nest Hub Max in the kitchen and another Nest Hub in my living room. But even before I was offered to write this review, I knew that I would end up with a Pixel Tablet.
And instead of throwing it in a corner of the room, I've placed it on my desk, just to the right of my monitors. Google keeps trying to tell everyone that the Pixel Tablet is not a Nest Hub replacement, but after spending some time with it, I'm still of the mindset that Google's just playing coy.
When docked, the Pixel Tablet's Hub Mode can be customized with many of the same options that you'll find on the Nest Hub Max. But the biggest benefit is the redesigned Google Home app which continues to come in handy when I want to turn on the lights or check my cameras.
As for the speaker itself, it's quite a bit louder than I expected, despite the difference in speakers compared to the Nest Hub Max. But what has come in really handy is the built-in Chromecast, as I have a tendency of starting videos when I take out my dog and want to continue watching them when I come inside. As you can see in the pictures, there is no shortage of screens in my office, but casting from my phone to the Pixel Tablet is much faster compared to anything else.
Instead of trying to find reasons to use the Pixel Tablet, it's just become second nature to rely on it for things like music playback or video watching when I want something off to the side. Google really nailed it here, and while you won't enjoy the best audio quality, it's still quite a bit better than what I was expecting.
Google Pixel Tablet: There are trade-offs, for now at least
As much as I want to sit here and tell everyone to go buy the Pixel Tablet right now, I can't exactly do that. It's not the "end-all-be-all" device, let alone the best Android tablet out there. Google did have to make a few compromises, some of which have shown up in my time with it so far, while others might just be a non-factor.
My biggest disappointment, so far at least, shouldn't come as too much of a surprise, but I really wanted Google to release a first-party stylus and keyboard cover for the Pixel Tablet. As someone who likes being able to work from pretty much anywhere, at any time, I don't always want to throw in a Bluetooth keyboard just to get some work done on my tablet. There are some rumors that this could be rectified in the coming months, but I'm of the mindset of "I'll believe it when I see it."
That's not to say that Google's first-party Pixel Tablet case is bad, as the built-in adjustable kickstand has been quite nice to use. Plus, it still works with the Charging Speaker Dock, so I don't need to worry about taking off the case whenever I want to throw my tablet on the dock. And as I mentioned earlier, the case doesn't get in the way of my trying to unlock the tablet with my fingerprint, which is a nice touch.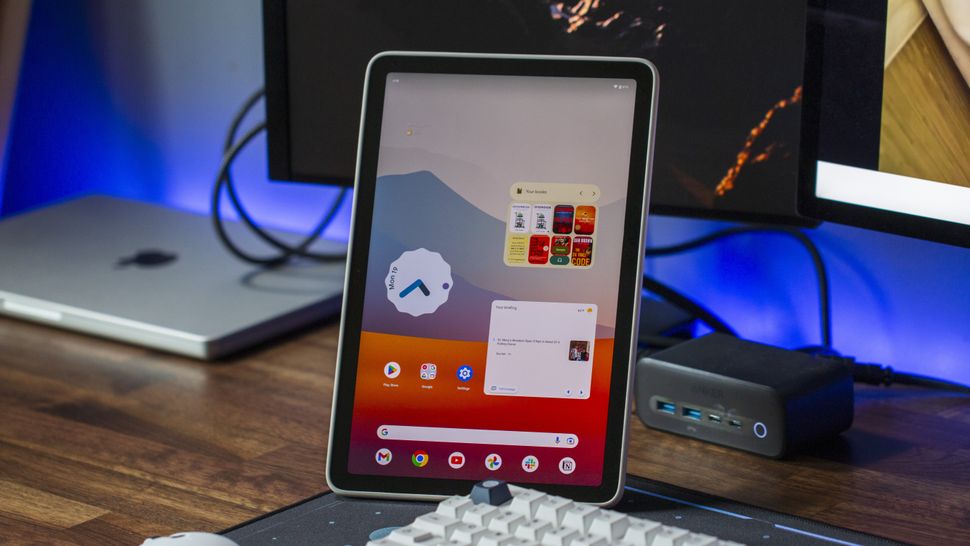 Instead, my biggest problem with the case is that I feel like I'm either destined to live with scratches, or I'll need to buy a screen protector if I ever want to take the tablet with me. The case does have a bit of a lip around the edges, which will definitely help if I place the tablet screen down. But that will do practically nothing if I throw the Pixel Tablet in my bag and then accidentally put something else in the same sleeve.
Another disappointment that I've had, was one that I didn't expect, and that's the Charging Speaker Dock becoming a large paperweight whenever the tablet is detached. After this was revealed by Google, I really didn't think it would both me all that much, and honestly, it hasn't. But there have been times when I was listening to music, then wanted to pick up the tablet to look at something, only to have the music switch.
Google Pixel Tablet: The competition
As is the case with most tablets, the most obvious competition to the Pixel Tablet is an iPad, and in this case, it's the iPad (10th Generation). This is priced at $50 less than the Pixel Tablet but adopts the modern design found with almost every other option in Apple's lineup. But for $449, you'll only get the iPad and charging cable in the box and will need to spring for any other accessories that you might want.
In his hands-on, my colleague Michael Hicks noted that the Lenovo Tab P11 Pro Gen 2 is also a formidable competitor. However, Google gains an edge in the software update department, while Lenovo's tablet "costs slightly less with a better display."
Lastly, is a surprising entrant into the list of best Android tablets, and that's the recently-released Amazon Fire Max 11. For $380, you can get the tablet, keyboard, and stylus, along with 128GB of expandable storage. But while I'm a big fan of what Amazon has done here, you still won't have access to the Play Store unless you're okay with sideloading. But a $120 price difference might just be too much to pass up.
Google Pixel Tablet: Should you buy it?
You should buy this if:
You want an Android tablet with Google's Pixel software interface.
You want an Android tablet that doubles as a smart home hub.
You want software updates as soon as Google makes them available.
You want a solid overall tablet and are okay with a few compromises.
You shouldn't buy this if:
You're looking for a productivity-focused tablet.
You're on a budget.
While I've come around to One UI and am okay with software interfaces from other OEMs, there's just something about Pixel UI that brings me back. It's part of the reason why I wanted to see a Google Play Edition of the Galaxy Z Fold 3 or 4 until Google announced the Pixel Fold.
The Pixel Tablet is not the best at any one thing but still manages to stand out from the pack with Material You and the Charging Speaker Dock. I'm still holding out hope that Google will release a keyboard case and its own USI stylus, but there are some pretty great options already available.
It's also not often that I actually want to pick up and use a tablet while sitting on the couch, as opposed to just using my phone. To answer the question of what is "the one" from the title, the Pixel Tablet is the master of doing everything you want. Including things, you wouldn't have expected.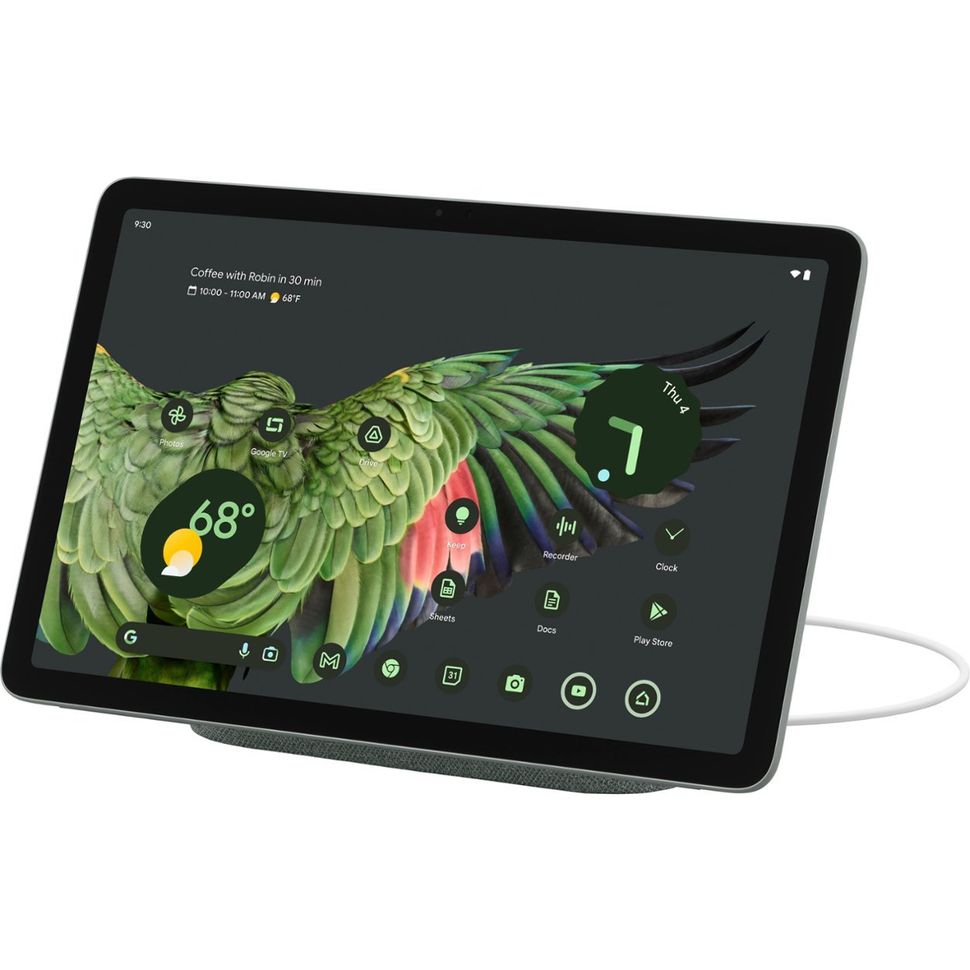 Absolutely nailed it
Google recognized the desire for a new Android tablet and delivered in a way that only Google can with the Pixel Tablet.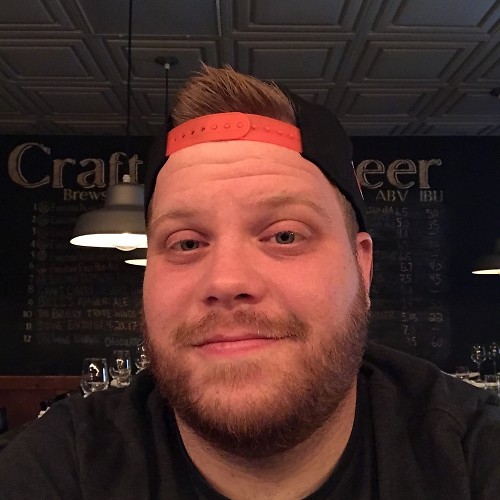 Senior Editor - Chromebooks, tablets, and wearables
Andrew Myrick is a Senior Editor at Android Central. He enjoys everything to do with technology, including tablets, smartphones, and everything in between. Perhaps his favorite past-time is collecting different headphones, even if they all end up in the same drawer.
Sad. Not having a keyboard is a deal-breaker for me, so I am planning to get a Galaxy during Prime Day. I really would rather get the Pixel , if only.

Reply