Since 2016, when the original Pixel debuted, it has felt like Google just needed one more year, and then another, to make the brand a household name — to be broadly considered a success.
And judging by the Pixel's outsized influence in the Android smartphone market relative to its reported sales numbers, I'd say Google can celebrate that success. Its phones are synonymous with great cameras, with innovative and useful software features, and with playful if divisive approaches to smartphone design.
But influence doesn't sell phones, and Google's Sisyphean journey to bring its own Android experience to more people just hasn't really worked. At the high-end, Pixel phones could never compete with Samsung, LG, Huawei, and OnePlus (among others) on sheer brute-force specs; and on the value side, Pixels cost too much to attract the value-conscious buyers of Motorola and Nokia products. As the classic Stealers Wheel song goes, they were stuck in the middle with you.
In 2019, though, Google seemingly found its footing with the Pixel 3a, a $399 handset that refactored how the company builds phones. Its success, and the Pixel 4 series' subsequent failure, made it clear what needed to happen: as nearly every smartphone maker went higher and higher, exploring new materials, form factors, and technologies, Google wasn't going anywhere.
In 2020, still a year away from the ambitious Pixel 6 series, the middle was exactly where Google wanted to be.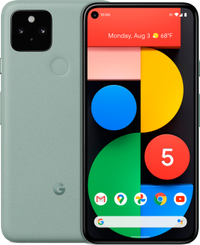 (opens in new tab)
Bottom line: Google didn't shoot for the moon, but it landed among the stars anyway. The Pixel 5 is one of the best and most accessible phones of 2020, offering most people everything they want and nothing they don't.
Google Pixel 5: Price and availability
If you're able to find it on sale, the Pixel 5 usually costs around $500 USD and is available in two colors, Sorta Sage (green) and Just Black, and in one size configuration — there is no Pixel 5 XL, unless you count the cheaper Pixel 4a 5G (you shouldn't). It's also limited to a single storage size, 128GB, with no option for expansion through microSD.
The Pixel 5 launched in nine countries: Australia, France, Germany, Ireland, Japan, Taiwan, the United Kingdom, the U.S., and Canada. Regional availability varies — for instance, brand new Pixel 5s are easier to come across in Europe than North America. In the U.S., for instance, Google has already sold through
This review was written primarily using a Canadian unlocked Sorta Sage Pixel 5 connected to 5G on Telus, a national carrier. It was connected to Wi-Fi most of the time and a mix of LTE and 5G when out of the house.
As of October 2021, just weeks away from the likely launch date of the Pixel 6, the Pixel 5 is available at discounted prices at some retailers, as opposed to the $700 launch price. However, owing to the current global chip shortage new Pixel, new Pixel 5 models are difficult to come by.
Google Pixel 5: Design and performance
Swipe to scroll horizontally
Category
Google Pixel 5
Display
6-inch OLED
Full HD+ (2340x1080)
90Hz refresh rate
Gorilla Glass 6
Operating System
Android 11 (upgradeable to Android 12)
Processor
Qualcomm Snapdragon 765G
Rear Camera 1
12.2MP primary camera
f/1.7 aperture
OIS
Rear Camera 2
16MP ultra-wide camera
f/2.2 aperture
Memory
8GB of RAM
Storage
128GB
Battery
4,080 mAh
Charging
18W wired charging
15W wireless charging
5W reverse wireless charging
Security
Fingerprint sensor
Connectivity
Sub-6 5G (worldwide)
Sub-6, mmWave 5G (US)
Wi-Fi 5
Colors
Sorta Sage, Just Black
Dimensions
144.7 x 70.4 x 8mm
Weight
151 grams
The Pixel 5 is made of aluminum, which I feel like I haven't said about a phone in a very long time (I miss you, HTC). But this aluminum frame is unlike anything I've held before: the back and sides are painted over with a porous, slightly coarse material, which has thankfully so far been resistant to scratches and fingerprints.
Holding the Pixel 5 is one of my favorite things about using it: it's weighted perfectly, with just the right amount of heft to feel substantial without burdening your pocket. Its narrow frame engenders a comfort in the hand, so typing feels natural and consistent, while the flat Corning Gorilla Glass 6 on the front is raised ever-so-slightly away from the frame, ensuring solid taps on the screen.
We're talking millimeters of difference between the Pixel 5 and its Pixel 4 and Pixel 3 predecessors, but minor changes in material, weight, and dimensions add up to a significant difference. After just a few days, this quickly became my favorite Pixel ever to just pick up and use.
Some of that praise needs to be heaped at the display, or at least the decision to get rid of the bezels above and below the screen. With very minor breaks between the 6-inch AMOLED display and the frame, the Pixel 5 looks and feels modern in ways its predecessors didn't, and that Google was able to hit such a considerable screen size, even at a tall 19.5:9 aspect ratio, without increasing the overall size of the Pixel 3 and 4, feels like a win.
Of course, those decisions come with three major trade-offs, and I'm not happy with any of them. The first is that the Pixel 5 doesn't have the face unlock and Soli sensors of the Pixel 4.
The latter I can live with — no one will miss Motion Sense, I promise — but I thought Google's implementation of secure 3D face unlock, and the relatively widespread adoption across the developer community, heralded good things for the future of Android biometrics. But here we see Google prevaricate in the name of aesthetics (and, according to spokespeople I talked to, cost) and revert to a rear fingerprint unlock.
That fingerprint sensor is good in a classic way, and works perfectly. Instead of using an in-display fingerprint sensor, which is slower and less secure, Google made the decision to put experience before spec, and in this case, I think it was the right move. Still, I miss how quickly the Pixel 4 unlocked.
The second trade-off is the loss of the wide-angle front-facing camera from the Pixel 3 series. I loved this addition to the Pixel in 2018, and thought it made it the best phone for taking selfies, period. In 2019, with all of the sensors crowding the top of the Pixel 4, Google combined the 75-degree and 97-degree fields of view into a single still-wide 87-degree camera. With the Pixel 5, that's been reduced to 80-degrees, so if you're someone like me who prefers taking wider selfies, this change is going to feel like a setback of sorts.
The third trade-off, which is probably going to be more significant for some people, is the reduction in sound quality over previous Pixel phones. Famously, the Pixel 2 and Pixel 3 featured dual front-facing speakers, and they were loud enough, and even bassy enough, to rival the best in the industry. With the Pixel 5, Google still claims its phone has dual speakers, but the front-facing element is now hidden behind the display, using a transducer projecting through the glass.
The sound is thin and relatively quiet, which forces the downward-facing speaker to work twice as hard. Cover up that bottom port and the phone barely makes a peep, even at the highest volume, and comparing the sound output to the Pixel 3 or Pixel 4, or even any modern flagship from Samsung or OnePlus, makes it clear Google took some liberties with the driver itself. There's a boominess to the sound that borders on distortion, veiling the midrange and treble. It's Google's weakest speaker in years, and a total disappointment.
I'm getting these gripes out of the way early on because they're relatively minor and they're really among the only ones I have about the phone. Returning to the display, the 6-inch OLED panel is of very high quality, calibrated well with accurate-looking colors and a lack of banding or blue tinge that you get with some panels in this price tier. It doesn't get quite bright enough for my liking in direct sunlight — certainly dimmer than the Pixel 4 series — but it's fine in most situations, and I'll take that compromise in exchange for the expansive screen real estate in a smaller body, especially with the faster 90Hz display.
There's a part of me that's disappointed Google didn't increase the Pixel 5's refresh rate to 120Hz after having luxuriated in that additional silkiness with the OnePlus 9 Pro and Galaxy S21 Ultra this past year, but given the Pixel 4's awful battery life, I'm not surprised Google didn't push any display metric boundaries.
Let's turn our attention to the other elephant in the room, the decision to step down from a Qualcomm Snapdragon 800-series chip to the Snapdragon 765G the Pixel 5 shares with its Pixel 4a 5G counterpart (as well as the OnePlus Nord, LG Velvet and Wing, and others). Paired with 8GB of RAM, I wouldn't blame you for being skeptical about Google's assertion that this mid-range chip, which has roughly the same compute power as the Snapdragon 845 found in the Pixel 3, is good enough for its top-of-the-line Pixel.
Let me put those fears to rest: the Snapdragon 765G is great. It's great in every other phone we've tried it on since mid-2020, and it's even better here. There's so much legroom remaining in today's flagship phone chips that it often feels like that old adage about how humans only use 10% of their brains; unless you're going out of your way to stress your phone all the time, there's no way you're taking full advantage of a chip like the Snapdragon 888 in today's most expensive handsets.
This isn't meant to apologize for Google's decision, either; I stress tested the crap out of this thing. I used it side by side with the Samsung Galaxy S20 FE, which is a mid-tier phone with a far more technically powerful Snapdragon 865, and the Pixel kept up but for a couple of occasions where apps took a beat longer to load. (For what it's worth the Pixel has 8GB of RAM compared to the FE's 6GB.) I even tried it next to the OnePlus 8T, and you know what? It did fine. I'm not saying the Pixel 5 wins by any means, but it keeps up, and that's impressive.
Source: Hayato Huseman / Android Central
You will notice a few instances where the Snapdragon 765G lags behind even 2019's Snapdragon 855: photo processing speeds. While the cameras, as you'll see next, are still as good as ever, Google's putting a lot of pressure on the phone's brain to turn frames into photos, and you'll likely notice that pulling up one of those computationally-heavy photos takes a few more beats right after taking it.
I did play a few games on the phone, and everything from PUBG Mobile to Dead Cells to Oddmar played identically to any other flagship — smoothly. The only potential caveat is that because the bezels around the phone are so slim, you may find yourself, as I did, with accidental touches when cradling the Pixel in both hands.
One final thing before we move on: it's refreshing to acknowledge that the Pixel 5 is the first premium phone from Google without any showstopping issues at launch. After the original Pixel's software bugs, the Pixel 2 XL's display problems, the Pixel 3's memory issues, and the Pixel 4's atrocious battery life, it's a relief to see Google release a product free of drama. This phone works, and it works as it should.
Google Pixel 5: Cameras
Portions of this section were written by Hayato Huseman
Pixels are cameras first. That's been the adage since the Pixel 2 and it continues to be the case now. But when the company proved that it could port the vast majority of its camera performance to the $399 Pixel 3a in 2019, the question on my mind became, does camera hardware even matter?
That answer with the Pixel 5 is... complicated. The phone has the same 12.2MP primary sensor that Pixel phones have had for four years, but once again Google's tweaked the output pipeline to satisfy what users are craving today: contrasty, warm photos that are easy to share on social media. The adjustments are subtle but welcome, and I still like the photos on the Pixel 5 better than virtually any other device. But it's also clear that Google's hit the software limits of what this relatively small phone sensor can pull off in hardware.
Image 1 of 12