Samsung Galaxy S21: Your complete buyer's guide to the new S21 series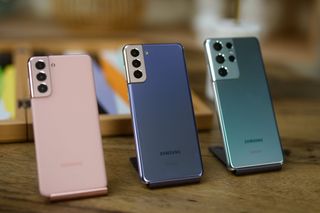 (Image credit: Android Central)
There are some things in the mobile tech space that are constant every single year, one of which is that we get a new Samsung Galaxy S release pretty early on. That was no different for 2021, but Samsung gave us the Samsung Galaxy S21 in January rather than making us wait until March or April. Compared to last year's S20 family, it brought major spec upgrades, a refreshed design, and all-new camera tech.
Seven months from release, the S21 and S21 Ultra still top our list of the best Android phones available today — and cost $200 less than they did at launch. Until the S22 lineup arrives in early 2022, we doubt any phones will topple the S21 series from its throne. Though we are excited to learn how the rumored Galaxy S21 FE will compare on its predecessors.
Whether you're in the market for a price-conscious flagship or something that goes all-out, the S21 series has something for you, and we're here to help you find out everything you need to know before you buy one for yourself — or buy them for the whole family. Including whether or not you should hold out for the upcoming Fan Edition.
Killer flagship
More phone, less money
For a lot of shoppers, the baseline Galaxy S21 will be the go-to choice over the flashier S21+ and S Pen-compatible Ultra. It has a compact and user-friendly size, incredible performance with the Snapdragon 888, capable cameras, and a large battery. You get all of this for just $800, making it a seriously great deal.
Samsung Galaxy S21 Price
Samsung cut prices across the board this year with the Galaxy S21 series, meaning that you'll get more bang for your buck while still getting a completely premium experience. All three models start with 128GB of storage, but you can pay an extra $150 to double your storage to 256GB, or quadruple the Ultra's storage to 512GB. That option is extra important given the S21 doesn't have a microSD slot to add on storage later.
Swipe to scroll horizontally
| Phone | 128GB Storage | 256GB Storage | 512GB Storage |
| --- | --- | --- | --- |
| Samsung Galaxy S21 | $800 | $850 | Row 0 - Cell 3 |
| Samsung Galaxy S21+ | $1000 | $1050 | Row 1 - Cell 3 |
| Samsung Galaxy S21 Ultra | $1200 | $1250 | $1380 |
A starting price of $800 for a Samsung flagship is something we haven't seen in a couple of years, and the amount of power and performance you get for that price is quite impressive. This move would be praised any year, but it's especially welcome after 2020's economic instabilities and people still dealing with tighter budgets than normal.
Samsung Galaxy S21 Availability and deals
If you're ready to buy a Galaxy S21 for yourself, the good news is that you can go out and buy all three models worldwide right now! Furthermore, you owe it to yourself to check out some of the best Galaxy S21 deals.
If you buy directly from Samsung's website, trading in an eligible phone will get you up to $700 for an instant discount on your purchase. You can also get up to $100 in instant credits for another Samsung purchase, along with four free months of YouTube Premium and 6 free months of SiriusXM Streaming.
T-Mobile has one of the most appealing carrier deals, offering up to $800 in credits when trading in an eligible phone — effectively making the regular S21 free. What makes this a standout offer is that older and cheaper phones like the Galaxy S9 and Pixel 4a will still get you that $800 credit.
Samsung Galaxy S21 Which should you buy?
We've already mentioned that there are three distinct versions of the Galaxy S21 to choose from, but looking at the big picture for these phones, how do they compare to one another? Let's break that all down real quick.
The regular Galaxy S21 is the phone to buy if you want the core S21 experience while spending as little as possible. It has the same Snapdragon 888 processor found in the other two models, there's an AMOLED display with a 120Hz refresh rate, and the updated camera setup ensures you can capture whatever life throws your way. There is a plastic design compared to the glass build of the S21+ and S21 Ultra, however, and you won't get any UWB connectivity that's found in those more expensive handsets. If none of that bothers you, the S21 is a seriously great deal at just $800. If you want a closer look at everything it has to offer, be sure to check out our Galaxy S21 review.
Then we have the middle child, the Galaxy S21+. It has a larger display and a bigger battery than the baseline S21, which are two notable perks if you plan on watching a lot of movies or playing a lot of games. The design is also a bit nicer thanks to the glass back, and if you care at all about UWB, that is present here. The camera system and processor are identical, though, so unless you need the larger display and battery, you could just buy the S21 for a nearly identical experience and save some serious cash.
And, of course, there's the Galaxy S21 Ultra. This is the phone you buy if you want the very best that Samsung has to offer in 2021, and in doing so, you're treated to one heck of a phone.
The heart of the S21 Ultra is the same Snapdragon 888 chipset, but in almost every other regard, it brings meaningful upgrades to the table. For starters, the display resolution is upped from Full HD+ to Quad HD+ and adds greater variability to the refresh rate (allowing it to scale from just 11Hz to 120Hz). The cameras are also completely different — the primary camera is a 108MP sensor and you get two telephoto ones for incredible zoom shots. Smaller changes include more RAM, Wi-Fi 6E instead of Wi-Fi 6, and a truly massive 5,000 mAh battery. Oh, and it's compatible with the S Pen!
Given all of the upgrades the S21 Ultra brings to the table, you might be wondering what the point of the Galaxy S21+ is. In our Galaxy S21 Ultra vs. Galaxy S21+ comparison, it becomes pretty clear which phone comes out on top. Between the higher-resolution display, vastly improved cameras, and S Pen support, the Ultra does a lot to justify its $200 premium over the S21+.
It's not a perfect phone, but if you read through our full Galaxy S21 Ultra review, it becomes easy to see why it stands out as one of the best of the year so far.
Samsung Galaxy S21 Specs
Speaking of Galaxy S21 specs, here's a full rundown of everything under the hood of all three S21 models. From the processor, display, cameras, and more, here's what makes these phones tick.
Swipe to scroll horizontally
Category
Galaxy S21
Galaxy S21+
Galaxy S21 Ultra
Operating System
Android 11 / One UI 3.1
Android 11 / One UI 3.1
Android 11 / One UI 3.1
Display
6.2-inch Full HD+
Dynamic AMOLED
120Hz refresh rate
6.7-inch Full HD+
Dynamic AMOLED
120Hz refresh rate
6.8-inch Quad HD+
Dynamic AMOLED
120Hz refresh rate
Processor
Qualcomm Snapdragon 888
Qualcomm Snapdragon 888
Qualcomm Snapdragon 888
Memory
8GB RAM
8GB RAM
12 or 16GB RAM
Storage
128 or 256GB
128 or 256GB
128, 256, or 512GB
Expandable Storage
❌
❌
❌
Rear Camera 1
12MP primary
12MP primary
108MP primary
Rear Camera 2
12MP ultra-wide
12MP ultra-wide
12MP ultra-wide
Rear Camera 3
64MP telephoto
64MP telephoto
10MP telephoto (3x)
Rear Camera 4
❌
❌
10MP telephoto (10x)
Front Camera
10MP
10MP
40MP
Security
Ultrasonic in-screen fingerprint sensor
Ultrasonic in-screen fingerprint sensor
Ultrasonic in-screen fingerprint sensor
Connectivity
Wi-Fi 6
5G (sub-6 and mmWave)
Wi-Fi 6
5G (sub-6 and mmWave)
UWB
Wi-Fi 6E
5G (sub-6 and mmWave)
UWB
Battery
4,000 mAh
4,800 mAh
5,000 mAh
Water Resistance
IP68
IP68
IP68
Dimensions
151.7 x 71.2 x 7.9mm
161.5 x 75.6 x 7.8mm
165.1 x 75.6 x 8.9mm
Weight
172g
202g
228g
Again, the lack of expandable storage on the Galaxy S21 series is seen as a bummer to many, but honestly? MicroSD cards were slower than internal storage and I don't begrudge Samsung for eliminating a subpar experience. Not to mention for most folks, 128GB will be just fine, but if you need help deciding on a storage option, we can help you figure out which Galaxy S21 storage size to buy.
Samsung Galaxy S21 Design
As you've probably noticed by now, the Galaxy S21 looks quite a bit different from previous Galaxy releases. We still have large, bezel-less displays with a centered hole-punch cutout, but looking at the back, we're treated to a brand new design we haven't seen before.
The camera housing is now integrated with the frame of the phone, seamlessly flowing into it. It's a pretty drastic change that you'll either love or hate, and if you ask Samsung, it's "the biggest step forward in design for the Galaxy S series ever."
It doesn't make much of an impact in day-to-day use, but this does allow for some pretty unique color combinations — specifically, giving the camera housing a different accent color compared to the rest of the phone.
Samsung has always had fun with its color choices, and for the Galaxy S21 series, that looks to be the case more than ever. If you find yourself unsure of what color Galaxy S21 you should buy, I'd personally recommend going with Phantom Violet (it looks so freaking good!).
Samsung Galaxy S21 S Pen
The first Galaxy Note was an important device for a couple of reasons. Not only did it usher in a new era of large smartphones for the entire industry, but it also introduced us to the S Pen. The S Pen has been a staple of every Galaxy Note since then, and up until now, it's been a feature kept exclusive to the Note series.
Samsung's shaking things up with the Galaxy S21 Ultra, allowing the phone to work with past S Pens and selling a new one alongside it as a $40 accessory. You can use it to draw, take notes, annotate documents, and anything else you'd typically use the S Pen for.
It's a big move for Samsung to allow S Pen support on a Galaxy S device, and paired with rumors that the Galaxy Note family could be done for this year, it's likely just the beginning of even more devices working with the S Pen later in 2021 and beyond.
The Galaxy S21 Ultra doesn't have a dedicated slot for the S Pen, so if you're going to use one full-time with your ultra, we have some S Pen tips and tricks you'll want to read up on, especially that first tip about ditching the Samsung S Pen cases and getting the Spigen Liquid Air P (Pen Edition) instead. It's less bulky, won't show every spec of grease, grime, and lint in your pocket, and it's also much more affordable.
Samsung Galaxy S21 Galaxy S21 FE rumors and specs
According to leaks, Samsung originally intended to announce the Galaxy S21 FE at its Unpacked 2021 event in August, alongside its new foldables and smartwatch; however, Samsung reportedly delayed the launch due to production shortages, then decided to limit its sales to just the US and Europe — and only sell it in limited quantities.
In other words, getting your hands on an S21 FE could be difficult depending on where you live and how fast you pre-order it. But is the phone worth hunting for like an elusive PS5, or is it nothing special compared to other S21s?
Samsung officially "leaked" a purple S21 FE in early August on its Instagram page. Unlike the S21 and S21+, its camera housing matches the purple back, giving it a uniform look; but it otherwise doesn't look too different from its siblings. Multiple other leaks have also suggested it will have a 6.4-inch FHD+ display with 120Hz refresh rate, slotting it between the 6.2-inch S21 and 6.7-inch S21+.
A recent S21 FE leak suggested it will have a Snapdragon 888 processor, 8GB of RAM, 256GB of storage, 4,500mAh battery, and a triple-camera array with 32MP main sensor, 12MP ultra-wide sensor, and 8MP telephoto lens, plus a 12MP selfie camera. It will ship with Android 11 out of the box, though we can hope it'll quickly get an Android 12 update. Finally, it could charge faster than the S21 Ultra, upgrading from 25W to 45W fast charging.
In summary, the S21 FE display and battery life fall in-between the S21 and S21+, while the CPU, RAM, and storage match both. The main camera and selfie cams could upgrade on the S21(+) but won't come close to the Ultra. Aside from faster charging, we haven't seen any leaks for a "bombshell" S21 FE feature.
However, a leaked S21 FE price is KRW 700,000 (about $630), which would make the phone extremely affordable for the specs it offers. That alone could make the FE worth waiting for; it's currently rumored to have an October release date, so you won't have to wait long.
Samsung Galaxy S21 Comparisons
The Galaxy S21 lineup is damn impressive in a bubble, but as you start stacking them up side-by-side, how do they hold up? Here's what we've learned from our comparisons so far.
In the case of the Galaxy S21 Ultra vs. Galaxy S20 Ultra, the winner is clear as day. Last year's S20 Ultra still has a lot to offer here in 2021, but between the improved cameras, more powerful display, and much nicer design, the S21 Ultra is the better overall smartphone. Not to mention, the S20 Ultra is more expensive than the S21 Ultra despite being a year older. If you're debating upgrading from a Galaxy S21 vs. Galaxy S20, it's almost a no-brainer as long as Samsung's trade-in incentives continue: I traded in my own S20 to get a S21 for $200, and I have no regrets three months later. However, the Galaxy S21+ vs. Galaxy S20 Plus doesn't come off as rosy for the S21+; if you have last year's model, you can be content sticking it out another year and seeing what the S22 has in store.
While Samsung's camera prowess is clear, there is one phone series that still beats it when you compare the Galaxy S21 vs. Google Pixel 5. That prowess enough isn't enough to justify the weaker processor and screen at almost the same price, but if camera is your most important feature, it's worth keeping in mind. If the feature you're most smitten with is S Pen Support, the Galaxy S21 Ultra vs. Galaxy Note 20 Ultra asks which you prioritize more: the S21 Ultra's quad-came setup and latest software or a dedicated silo for the S Pen. The Galaxy S21 vs. Samsung Galaxy S20 FE also pits value flagships against each other, but the S21 takes the edge with newer processors and much more generous trade-in deals.
Another fun pairing comes with the Galaxy S21 Ultra vs. iPhone 12 Pro Max. These are the two best phones offered by Samsung and Apple, respectively, and that means you can't go wrong no matter which one you purchase. The S21 Ultra is a phenomenal choice for folks that prefer Android, the iPhone 12 Pro Max is the best phone to buy if you'd rather use iOS, and that's basically what the comparison boils down to. Similarly, the Galaxy S21+ vs. iPhone 12 Pro mostly boils down to which OS you prefer, but the S21+ gets the edge for feeling better in the hand and having a 120Hz screen as opposed to the 12 Pro's 60Hz, and this goes double when pitting the Galaxy S21 vs. iPhone 12.
Samsung Galaxy S21 Accessories
We've said it a few times before and we'll say it again: a good phone isn't complete without the proper accessories. Especially in the case of the Galaxy S21 lineup where you're making a hefty investment in your new phone, it's in your best interest to keep it protected as best as you can.
The regular S21's backplate may be made out of well-finished and durable plastic, but that's not an excuse to ignore the best Galaxy S21 cases. From adding more grip to giving the phone a bit of style, it's an essential accessory you simply can't ignore. Thanks to the glass backs of the other two models, shopping for the best Galaxy S21+ cases and best Galaxy S21 Ultra cases shouldn't be something we have to tell you to do twice.
Of course, nothing will transform your new phone into a paperweight faster than a shattered screen, so check out the best Galaxy S21 screen protectors to ensure that lovely 120Hz screen stays intact. The Best Galaxy S21+ screen protectors will likewise keep that 6.7-inch screen safe and intact while still letting you use the in-screen fingerprint sensor, and the Best Galaxy S21 Ultra screen protectors will protect your curved screen while not interfering with your S Pen.
No matter which variant of the S21 you get, it's also worth taking a dive into the best Galaxy S21 accessories overall. From portable battery packs, car mounts, smartwatches, USB-C audio adapters and more, there's a lot out there to further elevate your experience with Samsung's latest and greatest.
And, since the Galaxy S21 doesn't come with a charger in the box, you'll want to check out the best Galaxy S21 chargers as well. There are plenty of options to choose from, all of which deliver the maximum 25W charge speeds the S21 is capable of. There's also a variety of best wireless chargers to let you top off without having to plug in every single time!
If you're still missing your microSD card slot on the S21, we've rounded up the best microSD Alternatives between wireless storage, USB-C thumb drives, and good old fashioned SSDs to help ensure your storage needs are met.
Killer flagship
More phone, less money
For a lot of shoppers, the baseline Galaxy S21 will be the go-to choice over the flashier S21+ and S Pen-compatible Ultra. It has a compact and user-friendly size, incredible performance with the Snapdragon 888, capable cameras, and a large battery. You get all of this for just $800, making it a seriously great deal.
Be an expert in 5 minutes
Get the latest news from Android Central, your trusted companion in the world of Android
Joe Maring was a Senior Editor for Android Central between 2017 and 2021. You can reach him on Twitter at @JoeMaring1.