Here's how Samsung can make the Galaxy S21 FE one of 2021's best phones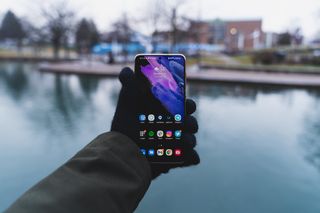 (Image credit: Hayato Huseman / Android Central)
If there's one smartphone from 2020 that we'll remember vividly for years to come, it's the Galaxy S20 FE. The device itself isn't the most jaw-dropping or amazing thing we've ever seen, but it launched at just the right time, shipped with a killer price, and ended up earning the title of the best Android phone you can buy.
Although the S20 FE shared a lot of the same DNA as the S20 and S20+, there were still a few key differences to help justify its lower price. The back design went from glass to plastic, we got slightly downgraded cameras, less RAM, and the display was made completely flat with no curves at all. None of that adversely affected the user experience of the S20 FE, but compared to the regular S20 and S20+, it was obvious that some corners had been cut.
With the baseline Galaxy S21 that just came out, we're already working with many of those exact same compromises — including the plastic back, flat display, and no major camera improvements. It also touts a lower price compared to the S20 at just $800. This all results in the Galaxy S21 being a really excellent phone for the money, but looking ahead at what Samsung can do for an S21 FE, things get complicated. With those compromises already made, where do we go from here?
There's one thing that sticks out to me, and that's the processor. One of the hallmark features of the S20 FE was that it shipped with the same Snapdragon 865 found in the other S20 models, but if Samsung hopes to release a less expensive version of the S21 while still keeping it in that "value flagship" space, downgrading from the Snapdragon 888 seems like the most logical move. In its place, Samsung could ship the Galaxy S21 FE with the Snapdragon 870.
The Snapdragon 870 is basically the exact same chip as last year's 865+, just with newer branding for 2021. That means it's incredibly fast, offers full 5G and Wi-Fi 6 support, and can power displays in Quad HD+ at up to 144Hz. While it may not have the same technical prowess as the 888, it's still an insanely good chip that would feel right at home on an S21 FE. And, perhaps most importantly, it would cost less for Samsung to use. It's also possible Samsung will just eat the added cost of the 888 and put it in the S21 FE anyway, but I feel like the 870 would be a smart compromise in a world where the Galaxy S21 already exists.
Another smart move would be to bring the Galaxy S21 camera system over to the S21 FE exactly the way it is now. The S21's cameras are basically identical to what we saw on the S20, with the S20 FE featuring a downgraded version of that. It wouldn't be a massive year-over-year jump in quality, but it would still be a decent upgrade for the S21 FE.
As for the display, I'd expect to see another 120Hz AMOLED panel with flat edges. Samsung could always make the bezels and hole-punch cutout slightly larger similar to what we saw on the S20 FE, allowing for another cost-cutting avenue without wrecking the UX. Throw in 8GB of RAM, at least 128GB of storage, a lower price tag of $600, and Samsung would have an absolute beast on its hands.
Whether or not any of this speculation becomes a reality remains to be seen, but I'd wager a path like this makes the most sense for Samsung. Even if the S21 FE isn't drastically different compared to the S20 FE, I don't think that's necessarily a bad thing. The S21 has a lot in common with the S20, but thanks to a lower price and some cut corners, it ends up being a really great overall product.
All Samsung has to do with the S21 FE is keep its component cost in-check, spruce it up with a new design, shave $100 off, and we'll be looking at another easy recommendation from the company. The entire S21 family proves that Samsung has wiggle room to lower its MSRPs from last year, meaning it's entirely possible — and likely — the S21 FE will get the same treatment.
I don't expect we'll see the Galaxy S21 FE until much later in 2021, but if/when it does come out, it's hard to imagine a scenario in which it isn't another home run. That might sound like too high of praise from a device we won't see for many more months, but all of the pieces are there for Samsung to kill it all over again.
Value flagship
(opens in new tab)
A smaller and more affordable Galaxy flagship
The Galaxy S21 doesn't offer the same incredible value found with the Galaxy S20 FE, but depending on where your needs lie, it's still one heck of a smartphone. It features Samsung's gorgeous new design, a 120Hz AMOLED display, and the latest Snapdragon 888 chipset. For just $800, it's a great alternative to the larger and more expensive S21 Ultra.
Joe Maring was a Senior Editor for Android Central between 2017 and 2021. You can reach him on Twitter at @JoeMaring1.
Fix the touchscreen issues.

I used the FE for 9wks, no touch screen issues or ghosting whatsoever 🤔!

Same here and for about the same amount of time. Beginning to wonder if it was just bad early batches. My only gripe with my FE is the lack of a dedicated light sensor so the battery takes a hit using the front camera to control auto brightness

Mine was a launch unit so very possibly. The problem is that it's clearly a hardware issue and not a software one and Samsung refuses to fix it.

It has a dedicated light sensor. check by covering each side of the upper lip next to the camera. It doesn't have a dedicated proximity sensor which is weird. I found myself pressing accidentally with my face a couple of times. I talk enough every day and it's not a deal breaker as initially speculated, but it's weird to miss this simple feature I had for 6-7 phone now.

"It doesn't have a dedicated proximity sensor"
I did not know this but...this is why I dumped mine after about two weeks. Every time I pulled it out of my pocket the screen was on and registering multiple taps all over the place. This is one of two major reasons (the screen issues) I DO NOT agree that the S20FE is the "best" phone for 2020!
My OnePlus 8T, which replaced it, is far better in so many ways! At least everything works as it should!

Sounds like an S21FE would be essentially pointless.

200 bucks less is 200 bucks.

I don't think there will be an S21 Fe I think they're going to make a fold Fe. They want to get folding phones into more hands.

I'm expecting a cheaper Fold too.

- In 2019 Samsung released the S10e and never released a successor.
- In early 2020 Samsung released the S10 Lite. There was no S20 Lite.
- Later in 2020 Samsung released an S20 FE which was the Lite version done right.
- In 2021 Samsung reduced the price of the S21 There's no guarantee there'll be an FE version this year.

Well then Samsung clearly doesn't care about the fans.

When have they ever though? Don't get it misconstrued, companies care about lining their pockets with more money.

Well i hope i don't need a new phone this year, but the fe springs great if i did have to.
Until Xiaomi make their phones waterproof...

They want to make it the best phone of 2021? Then put back in MST, SD cards, 3.5mm jack, and the pulse/SpO2 sensor. I'm not happy that my new S10 will be my last Samsung phone. S3, S5, S7 Edge, and now S10. Loved these phones. Much better longevity than my Atrix 4G.

Agree 100%. Exactly my issues as well.

I agree with this. It's actually incredibly easy to make a phone that stands out. Simply add back all the features that have been removed. At least the enthusiasts crowd will flock to it immediately.

If they reduce the processor, then writers like this one will be whining about the processor being inferior.

The S20 FE was almost perfect with the exception of the RAM, at 6GB that was far too low, especially when the likes of OnePlus were still able to give 8GB RAM, like for example my OnePlus 7T which has 8GB RAM and that's a 2019 phone. Add the extra 2GB of RAM and somehow keep the snapdragon 888 in the S21 FE and Samsung will have a winning formula again.

To save costs from the S21:
- Have just 2 rear cameras. 108MP main from the Ultra for wide and zoom duties and an ultrawide.
- Use the Snapdragon 870

Not sure if I would characterize plastic back and flat screen as "compromises". Although it made the phone cheaper, I think it was an upgrade in terms of overall usability. If it improves something, is that really a "compromise"?

There should be a story on this. The "Compromises" that get made typically help the user experience ironically enough. Flat displays help with accidental touches and better ergonomics. 1080p helps battery life and is sharp enough. Plastic is traditionally more durable than Plastic.

Samsung has stopped listening to their fan base. You want proof, no charger in the box, no micro s/d and a 1080p display in the premium S series. The proof is in the pudding, yikes!

Yeah, if they can get away with removing features just like everybody else, then they will do it. However if fans decide to still buy it we only have ourselves to blame.

Interesting.... With the S21 being so close I don't think we'll see a successor. But in the case we do, I would like to see another phone compete directly with Samsung. It's not about the high refresh rate, having 6 cameras with 50x Zoom, or Displays that exceed 1000 nits. Price/Value is the #1 thing that matters in phones.

Make it smaller. I'm sick of every flagship being 6.5 inches or larger and refuse to buy them. 6.0 is the sweet spot for screen size and fitting in pockets.
Android Central Newsletter
Thank you for signing up to Android Central. You will receive a verification email shortly.
There was a problem. Please refresh the page and try again.