Best Android phones 2023
The definitive guide to the best Android phones.
Quick Menu
1. At a glance
2. Best overall
3. Best cheap phone
4. Best premium pick
5. Best midrange phone
6. Best small phone
7. Best design
8. Best foldable phone
9. Best premium foldable
10. Best gaming phone
11. FAQ
As Android Central, we pride ourselves on knowing the best Android phones inside and out. Whether you want something simple and reliable or super-powered and loaded with features, all of the best picks are organized below for your perusal.
We've used every phone on this list and can tell you exactly where it triumphs and where it falters. At Android Central, our testing and review methods include making sure each phone lives up to the marketing claims of the company, offers good value for the money, can deliver a quality photo every time, and lasts long enough to make it through the day on a single charge.
Sometimes, phones have a special attribute that we test separately, such as camera tech or durability. No matter what you look for in a device, the best phones in every category can be found below.
At a glance
Load the next 3 products ↓
Best foldable
7. Samsung Galaxy Z Flip 5
Best foldable
The Samsung Galaxy Z Flip 5 is the result of years of refinement, with a sleek, durable construction, Snapdragon 8 Gen 2 chip, and a new and improved AMOLED cover display.
Best premium foldable
8. Samsung Galaxy Z Fold 5
Best premium foldable
The Galaxy Z Fold 5 is pretty much a great Android phone and a tablet all rolled into one, with two vibrant displays and tons of processing power.
Best gaming phone
Best gaming phone
Gamers, rejoice! The Redmagic 8s Pro features the Snapdragon 8 Gen 2 chip and an internal fan that keeps the phone cool during the most intense gaming sessions.
Best overall
Best overall
Specifications
Display:
6.7-inch 120Hz AMOLED; 1440 x 3120
Storage:
128GB / 256GB / 512GB
Camera:
50MP (wide) + 48MP (telephoto, 5x optical) + 12MP (ultrawide, 126-degree) rear; 10.8MP front
Reasons to buy
+
Stunning, unique design
+
Incredible cameras
+
120Hz LTPO OLED panel is buttery smooth
+
Custom Tensor G2 chipset offers unique features
+
First in line to get Android updates
+
The best camera for households with pets and kids
Reasons to avoid
-
Fewer long-term updates than Samsung
-
Processor isn't as fast as some other flagships
-
Metal on the back scratches easily
In many ways, the Pixel 7 Pro is the phone the Pixel 6 Pro should have been. Google fixed all of those really annoying bugs that plague the Pixel 6 series, replaced the in-display fingerprint sensor with something that actually works, and added new camera features that make even better use of those newer 50MP sensors in the phone.
Speaking of cameras, the Pixel 7 Pro's improved 30X photo zoom and 20X video zoom really shine through in everyday use. Google uses an impressive AI engine that combines images taken from multiple sensors at a time and fixes up those shots to make them clearer and cleaner than ever before. Yes, that means features like Face Unblur are even better than before. And it's, by far, the best camera for parents and pet owners, according to our testing, because of Google's Face Unblur and other related behind-the-scenes algorithms that work to capture the moment the way you remember it.
Google's new Tensor G2 processor also packs a number of great tricks up its sleeve, including great onboard AI processing features like instant voice dictation, automated call screening, and giving users the ability to use Google Assistant to answer calls for them. On the technical front, the Pixel 7 Pro has plenty of RAM and storage options, with options for up to 12GB of RAM and 512GB of storage. Likewise, it's got a big old 5,000mAh battery that'll last all day and then some, and Google's battery optimization features ensure apps that try to drain your battery get put on lockdown with your permission.
Best cheap phone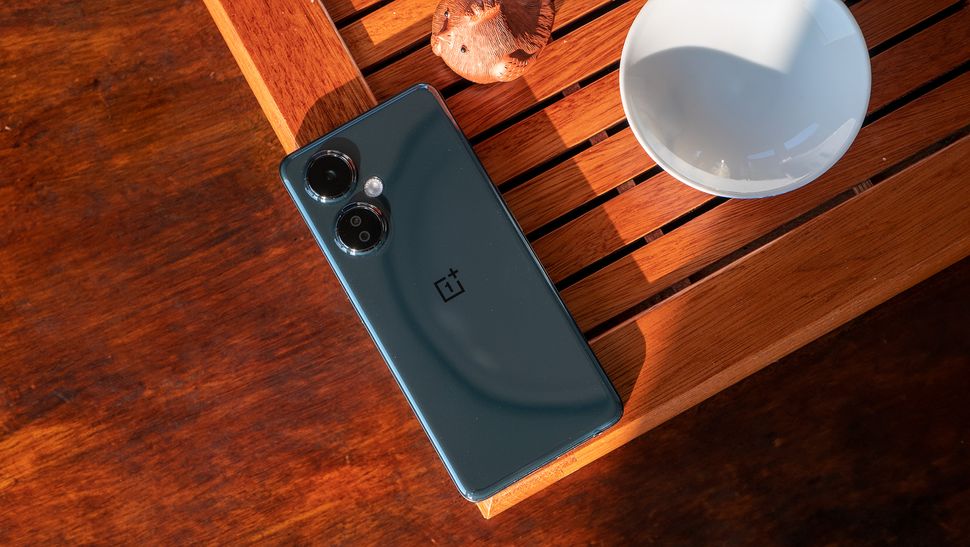 Best cheap phone
Specifications
Display:
6.7 120Hz LCD; 1080 x 2400
CPU:
Qualcomm Snapdragon 695
Camera:
108MP (main) + 2MP (macro) + 2MP (depth) rear; 16MP front
Reasons to buy
+
Gorgeous AMOLED display
+
Excellent cameras
+
3.5mm jack and microSD card slot
+
5G connectivity and NFC
+
Lots of software features
Reasons to avoid
-
The Google Pixel 6a might be better in some ways
The OnePlus Nord series has gotten better and better with each iteration, and the OnePlus Nord N30 5G feels like the proper return to an almost flagship-killer status. While it's not trying to be a "flagship killer" like other OnePlus phones have claimed, the regularly-discounted $299 price combined with the excellent specs make this feel much more like a budget flagship than a mid-tier phone.
Not only that but these specs at this price are basically unheard of. AMOLED on a $300 phone is uncommon enough, but a powerful Snapdragon 695 processor and a 5,000mAh battery with ultra-fast 50W SUPERVOOC charging as well? The result is a truly cohesive and impressive experience, giving a whole new meaning to the phrase "bang for the buck".
Now that's not to say there aren't a few snags in the phone. The main issue is that, now that the Google Pixel 6a has received a permanent price drop to $299, the N30's main competition has just become a lot more competitive. It depends on what you're looking for. Are cameras important to you? Then the Pixel 6a may be the way to go.
Best premium pick
Best premium option
Specifications
Display:
6.8-inch 120Hz AMOLED; 1440 x 3088
CPU:
Qualcomm Snapdragon 8 Gen 2
Storage:
256GB / 512GB / 1TB
Camera:
200MP (wide) + 10MP (telephoto) + 10MP (telephoto) + 12MP (ultrawide) rear; 12MP (front)
Reasons to buy
+
200MP rear camera
+
Includes an integrated S Pen
+
Fabulous 120Hz AMOLED screen
+
Latest hardware and cameras
+
One UI 5.1
+
Four guaranteed Android OS updates
Reasons to avoid
-
Expensive
-
Might be too big for some people
If you want the best Android phone that Samsung has to offer right now, look no further than the Samsung Galaxy S23 Ultra. This premium device boasts all of the efficiency and power found in the S22 Ultra with some substantial improvements in a few key areas — namely, the camera software and chipset.
The Ultra features the new Snapdragon 8 Gen 2 for Galaxy Devices chipset, an exclusive version of the Qualcomm processor found in many recent smartphones. This internal hardware gives your phone enough power to handle graphics-intensive gaming without totally annihilating your battery life or dropping in performance.
While the S22 Ultra had a still-great 108MP rear camera sensor, the S23 Ultra boosts that spec to a whopping 200MP. The difference is particularly noticeable in low light conditions, thanks to the upgraded OIS angles and a considerable boost to the high dynamic range. It's also great for taking video, with the ability to record in 8K resolution at up to 30fps. If you're having trouble capturing images the way you want them, Samsung's Camera Assistant app is also there to help. In addition to the new features, you'll also get a lot of the same great details that were found on the S22 Ultra, such as a stunning 6.8-inch AMOLED 120Hz display, 1,750 nits peak brightness, and an integrated S Pen stylus.
Best midrange phone
Best midrange phone
Specifications
Display:
6.1-inch 90Hz AMOLED; 2400 x 1080
Camera:
64MP + 13MP rear; 13MP front
Reasons to buy
+
Superb build and design
+
Tensor G2 processor
+
Great price
+
Top-tier cameras
+
Meaningful features
+
Best haptics in the biz
Reasons to avoid
-
Only 5W wireless charging
-
Some battery issues
-
90Hz display
If you're looking for bang for the buck, look no further than the Pixel 7a. Google has packed most of what makes the Pixel 7 series great into a smartphone that costs even less. Typically retailing for around $499, the Google Pixel 7a boasts the power of the ultra-efficient Tensor G2 processor (the same as the Pixel 7 Pro), the best haptics that you can expect to find in this price range, and some outstanding camera tech.
In fact, pound for pound, the Google Pixel 7a's cameras performed just as well as the base model Pixel 7 in our initial tests, despite the fact that the former device costs $100 less. You also get the latest version of Android and Google has guaranteed software updates for the next five years. It even comes with wireless charging (limited to 5W), a first for Google's A series.
Of course, it's worth noting that the Google Pixel 7a only has a 90Hz refresh rate and we weren't terribly impressed with the phone's battery life. But it earned the top spot in our list of the best cheap Android phones for a reason. If your budget is under $500, you can't beat the Google Pixel 7a.
Best small phone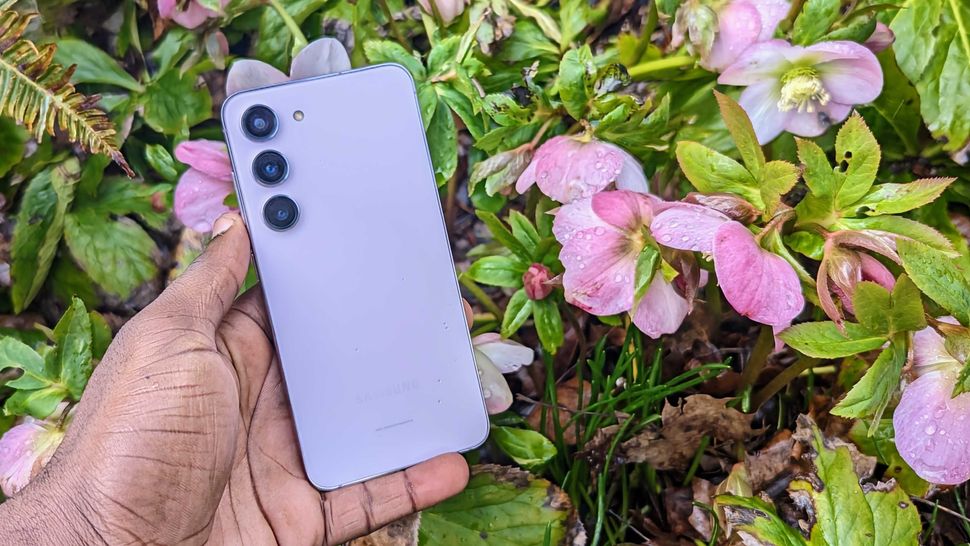 Best small phone
Specifications
Display:
6.1-inch 120Hz AMOLED; 1080 x 2340
CPU:
Qualcomm Snapdragon 8 Gen 2
Camera:
50MP (wide) + 12MP (ultrawide) + 10MP (telephoto) rear; 12MP front
Reasons to buy
+
Ideal for one-handed use
+
Powerful new Snapdragon processor
+
Stunning 120Hz AMOLED screen
+
Amazing cameras
+
Four guaranteed Android OS updates
Reasons to avoid
-
Limited to 25W wired charging
-
Not many upgrades over S22
-
Unimpressive color options
Like a few other flagships on this list, the Samsung Galaxy S23 isn't a dramatic departure from its predecessor — the S22 — but it's a refinement of everything that made the latter phone great. The smartphone was unveiled alongside the Galaxy S23 Plus and S23 Ultra in February 2023 with a lot of the upgraded features that we expected (and hoped for).
The Galaxy S23 boasts a compact 6.1-inch AMOLED 120Hz display and the lightweight-yet-premium device feel that we've come to expect from the S series. Under the hood is where things get particularly interesting though, as Samsung has incorporated the new Qualcomm Snapdragon 8 Gen 2 chipset into all three S23 devices. This powerful chipset gives the S23 series noticeable improvements in performance and battery life, and the additional size increase to a 3,900mAh battery means all of the battery life issues found with the S22 are a thing of the past.
Both the S23 and the S22 come with 50MP primary sensors, 12MP ultrawide cameras, and 10MP telephoto sensors, but the addition of the 12MP selfie camera (up from 10MP with the S22) means selfies on the S23 will look better than ever before. All of that being said, unless you're exceedingly happy with your current Samsung device, there's no reason not to upgrade to the Samsung Galaxy S23, particularly when you consider all of the great S23 deals that are currently available.
Best design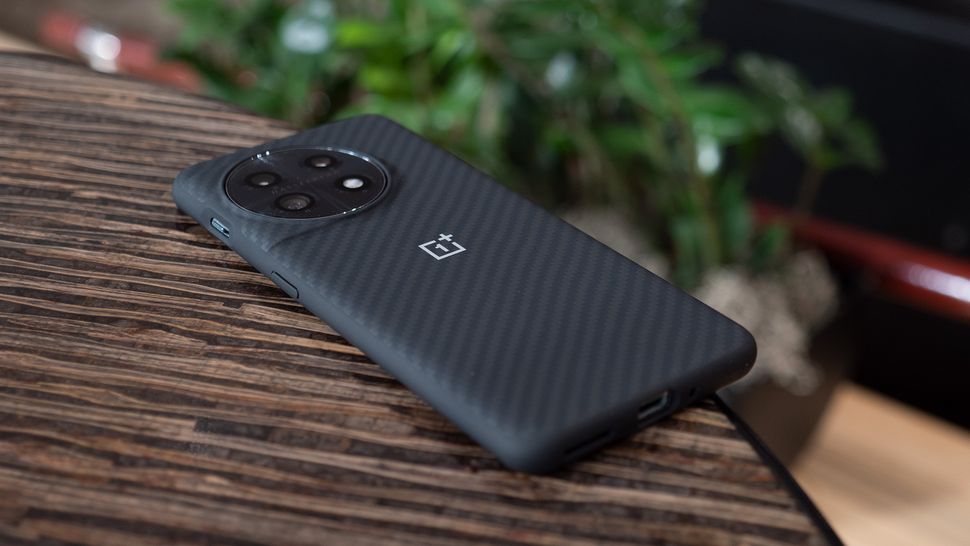 Best design
Specifications
Display:
6.7-inch 120Hz AMOLED; 3216 x 1440
CPU:
Qualcomm Snapdragon 8 Gen 2
Camera:
50MP + 48MP + 32MP rear; 16MP front
Reasons to buy
+
Sublime 120Hz AMOLED screen
+
Unique design
+
Best camera on any OnePlus phone
+
Four Android OS updates
+
Great hardware and battery life
Reasons to avoid
-
No wireless charging
-
OS can be buggy
-
Games limited to 60fps
When you look at the OnePlus 11, the first thing you'll probably notice is the phone's unusual design. Inspired by the appearance of a black hole, the 11 features a perfectly round camera housing on the backside of the phone, an intriguing design choice that's sure to turn heads. Although we aren't fans of the giant Hasselblad logo plopped into the center of the circle, the design is nevertheless evocative, and the quality weight distribution and heft when you hold the phone instantly eliminates any questions about the quality of the OnePlus 11's construction.
Under the hood, the OnePlus 11 uses the ultra-efficient Qualcomm Snapdragon 8 Gen 2 chipset to deliver consistently fast performance, and like past OnePlus releases, we've found that the 11 can handle even the most demanding games with ease. When testing the phone, we were also pleased with the 11's thermal performance. It never felt hot to the touch after long gaming sessions or extensive general use, and the 5,000mAh battery held up without any issues.
Perhaps best of all is the OnePlus 11's camera software. Inside the unique-looking flagship, you'll find the best cameras of any OnePlus phone to date. It may not match the Pixel 7's power when it comes to capturing motion, but the 11 still holds up exceedingly well, thanks to a triple camera sensor system and OnePlus' proprietary TurboRAW HDR algorithm. There are some other goodies to consider here as well, such as a vibrant 6.8-inch AMOLED display and four Android OS updates.
Best foldable phone
Best foldable phone
Specifications
Display:
6.7-inch 120Hz AMOLED; 2640 x 1080 / 3.4-inch 60Hz AMOLED; 720 x 748 (cover)
Camera:
12MP (wide) + 12MP (ultrawide) rear; 10MP front
Reasons to buy
+
Super durable
+
Compact and comfortable to hold
+
120Hz AMOLED display
+
IPX8 water resistance
+
Improved AMOLED cover display
+
Four Android updates
Reasons to avoid
-
No dust resistance
-
No telephoto camera
-
Display crease is still obvious
After years of refinements and improvements, the Samsung Galaxy Z Flip 5 feels like the perfect foldable for most people. Like the previous year, the Flip 5 features subtle improvements over its predecessor, but those improvements add up to something more than the sum of its parts.
First off, there's nothing quite like snapping your phone closed when you're done with it. It sounds silly, but there's a certain psychological component to folding it up and putting it away. The phone itself is more durable than ever, too, featuring an Armor Aluminum frame and Gorilla Glass Victus 2 on both halves of the back. There's a nice boost in size to the phone's cover screen and the pre-installed screen protector has been refined and features better adhesive than previous years, hopefully keeping protectors from peeling off over the lifetime of the phone.
Samsung also packed in a nice 3,700mAh battery alongside the powerful Qualcomm Snapdragon 8 Gen 2 chip, the same processor found in the Galaxy S23 series and the Fold 5 below.
Best premium foldable
Best premium foldable
Specifications
Display:
7.6-inch 120Hz AMOLED; 2176 x 1812 (inner) / 6.2-inch 120Hz AMOLED; 2316 x 904 (outer)
Storage:
256GB / 512GB / 1TB
Camera:
50MP + 12MP (ultrawide) + 10MP (telephoto) outer; 4MP inner
Reasons to buy
+
Mobile productivity at its finest
+
Better, slimmer hinge
+
Incredible displays with reduced bezels
+
Works with S Pen
+
Years of software support
+
Stronger and more compact than last year
Reasons to avoid
-
Expensive
-
Cameras could be better
-
Display crease is still visible
Just like any piece of technology, smartphones evolve and change as time goes on. We've seen screens get bigger, cameras get a lot more capable, and processors rival those found in computers. The next big thing for phones is the folding form factor, and so far, the best yet in this niche is the Samsung Galaxy Z Fold 5.
The best way to think about the device is as a phone and tablet in one. When the Z Fold 5 is closed, you're treated to a 6.2-inch 120Hz AMOLED display that you can use for anything you'd like — checking email, scrolling through Twitter, watching YouTube videos, you name it. Samsung made the outer display wider this year by reducing the bezels and slimming down the hinge itself. For me, that means two-thumb typing is finally possible without accidentally tapping the wrong keys or false-swiping on the keyboard.
If you want a larger canvas, all you need to do is open up the Z Fold 5 up. There, you're treated to a larger 7.6-inch AMOLED screen with a 120Hz refresh rate and slightly wider aspect ratio than last year. It's a lot like having an iPad Mini that you can fold up and take with you wherever you want, and if you ask us, that's pretty amazing. Samsung also added a new taskbar on the bottom of the larger display, making it operate more like a tablet or laptop than ever before. That makes multitasking as easy as tapping and dragging an icon to perform split screen, or simply tapping an icon on the bar to open any app installed on your smartphone within 2 taps. Now that's multitasking at its best.
Best gaming phone
Best gaming phone
Specifications
Display:
6.8-inch 120Hz AMOLED; 2480 x 1116
CPU:
Qualcomm Snapdragon 8 Gen 2
Camera:
50MP + 8MP + 2MP rear; 16MP front
Reasons to buy
+
Incredibly well built
+
Bright, notchless AMOLED display
+
Built-in active cooling
+
Snapdragon 8 Gen 2
Reasons to avoid
-
Cameras are only average
-
No IP rating
-
No wireless charging
When it comes to gaming, the Redmagic 8S Pro is designed to blow everything out of the water with its special design and cooling engine. The styling is definitely aggressive and will turn some folks off, but if you're in it to win it, the Redmagic 8S Pro will deliver blisteringly-fast framerates at all times.
Nubia packed a Snapdragon 8 Gen 2 inside, alongside an incredible 20,000 rpm RGB fan. Because this phone isn't held back by a passive cooling system, it can run a lot faster for a lot longer than nearly any other phone you can buy. The downside is that, because it's an active fan blowing air on the processor, the Redmagic 8S Pro isn't water or dust-resistant. On the bright side, though, the design includes ultrasonic triggers on the side of the phone — which act like gaming controller triggers when holding the phone in landscape orientation — and can be customized along with the small display on the back.
The display on the front is a liquid-smooth 120Hz AMOLED display with crisp 2400x1080 resolution, and it makes games look so darn good you simply won't believe your eyes. Inside is a massive 6,000mAh battery and can be bought with up to 16GB of RAM and 512GB of storage. In short, if you want a gaming phone that looks the part, the Redmagic 8S Pro is the one to get.
Frequently asked questions
What are the best Android phones?
Why you can trust Android Central Our expert reviewers spend hours testing and comparing products and services so you can choose the best for you. Find out more about how we test.
There are many contenders for the best Android phones, but we think the Google Pixel 7 Pro is the best option for most people. The phone has a great mix of sublime hardware backed by Google's brilliantly suave software. It's got a sleek design that allows it to stand out and robust cameras that take fabulous photos in challenging lighting conditions, even when people or pets are moving around.
If you have a few more dollars to spend and want something even more impressive, the obvious choice is the Galaxy S23 Ultra. This phone is the successor of the outstanding S22 Ultra, featuring a near-identical design and the best camera on any Samsung phone. Best of all, you get an integrated S Pen that lets you write notes, doodle, and so much more.
Folks looking for a compact phone with few or no compromises have lots of choices in 2023, which is a breath of fresh air compared to previous years. The Galaxy S23 and Pixel 6a are two of the best smaller phones you can get in the U.S., and folks who live outside of the U.S. and want a small phone would be remiss if they ignored the Asus Zenfone 9. It's a compact phone with a blazing-fast processor, a huge battery, and a great camera. All things that aren't super common together in smaller phones, yet, Asus has figured out a way to deliver them all in one sleek package.
How do I pick the best Android phone?
Android phones have never been better than they are right now. So regardless of whether you can afford a flagship device or one of the best cheap Android phones, you can go out and buy a phone that you'll be thoroughly happy with. Out of every single phone on the market, however, we have to give our top recommendation for the best Android phone to the Google Pixel 7 Pro.
Google's latest flagship has all the essentials you want, including a brilliant 120Hz AMOLED screen, powerful cameras that take great photos in any lighting, fast charging, reliable internal hardware that holds up just fine for intense gaming sessions, and clean software with three guaranteed Android OS updates.
What size screen should I get for my Android phone?
When buying a new Android phone, you should consider many different things, and it all starts with the display. This is the component you interact with more than anything else, so you must get one that you'll enjoy using. Things like the resolution and refresh rate of a screen are worth talking about, but more so is the size.
Smartphones come in different shapes and sizes, and the biggest determining factor for that is the display. A 6.8-inch screen results in a much larger phone than one with a 5.8-inch one, and because of that, you need to know how big or small you're willing to go.
Take the Galaxy S23 Ultra, for example. Of the "normal" phones on this list — read: not foldable phones — the S23 Ultra has the largest display and, therefore, is a phenomenal canvas for watching movies, playing games, and browsing the web.
Basically, any content consumption looks better on a larger display because the more room you have, the bigger and easier it is to see your media. The downside to this, however, is that phones like the S23 Ultra can be somewhat unwieldy. Especially if you're someone with smaller hands, managing a phone like that can be a pain — sometimes literally!
A phone like the Galaxy Z Fold 4 solves this problem a bit by giving you an even larger display that can fold in half. When folded, it's much more pocket-friendly than the Galaxy S23 Ultra, even if it is a bit thick.
If you'd rather have a smaller-sized phone, the Samsung Galaxy Z Flip 4 and Asus Zenfone 9 are phenomenal choices depending on what form factor you want. These are substantially easier to manage and can be used with one hand, but you have less room for your movies and games on the flip side. It also means you can fit less content on the screen at one time, and if you're someone who likes to increase your font size, things are easier to read, which could result in you having to do a lot of scrolling.
And, of course, there are plenty of phones that fall somewhere in the middle between these two extremes. If you're really concerned about whether or not a phone will be too big or small, your best bet is to honestly go hands-on with it yourself at your local carrier store or Best Buy before making your purchase.
Are software updates important?
It's easy to compare displays, processors, and cameras, but something that's just as important to talk about is software updates. Android is constantly evolving and getting better, and unfortunately, only certain phones will have a few years of software support.
As it currently stands, Samsung is the best in the business when supporting its phones with long-term updates. Most of the Samsung phones mentioned in this list will get four guaranteed Android OS updates along with five years of security patches.
Google offers three Android OS updates and up to five years of security updates to the Pixels, and OnePlus, OPPO, Xiaomi, and Vivo are now guaranteeing three Android OS updates for their flagship phones. The advantage with Google is that its Pixel phones get the newest version of Android first — often months before other phones and even include Pixel Feature Drops between major Android releases that add new features.
On the complete opposite end of the spectrum, you have companies like Motorola, Nokia, and sometimes OnePlus. The OnePlus N20 5G is only promised a single update to Android 12, for instance. Security patches are even worse, with Nokia failing to deliver these updates on time. Thankfully, companies like Motorola look to be upgrading these promises with the release of phones like the Motorola Edge (2022).
So, how important is it that your phone gets software updates? That ultimately depends on how much you care about new Android features. Google releases a new version of Android every year, and while these updates don't tend to be that drastic from year to year, they give your phone important features and security settings that help keep it running in tip-top shape for a long time.
It also ensures that your phone stays compatible with all the apps and games on the Play Store because as Android versions become too outdated, app developers eventually drop support.
A phone like the OnePlus N20 5G won't be unusable two years down the road just because it's running Android 12 and not Android 15, but it's also a bit disheartening to buy a product and know it's backed by such a small window of post-purchase support. This divide in updates is something Android has faced for years, and while manufacturers are gradually getting better in these regards, we still have plenty of room to grow.
How do I choose a smartphone camera?
Over the last couple of years, there's been a trend with certain phone companies to throw as many cameras onto their devices as possible. As it's become more common for phones to ship with two, three, or even four cameras, there's something of an expectation that phones have to have multiple camera sensors to be any good.
Spoiler alert — this isn't true.
Let's look at the Galaxy A53. It has a 64MP primary camera, 12MP ultra-wide, 5MP macro, and a 5MP portrait camera. Compared to the smaller 12MP cameras on the Pixel 6a, one would assume that the A53 takes better photos, but that's not the case.
Having those extra camera sensors can be a lot of fun, but only if they're high-quality. Far too often, we see companies throw in a lot of extra cameras on their phones only to have these secondary lenses not be very good. But, of course, the primary camera sensor is always the most important, so that's the one you want to pay attention to the most.
On a similar note, higher megapixels (referred to as MP) don't always mean you're getting a better camera. As mentioned above, the 64MP camera on the A53 usually takes photos that aren't as good as those taken from the 12MP primary camera found on the Pixel 6a.
There are so many other factors that come into play with phone cameras, so don't let the megapixel count be your only factor for judging them when you're out shopping. Read reviews, look at camera samples, and you'll have a much better understanding of what kind of camera you're dealing with.
What size should my phone's battery be?
Battery life isn't the most fun thing to talk about with smartphones, but ultimately, it's one of the most essential components. Your phone can have the best display and processor around, but if it's constantly dying throughout the day, what's the point?
There are many different battery capacities for all of the phones on this list, and if you don't regularly keep up with them, it can be challenging to know what a good size is and what isn't. So, here's a general rule of thumb. If you're buying an Android phone, the ideal capacity is 4,000mAh or larger. As phones move toward larger displays with faster refresh rates, more battery is needed to keep them powered throughout the day.
Of course, this can vary a bit depending on the type of phone you're buying. Phones with smaller screen sizes and lower display refresh rates can still get through a full day of use without a hitch because they generally draw less power than phones with more impressive specs.
These are factors you'll need to consider when shopping for your phone, but generally, more mAh means more battery life.
What other features should I look for in a smartphone?
Last but certainly not least, there are a few smaller features and specs that can be easy to overlook when doing your shopping — a prime example being NFC. NFC stands for Near Field Communication, and it's the chip in most phones that allows you to pay with your smartphone with Google Pay at grocery stores, restaurants, etc. Most of the phones on this list support NFC, but many cheaper Motorola and Nokia phones often lack the feature. You may not care about Google Pay, but if you do, it's worth double-checking that the phone you want to buy does have NFC.
Another spec to check for is an IP68 rating. This is a seal of protection many phones have, and it ensures they're protected from a certain amount of dust and water. So if you get caught outside in the rain or take your phone to the beach, an IP68 rating ensures that your phone should survive just fine.
Some phones lack this IP rating yet boast water resistance or have a coating that gives them some protection. Those devices are also probably fine to get splashed with water here and there, but you don't have that same guaranteed protection. The best-case scenario is to avoid getting your phone wet whenever possible, but if you happen to be around the water a lot, it's probably worth getting something with that IP68 protection.
We should also address a trend going through the smartphone space for a few years now — the death of the headphone jack. The vast majority of new phones coming out these days no longer have the port, but few holdouts continue to offer it. It's certainly nice to have if you're someone that primarily uses wired headphones or earbuds, but if you've moved on to the wireless bandwagon, it's not something you need to be all that concerned with.
We know that's a lot to take in, but once you understand the kind of phone you're looking for and the budget you have to work with, we hope this guide makes you feel better equipped to make the right decision. There are so many good phones out there, and we wouldn't recommend one on this list if we didn't think you'd be happy with it. Happy shopping, and enjoy your new phone!
Get the Android Central Newsletter
Instant access to breaking news, the hottest reviews, great deals and helpful tips.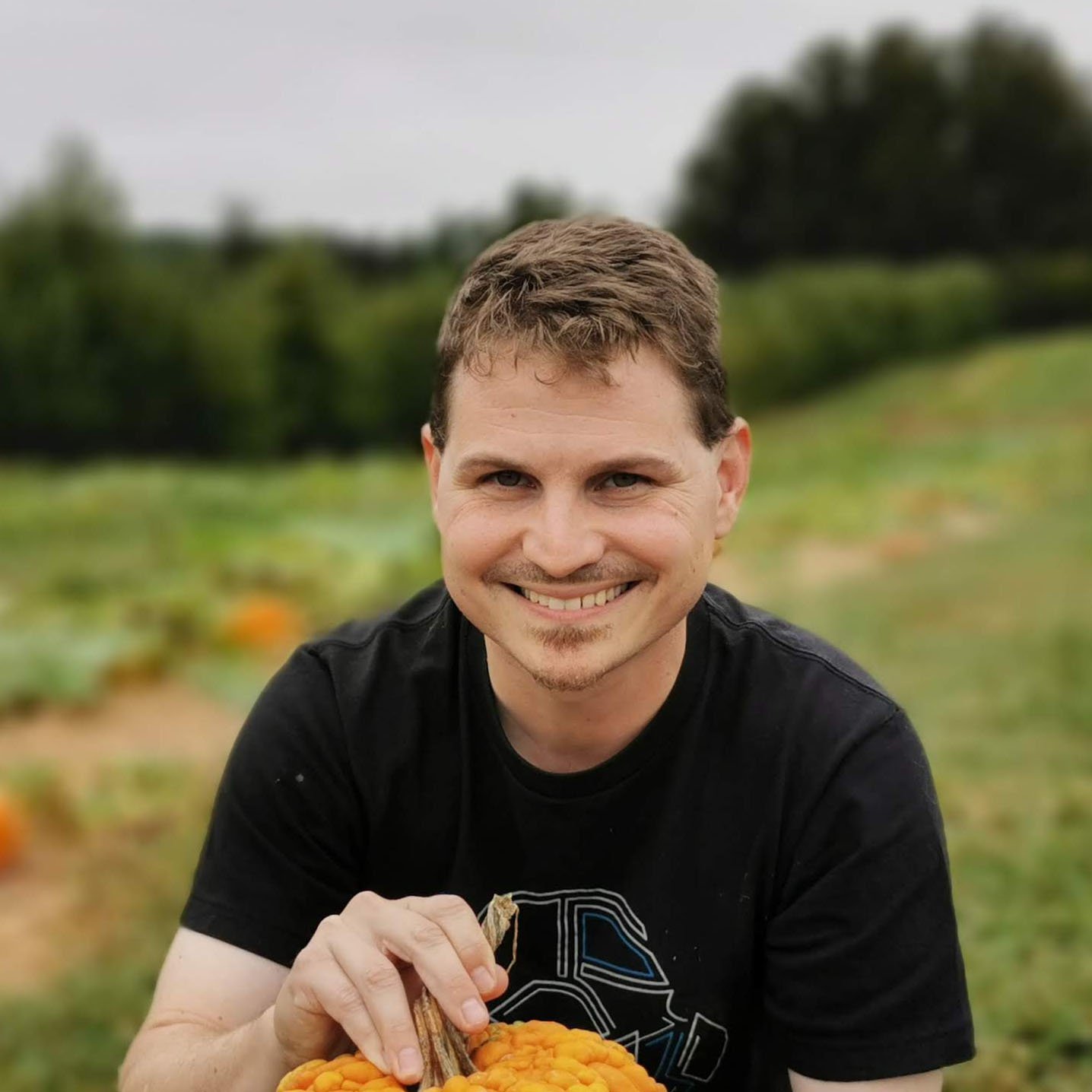 Senior Content Producer — Smartphones & VR
Nick started with DOS and NES and uses those fond memories of floppy disks and cartridges to fuel his opinions on modern tech. Whether it's VR, smart home gadgets, or something else that beeps and boops, he's been writing about it since 2011. Reach him on Twitter or Instagram @Gwanatu