Samsung Galaxy Tab S8: Your complete buyer's guide
Choose between the portable-but-powerful Tab S8, the laptop-replacing Tab S8 Ultra, or the just-right middle child Tab S8+.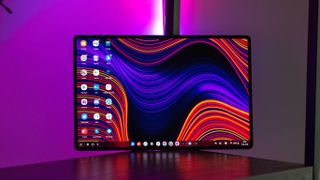 (Image credit: Andrew Myrick / Android Central)
The Galaxy Tab S8 series took the stylish design, gorgeous displays, and reliable battery life of the superb Tab S7 series, added a top-class processor and more RAM, and made other improvements that maintained Samsung's Android tablet supremacy in 2022.
Alongside the familiar 11-inch LCD Galaxy Tab S8 and 12.4-inch AMOLED Galaxy Tab S8+, the new Galaxy Tab S8 Ultra is a new 14.6-inch behemoth with the highest screen-to-body ratio we've seen in a tablet and a tiny notch that shouldn't affect your browsing experience. The Ultra is the only model to offer upgraded RAM options in exchange for a hefty price increase.
If you're in the market for one of the best Android tablets, we've labeled the three Galaxy Tab S8 models as the top three available across all brands. But which should you choose? We'll compare the specs and designs to help you decide which to buy.
Bigger and better displays
The Samsung Galaxy Tab S8 series sticks to the same specs that made the Galaxy Tab S7 fantastic, but adds in the new Snapdragon 8 Gen 1, 8GB of RAM instead of 6, faster Wi-Fi speeds, and better cameras for Zooming.
Samsung Galaxy Tab S8 Release date, price, and deals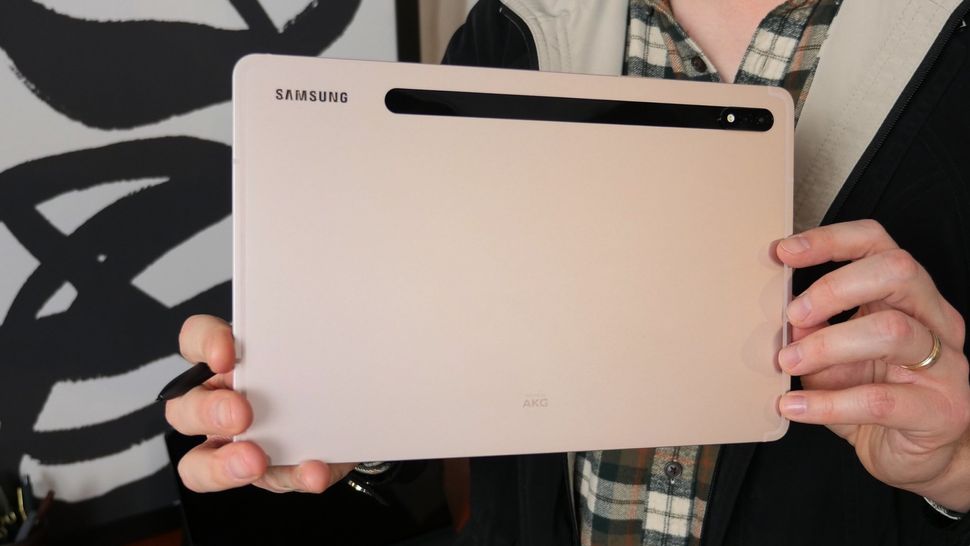 Samsung announced the Galaxy Tab S8 series on February 9 at Galaxy Unpacked and released its new tablets on February 25.
Despite some solid upgrades in performance over the Galaxy Tab S7 series, the Galaxy Tab S8 and S8+ only cost $50 more than their predecessors: $700 and $900, respectively. And the S7 series started with 6GB of RAM, while the 8GB models actually cost more than the newer series with the same memory. So you can look at it as saving money on newer devices.
As for the new Galaxy Tab S8 Ultra, it clocks in at $1,100. These $200 increases match the price gaps of the Galaxy S22 series, proving Samsung will probably stick to this strategy moving forward.
If you want more storage, upgrading the Galaxy Tab S8 or S8+ to 256GB costs an additional $80. With the Galaxy Tab S8 Ultra, jumping to 256GB or 512GB costs $100 each, but these upgrades also come with jumps to 12GB or 16GB of RAM, respectively.
Only the Galaxy Tab S8 Plus has a 5G cellular option for $1,100 through Verizon, T-Mobile, AT&T, or USCellular. This model is restricted to 128GB of storage, but you can always augment it with the 1TB microSD card slot.
Samsung Galaxy Tab S8 Design
Anyone who has used a Galaxy Tab S7 or Tab S7+ will find that their 2022 counterparts look and feel remarkably similar. Both the Galaxy Tab S8 and S8+ have the exact same dimensions, weight, display quality, magnetic S Pen strips, and stylistic etchings along the back edges as their predecessors.
Even the color options are remarkably similar: the S7 series offered Mystic Black, Silver, Bronze, and Blue, while the S8 comes in Graphite (aka black), Silver, and Pink Gold (which looks near-identical to the Bronze S7).
Samsung does tout one design upgrade: it claims the aluminum material used with the S8 is "30% more scratch-resistant and 40% less prone to bending" than the S7 material, so it'll handle scuffs and rough handling better than before. Samsung also partially constructed the Tab S8 with "plastic components repurposed from discarded fishing nets" as part of a sustainability push.
Of the three Tab S8s, the 11-inch, 1.1lb. base model is most likely to be comfortable to use for casual use away from a desk while still offering plenty of screen real estate compared to most budget tablets.
The 12.4-inch, 1.27lb. Galaxy Tab S8+ is not quite portable or comfortable to hold for long periods. Still, it's actually thinner than the Tab S8 and isn't nearly as ungainly as the Ultra. The massive AMOLED display gives you richer colors and more space for using multiple apps at once; it's a perfect fit with a keyboard cover for DeX mode.
As for the Galaxy Tab S8 Ultra, it has extremely thin bezels that maximize the 14.6-inch display to nearly reach the edges of the tablet. That does mean the Ultra has a small notch for the selfie cameras, but in most cases, you won't find it particularly noticeable.
What's more frustrating is that those minuscule bezels make it extremely precarious to hold without accidentally touching the screen or straining your hands. Add the 1.6-pound weight, and it's obvious the Ultra is a tablet you'll want to use on a desk with a keyboard cover and kickstand at all times.
Samsung Galaxy Tab S8 Specs
Swipe to scroll horizontally
| Category | Galaxy Tab S8 | Galaxy Tab S8 Plus | Galaxy Tab S8 Ultra |
| --- | --- | --- | --- |
| Chipset | Snapdragon 8 Gen 1 | Snapdragon 8 Gen 1 | Snapdragon 8 Gen 1 |
| Display | 11-inch LCD (120Hz), 2560 x 1600 | 12.4-inch Super AMOLED (120Hz), 2800 x 1752 | 14.6-inch Super AMOLED (120Hz), 2960 x 1848 |
| Memory | 8GB | 8GB | 8GB, 12GB, or 16GB |
| Storage | 128GB or 256GB | 128GB or 256GB | 128GB, 256GB, or 512GB |
| Rear Camera | 13MP AF + 6MP UW + Flash | 13MP AF + 6MP UW + Flash | 13MP AF + 6MP UW + Flash |
| Front Camera | 12MP UW | 12MP UW | 12MP FF + 12MP UW |
| Battery | 8,000mAh Li-Ion with 45W Fast Charging | 10,090mAh Li-Ion with 45W Fast Charging | 11,200mAh Li-Ion with 45W Fast Charging |
| Audio | Quad Speakers + Dolby Atmos | Quad Speakers + Dolby Atmos | Quad Speakers + Dolby Atmos |
| Authentication | Face Unlock, fingerprint on power button | Face Unlock, on-display fingerprint sensor | Face Unlock, on-display fingerprint sensor |
| Connectivity | WiFi 6E (6GHz), Bluetooth 5.2 | WiFi 6E (6GHz), Bluetooth 5.25G (optional) | WiFi 6E (6GHz), Bluetooth 5.2 |
| S Pen | ✔️ (6.2ms latency) | ✔️ (2.8ms latency) | ✔️ (2.8ms latency) |
| microSD card slot | ✔️ (up to 1TB) | ✔️ (up to 1TB) | ✔️ (up to 1TB) |
| 3.5mm headphone jack | 🚫 | 🚫 | 🚫 |
| Dimensions | 9.99" x 6.51" x 0.25" | 11.22" x 7.28" x 0.22" | 12.85" x 8.21" x 0.22" |
| Weight | 1.10 lb | 1.27 lb | 1.60 lb |
| Colors | Graphite, Silver, Pink Gold | Graphite, Silver, Pink Gold | Graphite |
How Tab S8 differs from Tab S7 and iPad Pro
Samsung has very little competition when it comes to Android tablets, besides the fact that its old hardware still holds its own today. Tab S7 or Tab S7+ owners may be wondering if it's worth upgrading to the Tab S8, given how similar they look and perform to one another.
In terms of what hasn't changed, the Tab S8 and S7 share the same display resolution and brightness, battery size — though the Snapdragon 8 Gen 1 will be more efficient than the older Snapdragon 865+ — charging speed, quad speakers, expandable storage, and weight.
As for what has changed, you get 2GB extra RAM, an upgraded 12GB UW selfie cam for improved video call quality, Wi-Fi 6E support, shorter S Pen latency with faster responses, the aforementioned scratch-resistant finish, and (most importantly) the Snapdragon 8 Gen 1 performance upgrade. Plus, obviously, the Tab S7 series didn't have an Ultra model to begin with.
Is that enough of a change to recommend buying the newer model? Maybe not yet, as the Tab S7 series still has one more OS update remaining to Android 13, and the 865's performance remains respectable by 2022 standards. But if you don't own either tablet and you spot the Tab S7(+) on sale, we strongly recommend any of the Tab S8 series as a new purchase. Future-proofed with the latest tech, they're sure to last you much longer and justify the high cost.
The real battle is between the Tab S8 and iPad Air, or the Tab S8 Ultra vs. the iPad Pro. Apple's iPadOS has remained the most popular tablet ecosystem for both consumers and app developers for years, and it has very similar perks to the Tab S8 series like the DeX-competing Stage Manager mode.
The iPad Pro has the most powerful performance by far, its laptop-quality M1 chip benchmarks far surpassing anything the mobile Snapdragon chip can offer even with 16GB of RAM. The Tab S8 Ultra gives you much more screen space, but the iPad Pro has a more manageable size for portable use and more affordable accessories. Both have similar resolution and brightness with 120Hz refresh rates, but we've found iPadOS seems to take better advantage of it.
In the end, your decision will depend on whether you use Apple or Android products; the Tab S8 will pair much better with whatever Android phones or Windows tech you own, while the iPad will obviously sync perfectly with an iPhone or MacBook.
Samsung Galaxy Tab S8: S Pen and Accessories
All three Tab S8 models ship with an S Pen. You'll find magnetic strips on the top and back of the tablet, and some of the keyboard cover accessories should have an S Pen slot. Still, it can be easy to lose track of if you're not careful.
If you choose the Tab S8+ or S8 Ultra, you'll get a "new and improved S Pen that uses a prediction algorithm for ultra-low latency." Specifically, you'll get a latency speed of 2.8ms, whereas the Tab S8 offers 6.2ms and the Tab S7 series offered 9ms.
Otherwise, none of the Galaxy Tab S8 tablets ship with a charger, keyboard, or case in the box. Particularly with the Galaxy Tab S8+ and S8 Ultra, they're too large to regularly use in handheld form, so you'll want to buy a case with a kickstand and a keyboard for productivity. But even for the Tab S8, you'll want some protection against damage and a way to store your S Pen if you're taking it on the road.
Our guides on the best Galaxy Tab S8 cases, Tab S8 Plus cases, or Tab S8 Ultra cases will get you started depending on which model you chose to buy.
You can buy the official Tab S8 Book Cover Keyboard in all three sizes; it's expensive, especially for the Ultra version with backlighting and a trackpad, but it lets you connect or disconnect instantly while bypassing a manual Bluetooth connection. Otherwise, you can save a lot of money with a Bluetooth keyboard.
All three tablets offer 45W charging, so you'll want a charging block and cable capable of hitting that mark. We've chosen nine reliable Tab S8 chargers that hit that spec if you need one.
Also, whether or not you buy a case, you'll want to protect your massive, gorgeous display from scratches and damage. Galaxy Tab S8 screen protectors or Tab S8 Ultra screen protectors will ensure your visual experience on the tablet isn't ruined without disrupting your S Pen responsiveness.
Samsung Galaxy Tab S8 Software
All three devices launched with One UI 4.1 based on Android 12. Samsung has promised four OS upgrades, meaning it should receive One UI 8 (or Android 16) in 2026. It'll also receive five years of security updates through 2027.
One UI 4 on the Galaxy Tab S8 offers a new tool to "split your screen into three windows with four layout options, and even adjust to the exact height, size, and layout you need for any given task."
You can pin your favorite apps to a hidden taskbar on the top-right of the display. After you open one app, simply drag the S Pen to reveal the taskbar, then plop a second (or third) app onto the display to split up the screen space between them. You can slide the borders between the apps to give one more space than the rest.
Or, you can pin a small pop-up app above another full-screen app, then minimize that app when you're done with it. Whatever multitasking method you prefer, Samsung's software may support it.
Of course, you can also use your tablet as a second screen with your Windows computer if you simply need more display space. Or, you can use Samsung's DeX Mode to rely on a traditional desktop UI instead of Android, so long as you have a mouse and keyboard to connect to it.
Samsung Galaxy Tab S8: Which should you buy?
You can't necessarily go wrong with any of the Galaxy Tab S8s, given all three have the same processor, high-resolution displays with smooth 120Hz refresh rates, quad stereo speakers, comparably high battery lives, and low-latency S Pens. So which should you pick?
The standard Galaxy Tab S8 is both the most affordable and the most comfortable to hold for long periods. If you want something for streaming content in bed, the smallest tablet may be your best bet. Even if you're downgraded to an LCD display instead of an AMOLED, you're losing richer colors but gaining a brighter display and longer battery life.
Still, we recommended the Galaxy Tab S8+ as the one to buy over the Tab S8 and not because of the display upgrade. Frankly, all of the Tab S8 series are too expensive to buy just for casual streaming. If you're buying one, you'll want to use its productivity features and multitasking software; and for that, 11 inches is too small. The 12.4-inch Tab S8+ nearly matches most laptops in display size, giving you enough room to work without straining your eyes.
For the best productivity experience, you'll want the Galaxy Tab S8 Ultra, given you can buy one with up to 16GB of RAM and its 14.6-inch display gives you all the work space you need. But the Tab S8 Ultra is too large to work as a portable device at all, whereas you can use the Tab S8+ in handheld mode without too much discomfort.
On the other hand, anyone looking for a productivity device for their desk has a tougher choice between the Tab S8 Plus and Tab S8 Ultra. Of the two, the Ultra obviously offers more RAM and more space, making it better suited for multitasking. And it's much better for video calls, thanks to the dual-upgraded selfie cams. Our tablets Senior Editor recently described how he uses the Tab S8 Ultra in day-to-day life, from Steam Link and xCloud gaming to photo editing and video meetings. It's certainly a device we enjoy using.
But the Tab S8+ matches the Ultra in most other specs at a lower price, and even though it's less portable than the Tab S8, the Plus can still be used away from the desk, whereas the Ultra is much heavier and even more uncomfortable to hold.
It's up to you whether you want to fully upgrade to the most powerful Galaxy Tab possible, "downgrade" to a powerful 11-inch tablet that'll check multiple boxes, or choose the comfortable middle ground with the Plus. While we recommend the Tab S8+, something more compact or more powerful may serve as a better fit.
Once you choose which to buy, bookmark our guide on the first 10 things to do with your Tab S8 to help you settle in with your new tablet.
Samsung Galaxy Tab S8 Plus
Striking the perfect balance
With the cutting-edge Snapdragon 8 Gen 1, a gorgeous 120Hz display, 45W charging, 4K video capture, Wi-Fi 6E, quad speakers, and miniscule S Pen latency, the Galaxy Tab S8 Plus fits the bill for whatever hardcore work you need to get done, but isn't too large for handheld use.
Senior Editor, VR/AR and fitness
Michael spent years freelancing on every tech topic under the sun before settling down on the real exciting stuff: virtual reality, fitness wearables, gaming, and how tech intersects with our world. He's a semi-reformed Apple-to-Android user who loves running, D&D, and Star Wars. Find him on Twitter at @Michael_L_Hicks.