Should you buy a Wi-Fi 6E router in 2022?
Wi-Fi 6E routers are available, but most of us don't really need them yet.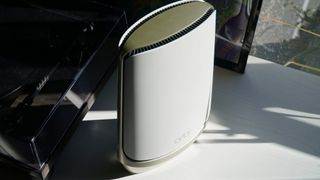 (Image credit: Samuel Contreras)
Should you buy a Wi-Fi 6E router?
Wi-Fi 6E makes the most sense for those that already own some WI-Fi 6E devices like the latest flagship Android phones. Even then, many people won't notice much of a difference if their internet connection is slower than 1Gbps.
What is Wi-Fi 6E, and how is it different from Wi-Fi 6?
For years, Wi-Fi has used channels at 2.4GHz and 5GHz with no issues but as we continue to use more and more data all the time, we're running out of capacity. If your devices can see multiple Wi-Fi points at once, there's a good chance that routers in your neighborhood are sharing 5GHz bands leading to lower speeds.
If you check out all of the connections in your area, you start to understand the congestion your router needs to navigate. A Wi-Fi analyzer app can help you see overlapping Wi-Fi. Wi-Fi 6 has been able to do more with this space thanks to tech like a more advanced QAM setup, but it still has to share the same chunks of spectrum. Wi-Fi 6 can also use DFS, which opens up some more spectrum for 160MHz usage. DFS is a shared spectrum and will disconnect immediately if there is higher-priority traffic, such as traffic from an Airport.
If you need a high-capacity router, however, the best WI-Fi 6E routers will have the most capacity. Wi-Fi 6E has even enabled ultra-fast AXE16000 quad-band routers. These routers are extremely fast as we saw in our ROG Rapture GT-AXE16000 review.
Wi-Fi 6E could be easily thought of as Wi-Fi 6 with 6 GHz support. Replacing one of the 5 GHz channels with one at 6 GHz allows for much greater open bandwidth. Wi-Fi 6E also allows for 160 MHz wide channels. While some high-end Wi-Fi 6 routers support 160 MHz, the available bandwidth and congestion mostly limited the effectiveness.
Put simply: Wi-Fi 6E is very similar to Wi-Fi 6, with the added bandwidth available at 6 GHz. This frequency allows for up to seven different 160 MHz bands so your router can find clear space even in densely populated areas. So while the raw speed of the routers won't be much different compared to Wi-Fi 6, you should be able to achieve those speeds with greater ease, even in congested areas.
Think about your home layout first
One of the trickiest things about planning your home Wi-Fi network is predicting how much coverage you'll have. If your connection quality is low, your speeds will suffer. The fact of the matter is that 6GHz Wi-Fi doesn't have as much coverage as 5GHz due to power level limits and the basic physics of radio waves.
If you have a lot of walls between where you're trying to use your WI-Fi and the router, you may have more of a coverage issue than a speed one. Upgrading to one of the best Wi-Fi 6 mesh kits could be all you need to improve your connection.
Of course, you could upgrade to one of the best Wi-Fi 6E mesh systems to get the best of both worlds.
Wi-Fi 6E and 6GHz is still absent from many new devices
While Wi-Fi 6E has been making its way to a lot of new devices, it still falls very short of the number of Wi-FI 6 devices. For example, many of the best Android phones have added support for tech. Unfortunately for iPhone users, however, Apple decided to stick to Wi-Fi 6 for another generation.
If you're upgrading to a new Android, anything from the Galaxy S22 series, Pixel 6 or newer, or even ASUS phones starting with the Zenfone 8, you've got Wi-Fi 6E with 160MHz support already. The other question is whether you actually need speeds over 2Gbps on a phone in the first place. The answer is more than likely no.
Should you future-proof your Wi-Fi?
No one likes setting up a new router and spending a bunch of time reconnecting all of their wireless devices, especially if most of those devices don't even support 6 GHz. So it makes sense to get something that will last as long as possible, and right now, that's Wi-Fi 6E. For some people, that will be worth it, but for most of us, getting a fast Wi-Fi 6 router will last multiple years before it becomes a problem. And that's only if internet usage continues to grow at the current rates.
If you decide to go for Wi-Fi 6E in 2022, you will be ready for up to 10 Gbps internet speeds which isn't as crazy as it sounds with some ISPs like AT&T fiber offering 5Gbps service. Even cable providers are getting into multi-gig internet service with DOCSIS 3.1. For most people, even gigabit connections are overkill, but it's still great that Wi-Fi is removing yet another bottleneck between you and the internet.
Wi-Fi 6E might not even be available where you live
Wireless spectrum is heavily governed and each country decides exactly how it will slice up its available wireless resources. While many countries will adopt similar rules to their neighbors to keep things simple, your country may not be ready for Wi-Fi 6E. Luckily, many countries have enabled at least part of WI-FI 6E's spectrum for use and some, like Australia and Japan, are considering opening up even more.
Some countries in Asia and the Middle East, for example, have yet to make any 6GHz spectrum available for WI-FI 6E. China and India are both huge markets and neither of them have adopted Wi-Fi 6E meaning billions of people don't have any access to WI-FI 6E tech.
Get the Android Central Newsletter
Instant access to breaking news, the hottest reviews, great deals and helpful tips.
When Samuel is not writing about networking or 5G at Android Central, he spends most of his time researching computer components and obsessing over what CPU goes into the ultimate Windows 98 computer. It's the Pentium 3.