Wi-Fi 6E FAQ: What this huge upgrade to Wi-Fi means for you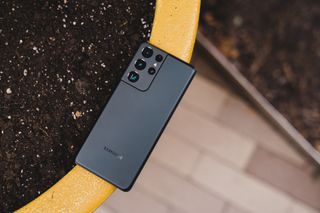 (Image credit: Hayato Huseman / Android Central)
Launching a new Wi-Fi standard like Wi-fi 6E is extremely costly and complicated and leads to many new questions. Wireless performance is all about spectrum and making the most of what's available. For years, we have been limited to 40MHz wide channels with only the newest router fully embracing 80MHz and 160MHz channels.
Even with these advancements, in crowded areas, people still need to share bands which can lead to inconsistent performance. Wi-Fi 6E utilizes newly available spectrum at 6GHz to open up many more 160MHz channels than was possible at 5GHz. But for many people, this upgrade won't make a huge difference, at least not yet.
What is Wi-Fi 6E?
Wi-Fi 6E is Wi-Fi 6 extended to the 6GHz band. Simply put, Wi-Fi 6E is very nearly the same thing as Wi-Fi 6 with access to the greater open bandwidth available at 6GHz compared to 5GHz. With around 1,200MHz of space available on the 6GHz bands, there is plenty of room for up to seven 160MHz channels from routers. This means that even if you live in an area with a lot of Wi-Fi access points, there is still enough bandwidth to keep your connection fast and consistent — with no interference.
Standard Wi-Fi 6 operates on the same bands that were available to Wi-Fi 5 (802.11ac) devices. This includes one band at 2.4GHz and two at 5GHz. While the lower frequency 2.4GHz signal can travel farther without degrading, it has less available bandwidth, maxing out at 40MHz per channel. Even so, in the United States, there are only 11 available channels, so most people with neighbors will end up sharing. 5GHz bands help quite a bit, with many more channels available typically at 80MHz.
For a long time, this was sufficient even in an apartment building but as we continue to add more and more wireless devices to our homes, even these 5GHz bands are hitting the limit. Wi-Fi 6E with its greater number of channels available to 160MHz bands at 6GHz is adding a ton of capacity. While some high-end Wi-Fi 5 routers supported a 5GHz 160MHz channel, the limited bandwidth available made it less useful.
Is it faster than Wi-Fi 6?
For the most part, Wi-Fi 6E routers will have very similar top speed specs. The upcoming Netgear Nighthawk RAXE5000, for example, has the same 10.8Gbps top speed as the Wi-Fi 6 variant. The key here is that the Wi-Fi 6E version will be able to maintain those speeds more consistently even in a crowded area. For those looking to finally go fully wireless with their home networks, this can help you get closer than ever to the consistency we've come to expect from Ethernet.
It's worth keeping in mind that for many people, even Wi-Fi 5 offered speeds much faster than the average home internet connection and is mainly limited by available spectrum. Wi-Fi 6E routers paired with a capable Wi-Fi 6E device will be able to get very close to your optimal internet speeds even in a crowded area.
Do I need a new router?
If you want Wi-Fi 6E in your home, you will need a new router that supports it. It seems like the best Wi-Fi 6 routers just became affordable for most people and suddenly there's a new version. If you recently got a Wi-Fi 6 router, there is no way to upgrade it to Wi-Fi 6E and a software update will not be able to add the functionality. Still, for most people, Wi-Fi 6 and even fast Wi-Fi 5 should be fine for long enough for Wi-Fi 6E prices to come down.
Wi-Fi 6E is looking very far forward and won't see widespread consumer adoption for years. There are still quite a few new routers coming out that only support Wi-Fi 5 and only top-end phones and computers are supporting Wi-Fi 6 despite it being available since early 2019.
Which devices work with Wi-Fi 6E?
Wi-Fi 6E chipsets are available and the first phone to take advantage of the new tech is the Samsung Galaxy S21 Ultra. More high-end flagship phones will likely join in as the year progresses but for now, you're still waiting for Wi-Fi 6E in a mobile device. There are some PCI-Express upgrades for desktop and notebook PCs based on Intel chipsets available as well. For the vast majority of people, Wi-Fi 6E support isn't going to be available for quite some time.
When can I get Wi-Fi 6E?
The first wave of Wi-Fi 6E devices will be available in the first half of 2021 starting with high-end routers. With routers on deck from Asus, Linksys, Netgear, and TP-Link already announced, the biggest barrier to entry will be the price. Asus is going to be one of the first out of the gate with the ROG Rapture GT-AXE11000 gaming router available in early 2021.
Like we saw with Wi-Fi 6, the entry-level and mid-range routers most of want will come later. It's worth keeping in mind as well that it will take some time for the software to mature and there may be some rough patches for early adopters. These companies are generally quick to resolve issues with software updates for those that don't mind the inconvenience.
For the vast majority of home users, Wi-Fi 6 is more than enough and is still a great upgrade to a slow network. Many of the best wireless routers make use of Wi-Fi 6 but many provide great coverage on the older Wi-Fi 5 standard. If you're already running up against the limits of Wi-Fi 6 whether it's due to congestion or the desire for higher wireless speeds, Wi-Fi 6E is going to be a great way to get even more out of your network.
Do I need Wi-Fi 6E?
For many people, it's finally time to upgrade to Wi-Fi 6. While Wi-Fi 6E is the most capable variant of Wi-Fi 6, for now, Wi-Fi 6E seems like overkill. Who could possibly need multiple gigabit speed over a wireless connection? One group that immediately comes to mind is video creators. Many professional video productions are using resolutions higher than 5K for video with massive video sizes. With compression, these professionals can make efficient use of current network speeds but being able to edit or transfer terabytes of footage without running cables across your workspace will be great for these people.
The best part of all of this is that you can achieve these speeds even in a crowded area. You won't have to think about your connection failing or hitting lag spikes due to congestion. This can be especially helpful for mesh systems. Even as people move to wireless networking and ask for more of their connections, the spectrum available at 6GHz will enable users to make the most of these speeds. If you have Wi-Fi 6 routers already, you won't see a huge improvement with Wi-Fi 6E. If you want to make the most out of your router and you're ready for an upgrade, Wi-Fi 6E will keep up with the fastest devices for longer.
Simple and Fast Wi-Fi 6
Plenty of speed for most people with tons of coverage options
With AX4200 speeds, a compact design, and great software, Eero Pro 6 is one of the easiest ways to upgrade to Wi-Fi 6 speeds.
Get the Android Central Newsletter
Instant access to breaking news, the hottest reviews, great deals and helpful tips.
When Samuel is not writing about networking or 5G at Android Central, he spends most of his time researching computer components and obsessing over what CPU goes into the ultimate Windows 98 computer. It's the Pentium 3.