Best Wi-Fi 6 routers 2023
The perfect router depends on you and your needs, and these Wi-Fi 6 options are a good starting point.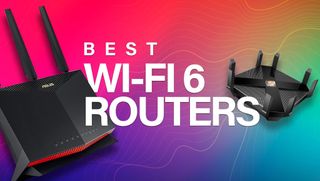 (Image credit: Android Central)
Just about everyone uses Wi-Fi on a daily basis which is why the best Wi-Fi 6 routers should be easy to set up with little to no downtime. The latest Wi-Fi 6 tech helped us realize multi-gigabit wireless speeds at home, with wide 160MHz channels and newer tech to deal with congestion. Wi-Fi 6 can also keep up with more devices at once as our data consumption continues to grow. These manufacturers have also started bundling in powerful software, including parental controls, to make staying in control of your network easier than ever.
Wi-Fi 6 is the current standard for wireless devices, so if you're investing in a new router, it makes sense to have one that can make the most of them.
What are the best Wi-Fi 6 routers?
Why you can trust Android Central Our expert reviewers spend hours testing and comparing products and services so you can choose the best for you. Find out more about how we test.
The ASUS RT-AX82U is an AX5400 dual-band Wi-Fi 6 router that will work for just about any family thanks to its fast speeds, great extra software, and easy expansion options. This router has plenty of speed to take care of a family's streaming needs, as well as the option to optimize traffic for gaming. You also get free security with AiProtection Pro for the life of the router.
For a family with gamers, the TP-Link Archer GX90 is a great choice. With tri-band AX6600 speeds, a dedicated 5GHz band keeps gaming fast, with plenty of capacity left over for streamers and social media enthusiasts. Furthermore, TP-Link has included a special Game Accelerator QoS setting alongside HomeCare security and advanced parental controls.
If you want a simple and powerful mesh system that can eliminate dead zones while delivering gigabit speeds, the eero 6+ is one of your best bets. This is far from the only AX3000 mesh router but with eero's easy-to-use software and some of the best reliability we've tested, the eero 6+ is an easy pick. Compared to the cheaper eero 6, you double your speeds on the 5GHz band, the band most of your devices use, allowing for not only faster speeds with a single router, but when deployed as a mesh as well.
Best overall Wi-Fi 6 router
Reasons to buy
+
Fast dual-band AX5400 speeds
+
160MHz band support
+
Coverage expansion with AiMesh
+
Free AiProtection Pro improves the security of your network
Reasons to avoid
-
Gamer aesthetic is not for everyone
Top speeds: AX5400 Wi-Fi 6, 4804Mbps @ 5Ghz and 574Mbps @2.4GHz
Top features: Dual-band, 4x gigabit Ethernet ports, 1x gigabit WAN Ethernet port, 1x USB 3.2 ports, AiMesh support, AiProtection Pro security
The ASUS RT-AX82U is a very well-balanced Wi-FI 6 router, with plenty of speed for a family thanks to its AX5400 connection. This speed breaks down to 4804Mbps on the 5GHz band, with another 574Mbps available for 2.4GHz devices. The 5GHz band also supports 160MHz, so even your fastest Wi-Fi 6 devices can connect at full speed.
Around the back, you get four gigabit Ethernet ports for wired devices, including one that is prioritized for gaming. There's also a USB 3.2 port so you can easily access a drive from your network. There are also four adjustable antennas on the back, allowing you to set this router up for your home, even if you want to mount it.
The front of the router has RGB lighting coming out of the vent that can be controlled through the app. Of course, you can completely disable the lighting if it isn't to your taste. Still, this router looks great next to a gaming PC. It's not just for gamers in appearance, however. A gaming mode can prioritize traffic to keep your ping times low in-game, with enough speed left over to keep the rest of the family happy.
ASUS has also knocked it out of the park with software. AiProtection Pro, powered by Trend Micro, is included for free for the life of the product improving your network security. These settings are all available in the ASUS Router app on Android and iOS. Besides that, you also get advanced parental controls so you can stay in control of how your family uses the internet. Finally, you can expand your coverage with other AiMesh-compatible routers without giving up the control you expect from a standalone router.
Best value gaming router
Reasons to buy
+
Low price for a tri-band gaming router
+
Fast 5GHz band dedicated to gaming
+
Striking red and black design
+
HomeCare and parental controls are included for free
Reasons to avoid
-
160MHz mode uses DFS
-
Antennas fixed in place
Top speeds: AX6600 Wi-Fi 6, 4804Mbps + 1201Mbps @ 5Ghz, 574Mbps @ 2.4Ghz
Top features: Tri-band, vast coverage with eight antennas, 2.5G WAN/LAN port, dual USB ports, Gaming QoS feature
The Archer GX90 from TP-Link is a reasonably simple AX6600 tri-band router at its core, with software optimization to make it a great fit for a home that puts gaming first. Not only that, but one of the 5GHz bands can be dedicated to gaming, while another band serves the rest of the fast 5GHz devices. Wi-Fi speeds top out at 4804Mbps on the 5GHz gaming band, 1201Mbps on the remaining 5GHz band, and 574Mbps on the far-reaching 2.4GHz band.
What makes this router great for gamers is the software. A Game Accelerator QoS setting recognizes when a game is running, and makes sure that those packets get through first. This setting can also set aside bandwidth for your console or PC. This setting can be disabled with a button in the TP-Link app when you need your speed back for work or downloads. The 2.5Gbps Ethernet port can also be configured as WAN or LAN, enabling a blazing fast internet connection or LAN device.
The Archer GX90 also passes the parent test, with an affordable price for its speed, easy-to-use parental controls, and HomeCare security software included for free. With HomeCare and parental controls, parents can decide when it's time for homework, and when it's time for lag-free gaming.
The best compact mesh router
Reasons to buy
+
Fast dual-band AX3000 connection
+
160MHz support at 5GHz
+
Easy setup and management with the eero app
+
Consistent mesh performance
+
Tons of expansion options including all previous generations of eero
Reasons to avoid
-
Not much coverage per node at 1,500 square feet
-
eero Secure requires a subscription
-
Using older eeros in a mesh can reduce speeds
Top speeds: AX3000 Wi-Fi 6, 2402Mbps @ 5GHz, 574Mbps @ 2.4GHz
Top features: Easy mesh expansion, simple and reliable software, 160MHz support, 2x WAN/LAN gigabit Ethernet
Whether you're a student trying and failing to upload a term paper or a professional struggling to connect to a meeting, flaky Wi-Fi can be infuriating and costly. Luckily, most routers have been moving towards faster speeds while improving the software behind the scenes for a more reliable experience. Eero focused its early efforts not on speed, but on creating a Wi-Fi network that won't let you down when you need it most. The eero 6+ keeps this focus but also upgrades the hardware underneath so you can also use your gigabit speeds.
Eero 6+ comes with a dual-band Wi-Fi 6 connection but unlike the first-generation eero 6, it has 160MHz support at 5GHz which essentially doubles the speed potential for most Wi-Fi devices. While only a handful of high-end devices really support 160MHz, the side-effect of the faster band is a faster mesh link. Eero 6+ in a mesh can link its nodes at twice the speed of eero 6 giving it the headroom to deliver near-gigabit speeds across the mesh, even when there's significant interference in your area, such as you'd find in an apartment building.
While speed is the primary upgrade with the eero 6+, it's backed up by a robust app for setup and management and affordable software packages that offer real value to many people. Eero Plus is a subscription service that comes in at $9.99 per month, with several security enhancements and more advanced parental controls. It also comes with the Encrypt.me VPN service, Malwarebytes, and 1Password to help you practice safer Wi-Fi habits away from your home network.
ASUS AX1800 (RT-AX1800S)
Best value for families
Reasons to buy
+
Solid AX1800 dual-band speeds
+
Compact design
+
Inexpensive
+
Simple setup with a great app
+
Parental controls included for free
Reasons to avoid
-
No AiMesh support
-
No USB support
Top speeds: AX1800 Wi-Fi 6, 1201Mbps @ 5Ghz and 574Mbps @ 2.4Ghz
Top features: Dual-band, 4x Ethernet ports, AiProtection Classic is free, Parental controls with time scheduling are free
One of the things that really sets ASUS' router offerings apart is the software included for free. In the case of the ASUS RT-AX1800S, you get included ASUS' AiProtection Classic security software, as well as parental controls with support for scheduling. ASUS includes these features for free for the life of the product, and doesn't ask for a monthly or yearly subscription as some other brands do.
This router shares many of its specs and physical design with the more expensive RT-AX55. They both feature AX1800 dual-band wireless with 1,201Mbps possible on the 5GHz band and 574Mbps at 2.4GHz. The AX1800S, however, does not include the AiMesh feature that allows multiple ASUS routers to form a mesh, so you're stuck with the coverage the base router provides. For those in a small house or an apartment, this shouldn't be an issue.
On the back, you get four gigabit Ethernet ports for LAN, so you can keep on using your existing wired devices. There is no USB support on this router, but many people never bother setting up network storage. If you're looking for a fairly basic router with good parental control features and enough speed for just about anything most people do on the web, this is a solid choice.
Best router for game streaming
Reasons to buy
+
Fast dual-band AX6000 connection
+
160MHz support
+
Multi-gigabit LAN and WAN connection
+
Great coverage
+
AiProtection and AiMesh support
Reasons to avoid
-
Large for an AX6000 router
-
Multi-gig LAN won't be useful to many
Top speeds: AX6000 Wi-Fi 6, 4804Mbps @ 5Ghz and 1148Mbps @ 2.4Ghz
Top features: Dual-band with 160MHz support, 2x 2.5Gbps Ethernet ports, AiMesh and AiProtection included, RGB lighting controls
At first glance, the ROG Rapture GT-AX6000 from ASUS seems fairly underwhelming. This router has an eight-stream dual-band connection and a hefty price tag, but as we discovered in our review, this is one of the best-performing Wi-Fi 6 routers on the market. ASUS claims up to an 18% increase in throughput compared to older tech, and this holds up to scrutiny with some of the best 5GHz speeds we've seen on 80MHz devices. ASUS also makes it possible for you to use this extra speed to its fullest, with a 2.5Gbps WAN Ethernet port for incoming connections, and a 2.5Gbps LAN port for a device like a high-end gaming PC or even a dedicated NAS.
This router feels almost tailor-made for streamers, whether they're competitive gamers, speed runners, or Vtubers that like to chat. The 2.5Gbps Ethernet ports mean that streamers can keep their quality setting locked at max while saving VODs to something like an Asustor Lockerstor AS6604T NAS. Streamers are often entertainers first, and ASUS has built the tech they need to confidently build the high-capacity network the profession demands. Of course, all this easily translates to video or photo editors working on large projects.
ASUS' software included AiProtection to help protect your network from online attacks, AiMesh to ensure strong Wi-Fi across your entire home, and VPN Fusion so you can pick which devices use your VPN connection. This is helpful for keeping consoles or gaming PCs on a connection with the lowest possible pings.
Best router for large families
Reasons to buy
+
Fast tri-band Wi-Fi 6 with 160MHz support
+
Futuristic design with front display
+
Easy to use and set up
+
Built for mesh expansion
+
AmpliFi Teleport allows for secure connections on the go
Reasons to avoid
-
Slower than some others at this price
-
No multi-gig Ethernet port
-
One 5GHz band is Wi-Fi 5
Top speeds: Tri-band, 4800Mbps + 1700Mbps @ 5Ghz and 1150Mbps @ 2.4Ghz
Top features: 4x LAN Ethernet ports, AmpliFi Teleport, Mesh expansion, modern design with display
It's easy to get bogged down with spec sheets and product comparison tools when shopping for the best Wi-Fi 6 router, but when it comes down to it, what really matters most is the user experience. Our AmpliFi Alien review found this router to deliver impressive raw performance across the entire house, with a user interface and features that make it easy to stay in control of your home network. This router is made by Ubiquiti, a networking company that has quickly risen to prominence, with its home solutions that remind us of its high-end experience with routers like the UniFi Dream Machine Pro.
This router does have a couple of drawbacks worth mentioning, such as one of the 5GHz bands being limited to Wi-Fi 5. All in, this router can deliver 1150Mbps at 2.4GHz, 1700Mbps on one 5GHz band, and 4800Mbps on the other. This should prove to be more than enough speed for most home users, but if you're looking for the most speed possible in a router, you'll want to go with an AX11000 router like the next pick on this list.
One of the things that stands out the most about the Alien is its appearance. The monolithic design in matte black absorbs incoming light, making its 4.7-inch display and green underglow all the more vibrant. Speaking of the display, this totally unnecessary feature is a feast for the eyes if you tend to be a bit of a nerd. Sure you don't need it but is it really such a bad thing to inject a bit of fun into the mundane?
Netgear Nighthawk RAX40
Best mid-range router
Reasons to buy
+
Solid AX3000 speeds with 160MHz support
+
Four Ethernet LAN ports
+
USB 3.0 port
+
Easy setup and management with Nighthawk app
Reasons to avoid
-
Netgear Armor is expensive
-
Coverage isn't great
Top speeds: AX3000 Wi-Fi 6, 2402Mbps @ 5Ghz and 574Mbps @ 2.4Ghz
Top features: Dual-band, 4x Ethernet ports, USB 3.0, Nighthawk app
While most of our Wi-Fi 6 devices top out at just 1,201Mbps connection speeds on Wi-Fi 6, many higher-end devices, including some phones, are shipping with 160MHz support. While this is the headline feature for these phones, it comes with the benefit of 160MHz support even at 5GHz. The Netgear Nighthawk RAX40 is one of the most affordable routers with support for 160MHz connections. This can also be a huge benefit to those using high-end Wi-Fi on gaming PCs.
The RAX40's AX3000 connection is made up of two bands, with the 5GHz band supporting up to 2,402Mbps and the 2.4GHz band topping out at 574Mbps. Unlike some of Netgear's other cheap mid-range routers, this option doesn't skimp on other details. You get full 1024QAM, which allows the router to better keep speeds up in congested areas like apartment buildings.
Setup and configuration are handled by the Nighthawk app or in a browser, if you prefer. With this app, you can optimize your connection and check to make sure you're on the latest firmware. You can also use this app to access Netgear Armor and Netgear Smart Parental controls. While these both require a subscription to use, they are rather excellent and you can start with a 30-day trial with no payment method necessary to check it out.
If you're looking to get your devices connected with as much speed as possible, this is a great choice that doesn't waste a penny on features most people won't be able to use.
ASUS ZenWiFi XT8
Best mesh router
Reasons to buy
+
Fast AX6600 tri-band connection
+
Easy expansion with AiMesh
+
ASUS AiProtection included
+
Advanced settings are available
+
2.5Gbps Ethernet
Reasons to avoid
-
Mesh performance can be inconsistent
Top speeds: 1200Mbps + 4800Mbps @ 5Ghz, 600Mbps @ 2.4Ghz
Top features: Tri-band, 5,500 sq ft. coverage, 3x LAN Ethernet ports per node, AiMesh expansion, AiProtection inlcuded
ASUS' ZenWiFi series combines an attractive and simple design with ASUS' powerful software, making it easy to build the perfect mesh for your home. The XT8 tri-band AX6600 kit covers up to 5,500 square feet with two nodes and can be paired with other AiMesh compatible routers from ASUS if you need more coverage. This also means you can use one of ASUS' gaming routers in one room, without giving up any Wi-Fi coverage for the rest of the house.
On the node, you get a 2.5Gbps Ethernet port for fast fiber connections and three gigabit ports for devices. With a fast 5GHz backhaul, you can support high internet speeds all over the house for both wired and wireless devices. Furthermore, ASUS includes the AiProtection software of its other routers for free with this kit. These features are nice to have but don't always play nice with some devices. Still, they're nice to have if they work out for you.
The compact nodes are nice to look at and are available in white or black, so the nodes can be placed optimally without interfering too much with your home decor. As we saw in our ZenWiFi ET8 review, these nodes also share the look and most software features with the Wi-Fi 6E variant.
ASUS RT-AX89X
The best 10Gig router
Reasons to buy
+
Solid 12-stream AX6000 connection
+
Eight gigabit Ethernet ports
+
RJ45 and SFP+ 10Gbps ports
+
AiMesh expansion support
+
AiProtection Pro is free
Reasons to avoid
-
The AX6000 connection will struggle with multiple multi-gig streams
Top speeds: AX6000, 4804Mbps @ 5Ghz, 1148Mbps @ 2.4Ghz
Top features: 8x gigabit Ethernet ports, SFP+ and RJ45 10Gbps ports, strong 12-stream wireless connection, AiMesh supported, AIProtection Pro included
Several internet service providers have already launched internet speeds over 1Gbps with some like AT&T offering 5Gbps fiber in some areas. These providers are also working towards 10Gbps service. While very few people actually need that kind of speed, enthusiasts that want the very best in internet speeds will need a router that can take advantage of those speeds. The ASUS RT-AX89X is one of a handful of consumer routers ready for a 10Gbps connection with plenty of ports to use it.
One of the main complaints we had in our Netgear Orbi RBR860S review was that while it worked with a 10Gbps connection, it struggled to distribute that speed with limited LAN and wireless speeds. The RT-AX89X doesn't have this problem with two 10Gbps ports with one as an RJ45 Ethernet and the other as SFP+. SFP+ is a higher-tech cable solution that can use fiber optic cables to connect to a fast NAS or a 10Gbps wired network. Besides that, you have eight gigabit Ethernet ports and an AX6000 connection with 12 streams and 160MHz support so you can even get speeds in excess of 2Gbps on Wi-Fi.
One of the things that makes the RT-AX89X so versatile is ASUS' software. This router comes with AiMesh support for mesh expansion and AiProtection for improved security. ASUS has also made all of this software free so you don't need to sign up for a monthly subscription to get the most out of it. If you're upgrading to a 10Gbps connection, you have a few options including the ridiculously fast ROG Rapture GT-AXE16000 quad-band router, but if you're looking for an affordable 10Gbps solution with flexible expansion, the RT-AX89X is a great choice.
Best for a lot of devices
Reasons to buy
+
Very fast 5Ghz speeds
+
Wide 160MHz channel support
+
HomeShield included
+
OneMesh expansion capable
Top speeds: 4804Mbps @ 5Ghz, 574Mbps @ 2.4Ghz
Top features: Dual-band, 4x Ethernet ports, 1x USB 3.0 port, OneMesh expandable
The TP-Link Archer AX73 is a fast router with dual-band AX5400 speeds. This breaks down to 4804Mbps at 5GHz and 574Mbps at 2.4GHz. Compared to an AX6000 router, it reduces resource allocation to the aging 2.4GHz bands and focuses on 5GHz delivering top speeds where devices need it most. This helps the Archer AX73 achieve a price that works for most people, without giving up much speed for most connected devices. Still, with reduced 2.4GHz capacity, this won't be the best fit for a home with lots of 2.4GHz smart home devices like security cameras.
Around the back, there are four gigabit LAN Ethernet ports, and on the side is a single USB 3.0 port. This router has a nice design with plenty of ventilation on the top, allowing for completely passive cooling. Removing a fan from the equation is just one less potential point of failure. Link Aggregation is supported between two Ethernet ports as well.
This router comes with TP-Link's HomeShield software. Not to be confused with HomeCare, HomeShield offers many of the same features simplified to fit a subscription model. While the subscription is less than the one provided by Netgear, you might not even need it. Basic content filtering is available for free in parental controls as well as security information. HomeShield is $5.99 per month, or $54.99 per year.
Find the right fit for your home
While many people are looking to Wi-Fi 6 to make sure they have as much speed as possible, prices have finally come down, even to the point that mesh systems are possible. While many of the best wireless routers have Wi-Fi 6, some still get quite a lot done with the older Wi-Fi 5 tech. Mesh with Wi-Fi 6 makes a lot of sense for people looking for stability and coverage, thanks to its improved handling of multiple connections. Wi-Fi 6 is coming to more devices, and there are upgrades already available to desktops and laptops.
Even so, Wi-Fi 6E routers are adapting Wi-Fi 6 tech to the newly available 6GHz band, so there's still some room left for more speed if you need it. Some Wi-Fi 6E mesh systems also use 6GHz for faster backhaul speeds, if you're willing to spend a bit more.
Still, for most people Wi-Fi 6 is more than fast enough, with speeds sufficient for multi-gigabit connections. For most folks with an internet connection of 1Gbps or lower, Wi-Fi 6 is the right choice for the time being. The ASUS RT-AX82U is a great fit for most homes thanks to its great coverage options and speeds. It's even better when you count the practical software features like AiProtection Pro, AiMesh, and parental controls that are all included for free.
Should you buy a mesh Wi-Fi 6 solution?
The best mesh Wi-Fi systems are a great way to increase coverage, but they offer more than just square footage. Carefully placed mesh nodes can build a strong network even in challenging conditions, such as a home with concrete walls or around an HVAC system that causes interference. For example, a mesh with Wi-Fi 6 can have a stronger connection to each node, with degredation from interference.
Still, many people don't need a mesh system at all, depending on the size of their homes. If you find that a single router just doesn't cut it, a great Wi-Fi 6 mesh routers will be more capable than one based on Wi-Fi 5. Still, starting with a mesh-capable router gives you the option to expand down the road.
Is it worth it to upgrade from a Wi-Fi 5 router?
The best Wi-Fi 5 routers are still reasonably quick with access to reasonably modern features but they simply can't match the performance of Wi-Fi 6. Also known as 802.11ac, Wi-Fi 5 tops out at 867Mbps for most devices and with a little interference, actual speeds are often only around half of that. While speeds on Wi-Fi 5 are still serviceable, the older tech won't hold up as well when more devices start to get online.
If you've noticed that your speeds are inconsistent throughout the day or you have a lot of devices in your home, it may be time to look into a Wi-Fi 6 upgrade. That being said, if your Wi-Fi 5 router is still keeping up with your needs, there's no rush to upgrade outside of some newer software features.
Should you care about Wi-Fi 6E?
Wi-Fi 6E uses a 6GHz band in addition to the traditional 2.4GHz and 5GHz. This new band has many more available channels, including seven possible simultaneous 160MHz wide channels. This allows the router to use 160MHz to a much more significant effect, with much less interference than is possible with the single wide channel available at 5GHz.
While this is all very impressive, only a handful of devices currently support Wi-Fi 6E. For most people, there's not much reason to upgrade just yet, especially if you have a new Wi-Fi 6 router. However, some of the most reliable Wi-Fi 6E routers are already available if you want to be ready for the future, and they all support standard Wi-Fi 6 and Wi-Fi 5 devices.
Android Central Newsletter
Get instant access to breaking news, the hottest reviews, great deals and helpful tips
When Samuel is not writing about networking or 5G at Android Central, he spends most of his time researching computer components and obsessing over what CPU goes into the ultimate Windows 98 computer. It's the Pentium 3.
Android Central Newsletter
Get instant access to breaking news, the hottest reviews, great deals and helpful tips
Thank you for signing up to Android Central. You will receive a verification email shortly.
There was a problem. Please refresh the page and try again.