Best Android tablet 2023
Samsung's new Tab S8 series leads the pack when it comes to the best Android tablets.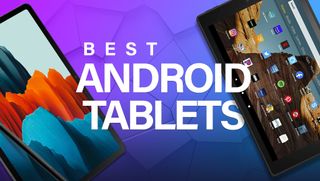 (Image credit: Android Central)
Choosing the best Android tablet depends on your priorities. You must decide if you want one for casual streaming, note-taking and drawing, or for serious productivity. Android tablets range from affordable Fire tablets to massive Galaxy tablets with all the bells and whistles (and the price to match), with plenty of options and brands in the middle. And you'll need to decide which accessories you can't do without or what quality of display and performance you really need.
If you want the best Android tablet, the Samsung Galaxy Tab S8 series has no rivals for the throne. All three Tab S8s offer blazing speeds, gorgeous visuals, rich audio, durable batteries, and feature-rich software. They may be too expensive or massive for some buyers, but now they've been out for a year, you'll frequently find them on sale for hundreds under list price if you stay vigilant for tablet deals.
For work, school, casual use, or limited budgets, we've gathered all of the best Android tablet options available. And if you're on the hunt for more affordable options, consider our favorite budget tablets instead.
It's easy to find the best Android tablet to pick up today
Why you can trust Android Central Our expert reviewers spend hours testing and comparing products and services so you can choose the best for you. Find out more about how we test.
Best overall Android tablet
Specifications
Display:
12.4 inches, 2800x1752 (266 ppi)
Processor:
Snapdragon 8 Gen 1
Memory:
8GB RAM, 128 / 256GB storage
Cameras:
3MP AF + 6MP UW, 12MP front
Dimensions:
11.22" x 7.28" x 0.22", 1.27 lb
Colors:
Graphite, Silver, Pink Gold
Reasons to buy
+
QHD AMOLED 120Hz display
+
S Pen stylus with low latency included
+
4nm flagship processor
+
Long battery life
+
First-party detachable keyboard available
+
High-quality quad speakers
Reasons to avoid
-
Expensive if you're only a casual tablet user
-
Too large for extended portrait or handheld use
The most important things to have in a full-sized Android tablet are a great screen, loudspeakers, robust build quality, and software that makes use of the extra screen size. That's what makes the Samsung Galaxy Tab S8+ well worth the extra cash for power users — it has a combination of everything.
Its spec sheet leaves little to be desired, with the cutting-edge Snapdragon 8 Gen 1 processor, 8GB of RAM, a microSD slot for expandable storage, and durable battery life. Since it's a Samsung product, you're getting a best-in-class display — coming in at 12.4 inches with an ultra-smooth 120Hz refresh rate — and a scratch-resistant aluminum build.
You also get extras like excellent quad speakers, in-display fingerprint sensor, and an S Pen stylus included in the box that attaches to the tablet's back or top. Plus, you can attach a keyboard cover to get some work done and then jump into the DeX desktop-style interface for a more laptop-like experience.
Most importantly, Samsung's One UI 5 software makes multitasking on the Tab S8+ remarkably easy. You simply drag your favorite apps from the pinned taskbar onto the display, and the UI automatically splits them into resizable windows or squeezes them into compact pop-up windows. That's why you'll enjoy the Tab S8 Plus' extra display space, whereas the Tab S8 display can't fit as much information at once.
If you want a massive, do-everything Android tablet and you're willing to spend the money, there's nowhere else to go but the Galaxy Tab S8+. Our Tab S8+ review noted that the only potential problem with the Tab S8+ is that 12.4 inches might be too big for some users, in which case the smaller Tab S8 might fit your needs better.
Samsung Galaxy Tab S8
Best 11-inch Android tablet
Specifications
Display:
11 inches, 2560x1600 (274 ppi)
Processor:
Snapdragon 8 Gen 1
Memory:
8GB RAM, 128 / 256GB storage
Cameras:
13MP AF + 6MP UW, 12MP front
Dimensions:
9.99" x 6.51" x 0.25", 1.10 lb
Colors:
Graphite, Silver, Pink Gold
Reasons to buy
+
Super light for its size
+
Large, high-quality screen
+
Long-lasting battery life
+
Quad speakers
+
Optional hardware keyboard cover
+
Productivity features including DeX Desktop
Reasons to avoid
-
Can feel cramped when using as a laptop
-
Downgraded to LCD, side fingerprint button
The Galaxy Tab S8 is Samsung's entry-level flagship offering in the tablet space, with a comfortable size and powerful specs. It's built on the same tenets as the Tab S8+ but takes small, strategic cuts back to be more affordable — and that makes it all the more enticing.
You get a manageable 11-inch LCD, which feels dramatically better for handheld use than the S8+, and still features a 120Hz refresh rate and the same 8GB of RAM and high-quality quad speakers, plus an extra 100 nits of brightness (up to 600). Even though you get a smaller battery, the downgrade from AMOLED to LCD adds a couple of extra hours, so it should easily last two days of casual use.
While the Tab S8 has slightly higher S Pen latency than the S8+ (6.2ms vs 2.8ms), it's still faster than the 9ms with the S7 series. Samsung also switched the fingerprint sensor to the power button, but some people prefer that to in-display, so it isn't a major downgrade, either. The only true downside is the loss of AMOLED, but at least you still get a 120Hz refresh rate and WQXGA resolution. It's still an excellent display.
The entire body has a sleek aluminum design that feels extremely high-end and *impossibly* thin and light, at just a quarter-inch thick and 1.1 pounds. That makes it great for media consumption and handheld use in ways that even the Tab S8+ isn't. But you can still attach a hardware keyboard and jump into DeX desktop mode to get some serious work done just as well.
Best premium productivity tablet
Specifications
Display:
14.6 inches, 2960x1848 (240 ppi)
Processor:
Snapdragon 8 Gen 1
Memory:
8GB / 12GB / 16GB RAM, 128 / 256 / 512GB storage
Cameras:
13MP AF + 6MP UW, 12MP FF + 12MP UW
Dimensions:
12.85" x 8.21" x 0.22", 1.60 lb
Reasons to buy
+
A bezel-less behemoth of a display
+
Up to 16GB of RAM
+
Dual selfie cameras
+
Special backlit keyboard with trackpad
+
Best model for productivity and multitasking
Reasons to avoid
-
Expensive, especially for RAM upgrades
-
Only Graphite color option
-
Not at all portable
-
Has a notch
Samsung's first Ultra tablet doesn't pull any punches, especially if you're willing to spend a little extra. The standard Tab S8 Ultra has the same performance quality as the smaller models, but you can upgrade to 12GB or 16GB to power demanding Android apps and games like Adobe Lightroom or Genshin Impact.
At 14.6 inches and 1.6 pounds, the Tab S8 Ultra belongs on your desk. Combined with the impressive 90% screen-to-body ratio, the display size makes it the champion for fitting multiple full-sized apps at once; and you can buy a backlit keyboard cover with a trackpad, converting it into a modular laptop.
The downside of its design is that the Tab S8 Ultra's tiny bezels leave you no room to hold it without accidental touches, while also exposing a notch that you'll have to learn to ignore. You essentially have to use it docked, and the official keyboard cover ships separately and costs a healthy amount. Combined with the RAM upgrade, a fully-specced and accessorized Ultra will cost you about the same as a premium laptop.
If that's a problem, you could settle for the base 8GB version and a third-party option and save hundreds of dollars easily. Even with "just" that memory, you're still getting excellent performance and a massive slab for gaming, streaming, and working. You merely have to accept that it's not at all portable.
Otherwise, our Galaxy Tab S8 Ultra review called this the "biggest and baddest Android tablet on the market," but noted that for most people, it'll be a "secondary device" rather than a primary one, since Android isn't the perfect ecosystem for a daily work device. If work is your focus, you may want to look to a Chrome tablet instead.
Best budget-friendly ChromeOS tablet
Specifications
Display:
10.9-inches, 2000 x 1200
Processor:
Qualcomm Snapdragon 7c Gen 2
Memory:
Up to 8GB RAM, Up to 128GB storage
Cameras:
8MP rear, 5MP front
Dimensions:
258.04 x 164.55 x 7.90mm , 516.5g
Reasons to buy
+
Includes detachable keyboard and kickstand case
+
USB-C ports on either side
+
ChromeOS is quite powerful
+
Beautiful 11-inch 2K display
Reasons to avoid
-
No 120Hz refresh rate or AMOLED
-
Not compatible with USI 1.0 stylus pens
-
Does not include USI 2.0 stylus pen
While it's true that the Lenovo IdeaPad Chromebook Duet 3 doesn't actually run Android, it still has full access to the entire Play Store. Google has been making a conscious effort to improve the Android app experience on Chromebooks, and the Duet 3 is no exception.
As for the tablet itself, the Duet 3 features an 11-inch 2K display that is bright and vibrant, while also being compatible with USI 2.0 pens. The lightweight and portable design make this the perfect couch companion, and since Lenovo includes a detachable keyboard, you can take this with you to the coffee shop.
When the Duet 3 was finally launched, it was only available in a 4GB/64GB configuration, but Lenovo has since released the 8GB/128GB version. The biggest downside to the Duet 3 is that you'll need to get a USI 2.0 stylus pen, which is currently only available from Lenovo. Unfortunately, if you have a USI 1.0 pen, you won't be able to use it with the Duet 3.
Compared to something like the Tab S8 Ultra, the Duet 3 is more underpowered, especially if you get the cheaper 4GB version. But our review notes that it still offers "a bit more oomph than Android tablets," and is a more affordable secondary option for getting some quick work done on the go.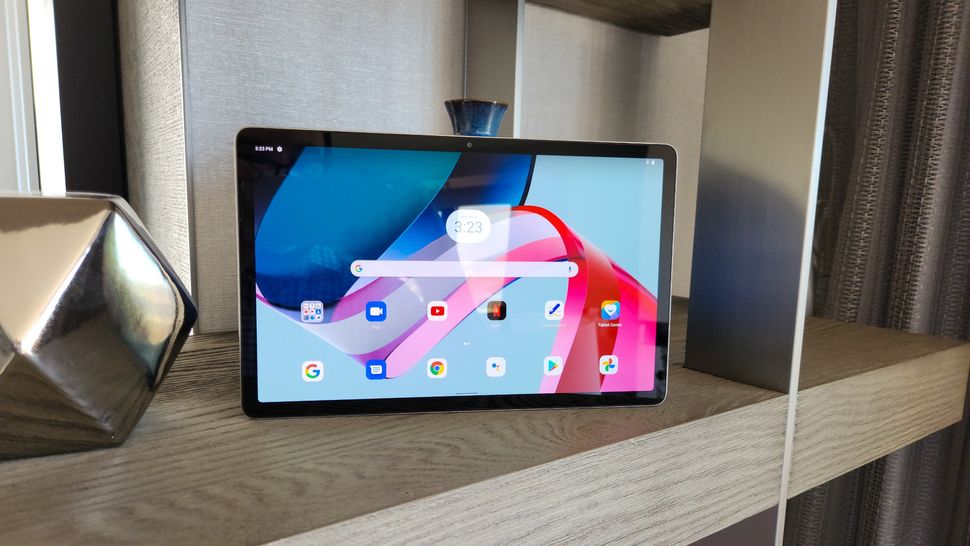 Best mid-range Android tablet
Specifications
Display:
11.2-inch 120Hz, 2560 x 1536
Processor:
MediaTek Kompanio 1300T
Memory:
4-6GB RAM, 128 GB storage, microSD slot
Cameras:
13MP rear, 8MP front
Dimensions:
263.66 x 166.67 x 6.8mm, 1.05lb
Reasons to buy
+
Bright 2K display
+
Loud stereo speakers
+
Premium look and feel
+
Long battery life
+
Includes Precision Pen 3
Reasons to avoid
-
The detachable keyboard is sold separately
-
Still needs a bit of software polish
The best Android tablet for most people tends to come from Samsung or Amazon, but don't sleep on Lenovo, which makes a series of stock Android tablets for premium and budget shoppers. While we're big fans of both the powerful (but expensive) Lenovo Tab P12 Pro and budget-minded Tab P11 Plus, it's the Lenovo Tab P11 Pro Gen 2 that strikes the best balance at a price well below the Galaxy Tab S8.
Unlike the mediocre 1st-gen Pro, the 2nd-gen model has reliable performance, comparable to the more expensive Galaxy Tab S7 FE if you buy the 6GB model. Equally important, the gorgeous display hits 267 ppi, 120Hz, and 600 nits, all comparable to the Galaxy Tab S8 in quality. Its battery life reliably reaches well above double-digit hours, and the quad JBL speakers give excellent audio quality for streaming and gaming.
Unlike Lenovo tablets of the past, the Tab P11 Pro Gen 2 has two promised OS updates to Android 14, giving it much more longevity even if it can't quite compete with a Samsung tablet in this area. Lenovo's stock Android software isn't anything special compared to Samsung's One UI software, but it does give you some unique features for streaming: A Google TV Entertainment Space that organizes your favorite shows across all your logged-in streaming services and the Kids Space software catered to younger users.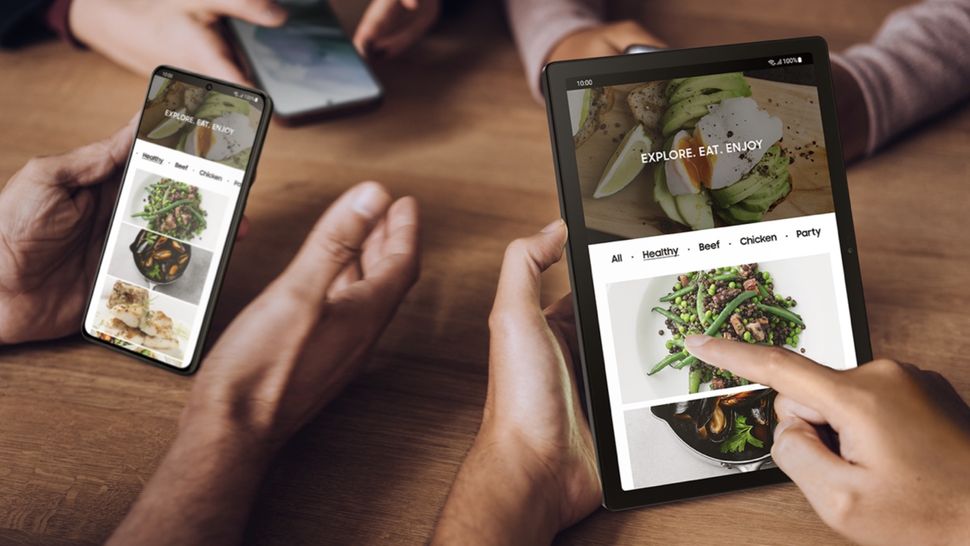 Samsung Galaxy Tab A8
Best low-budget Android tablet
Specifications
Display:
10.5-inches, 1920 x 1200
Processor:
Unisoc Tiger T618
Storage:
32GB / 64GB / 128GB
Cameras:
8MP rear, 5MP front
Dimensions:
246.8 x 161.9 x 6.9mm, 508g
Colors:
Gray, Silver, Pink Gold
Reasons to buy
+
Super affordable
+
Lightweight and stylish
+
Long-lasting battery
+
Stereo speakers
+
MicroSD card slot
Reasons to avoid
-
Missing out on S Pen support
-
Built-in storage limited to 128GB
If you're looking to buy a tablet for the first time and don't have any stringent needs, the Galaxy Tab A series is an excellent option for a fraction of the Tab S8's cost. While you won't be blown away by its specs or features, the Tab A still manages to offer a metal body. And unlike Amazon's Fire Tablets, it has a fully-functional version of Android with Google services like the Play Store, so you can download any apps you want.
The Galaxy Tab A8 is a great option for those in the market looking for an entry-level tablet that offers a traditional Android experience. The smaller display and overall design make the Tab A8 extremely portable and comfortable to hold in one hand while still being large enough to consume media from streaming services like Netflix, YouTube, Hulu, and Disney+.
Best affordable tablet for students
Specifications
Display:
10.1 inches, 1920x1200 (224 ppi)
Processor:
8-core 2.0 GHZ
Memory:
3GB RAM32 / 64GB storage
Cameras:
5MP rear, 2MP front
Battery:
lasts up to 12 hours
Dimensions:
9.73 x 6.53 x .36 inches, 16.5 oz
Colors:
Black, Denim, Olive, Lavender
Reasons to buy
+
Exceptional value for this size
+
Solid display
+
Amazon's apps get the basics done
+
Fun color options available
+
Productivity Bundle option with Microsoft Office 365
Reasons to avoid
-
No access to Google Play apps
-
Cheap-feeling plastic body
-
No official water resistance
The Amazon Fire HD 10 is one of those deals that's almost too good to pass up if you're after a device with a large screen and a smaller price tag. As our review noted, it's the best Android tablet under $200, giving you all the basics — from watching movies and TV shows, to browsing and playing casual games — on a larger-than-average slab.
What makes this deal even better is that the 2021 edition comes with a Productivity Bundle option, which includes a custom Bluetooth keyboard and a 12-month subscription to Microsoft Office 365 Personal edition. With a bump in RAM from 2GB to 3GB and the new hardware and software options, the package is compelling for those who want a secondary productivity machine. Amazon also released a Fire HD 10 Plus version, which features 4GB of RAM, wireless charging capabilities with a wireless charging dock accessory, and comes in a stately slate color.
This device won't replace a desktop or laptop computer, but it is the perfect portable productivity machine for students on the go. With a steady keyboard and Microsoft apps, it's great to take notes in class or do a little research in the library. Plus, it is much lighter than a traditional laptop or larger tablet.
The big caveat to keep in mind with an Amazon Fire Tablet is that you don't get the Google Play Store or Google's great apps and services. Instead, you'll rely on the Amazon App Store, which has a dramatically more limited app selection. But for this price, that's an OK trade-off for most people, especially for students on a budget.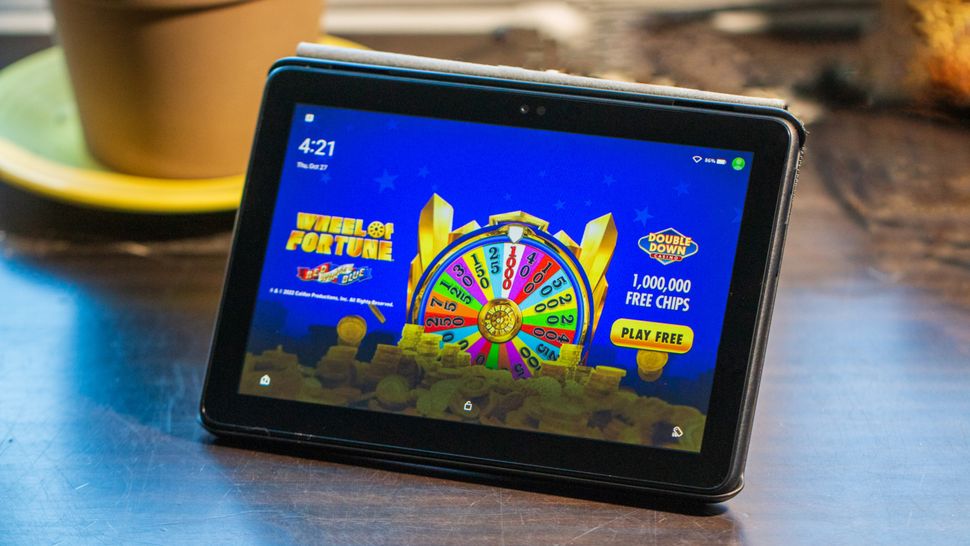 Best value Amazon tablet
Specifications
Display:
8.0 inches, 1280x800 (189 ppi)
Processor:
MediaTek MT8168
Memory:
2GB RAM32 / 64GB storage
Cameras:
2MP rear, 2MP front
Dimensions:
202 x 137 x 9.7mm, 355g
Colors:
Black, White, Plum, Twilight Blue
Reasons to buy
+
Small enough for kids to use
+
Fun color choices
+
Gets all of the basics done
+
Now has 32GB storage and USB-C
+
Almost unbelievable price
Reasons to avoid
-
Low-quality screen
-
Cheap-feeling plastic build
-
No access to Google Play apps
Amazon also makes the best super-inexpensive Android tablet available, the Fire HD 8. As our review notes, this "new" version isn't particularly different from the 2020 Fire HD 8. It jumps from a quad-core to hexa-core CPU (which allegedly improves performance by 30%, weighs 18g less, and lasts an extra hour up to 13 total; but otherwise has the same display size and quality, RAM, 32-64GB storage with microSD slot, USB-C charging, and so on as its predecessor.
What matters is that you're paying $100 — or much less during one of Amazon's frequent deal events — for a quality, petite tablet with all the essentials. The dip from FHD to HD may bother some, but it's "good enough" for most according to our reviewer. The improved performance also can be a bit "sluggish" for demanding apps, but that's to be expected for a tablet this price.
Like the Fire HD 10, it doesn't have the Google Play Store or Google apps. But you're even more likely to look past that when you're spending this little on a tablet. So this is an excellent choice for media consumption, browsing, or handing to your kids — though for the latter, you may want to upgrade to the Fire HD 8 Kids Pro (2022) or our pick below.
Best Android tablet for older kids
Specifications
Display:
10.1 inches, 1920x1200 (224 ppi)
Memory:
3GB RAM32GB storage
Cameras:
5MP rear, 2MP front
Dimensions:
7.4 x 10.1 x 0.7 inches, 25.3 oz
Colors:
Black, Doodle, Intergalactic, Sky Blue
Reasons to buy
+
Great warranty
+
Lots of content for older kids
+
Great case options
+
Excellent parental controls
+
Fantastic display
+
Great sounding dual speakers
Reasons to avoid
-
Can be a bit large for some children
-
On the expensive side
-
No Google services built-in
Amazon expanded its Kids edition Fire Tablets in 2021, adding a Pro tier for older children ages 6 to 12 and keeping its standard Kids Edition Tablet options with content and features appropriate for children ages 3 to 7.
The latest and greatest of these devices is Fire HD 10 Kids Pro, which is filled with the best hardware and software you could ask for as a parent. Amazon took its top big tablet, loaded it with parental controls, kid-specific content for older children, and wrapped it in a durable and functional case. While the screen size could be difficult for some, the provided case includes a kickstand for viewing.
The 1080p display provides solid colors and clarity for content. The HD 10 Kids Pro also has the same awesome dual-speaker setup as the grown-up version. However, when you'd like to limit the noise, there's a standard headphone jack.
Since this is a kids' edition from Amazon, it gets a free year of Amazon's Kids+ service. This provides parental controls for you and over 20,000 age-specific titles for your kids. Not only that, but the tablet also gets two years of "worry-free" guarantee — if the tablet breaks, Amazon will replace it. That could be the most important feature of all.
Best Android tablet for younger kids
Specifications
Display:
7 inches, 1024x600 (171 ppi)
Memory:
2GB RAM, 16GB / 32GB storage
Cameras:
2MP front and rear
Dimensions:
8.7 x 6.3 x 1.0 inches, 16.1 oz
Colors:
Blue, Red, Purple
Reasons to buy
+
Great warranty
+
Age-appropriate content for younger children
+
Great case options
+
Excellent parental controls
+
Smaller size is easier for smaller kids to hold
+
Cheapest kids Fire Tablet
Reasons to avoid
-
The display isn't great
-
2GB of RAM is not much
-
Battery life could be better
If you have younger kids, probably 3-7 years old, the Fire 7 Kids Edition is an excellent buy for your family. It still features age-appropriate content but is specifically geared toward a much younger audience.
The Fire 7 Kids Edition Tablet is much smaller and more manageable for children to hold, but it still retains the fun and colorful protective cases with kickstands. The screen isn't as sharp, and it only has a mono speaker, but I doubt your little ones will mind those details that much. The bigger concern is the shorter seven-hour battery life. You probably don't want your kids on the screen for seven hours at a time, but it does mean you'll need to remember to charge it more frequently.
Like the larger Pro devices, this tablet comes with a year of Amazon Kids+ service, so you don't have to worry about what they're watching or how rough they are on their tablet.
How to choose
There are a lot of factors that go into deciding whether the best Android tablet is right for you. Price is likely the most important factor, but that also ties into the value of a tablet. For example, just because the Galaxy Tab S8 Ultra is the most expensive Android tablet doesn't necessarily mean that it's the absolute best. There are plenty of great tablets that will work for your needs but won't break the bank.
Size is another important factor, but this also depends on what it is that you're trying to accomplish by purchasing a new tablet. If you just want a lightweight media consumption device that's not your laptop, then devices larger than 10 inches might not be right for you. But if you are planning to get some work done away from your desk or the office, then a tablet with a larger screen will be the better fit.
With those two factors taken into consideration, you'll want to look at other features such as battery life, screen resolution, camera quality, and design. There's also the question of the "intangibles." Does the tablet include a stylus? Is there a detachable keyboard available? Is that included? What about cases? Are case options limited to first-party options, or are there a bunch of third-party solutions to pick from? These are all questions we consider when performing our reviews, along with determining which Android tablet is "the best."
How we test
Along with the questions and factors that we outlined above, when it comes to reviewing and testing these devices, we try to take into account every other possible detail. For example, we look at the build quality and durability of different tablets that come across our desks, short of doing actual bend tests.
Because we'll be looking at these screens for long periods of time, we want to know the same things as you, including if you can actually see the tablet under direct sunlight. How does the latest Netflix hit look, and what about HDR or Dolby Atmos compatibility? Speakers are another big thing with tablets since you shouldn't always have to reach for a pair of headphones if you're watching a movie.
And circling back, there are the aforementioned "intangibles" to consider, such as determining whether you can actually use a tablet as a laptop replacement of sorts, depending on the model. Plus, there's the whole question of battery life, as you don't want to end up with a tablet that can't even make it through the latest Marvel movie without needing some juice. All of these factors play an important role in making our final determination and providing a score for the review.
Which of the best Android tablets should you buy?
Picking a quality Android tablet typically boils down to either Samsung or Amazon models. Samsung dominates the premium and mid-range tablet market while competing with Amazon via its cheaper, budget A-models. So when weighing the best Android tablet for you, specifically, start with Samsung unless you don't have much money to spend.
In terms of the "best" without regard to money, it's a toss-up between the three Tab S8 models. The 11-inch Galaxy Tab S8 is the best mainstream pick, coming in lighter, brighter, and more affordable than its larger siblings while sporting the same flagship Snapdragon chip. It even has the longest battery life of the bunch at about 15 hours.
Then again, you might want to consider the Galaxy Tab S8+ instead. You'll trade in the S8's basic LCD panel for a 12.4-inch AMOLED, giving you richer colors, deeper blacks, and more screen space for fitting in multiple apps at once. It also has shorter S Pen latency at just 2.8ms, so short that you'll feel like you're writing on actual paper. Though more expensive and less comfortable to hold, the Tab S8+ display justifies the upgrade.
The Galaxy Tab S8 Ultra measures a massive 14.6 inches and 1.6 pounds with tiny bezels, making it wholly unsuitable for casual streaming in bed, but perfect as a laptop replacement using Samsung DeX mode. It's the Android equivalent of the iPad Pro, with the price and power to match. If you want an Android tablet with more than 8GB of RAM, this is your best (and only) choice.
Dropping into the mid-range category, the Galaxy Tab S7 FE provides the same display size and battery as the S8+ for about half the price, if you can stomach some performance downgrades.
But for true affordability and value, you'll want to look at Amazon's catalog, starting with Amazon's Fire HD 8. The specs are nothing to write home about, but performance is surprisingly good, and you get a great media consumption device for a highly competitive price. The only catch? The Fire HD 8 runs Amazon's Fire OS rather than a more typical Android build, meaning you'll need to download apps from Amazon's app store rather than Google's.
Is getting a tablet worth it?
This is a question only you can really answer, but a better question might be "what do I want or need a tablet for?" If you're looking to replace an aging laptop with a tablet, there aren't as many options available, and instead you might be better suited with a great Chromebook.
Determining what it is that you're planning on using the tablet for is the first step of the equation. Because if you don't have an actual use-case for the device, then it'll likely end up just gathering dust.
But the great thing about tablets, regardless of the price, is that they can solve a lot of different problems and come in a bunch of different software flavors. If you're entrenched in the Amazon Alexa ecosystem, then a Fire tablet might be better suited for your needs. Google's Pixel tablet is coming in 2023, which is expected to provide a "stock" Android experience that the tablet market hasn't seen in years, so that might be something to consider as well.
What is the difference between Cellular and Wi-Fi tablets
Most of the time, there are no major differences when purchasing a tablet with cellular service compared to a Wi-Fi version. In some instances, there might be a slight weight difference, along with the addition of a SIM card slot, but the overall design and functionality will remain the same.
Instead, the difference between these tablets comes down to whether you want to have an "always-connected" device, or if you're fine relying on Wi-Fi connections. The former allows you to have a constant internet connection but comes at the cost of an additional line of data (read: higher monthly bill). Cellular tablets also have a tendency to suffer a bit in the battery life department since they're always trying to find a suitable network connection.
As for Wi-Fi tablets, you might not think that there's much of a cost to consider, but something to keep in mind is when you want to use the tablet and aren't within range of a Wi-Fi network. In that case, you'll need to use your phone's built-in portable hotspot, but that's not a feature immediately available on every cell phone plan. Going this route will also result in your phone's battery draining much quicker than normal, along with potentially eating up your mobile data allotment.
Android Central Newsletter
Get instant access to breaking news, the hottest reviews, great deals and helpful tips
Senior Editor - Chromebooks, tablets, and wearables
Andrew Myrick is a Senior Editor at Android Central. He enjoys everything to do with technology, including tablets, smartphones, and everything in between. Perhaps his favorite past-time is collecting different headphones, even if they all end up in the same drawer.
Android Central Newsletter
Get instant access to breaking news, the hottest reviews, great deals and helpful tips
Thank you for signing up to Android Central. You will receive a verification email shortly.
There was a problem. Please refresh the page and try again.