Best Chromebook 2022
Want to hop onto the Chromebook trend? Start here.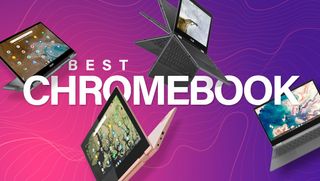 (Image credit: Android Central)
The best Chromebook can provide a top-notch computing experience today, and for years to come. They're perfect for students, grandparents, and anyone looking for a trouble-free laptop with long battery life. We've reviewed and rated the absolute best Chromebooks so that you can find the best value at any budget. Our buyer's guide will help you find the perfect Chrome OS laptop or tablet if you're switching from a Windows or Mac, or if you're buying your first laptop entirely.
What are the best Chromebooks you can buy today?
The beauty of the Chromebook market is that there are so many options to choose from. For example, there are numerous dependable choices if you want something specifically for portability and battery life. Similarly, if you don't plan to move it from a desk and would prefer a big, beautiful display and plenty of CPU power to back it up, there are lots of options for you, too.
Our top pick is the Lenovo Flex 5i Chromebook, which hits all of the right markets for a laptop, including build quality, performance, battery life, and longevity — all for a very fair price. The only problems with the Flex 5 were surprisingly mediocre battery life, and that the screen is only a 250-nit, 1080p touchscreen.
Those who want to immerse themselves completely in the Google ecosystem will want to check out the Pixelbook Go. From the specs point of view, it's very outdated, but what you get in return is one of the best Chromebooks that you'll ever use. The hardware is fantastic and doesn't disappoint, despite not being updated in a few years.
If you want a Chromebook screen that looks fabulous and has the power and prestige to match, grab the Acer Chromebook Spin 713. It will run you a little more money, but comes with a brighter 2K screen in a 3:2 aspect ratio. Powered by an 11th Gen Intel processors, the Spin 713 is powerful enough for gaming and running virtualization software like Parallels. Of course, not everyone will need it, but this is the one to beat if you do.
The best Chromebooks for you
Best Overall
Specifications
Display:
14-inch LCD touchscreen, 340 nits brightness
Battery:
Up to 10 hours via 56Wh cell
Ports:
2x Thunderbolt 4 (USB-C), 1x USB-A (USB 3.2 Gen 1), full-size HDMI, 3.5mm stereo combo jack, Kensington lock
Other features:
Dockable USI stylus, Intel Iris Xe graphics, webcam privacy shutter, 45W Power Delivery, Wi-Fi 6E, Bluetooth 5.2
Auto Update Expiration date (AUE):
June 2030
Reasons to buy
+
Garaged USI stylus
+
Fantastic performance without paying a premium
+
Upward firing speakers are a nice touch
+
Comfortable typing experience
Reasons to avoid
-
No fingerprint scanner
-
Configurations are current limited to the Core i5 model
The best Chromebook you can buy isn't necessarily the most powerful or the most expensive. Instead, it combines many features into a compact body that will appeal to almost all Chromebook users; from novices to experts, students to professionals.That's no longer the case now that the Elite Dragonfly Chromebook and ASUS Chromebook CX9 are here, but that's just fine. With the Acer Chromebook Spin 714 (2022), you're now able to enjoy one of the most performant Chromebooks without paying HP's or ASUS' exorbitant prices.
While the Steam Alpha program has yet to be upgraded with support for 12th Gen Intel processors, we have no doubt that it's only a matter of time before the Spin 714 is added to the list. The currently available configuration is powered by the Intel Core i5-1235U, but Acer plans to add a Core i7 configuration in the near future, giving you even more power, if you need it.
But as opposed to the Spin 713, there's at least one major change that you might not have expected. Instead of needing to remember to bring a stylus with you, the Chromebook Spin 714 (2022) includes one. And unlike the HP Elite Dragonfly, you don't need to worry about magnet strength as the USI stylus is garaged right in front of the bottom keyboard deck.
One of the complaints I've had with a few of Acer's recent Chromebook releases is the frustrating choice to use bottom-firing speakers. The Spin 714 solves that problem, using upward-firing speakers that line the base of the display along the top of the keyboard. This comes while sacrificing the likes of a built-in fingerprint scanner, but considering that you can only use biometrics to unlock ChromeOS devices, it's not the end of the world.
There are only really two detractors from the Spin 714, as in our review, we found that the 12th Gen Intel chips really put a damper on battery life. The Spin 714 should still be able to get you through the day, but you won't want to leave your charger behind if you're heading out to a coffee shop. We're also still scratching our heads at the decision to slap a non-removable Gorilla Glass branding in the top left corner of the screen. It doesn't affect anything on a day-to-day basis but is just a weird reminder to have.
Bottom line: If you want the best Chromebook overall, it doesn't get much better than the Spin 714 (2022). It's not as expensive and doesn't feature as many bells and whistles as the more expensive ASUS and HP premium offerings. But it's powered by Intel's 12th Gen chipsets complete with Iris Xe graphics. Plus, having a USI stylus with you at all times, and safely housing it in the Chromebook, is a potential game changer.
Best for students
Specifications
Display:
13.3-inch 1080p IPS touchscreen
CPU:
Intel Pentium 7505 / 11th Gen Intel Core i3
Ports:
2x USB-C, 1x USB-A, microSD, audio combo jack
Other features:
Wi-Fi 6, Bluetooth 5.0, 720p camera, 45W charger
Auto Update Expiration date (AUE):
June 2029
Reasons to buy
+
USI Stylus compatibility
+
Loud upward-facing speakers
+
Backlit keyboard
+
8GB configurations easy to find
If your next laptop is needed to fit in a specific budget while being able to survive alongside your next semester, check out our favorite Chromebook on the market for students, the Lenovo Flex 5i Chromebook. Barely bigger than an 11.6-inch Chromebook, the Flex 5i has the best blend of performance, portability, and price.
The bezels around the Flex 5i's 1080p screen are just enough for you to grip when flipping between laptop, stand, and tablet modes. The 13.3-inch touchscreen offers easy split-screening as you spread out your work. You can comfortably type on its backlit keyboard for hours at a time — it's what I'm using to write this right now — and sitting on either side of the keyboard are speakers that will get nice and loud as you jazz up your workday with some tunes.
This version comes with Intel's 11th Generation i3 processor with 8GB of RAM and 64GB of storage, an upgrade from the 2020 Flex 5's 4GB RAM configurations that is welcome, as more and more of us are working from home. Like most of the newer Chromebooks on this list, the Flex 5i comes with two USB 3.1 Type-C ports and a single legacy USB-A port, as well as a microSD slot for expandable storage, and a headphone jack. You get Wi-Fi 6 for faster, more reliable connectivity — and Bluetooth 5.0, so your headset won't drop out as often — and the 45W charging brick in the box tops off the up to 10-hour battery in just 90 minutes.
ChromeOS was built to run well on modest hardware, so things are smooth and stable on the Flex 5i's hardware. The move to 8GB of RAM on the standard Intel Core i3 model is long overdue. Pentium models are offered at some retailers, but it's less than a $100 upgrade for the i3 and 8GB of RAM and worth every penny to do so.
Bottom line: With a powerful 11th Gen Intel Core i3 chip, a beautiful 13-inch 1080p touchscreen, backlit keyboard, and remarkably reasonable price, the Flex 5i is a great Chromebook for just about everyone. Despite a slim and lightweight build, the Flex 5i has a 360-degree hinge for easy conversion to tent or tablet mode, along with upward-firing stereo speakers, and support for both USI Stylus and Wi-Fi 6 for power-users.
Most premium
Specifications
Display:
13.5-inch, 3:2, 400 or 1000 nits peak brightness
Resolution:
1920x1280 / 2256x1504
CPU:
Intel Core i3-1215U / Intel Core i5-1235U / Intel Core i5-1245U / Intel Core i7-1265U
Ports:
2x Thunderbolt 4 (USB-C), 1x USB-A (USB 3.2 Gen 2), full-size HDMI, microSD card slot, SIM card slot, 2.5mm stereo combo jack
Other features:
Haptic trackpad, backlit keyboard, fingerprint scanner
Auto Update Expiration date (AUE):
June 2030
Reasons to buy
+
The haptic trackpad is one-of-a-kind on Chromebooks
+
Includes magnetic Digital Pen
+
Performance is just as good as competing Windows and Mac laptops
+
The display's 3:2 aspect ratio makes for a fantastic productivity machine
Reasons to avoid
-
Extremely expensive
-
Custom configurations mean even higher prices and long wait times
If you were to ask about the most premium Chromebook out there just a year ago, you still wouldn't find yourself spending more than $1,500. Until the HP Elite Dragonfly Chromebook, that just really wasn't anything you needed to worry about as truly premium Chromebooks weren't a segment of the market. But that's all changed with HP's first Chromebook under the "Dragonfly" umbrella.
On the Windows side of the world, the name "HP Dragonfly" represents the company's more luxurious and premium laptops. This means you'll get the best specs that HP can pack into a laptop while retaining a slim and appealing design. Now, those same principals have worked their way over to HP's lineup of Chromebooks.
Along with being one of the first Chromebooks to be released with a 12th-gen Intel chip, the Elite Dragonfly Chromebook is also the first in the ChromeOS space to feature a haptic trackpad. This is similar to what you'll find on the best MacBook's as Apple uses the same type of trackpad on all of its most recent macOS laptops. But HP has taken things a step further, implementing a subtle feedback on the trackpad when you snap a window to one side of the screen, or switch between virtual desktops.
Something else that helps the Elite Dragonfly Chromebook stand out from the pack is both a good thing, and a knock on it. There are quite a few different configurations available, as you can swap out the SoC, bump up the RAM and storage, and even go so far as to opt for a higher-resolution display.
But all this means is that you could quickly find yourself paying more than what you would for Apple's 16-inch 2021 MacBook Pro. With a base price (without any sales or deals), the Elite Dragonfly Chromebook's price is likely to give you a bit of sticker shock, so it's definitely not going to be for everyone.
Bottom line: If you want the most luxurious and powerful Chromebook, and money is no object, then the HP Elite Dragonfly Chromebook is the perfect solution. You'll definitely need to brace yourself for the hit on your wallet, and you might find yourself waiting quite a while if you go with a custom configuration.
Best keyboard
Specifications
Display:
13.3-inch 1080p touchscreen / 13.3-inch 4K touchscreen
CPU:
Intel 8th Gen Core m3 / i5 / i7
Ports:
2x U SB-C, audio combo jack
Colors:
Just Black or Not Pink
Other features:
1080p camera, 45W charger, Titan security chip
Auto Update Expiration date (AUE):
June 2026
Reasons to buy
+
Lightweight, compact design
+
Incredible keyboard and trackpad
+
Best-in-class battery life
Reasons to avoid
-
Limited port options
-
Pricey
-
Limited hinge range
While the 3:2 form factor of the original Pixelbook certainly had its fans, I'm pleased that the Go uses a far more sensible 16:9 aspect ratio, which is better for split-screening and in-flight movies. The Pixelbook Go can't fold back into tablet mode like the Pixelbook — and most other Chromebooks on the market — but that also means it didn't need huge bezels with grips around the screen, allowing it to squeeze down into a slim footprint. This laptop, despite a spacious 13.3-inch display, only weighs 2.3 pounds.
Another great feature of the Go is a more functional design that's still luxurious. The Go has rounded edges and a wavy ridged bottom, increasing grip and stability. The Pixelbook Go has two colors — Not Pink and Just Black — quiet keys that are among the best we've ever typed on, and a lightweight magnesium body similar to that used by the Microsoft Surface line.
If you live for having the latest features, the Pixelbook Go is for you. As Google's branded Chromebook, this shiny baby gets all the new toys before anyone else does, especially once you hop onto the Beta or Dev channels. You'll also want to invest in some USB-C hubs, as the Pixelbook Go only has three ports: a USB-C port on both sides of the laptop, and a headphone jack.
While Google charges a premium for this Pixelbook compared to our other top picks, the Pixelbook Go is one of our favorite traditional laptop designs. Every aspect of the design has been considered; from the quiet-close magnetic latch, to the high-quality 1080p camera, which is important in our current environment.
Thankfully, if you're willing to spend a bit more, Google offers premium Pixelbook Go options that go up to a Core i7 with 16GB of RAM and 256GB of storage — though we recommend sticking with the Core i5 version that has a generous 8GB of RAM and 128GB storage.
Bottom line: Google's Chromebook, the Pixelbook Go, is a traditional clamshell laptop with one of the best keyboards and trackpads we've ever used. It also has excellent integration with Google Assistant and may get new Chrome OS features before other Chromebooks. The magnesium body is light and strong, and even the entry-level model comes with 8GB of RAM for plenty of tab-hopping.
Best for gaming & performance
Specifications
Display:
13.5-inch 2256x1504px 3:2 touchscreen
CPU:
Intel Core i3 / i5 / i7
Ports:
1x USB-A, 2x USB-C, HDMI, microSD, audio combo jack
Other features:
400 nits brightness, USI stylus compatible, backlit keyboard, 720p webcam, 45W charger
Auto Update Expiration date (AUE):
June 2029
Reasons to buy
+
Powerful futureproof specs
+
Bright 3:2 screen for productivity
+
HDMI port built-in
Reasons to avoid
-
Speakers aren't great
-
No stylus included
The first Acer Chromebook Spin 713 ruled the premium Chromebook segment in 2020 and most of 2021 with a stellar screen, powerful processor, and plentiful ports for a surprisingly reasonable price. Guaranteed Chrome OS updates until June 2028; I didn't think we'd see it replaced for a little while. But instead, Acer upgraded it last summer with the Acer Chromebook Spin 713 (3W), upgrading the USB-C ports to Thunderbolt 4, and the 10th Gen Intel Core to 11th Gen Intel Evo Core processors.
Acer's latest Chromebook Spin 713 is also one of the few Chromebooks that can run Steam Alpha on Chrome OS. This opens the door to being able to play many of your favorite PC games on a Chromebook, instead of needing to rely on a Windows PC or gaming console like the ever-elusive PS5.
Moving to the latest model of the Acer Chromebook Spin 713, we now have both USB-C ports on the left side with an HDMI and headphone jack, while the right side holds the USB-A and microSD ports and the buttons. I prefer having one USB-C port on both sides to charge the Spin 713 or plug in a docking station, typically with short cords.
The 3:2 aspect ratio on the Acer Chromebook Spin 713's screen is something many professionals swear by on their work machines. Of course, that aspect ratio isn't as fun for watching movies, but it's great for seeing more data on your screen at a time, especially while split-screening, and the 2K resolution gives you a more crisp image. USI stylus support also means you can use better Chromebook styli for sketching and signing on that vibrant screen.
Bottom line: If you need performance and power in your Chromebook, you'll want to look for an Intel Core 10th or 11th Gen Chromebook so that you know it's powerful, fast, and secure. This 13.5-inch 2-in-1 features a 13.5-inch 2K touchscreen with 400 nits of brightness for better visuals and easier outdoor visibility. It also has more ports than its ultrabook competitors, and frequent sales put it down into mid-range territory for a perfectly premium Chromebook.
Best premium tablet
Specifications
Display:
11-inch 2K LCD touchscreen (400 nits)
CPU:
Qualcomm Snapdragon 7c Gen 2 Compute Platform
Battery life:
Up to 12 hours
Ports:
2x USB-C 3.2 Gen 1
Weight:
1.14 lb (tablet only) / 2.09 lbs (with folio case)
Other features:
USI Stylus compatibility, Included kickstand and detachable keyboard, 10W charger (max charging speed 18W)
Auto Update Expiration date (AUE):
June 2029
Reasons to buy
+
Excellent battery life
+
Kickstand and keyboard included
+
Bright 2K OLED screen for comics and videos
Reasons to avoid
-
Stylus sold separately
-
No expandable storage
Ever since the original Chromebook Duet debuted back in 2020, this has been one of the best choices for those who want Chrome OS on a tablet. Fast forward to CES 2022, and Lenovo introduced a new line of Chrome OS tablets, with the Chromebook Duet 5 leading the way.
Under the hood, you'll find Qualcomm's Snapdragon 7c Gen 2 chipset, which does wonders to help make the battery last for days. The Duet 5 is rated for up to 15 hours on a single charge, and this Chrome OS tablet doesn't disappoint. But Lenovo took things a step further when it comes to charging, giving the Duet 5 dual USB-C ports, along with support for up to 45W charging speeds. Needless to say, these are much-welcomed upgrades compared to the original Duet.
Continuing with the versatility mindset, Lenovo again includes both a kickstand and a detachable keyboard case with the Duet 5. The kickstand simply attaches to the back using magnets, but the company took a step back when it comes to the keyboard. In our review, we found that the ribbon cable used by Lenovo is a bit too flimsy for our liking, meaning that using this on your lap may result in a frustrating typing experience.
One area where Lenovo didn't really provide much of an upgrade is in the storage department. The only "upgrade" really is that you can get 128GB of storage with the base configuration, but there still isn't any option for using a microSD card. But at least with the second USB-C port, you can attach an external hard drive if you want to load up some movies or TV shows. It's not the perfect solution, but it's better than nothing.
Bottom line: If you want a tablet that offers up the best of Google's services and software, without instantly falling behind on software updates the way Android tablets do, the Lenovo Chromebook Duet 5 is the perfect couch companion that can pull double-duty as a light laptop while your kids co-opt the family desktop.
Best screen
Specifications
Display:
14.0-inch 1080p or 4K touchscreen with USI support
CPU:
Up to 11th-Gen Intel Core i7
Battery life:
Up to 12 hours
Ports:
1x USB-A, 2x Thunderbolt 4 (USB-C), HDMI 2.0b, microSD, audio combo jack
Other features:
Backlit keyboard, 720p camera, 45W charger, MIL-STD 810H, Titan C Security Chip
Auto Update Expiration date (AUE):
June 2029
Reasons to buy
+
Trackpad doubles as number pad
+
Fingerprint scanner built into palm rest
+
Good backlit keyboard
+
Good battery for a large laptop
Reasons to avoid
-
New with fewer sales
-
4K display comes at a cost
ASUS is one of the most well-known Chromebook manufacturers and has been since day one. What sets the company apart from the competition is focusing on creating a premium hardware experience, in as affordable and compact a package as possible. That's exactly what ASUS has done with the Chromebook CX9.
Although it has been arguably supplanted by the excellent HP Elite Dragonfly Chromebook as the most premium Chromebook, the Chromebook CX9 is still quite an impressive piece of hardware. Not only is the CX9 still one of the few options for the Steam Alpha program, but that's only a piece of the puzzle. And you could argue that this is the best-looking Chromebook that ASUS has ever made.
It's not as functional compared to other Chromebooks, as the hinge is "locked," meaning it doesn't offer a 360-degree rotating hinge. In our review (opens in new tab), we did find this to be a bit odd considering that the CX9 is still compatible with the best USI stylus pens for Chromebooks. Even with that in mind, there's no denying how gorgeous the 14-inch display looks. And with the slimmer bezels thanks to ASUS' "NanoEdge" design, the end result is an ultra-light and portable device.
Aside from ditching the rotating hinge, ASUS didn't compromise on power with the CX9. It's available with Intel's 11th-gen series of laptop chips, providing plenty of juice to perform basically any task that you would want to throw at it. You can easily have around 20 or more Chrome tabs open, along with being able to switch between your other most-used apps without dealing with so much as a hiccup in performance.
ASUS also went so far as to implement a few surprising additions with its most premium Chromebook. In addition to the MIL-STD 810H rating, the CX9 also sports a reliable fingerprint scanner and even the CX9's trackpad doubles as a number pad for those times when you need to fill out some Excel spreadsheets. This is something that you won't find elsewhere in the vast Chromebook market, helping the CX9 stand out from the crowd.
Bottom line: The ASUS Chromebook CX9 is a powerhouse in every sense of the word. From sporting Intel's 11th Gen chipsets to the optional 4K display panel, the CX9 is the perfect premium Chromebook for gaming, multitasking, or just sitting back and enjoying some movies.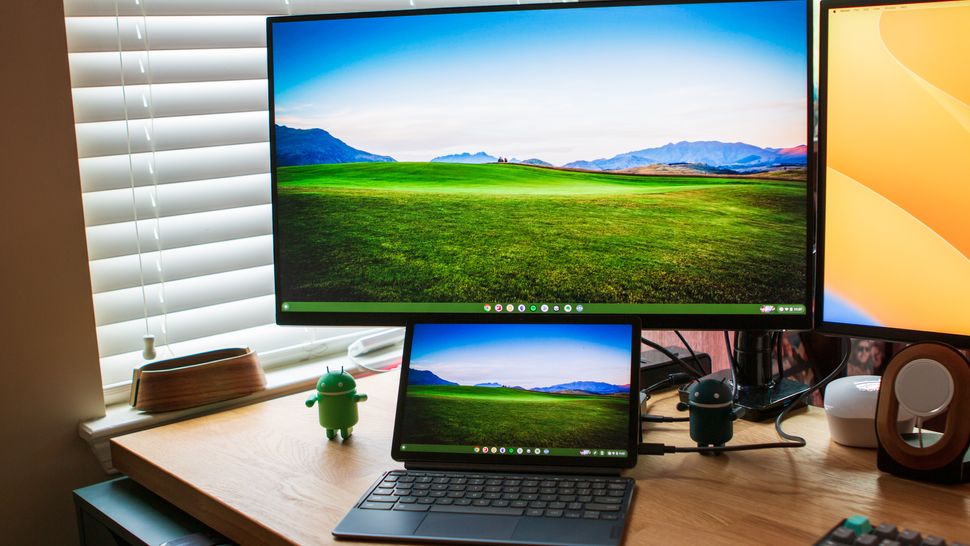 Best premium tablet
Specifications
Display:
10.9-inch IPS, 2000 x 1200, 400 nits
CPU:
Snapdragon 7c Gen 2 compute platform
Battery:
Li-Polymer 29Wh battery (Up to 12 hours)
Ports:
2 x USB-C 3.2 Gen 1, Pogo-pin
Other features:
Detachable water-resistant Keyboard / Detachable magnetic kickstand / Supports USI 2.0 Stylus Pen
Auto Update Expiration date (AUE):
June 2029
Reasons to buy
+
Bright 400-nit touchscreen with a 2K resolution
+
Dual USB-C 3.2 ports built-in
+
A detachable keyboard and cover are included
+
Solid battery life
+
Future-proof with USI 2.0 support
Reasons to avoid
-
No signs of the model with 8GB of RAM
-
Does not include USI 2.0 stylus
The original Lenovo Chromebook Duet helped to open the door to other ChromeOS tablets like the HP Chromebook x2 11 and the Lenovo Chromebook Duet 5. However, the Duet was released in 2020, leaving us wondering whether Lenovo would end up releasing a successor of some sort. The Duet 5 is a bit too large with its 13.3-inch display to be considered the "next in line," but that's where the Chromebook Duet 3 comes in.
With the Chromebook Duet 3, it seems as though Lenovo really listened to fans of the original Duet, as we now have a second USB-C port built into the sides. This gives you USB-C on either side of the tablet, allowing you to connect your favorite USB-C hub on one side while keeping it charged on the other.
And just like its partner in crime, the Chromebook Duet 5, the Duet 3 is also powered by the Snapdragon 7c Gen 2 compute platform. This results in a battery that lasts for up to 12 hours on a single charge, along with being powerful enough to handle those times when you want to plug into an external display to get work done. Plus, Lenovo improved upon the detachable keyboard and kickstand case, with magnets that are much stronger than its predecessor, while also being quite a bit slimmer.
The only real problem with the Chromebook Duet 3 is a frustrating one. On one hand, the Duet 3 is easily the best ChromeOS tablet on the market, with its 11-inch display. And while it's compatible with USI 2.0, Lenovo is the only company that is currently offering a USI 2.0 stylus, but you'll have to pay separately for it. And while that may not seem like a big deal, your perspective may shift once you learn that the Duet 3 is not compatible with any of the best USI 1.0 pens out there. This is thanks to the type of display that Lenovo integrated into the Duet 3, which looks great, but you'll need to wait a bit longer to use it with the right stylus.
Bottom line: The Lenovo Chromebook Duet 3 is the perfect Chromebook tablet for those who want a companion device. It's capable of being much more, but you might bump into the SoC limitations if you happen to be a heavy multi-tasker.
The best battery life in a Chromebook
Specifications
Display:
13.5-inch IPS LCD touchscreen, 360 nits, 2256x1504 (3:2 aspect ratio)
CPU:
MediaTek Kompanio 1380
Battery:
36Wh (Up to 11 hours)
Ports:
2x USB-C 3.2 Gen 1, USB-A 3.2 Gen 1, microSD slot, audio combo jack
Weight:
2.84 pounds (1.29kg)
Other features:
Wi-Fi 6, Bluetooth 5.2, USI Pen support, 2x down-firing speakers, 360-degree hinge
Auto Update Expiration date (AUE):
June 2029
Reasons to buy
+
MediaTek Kompanio 1380 is a beast for most tasks
+
Absolutely incredible battery life
+
2K, 3:2 display is beautiful
+
MicroSD card slot built-in
Reasons to avoid
-
Might struggle with heavier workloads
-
Equipped with slower eMMC storage
When MediaTek first announced that it would be bringing its (at the time) new lineup of processors to Chromebooks, we were immediately excited. Mobile chips on laptops is nothing new at this point, but MediaTek has managed to combine incredible power with even better battery life with its Kompanio processors.
Acer has been leading the way when it comes to implementing Kompanio chips in Chromebooks, culminating in the Chromebook Spin 513 (2022). On the outside, it looks no different than its predecessor and shares basically all of the same characteristics as other Chromebooks in Acer's lineup. But where the Spin 513 stands out is definitely the battery life.
The company claims that you'll be able to get 10 hours of juice on a single charge, but the reality is that it's capable of much more than that. When you factor in things like standby time, and even performing processor-intensive tasks, the Kompanio 1380 sips on battery like a fine wine. That's even with powering the gorgeous 2K, 3:2 display which looks absolutely phenomenal.
There are a few caveats to be aware of when it comes to the Spin 513, as you won't find Thunderbolt ports, and the configurations are limited. For one, you won't enjoy NVMe SSD speeds but are relegated to the eMMC storage options that are slowly being phased out in the mid-range Chromebook market. Something else to keep in mind is that we found (opens in new tab) the entire "Linux apps on Chromebooks" experience to be hit or miss. While it's still easy to get everything running, you might need to restart the Linux container a few times in order to get your Linux apps to start back up again.
But unless you rely on Linux apps to get your work done, it's definitely a small frustration to enjoy the excellent battery life. It's also worth noting that instead of Thunderbolt ports for charging and data transfer, the Spin 513 relies on USB-C 3.2 Gen 1 instead, which is fine, but we're really hoping to see Intel license or bring Thunderbolt compatibility to AMD or ARM chips.
Bottom Line: The Acer Chromebook Spin 513 (2022) looks and feels just like any other Chromebook in the company's lineup. This goes for both the overall design and day-to-day experience. You might have to deal with a few occasional hiccups, but thanks to the MediaTek Kompanio 1380, the incredible battery life more than makes up for it.
How to pick the best Chromebook for you
Chromebooks might get pegged as only being for students and salarymen. Still, there truly is a Chromebook for everybody these days, whether you're just browsing email and social media, or getting down and dirty with Linux apps and coding IDEs.
While there are a lot of great Chromebook manufacturers out there, the Lenovo and ASUS models seem to go harder and last longer than the competition. That being said, Samsung, Dell, and HP can make some pretty premium Chromebooks as well.
Choosing your Chromebook is slightly different from picking a Windows or Mac laptop due to the standardized, cloud-centric nature of Chrome OS. Because Google controls the software look and update schedule for every Chromebook model, a Chromebook built by Lenovo should act the same as a Chromebook from Dell or Samsung. So what does that mean?
It means you can focus a little less on those core specs and more on what you want to do with the machine you choose. This process may seem slightly out of order, but trust me on this one:
Get one with a touchscreen — a 2-in-1 if you can
Touchscreens may be a luxury for other laptop systems, but on Chromebooks, I consider it a requirement. The touch optimization in Chrome OS is getting better every month, and since most of the Android apps Chromebooks can install via Google Play are optimized for touch, treat yourself to a touchscreen model.
Touchscreen models usually aren't that much more expensive for Chromebooks nowadays — many Chromebook models don't even bother with non-touchscreen versions these days — but if you see a Chromebook that says it's non-touch, walk away and don't look back. It's a beautiful thing to be able to tap on the screen when scrolling through Amazon, and after playing Solitaire on a touchscreen, you'll never go back to using a mouse. Especially when buying a student Chromebook, a touchscreen is imperative for helping younger users adapt from the touchscreen world of tablets to the mouse-and-keyboard banality of laptops.
That touchscreen comes in even handier on 2-in-1 systems; the best form factor I've seen for Chromebooks yet. Being able to prop up your Chromebook in Tent mode for a movie, or fold it flat into Tablet mode for some in-bed browsing while down with the flu is amazing. However, having a 360-degree hinge is excellent for everyday productivity too. You can bend your Chromebook back to more angles when working in awkwardly-lit offices with weird light glare, or propped in your lap at a ballgame because you didn't forget those quarterly expense reports that were due tomorrow, and refuse to skip the game for that.
Decide on the other features you want
Chrome OS is almost entirely the same on every device from a software perspective, which means that standout hardware features become paramount, and figuring out which of those features you want or need in a machine can help narrow the field and steer you to your perfect Chromebook.
As mentioned before, you want a touchscreen Chromebook — a 2-in-1 if you can swing it — but if you tend to do a lot of movie-watching, you may want a high-quality screen or loud, front-facing speakers.
If you're looking to be more productive with many open tabs and multi-window screens, you might want a 3:2 display that's more suited to split-screening, as well as a more powerful processor/memory configuration.
Productivity-minded users should also pay special mind to the port configurations on their prospective Chromebooks, as USB-C starts to replace most other ports on more premium Chromebooks like the Pixelbook while more grounded models keep USB-A ports around alongside new USB-C charging ports.
Families with younger kids — or travelers prone to slips, spills, and accidents — might want to look to the growing number of Chromebooks with military-grade MIL-STD 810G durability or spill-resistant keyboards.
Pick your size
Chromebooks come in a variety of sizes, but they tend to gravitate to four sizes in general:
11.6-inch models are portable and affordable. At their smaller size, their screens can look good, even if they're less than 1080p native resolution — though screen resolution is handled a bit differently on Chrome OS; we'll get to that a little later. Depending on the bezels on the screen, 11.6-inch Chromebooks can either have full-sized keys or slightly shrunken keys, though most manufacturers use full-size keys on 11.6-inch models.
12.3-13.5-inch models are becoming more and more popular, especially with 2-in-1 models like the Lenovo Flex 5 and the Acer Chromebook Spin 713. This screen size allows you to comfortably split-screen windows, enjoy a full-size keyboard, and you've got the room for more powerful components and more battery to power that bigger screen. These are portable but powerful, and I love them.
14-inch models sit at the high margin for the portable category. Still, with thin bezels and proper engineering, these can be almost as portable and manageable as 13-inch laptops with 7-9 hour battery lives. If you need to display your text in a larger font — and yes, Chrome OS has a separate font scale independent of the display zoom — a 14-inch model is your best bet for a productive Chromebook that won't strain your eyes, especially as most 14-inch models start at 1080p.
15.6-inch models are made for desks and dining room tables. I lovingly refer to these as LIMOs — Laptop in model only — because while you can shove them into larger laptop backpacks for a vacation, these Chromebooks aren't made for laps and tray tables. Instead, these are made for a standard office environment where they live stationary lives in peace. They are great for productivity because you can see more at once, but they tend to have shorter battery lives and higher weights, which dissuade them from being dragged around daily.
In general, the bigger the size of your Chromebook, the more you can potentially fit on the screen, but it will also be less portable and shorter in battery life. The smaller it is, the less heavy and (usually) less expensive it will be. Still, smaller models can also suffer from lower resolution screens, though Chrome OS's display zoom and font adjustments can somewhat offset it.
Memory and storage — what do you really need?
RAM — Random Access Memory — is a critical spec for computers of all sizes and shapes; from phones and tablets, to desktops and laptops. It's used by your computer's processor(s) to hold your current tabs, apps, and execute the commands, clicks, and operations that make your Chromebook work.
So how much RAM do I need? 4 GB of RAM in a Chromebook is OK, 8 GB is better, and high-end Chromebooks can come with 16 GB or more, but 4 GB of RAM is enough to run Chrome OS with a couple of apps and a dozen Chrome tabs.
If you're a long-time Windows user — or a long-time computer user of any kind — looking at the storage on most Chromebooks will seem confusing at first because it's not going to sound like enough. Chrome OS is based around cloud storage — Google Drive is integrated directly into the Files app — but local storage is still essential for things like Android apps from Google Play, offline documents, and downloaded music/movies for those horrible Wi-Fi-less flights.
You can also expand the storage on many Chromebooks with an SD or microSD card, but there's no beating proper local storage to start with. 32 GB of storage is workable, but I'd recommend a model with at least 64 GB of storage. Finding 128 GB or more is usually reserved for premium Chromebooks with heftier price tags. However, 64 GB Chromebooks are pretty widely available and offer more than enough storage for some Drive offline syncing and emergency entertainment.
Always check the expiration date!
Chrome OS is developed, managed, and updated by Google for all Chromebooks, but Google doesn't want to be stuck supporting every random budget chipset and driver set forever, so each Chromebook has a shelf life and an expiration date — just like the milk in your fridge. This is the Auto Update Expiration date, and it can be found for every single model on this handy-dandy support page, which you should often check while you're shopping for Chromebooks.
Now, a Chromebook doesn't turn into a pumpkin on its AUE date — assuming your Chromebook lasts three to six years until that date — but it does stop receiving those system updates every Chromebook gets every four to six weeks that contain bug fixes, security patches, and new features. If your Chromebook is still running decently at that time, you're a champ, and with a teeny bit of know-how, you can reformat it to run one of a dozen Linux distros instead.
That said, four-to-six years is a long time for any laptop, and chances are yours will be getting long in the tooth by then. Right now, when shopping, always check the AUE to see how long your Chromebook will get updates. Some Chromebooks have shorter lifetimes than others if they're built on the same platform as a previous Chromebook — AUE is based on the hardware platform, not individual model, which is also why many Chromebooks have the same AUE dates. That's why it's something you'll always want to check before buying, even if the model itself is brand-new.