If you were keeping your fingers crossed for a Pixelbook 2 from Google, it seems as though we're out of luck. But the HP Dragonfly Pro Chromebook looks to be the closest that we'll get. It combines performance with elegance to provide the complete package, including almost everything you could want from a Chromebook.
Pros
+

The haptic trackpad is still the best out there

+

Display reaches up to 1200 nits of peak brightness

+

Performance is top-notch with plenty of RAM

+

Only one SKU reduces confusion about which one to get

+

All-day battery life
Cons
-

Not a convertible

-

Be prepared to live the dongle lifestyle
Why you can trust Android Central Our expert reviewers spend hours testing and comparing products and services so you can choose the best for you. Find out more about how we test.
For the better part of the last year, I've been banging the drum about Google creating the "Pixel Perfect Ecosystem." We already have the Pixel 7, Pixel Watch, and the Pixel Tablet should be landing any day now. All we are missing is a new Pixel-branded Chromebook, and the rumor mill suggested Google was working on just that.
Unfortunately, my hopes and dreams were dashed following a report that Google ditched plans to release the Pixelbook 2 as part of "cost-cutting measures." Without burying the lede any further, I say all this to say that we might just have the Pixelbook 2 with the HP Dragonfly Pro Chromebook.
HP Dragonfly Pro Chromebook: Price and availability
The HP Dragonfly Pro Chromebook was announced at CES 2023 and is available in a single configuration. For $999, the Dragonfly Pro is equipped with the Intel Core i5-1235U, 16GB of RAM, and 256GB of storage. Additionally, HP is offering its latest Chromebook in two colors, as it comes in either Ceramic White or Sparkling Black.
HP Dragonfly Pro Chromebook: Design and display
From the outside, the HP Dragonfly Pro Chromebook doesn't really look all that special. It features a textured casing similar to what we've seen with other options in HP's Chromebook lineup. That being said, the Sparkling Black model that we've been testing is almost as bad at picking up fingerprints as the 2022 MacBook Air in Midnight.
But as soon as you lift the lid on the Dragonfly Pro, you'll completely forget about the fingerprints on the case. HP packed a stunning 14-inch touchscreen display with a 2560 x 1600 resolution, and a 16:10 aspect ratio.
Not only is this the best-looking screen that I've used on a Chromebook, but it also gets pretty damn bright. According to HP, the Dragonfly Pro can reach up to 1200 nits of peak brightness, blowing pretty much all of the best Chromebooks out of the water.
There have been more than a few times when I went to sit on the couch at night, and opened the lid, only to get blinded before the ambient light sensor kicked in. I can't properly express how much I love the fact that HP didn't skimp on the screen and made one that can be used whether you're doing work at a park bench, at the coffee shop, or at home.
HP Dragonfly Pro Chromebook: Performance
With the exception of a few, the HP Dragonfly Pro Chromebook shares the same Core i5-1235U chipset found on some of the best Chromebooks. All this really means is that you're going to be able to enjoy playing Steam games and working with a bunch of Chrome tabs and windows open, all without needing to worry about things slowing down.
Swipe to scroll horizontally
| Category | HP Dragonfly Pro Chromebook |
| --- | --- |
| Display | 14-inch, 16:10, 1200 nits peak brightness, touchscreen |
| Resolution | 2560 x 1600 |
| Processors | Intel Core i5-1235U |
| Graphics | Intel Iris Xe |
| RAM | 16GB |
| Storage | 256GB |
| microSD card slot | ❌ |
| Camera | 8MP |
| Ports | 4x Thunderbolt 4 (USB-C) |
| Additional features | Haptic trackpad, RGB backlit keyboard, fingerprint scanner |
| Connectivity | Wi-Fi 6En, Bluetooth 5.3 |
| Battery | Up to 11.5 hours |
| Charging | 96W USB Type-C Power Adapter included, Fast Charge (50% in 30 minutes) |
| Colors | Ceramic White, Sparkling Black |
| Dimensions | 12.4 x 8.7 x 0.7 inches (314.96 x 220.98 x 17.78mm) |
| Weight | 3.3 pounds |
| AUE date | June 2030 |
Something that helps in this department is HP's decision to pair the Core i5-1235U with 16GB of RAM and 256GB of NVMe storage. I would've liked to have the option for more storage, but beggars can't be choosers as HP opted to keep things simple this time around.
If you're looking for some comparisons, well, I've got just the ticket. Here's how the HP Dragonfly Pro stacks up against the Acer Chromebook 516 GE and Framework Laptop Chromebook Edition:
Swipe to scroll horizontally
| Benchmark Test | HP Dragonfly Pro Chromebook | Acer Chromebook 516 GE | Framework Laptop Chromebook Edition |
| --- | --- | --- | --- |
| Wirple HTML5 3D Benchmark | 8814 | 8657 | 8368 |
| Octane 2.0 | 84122 | 83697 | 73572 |
| Speedometer 2.1 | 193 | 185 | 128 |
| Jetstream | 236.448 | 237.639 | 179.327 |
| MotionMark | 939.93 | 279.72 | 864.28 |
It's pretty much what you would expect to find with this chipset in a Chromebook, and as alluded to before, it doesn't disappoint. But that's not the meat and potatoes of what HP is focusing on here, at least not in its entirety.
The reality is that I don't have much more to offer on this front because I expected HP to follow through with excellent performance. Instead, the exciting thing about the Dragonfly Pro Chromebook is everything else.
Battery life is also one area where I was a bit concerned, as the Dragonfly Elite didn't really quite hit the mark for me over time. Thankfully, that's not an issue here as this bad boy will easily make it through a couple of days before you need to plug it in. And when you do need to find reach for the charger, you'll be pleasantly surprised.
In the box, HP is including a massive 96W power adapter, along with a USB-C to USB-C cable. This isn't just any USB-C cable though, as the Dragonfly Pro Chromebook actually comes with a braided cable. Sure, this might not be a big deal to some, but it just speaks to the attention to detail that we're seeing to help provide the "complete package."
Oh, and in a trend that we've been seeing more and more with Chromebooks, the Dragonfly Pro includes quick charging capabilities. You'll be able to go from 0-50% in about 30 minutes, which is really nice when you need a quick top-off before heading out the door.
HP Dragonfly Pro Chromebook: What makes this great
There are two more "defining" features of the Dragonfly Pro Chromebook that I haven't touched on yet; the keyboard and trackpad. I usually hold back my thoughts, at least to a certain extent, when it comes to the trackpads on a lot of laptops and other Chromebooks.
This is simply due to the fact that they are "serviceable" at best, and "horrendous" at worst, with the majority of trackpads falling somewhere in between. If you read my review of the Elite Dragonfly Chromebook, you likely noticed how much I gushed over the incredible haptic trackpad.
Well, it's back again with the Dragonfly Pro Chromebook, and just as satisfying as ever. Seriously, this is the only trackpad that I've used that makes me wish I could rip it out of the Chromebook's chassis and use it all of the time.
There are still subtle haptics when you drag a window to one side or the other. All the while, removing the need to worry about moving components because there aren't any. It's simply just a joy.
Rounding out my profession of love for the Dragonfly Pro Chromebook is the keyboard. Like many, I thought it was a bit odd to see HP implement RGB backlighting on a Chromebook that isn't positioned as being "for gamers."
However, it's just another way that HP is trying to help its flagship Chromebook stand out from the pack. You have all of the same customization options as you would find on the best gaming Chromebooks.
These include being able to have the keyboard backlight match the color of your wallpaper for more of a uniform experience. And I imagine this will be even better once Material You finally makes its way to the ChromeOS stable channel. Hopefully, it'll come sooner rather than later, but we'll just have to keep waiting for Google to dot the I's and cross the T's.
HP Dragonfly Pro Chromebook: A few compromises
So far, I've spent quite a bit of time gushing over how much I've fallen in love with a Chromebook. However, there are a few compromises or concerns that I would be remiss if I didn't at least point out.
For one, the biggest decision that HP made that I'm not a fan of is the port selection. On one hand, this is the first Chromebook to launch with FOUR Thunderbolt 4 ports. So you'll get incredible transfer speeds, compatibility with the best docking stations and USB-C hubs, and much more.
But it seems that we've entered a bit of an alternate reality because the downside is that you'll need to get accustomed to the #DongleLife. There aren't any other ports to be found on the Dragonfly Pro, not even a microSD card slot, let alone an HDMI port. This will probably be the second-biggest hurdle for potential owners, with the first being the $999 price tag.
While HP opting to use such a fantastic and bright touchscreen display is great and all, if you were hoping for a convertible, you'll be out of luck. I'm not exactly sure why HP opted to stick with a "traditional" design, especially after the Dragonfly Elite was not only a convertible but also included a magnetic USI pen. I can only surmise that it's cost-related in some way, and even as I type this out, it feels like nit-picking.
HP Dragonfly Pro Chromebook: An argument about price
The last hurdle that the HP Dragonfly Pro Chromebook has to cover is the price. It's been tough trying to tell people about how great the Framework Laptop Chromebook is, only to tell them it's $999.
It's true, you can get almost the same performance with a convertible design and a built-in USI pen, all for less than what the Dragonfly Pro Chromebook is priced at. In terms of what it can do, there's practically no difference. And that's going to be a tough pill to swallow for a lot of potential buyers.
But hear me out. This is literally the best Chromebook that I've ever used. I'm not sitting here trying to make some type of sales pitch, but this is what I imagined from a Pixelbook 2, just with Google's logo on the lid instead of HP's.
The Dragonfly Pro combines power and speed with a kick-ass touchscreen display, a haptic trackpad that's untouchable, and a keyboard that's a dream to type on. I can't think of another Chromebook, and only a few laptops, that can even come close to that. So if you were to ask me if I think the $999 is warranted, my answer is a resounding yes.
HP Dragonfly Pro Chromebook: The competition
HP's Dragonfly Pro Chromebook is in a bit of a tough spot, simply because there are so many great Chromebooks out there. Until now, our favorite has been Acer's Chromebook Spin 714, with the Chromebook 516 GE taking the top spot for best gaming Chromebooks.
Both of these options share the same Intel Core i5-1235U chip found in the Dragonfly Pro but come with half the RAM. The Chromebook 516 GE includes an excellent 120Hz display and RGB keyboard but lacks a bit of polish. Meanwhile, the Chromebook Spin 714 has the polish but lacks a few of the "intangibles" of what the Dragonfly Pro has to offer.
Then, there's the Framework Laptop Chromebook Edition which comes at the same price but is definitely designed with "tinkerers" in mind. Until the Dragonfly Pro landed on my doorstep, this has been my go-to device. Having the flexibility to swap out a USB-A expansion card for HDMI or microSD continues to impress me. The real test will be to see if the Dragonfly Pro replaces the Framework over time.
HP Dragonfly Pro Chromebook: Should you buy it?
You should buy this if:
You want the best Chromebook that money can buy.
You want a Chromebook with an RGB keyboard without the gamer vibes.
You want an incredible screen.
You want a Chromebook with a haptic trackpad.
You shouldn't buy this if:
You're on a budget.
You don't want to worry about dongles or hubs for adding ports.
You want a Chromebook with a convertible design.
Let me get this out of the way first. If you've made it this far, thank you and I must apologize. The last device that got me this excited was the Galaxy Z Fold 4, and it's an absolute dream to be able to use both the Fold 4 and Dragonfly Pro Chromebook side-by-side.
Back when I wrote about Google killing my dream of the Pixel-perfect ecosystem, I had no idea that there would be a Chromebook that could come close to meeting what I thought would come of the Pixelbook 2. Somehow, in some way, HP has done just that with the Dragonfly Pro Chromebook.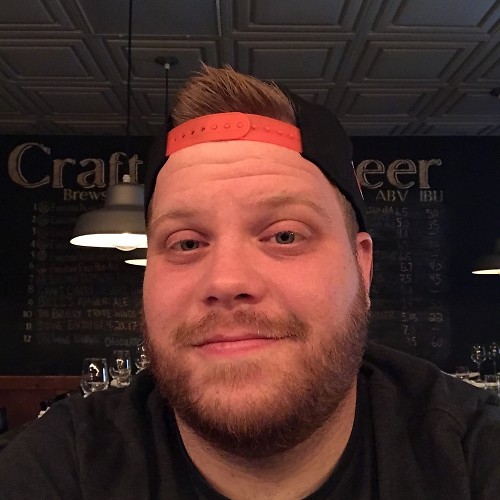 Senior Editor - Chromebooks, tablets, and wearables
Andrew Myrick is a Senior Editor at Android Central. He enjoys everything to do with technology, including tablets, smartphones, and everything in between. Perhaps his favorite past-time is collecting different headphones, even if they all end up in the same drawer.