Best Samsung Galaxy Tab S8 cases 2022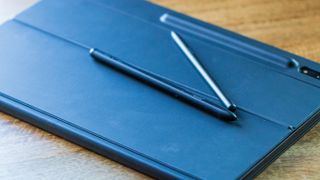 (Image credit: Android Central / Andrew Myrick)
The Samsung Galaxy Tab S8 takes everything you love about the S7 Series to the next level. In addition to featuring an 11-inch LCD screen, the Tab S8 features 8GB of RAM and faster Wi-Fi speeds. But none of that matters if you don't have a solid case to protect your shiny new tablet. With that in mind, we've rounded up some of the best Samsung Galaxy Tab S8 cases available right now.
Who makes the best Galaxy Tab S8 cases?
When it comes to who is making the best covers for the Samsung Galaxy Tab S8, it may be too early to tell. That being said, Spigen has established itself as one of the best and most consistent manufacturers of Tab covers and the sturdy Spigen Rugged Armor Pro case is no exception. Along those same lines, the Poetic Revolution Series case offers comparable protection and the added bonus of a built-in kickstand, while also costing a few bucks less.
If you're looking for a case that will still allow you to admire the color of your new Galaxy Tab S8, then the clear Ringke Fusion Case may be the better option for you. And if you'd rather find a cover that shows more personality the red Poetic Turtleskin Series case or one of the TiMOVO cases might be more to your liking.
No matter which case you choose, it's good to remember that a protected tablet is the most useful tablet to have.
Keegan Prosser is a freelance contributor based in the PNW. When she's not writing about her favorite streaming apps and devices for Android Central, she's listening to a true-crime podcast, creating the perfect playlist for her next road trip, and trying to figure out which fitness tracker she should try next. You can follow her on Twitter @keeganprosser.
With contributions from
Andrew Myrick

Senior Editor - Chromebooks, tablets, and wearables
Android Central Newsletter
Get the best of Android Central in in your inbox, every day!
Thank you for signing up to Android Central. You will receive a verification email shortly.
There was a problem. Please refresh the page and try again.