Google Pixel Tablet hands-on: Subtly exciting, but not for everyone
The Pixel Tablet is too expensive for a Nest Hub replacement, but cheap enough to undercut the Galaxy Tab S8.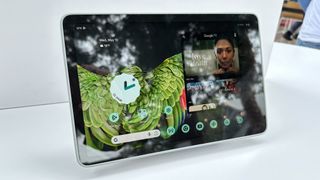 (Image credit: Android Central)
Coming out of Google I/O, all anyone could talk about was the Pixel Fold, all of the new AI tricks coming to Google apps, or how many times Sundar Pichai said "AI." Almost no one paid much attention to the Pixel Tablet or Pixel 7a thanks to the insanely expensive foldable that followed them on stage.
That's a shame, because our Pixel 7a reviewer was blown away by its quality, and because the Pixel Tablet arguably matters more for the Pixel ecosystem.
Google stopped paying attention to tablets right around its half-hearted Pixel Slate launch, only changing its stance once the pandemic led to more people stuck at home wanting larger screens. The Pixel Tablet's success or failure will decide if this pivot to better Android tablet software is another temporary blip, or if Google really will maintain a full device ecosystem.
While I'll admit that I spent more time on my Pixel Fold hands-on while attending Google I/O 2023, I did spend a decent chunk of time testing the Pixel Tablet and speaking to the Google hardware team about the device, and came away mostly satisfied with what I saw.
The real question is, should people buy this as a Nest Hub replacement, or a cheaper alternative to the Galaxy Tab S8, or should they not buy it at all? Here's what it was like to use the Google Pixel Tablet.
Google Pixel Tablet: All about the Charging Speaker Dock
The last time Google made a tablet, it was a ChromeOS device that our Pixel Slate review called a "pro tablet" but a "mediocre laptop." This time around, the Pixel Tablet uses Tensor instead of Intel, has no official keyboard accessory, makes you buy your own third-party USI stylus if you want one, and no equivalent to Samsung's DeX Mode.
In other words, Google isn't even trying to target the productivity crowd that might buy a Galaxy Tab S8 Ultra or Lenovo Chromebook Duet 3. The Google engineer I spoke to said it was more for "casual productivity."
Instead, the whole Pixel Tablet experience is about the bundled Charging Speaker Dock, which (thankfully) I liked a lot. You magnetically attach the Pixel Tablet, and it goes into Hub mode. Audio is enhanced, you can quickly access Google Home controls, Google Assistant is always listening — it's the typical smart display experience you'd get on the Nest Hub Max. Only you can take this alt-Hub display with you and start streaming movies on the couch, too.
The first thing I noticed when removing the Pixel Tablet is how firmly the magnets hold it in place. You have to give it a good tug, which means it probably won't fall off if someone or something bumps into it. When you reattach it, you'll feel it immediately when it syncs to the connection points. And the tablet-dock combo takes up a skinny footprint on your table or counter because of the steep angle.
I also noticed that while the Pixel Tablet's quad speakers sounded tinny on their own — I really wish it had a 3.5mm headphone jack — the sound drastically improved when the tablet was docked. Google says the Dock delivers 4X the bass volume, but I'd say highs and mids sounded much better, too. It was hard to judge in a crowded outdoor testing space, though.
Google didn't have smart home tech set up to test the new Google Home app. Generally speaking, the Pixel Tablet's usefulness will depend on whether or not you have Google Home-compatible cameras, thermostats, smart lights, smart locks, and other tech.
But I do like how easily you can access all of these controls, and that the Charging Speaker Dock ensures that your tablet isn't always dead or at low battery whenever you need it — a problem I typically have with my Galaxy Tab S8+ despite its excellent battery life.
In other words, I'd say Google really designed the Charging Speaker Dock well. I don't think many people will buy multiple Docks for different rooms in the house, as Google clearly hopes you will. Even though, in theory, moving your smart home hub from the living room to the bedroom at night is a cool use case.
Including the Dock in the box was the right call even if it raised the Tablet's price by $100, since it makes an otherwise pedestrian tablet more noteworthy.
Comfort over style
The Pixel Tablet has noticeably thick bezels, a heavy design, and more matte materials instead of the metallic finish you typically see on high-end tablets these days. In other words, you might look at it and see telltale signs of a budget tablet worth skipping.
In truth, thick bezels on tablets have their uses. Even though they make the Pixel Tablet heavier, they also give you more space to comfortably grip it. Using an iPad Air or Galaxy Tab S8 puts more pressure on your fingertips to avoid accidental touches, whereas the Pixel Tablet leaves enough room for your palm and fingers to rest on one side.
Plus, the hard-edged design that makes premium tablets look sleek also makes them dig more into your hands. I appreciate that the Pixel Tablet's rounded edges and ceramic material provide a more natural shape and texture for my hands, and that the official case apes this design.
Speaking of the silicone/polycarbonate case, it looks sturdy enough to handle falls, and it has tiny slots built-in to ensure the Tablet still charges when you mount it on the Dock. The only problem with it is that it adds an extra 9.3oz to the 17.3oz tablet, making it pretty darn dense for its size.
As for the metal ring stand...I'm going to reserve judgment. It stays rigid at almost any angle, which is a good sign for its stability on hard surfaces. But its narrowness will probably make it less sturdy if you prop it on a soft mattress or another uneven surface. And I could see it accidentally scratching a surface if your tablet gets shoved.
Overall, I'd say the Pixel Tablet is comfortable to use, which matters more than its looks. It lacks a signature feature like the Pixel phones' camera bar to make it stand out, but its rounded-edge look grows on you. And at least the Hazel and Coral color options stand out more than the boring Pro tablet colors you normally get.
Google found the right compromises for the Pixel Tablet
If you consider that Google charges $130 for the Charging Speaker Dock, that essentially means that the $500 Pixel Tablet's components cost even less than you might think. And that makes what Google managed to achieve with the Pixel Tablet even more impressive.
Mid-range tablets have to make compromises, but some of the tablets I've tested like the Galaxy Tab S7 FE made the wrong compromises. That had a last-gen chipset, a 60Hz refresh rate, no fingerprint sensor, and a poor selfie camera, and it made you pay extra for more than 4GB of memory. All for $30 more than the Pixel Tablet.
So what does the Pixel Tablet give you? The same Tensor G2 chip and 8GB of RAM as the Pixel 7, a 2560 x 1600 resolution, a side fingerprint sensor, and a better front camera thanks to Google's AI tricks.
[Note: A previous version of this post mistakenly claimed the Pixel Tablet would have a 120Hz refresh rate, based on incorrect info the author received at Google I/O. We regret the error.]
I can't properly judge the Pixel Tablet's performance in so short a time, but apps loaded quickly and I could swap between two split-screen apps with no lag. Scrolling was satisfyingly smooth, though I didn't realize during my hands-on that it wasn't actually 120Hz.
500 nits of brightness may not sound like much, but it's fairly standard for a mid-range LCD tablet, and it's higher than the 300–400 nits' max on most of the best Chromebooks. I'd say it was a little dim for outdoor use but perfectly useable if you're not in direct sunlight, and indoors it'll look great.
While the 8MP 84-degree camera falls short compared to the 12MP ultra-wide auto-focus sensor you get on a Tab S8, I did see Google's camera prowess at work when a Google rep pulled up a mock Google Meet call. The 3D background that adjusts behind you when you move the tablet around is cute, and the visual quality of my face seemed to outperform the camera's MP level. We'll have to test it properly in our review, however.
I'm genuinely surprised that Google managed to hit these specs and offer a Dock at this price point. The upcoming Galaxy Tab S9 will still beat it with an AMOLED upgrade, S Pen, faster Snapdragon 8 Gen 2 performance, and IP67 water resistance. But Google could easily undercut Samsung.
It's also going to hurt Lenovo, which has 6% of the tablet market share through its stock-software Android tablets. One of my favorite 2022 tablets was the Lenovo Tab P11 Pro Gen 2, which costs slightly less with a better display, but Lenovo's slow software updates compared to Google's rapid-fire updates will be a deal-breaker for many, because it means you won't get access to the latest multitasking and smart home tools as quickly.
---
My colleagues have asked me if the Pixel Tablet is a Nest Hub replacement, given the focus on the Dock and Hub Mode. Considering the Pixel Tablet costs 5X the 2nd Gen and twice the Nest Hub Max, it makes sense Google isn't branding it that way. People are used to cheap, good smart displays.
But Google definitely sees this as the center of your smart home experience, rather than something that you'll bring into school or the office for work. You can do so, but the lack of a stylus and keyboard cover proves Google had its priorities elsewhere.
So, the question becomes whether people with or without a smart home should buy the Pixel Tablet. To the first question, it's hard to say without spending more time with Google's exclusive software and new Home UI, but since Google hasn't released a new Nest in the last couple of years, the Tablet should be ground zero for the latest Google Home tech.
Otherwise, you can find something cheaper like an Amazon Fire tablet if you simply want a slab for streaming and browsing. So buying the Pixel Tablet is more about completing your Pixel ecosystem if you already own a Pixel phone and Pixel Watch.
If the Pixel Tablet does tempt you, you can see our guide on how to preorder the Pixel Tablet, or you can see how it compares to the current best Android tablets on the market. In the end, I'd describe the Pixel Tablet as having some intriguing features that make it worth paying attention to, even if it's not especially flashy or powerful.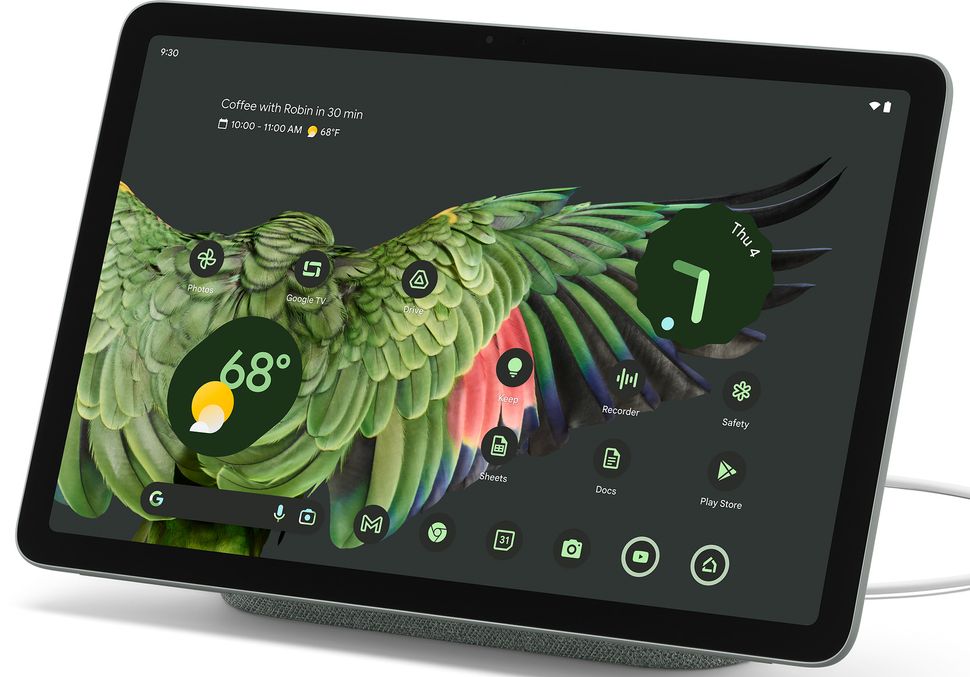 The new Google Pixel Tablet has a fast processor, a rich and smooth display, strong battery life, the promise of speedy Android updates and Google Home tech, and a comfortable design. Combined with the Charging Speaking Dock, it's positioned to become the center of your smart home.
Get the Android Central Newsletter
Instant access to breaking news, the hottest reviews, great deals and helpful tips.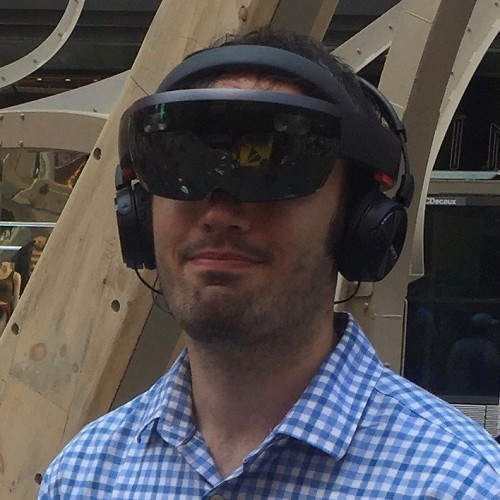 Senior Editor, VR/AR and fitness
Michael spent years freelancing on every tech topic under the sun before settling down on the real exciting stuff: virtual reality, fitness wearables, gaming, and how tech intersects with our world. He's a semi-reformed Apple-to-Android user who loves running, D&D, and Star Wars. Find him on Twitter at @Michael_L_Hicks.