The Pixel 7a might be the best Pixel Google has ever built. The price-to-performance ratio is off the charts good and the camera is better than ever thanks to a huge camera hardware upgrade. Unless you need better battery life or like to zoom beyond 5x, there's no reason to spend your $500 elsewhere.
Pros
+

Top-tier camera

+

Best build and haptics in its class

+

90Hz AMOLED display

+

Incredible Tensor G2 performance

+

Pixel features and updates

+

Great price
Cons
-

Some battery life issues

-

Only 5W wireless charging

-

Portrait mode cut-outs are still a bit sloppy
Why you can trust Android Central Our expert reviewers spend hours testing and comparing products and services so you can choose the best for you. Find out more about how we test.
Last year, Google redefined what a Pixel A series device looked and felt like. The Pixel 6a was gorgeous and featured the same great Tensor processor as the more expensive Pixel 6 series, but it had to cut back a few things to ensure it met the $450 price tag.
This year, the Pixel 7a increases the price by $50 but addresses almost all the shortcomings of last year's model. It's got a 90Hz display, wireless charging support, a better fingerprint sensor, a faster processor with more features, and the biggest camera hardware upgrade ever for a Pixel A-series phone.
It's the new king of best cheap Android phones and it's hard to argue with any reason to spend more than $500 on a new phone this year — and a great Pixel 7a deal might make it even less — but it also isn't without at least one notable negative point.
During the review period, I ran into a few strange bugs with the front-facing camera that caused a lot of power drain. I've reported the bug to Google but, until then, using Face Unlock or Face Detect for Auto-Rotate features causes an inordinate power drain. Based on our lab tests and experience after disabling these features, though, the battery should be enough to get most people through more than a full day.
Google Pixel 7a: Price and availability
The Google Pixel 7a is available to order from Google and all of your favorite electronics stores, as well as a smattering of carriers for $499 USD / $599 CAD. The Pixel 7a is available in a total of 17 countries including:
U.S.
Canada
UK
Ireland
Germany
France
Spain
Italy
Norway
Netherlands
Denmark
Sweden
Japan
Australia
Singapore
Taiwan
India
In the tiny box, you'll find the Pixel 7a alongside a USB-C to USB-C cable, a USB-A to USB-C adapter, a SIM tray eject tool, and the usual set of pamphlets. The Pixel 7a does not include a charger but supports up to 18W USB-PD charging speeds and 5W Qi wireless charging.
As usual, there's a slew of great Pixel 7a cases to get — you'll definitely want one since this phone is so slippery — and the best Pixel 7a screen protectors will keep that screen looking brand new for the life of the phone.
Google Pixel 7a: Display and design
Display and design summary
The back might be plastic but the metal frame and camera bar will fool you into thinking this phone is more expensive than it is. The OLED Display is bright and beautiful — 200 nits brighter than the Pixel 6a — and it offers a smooth 90Hz experience.
PWM-sensitive folks should beware that the 240Hz rate is the same across the entire Pixel line.
If you thought the picture above was of the more expensive Google Pixel 7, you probably wouldn't be alone. Everything about the Pixel 7a looks nearly identical to its more expensive counterpart down to the metal camera bar on the back and the in-display fingerprint sensor on the front.
And while it still uses the same style plastic back as the Pixel 6a did last year, the metal frame and camera bar housing did enough to convince me that this year's model felt more solid and better built than last year's. Not that I had much of an issue with the 6a's build quality at all but these little extras go a long way to making a cheaper phone feel more premium.
Swipe to scroll horizontally
| Category | Google Pixel 7a specs |
| --- | --- |
| Chipset | Google Tensor G2 |
| Memory | 8GB LPDDR5 RAM |
| Storage | 128GB UFS 3.1 |
| Display | 6.1-inch AMOLED, 2400x1080 resolution (429 ppi), 90Hz, HDR10+, Gorilla Glass 3 |
| Rear Camera 1 | 64MP, ƒ/1.89, 0.8μm pixel size, OIS, 4K video @ 30/60FPS, 240FPS super slow-mo video |
| Rear Camera 2 | 13MP, ƒ/2.2, 1.12μm pixel size, 120-degree FoV, OIS, 4K video @ 30 FPS |
| Front Camera | 13MP, ƒ/2.2, 1.12μm pixel size, 95-degree FoV, 4k video @ 30FPS |
| Battery | 4,385mAh, 18W wired charging, 5W Qi wireless charging |
| Dimensions | 152mm x 72.9mm x 9.0mm |
| Weight | 193.5 grams |
| Water and dust resistance | IP67 |
| Security | Titan M2 Security Chip, VPN by Google One, In-screen fingerprint sensor |
| Colors | Charcoal, Sea, Snow, Coral |
| OS | Android 13 with Pixel features |
| Update guarantee | Five years of Pixel updates |
If I had to make one complaint about the redesigned build, it's that the plastic back is an absolute dust and fingerprint magnet. The amount of time I had to spend cleaning off the phone and then subsequently erasing smudges and dust specks in Photoshop felt almost unreal.
This thing will find any trace of dust anywhere on the planet and suck it right to its casing. Thankfully, the cases from Google will make you forget all about how the phone looks on its own and likely never want to go back to using the phone naked again.
Image 1 of 6
The incredibly bright and vibrant one you see in the photos is Google's coral color which ranges between a salmon or azalea color in sunlight to an almost traffic cone orange in some types of fluorescent light. It's not too dissimilar from the Pixel 4's "Oh So Orange" colorway except that it completely surrounds the phone with lovely soft, grippy padding.
And trust me when I say you're probably going to drop this phone if you try to use it naked. Google swapped the slightly grippier side rails of the 6a to a smoother, duller metal that's as slippery as it gets. The edges of the display and corners of the camera bar are also very flat and nearly sharp to the touch, so a case helps round those out substantially.
But all the other pieces of the puzzle are chef's kiss good. Google's haptics are the best in the business and it's not even remotely close. The in-display fingerprint sensor is actually good and really, truly works. That's quite the opposite of the 6 series and, at least for me, much, much better than any in-display ultrasonic sensor Samsung uses on its phones.
Even the display has improved from one generation to the next. At nearly 200 nits brighter — according to testing done by Android Central's parent company, Future — this AMOLED display is incredibly easy to see outdoors and gets nice and dim in the dark.
Image 1 of 4
Oh, and let's not forget the fact that Google addressed one of the biggest issues we had with the Pixel 6a: the display refresh rate. At 90Hz, the Pixel 7a's display is buttery smooth and feels great all around, even if the "Smooth Display" option isn't enabled out of the box.
Google is using an AMOLED display with PWM dimming which, unfortunately, makes me quite sick when using auto brightness. Unfortunately for me — and anyone else who suffers from PWM sensitivity — most modern AMOLED-powered phones use a relatively low-frequency PWM dimming frequency.
This means the display controls the "brightness" by flashing itself on and off several times per second. Most people don't perceive this flashing and aren't affected but folks who do — like myself — develop headaches and nausea when this happens.
On the bright side, this display seems to disable PWM dimming when the brightness is at 100%. It's not the best solution in the world but it means I can still use the Pixel 7a without feeling awful.
Google Pixel 7a: Performance and battery life
Performance and battery life summary
This is the best-performing phone in its price range, offering flagship-level performance for $500. Battery life is good but some bugs caused it to be artificially worse for us.
As you might expect, the Google Pixel 7a got the upgraded Tensor G2 processor from the Pixel 7 series — the same processor that powers the upcoming Google Pixel Fold and Pixel Tablet, in fact. As we saw with the Pixel 7, performance is great for everyday tasks and apps but it's not as fast for gaming as some of the top-end Qualcomm processors.
Of course, this isn't being sold as a top-end phone, so let's compare it to the Pixel 6a to see the improvement — and the Galaxy A54 5G to see what it's currently up against.
On the benchmark side of things, the Pixel 7a is roughly 10% faster than the Pixel 6a in Geekbench tests while most other benchmarks — 3DMark, CrossMark, Web XPRT — show nearly identical performance between the two generations. Things really improved in Basemark with the Pixel 7a showing a 46% improvement over the 6a.
The Pixel 7a far outperformed the Galaxy A54 5G in every benchmark that Future Labs ran. Future is Android Central's parent company and runs standardized lab tests on every device we review.
More specifically, the Pixel 7a was 23% faster than the Galaxy A54 5G in Geekbench 6, 31% faster in CrossMark, more than twice as fast in 3DMark, and an unbelievable 300% faster in Basemark's Vulkan tests.
In short, if performance is your top priority and you don't want to spend more than $500 on a phone, the Pixel 7a is the phone to get.
Remember that this chip is technically a flagship-tier chipset and you're almost assuredly not going to see another company use this grade of chip on a mid-range phone.
Titles like Genshin Impact — one of the best Android games and, by far, one of the most beautiful — can be played on the highest settings but don't expect 60FPS from this chip. You'll want to dial the settings back a bit for that.
Games like Fortnite didn't yet officially support the 7a during my testing so it was limited to 30FPS. I'll have to test that later and update this review with the results, but, I expect nothing short of great performance.
With that boost in performance — plus the jump to a 90Hz display — comes a hit to battery life. In short, the battery life on the Pixel 7a has been anything but great for me but, thankfully, I'm pretty sure it's because of a software bug and not some underlying hardware issue.
From what I can tell, my problems were mostly solved by turning off Face Unlock and Face Detection during auto-rotate features. I've submitted a bug report to Google so that these can be fixed but, for the time being, I'd advise not using these features if you want all-day battery life.
Out of the box, the Pixel 7a's display runs at 60Hz, most likely in an effort to get most people the best battery life. You can opt for 90Hz by jumping into display options and selecting "smooth display" to enable 90Hz. In my testing, however, this didn't affect battery life in any meaningful way.
Theoretically, the Pixel 7a has substantially better battery life than the 6a despite having a slightly smaller battery. Future Labs shows over 3 hours better battery life than the 6a which is an incredible efficiency improvement by any measure, although that metric was achieved by keeping the display at 60Hz.
Google packed Qi wireless charging into the 7a — a feature that was missing from the 6a — although it's only 5W so it's best for keeping your battery from draining rather than power-charging it in short order.
The 7a also only supports up to 18W wired charging via a USB C charger which is fine enough but not considered "fast" these days. You'll find a 20W charger will get to 43% in half an hour. It'll take well over an hour and a half to charge to full.
Google Pixel 7a: Software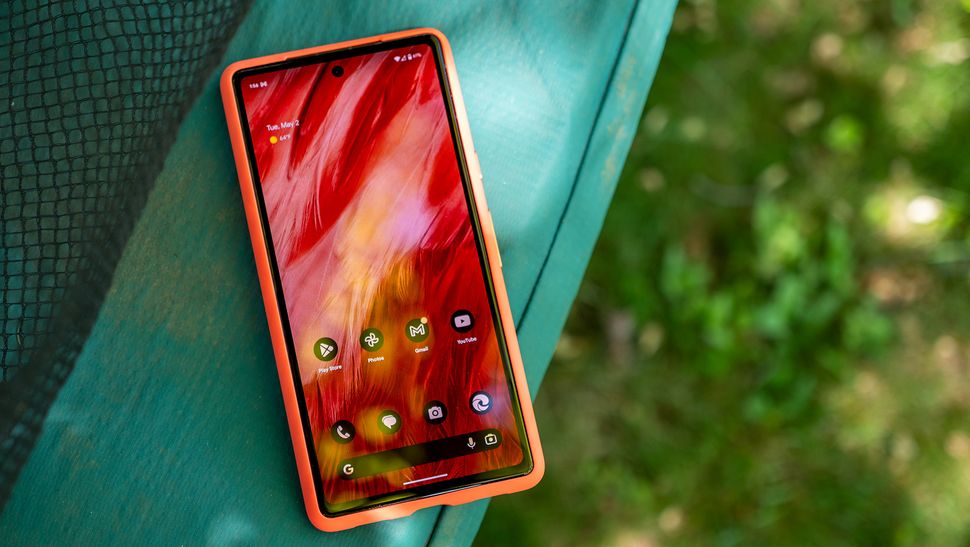 Software summary
The Pixel experience is the same on the 7a as on any other Pixel phone, for better or worse. Exclusive features like Call Screening, Photo Unblur, and regular Pixel Feature Drops are very enticing, and 5 years of guaranteed updates make this one hard to pass up.
Plus, free VPN by Google One means this is one of the most secure phones on the market no matter what Wi-Fi you're connected to.
Like any Pixel phone, the Pixel 7a ships with the latest version of Android and is guaranteed to see support for the next 5 years. Pixel owners can expect regular Pixel Feature Drops that add new features and fun things every few months, and you can always be the first to test out the latest version of Android months before any other phone.
With Tensor G2, Google upped the ante with on-device machine learning and includes exclusive features like Photo Unblur and Call Screening, two features that are truly difficult to live without once you get used to using them.
Plus, the instant voice-to-text on GBoard using Tensor is almost addictive to use. It's amazing how much faster and more accurate Google's voice transcription is, and the processor can even do real-time translation of foreign languages on the off chance you find yourself needing the feature on vacation.
Not only that, but Google is including VPN by Google One for free for all Pixel 7a users regardless if they are Google One subscribers. This important service helps mask your internet traffic by encrypting it when you're on a public Wi-Fi hotspot, ensuring that would-be hackers can't steal your data.
Check this page to make sure your country is eligible for VPN by Google One.
The At a Glance widget is constantly seeing improvements and additions. My favorite recent one is the ability to stop an alarm that's going off on any Nest Hub display or speaker in your home via the widget on your phone's home screen.
Really just beautiful product integration by Google Teams. I can't tell you how many cups of tea this has saved me from over-steeping when I go downstairs, start working, and forget I even set a timer to begin with.
Google also promises 5 years of Pixel Updates with the phone, matching the best update policies available on Android.
And while I love most of Google's Pixel UI in Android, the one thing that still irks me is the nearly useless Overview UI. Swiping left and right on the gesture navigation bar on the bottom is great but sometimes I want to navigate back a little further than the most recent apps.
Companies like Samsung offer apps like Good Lock to allow users to customize the UI the way they'd like but Google doesn't offer anything similar. What you're stuck with is this useless "multitasking" UI — pictured above — that only shows one app at a time.
How am I supposed to quickly navigate between several apps if I have to scroll through giant thumbnails of each one? It's just not efficient or effective and we've been dealing with this awful UI since Android 9 Pie. Google, please, please rethink this one.
Google Pixel 7a: Cameras
Cameras summary
The Pixel 7a matches the Pixel 7's camera quality in almost every area thanks to a huge sensor resolution upgrade and the same Tensor G2 processor inside. Unless you need more than 5x zoom or the nifty Motion Modes of the Pixel 7/Pro, this is the best camera you'll find anywhere.
What would a Pixel review be without gushing about how good the camera is? Not a Pixel review, that's for sure.
As is the case with basically every Pixel phone in existence, you're going to be hard-pressed to find any other phone in this price range that takes pictures this good. That's even more the case this year as Google has upgraded the camera sensors on the Pixel 7a for the first time in the history of Pixel A-series phones.
That tired old 12MP sensor has been swapped out for a shiny new 64MP one and boy, oh boy has it ever made a huge difference. Last year, I was impressed with the fact that the Pixel 6a tended to take as good of — or sometimes better — pictures than the Pixel 6 despite having a much lower resolution sensor.
Google upped its game with the Pixel 7 and, true to expectations, the 7a is yet another upgrade. In my testing, the Pixel 7's camera still came ever so slightly ahead but I really had to nitpick to tell the difference. I'm comfortable with saying that the Pixel 7a takes just as good of photos as the Pixel 7 in most situations and that even includes low light.
Image 1 of 12
Thanks to the newer Tensor G2 that powers the phone, the Pixel 7a takes night shots twice as fast as the Pixel 6a. Combine that with the new sensor and you have shots that look notably better in every single measurement, all while taking half as long to capture the shot.
It's quite literally everything I could have asked for in a camera upgrade from Google and surpassed my expectations in almost every way.
In most situations, the Pixel 7a blows away the Samsung Galaxy A54 5G's camera quality. From daytime to nighttime, Google continuously wins in detail and exposure in any kind of shot.
It's clear the company has worked to improve its algorithm to ensure that a higher-megapixel camera sensor does perform as inconsistently as it did when the Pixel 6 debuted.
Image 1 of 14
Zoom detail was a bit disappointing but, given the lack of a telephoto lens, that shouldn't be too surprising. But the only reasons I held any kind of elevated expectations for zoom detail were twofold.
One, this is a higher-resolution sensor. I don't think I have to explain my thoughts there. Two, Google spent quite a bit of space in the review literature talking about Super Res Zoom and how good it was.
If I'm being fair, it's better than what's offered on the Samsung Galaxy A54 5G but only marginally and it's very situationally dependent. I'm not sure I'd go out of my way to claim this is heads and tails better, by any means.
Image 1 of 2
I only had two real problems with the Pixel 7a's camera quality. First, was with the white balance. In several situations, the 7a's camera tended to hedge on the green side of things for white balance. Any time something brown or black was prominently in the frame — like the inside of a barbeque grill or a wooden table — the phone tended to make the photo a little too green for its own good.
Second, Google still seems to struggle with nailing the cut-outs in portrait mode. Samsung does this a lot better and it feels a bit strange given how good Google's AI-powered people identification is in Google Photos. It'll certainly give you great shots every now and then but it's far too inconsistent for my liking.
And while nearly everything in the camera app is identical to the pricier Pixel 7 and Pixel 7 Pro, there's still no option to use the Motion mode from those phones. Last year, Google said the smaller 12MP sensor was the reason they didn't include Motion mode but, this year, that's clearly not the case.
Of course, Google has to have reasons to shift customers to a more expensive model if they want a certain feature. The Pixel 7a's sensor might be higher-resolution than the 50MP main sensor on the Pixel 7 and 7 Pro but it's actually a physically smaller sensor.
This doesn't seem to have much of a negative effect on real-world performance but a physically larger sensor can allow the phone to capture more detail and have a more pleasing bokeh.
Video recording was also improved generation-to-generation, with the front-facing camera gaining the ability to record in 4K quality. Overall, the video quality of this phone is better than what Samsung offers on the Galaxy A54 5G, particularly when it comes to more accurate white balance.
Google Pixel 7a: The competition
The Samsung Galaxy A54 5G is the nearest competitor to the Pixel 7a and it comes in at $50 cheaper. While you'll gain a plethora of Samsung features and excellent compatibility with Samsung's wider ecosystem, the A54 5G has a worse camera and much worse overall performance. On the bright side, the phone offers better battery life than what I experienced with the Pixel 7a.
If you're still looking for a great Pixel phone and don't like the new $500 price point of the 7a, you could always opt for a Pixel 6a. Great Pixel 6a deals will get you the phone for almost half the cost of a new 7a and you'll still get great Pixel features from the first-generation Tensor processor, the same great 12MP camera people have loved for years on older Pixel phones and a gorgeous design that fits the Pixel 6 line.
Google Pixel 7a: Should you buy it?
You should buy this if:
You want the best performance on a mid-range budget.
You want the best cameras on a mid-range budget.
You want a phone that'll be supported for the next 5 years.
You shouldn't buy this if:
You need epic battery life.
You must have a camera telephoto lens.
It's hard to argue with Google's latest A-series Pixel. It completely eliminates the need for the smaller Pixel 7 as you'll find the camera is just as good and the battery life is identical. While it's got a slightly cheaper-feeling plastic back, you're probably going to keep it in a case, anyway.
Google upgraded the camera over the Pixel 6a, representing the biggest camera upgrade — both hardware and in quality — of any A-series phone. Really, unless you need to regularly zoom in more than 5x, there's no reason to even spend the extra money to get the Pixel 7 Pro, either.
The price-to-performance ratio of the 7a is without parallel and the 7a represents the absolute best deal you'll find in the Android world right now. I just wish the battery life were a little bit better because, if that were the case, this would be the perfect phone for the price.