Samsung Galaxy Tab S9: Everything we want to see
We loved the Tab S8 series, but new perks like waterproofing, an S Pen upgrade, and new colors would make the S9s even better.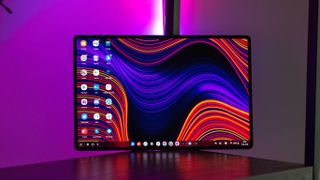 (Image credit: Andrew Myrick / Android Central)
Instead of alternating between its "Fan Edition" and S tablets, as it did in 2021 and 2022, Samsung allegedly has decided to release both the Galaxy Tab S9 series and Galaxy Tab S8 FE this summer.
Several rumors have already emerged surrounding the tablet: SamMobile (opens in new tab) reports the Samsung Galaxy Tab S9 will have IP67 dust and water resistance — a first for the lineup outside of the Active series. And Galaxy Club (opens in new tab) claims that Samsung will once again release three tablets (and three 5G variants), bringing back the 14.6-inch Galaxy Tab S8 Ultra.
Whereas the Galaxy Tab S8 FE will target more frugal buyers, the Galaxy Tab S9 series should have the cutting-edge performance and gorgeous displays we've come to expect from the lineup. And with One UI 5 continuing to improve multitasking software and more Android apps getting better tablet optimization, we're quite happy with our current Tab S8s. So we're not demanding that Samsung reinvent the wheel here.
Having reviewed the Galaxy Tab S8+ and consulted my colleague Andrew Myrick, who reviewed the Ultra, here are our ideas (both reasonable and outlandish) for the newest Tab S9 generation.
Let the IP67 and 5G leaks be true
Waterproofing is extremely rare for tablets, outside of "rugged" options that usually don't have the best specs in other areas like performance. If Samsung truly does add IP67 water resistance — SamMobile notes in its report that "it's also not uncommon for preliminary device plans to change" — we would be absolutely thrilled. Both because it would protect an expensive investment from accidents and because other tablet makers like Apple might follow suit.
The other leak about six Tab S9 models also excites us. Last generation, only the Galaxy Tab S8+ had a 5G cellular option, which felt a bit arbitrary. The Galaxy Tab S9 is best designed for portability and is more likely to be used in public spaces, while the Galaxy Tab S9 Ultra will target productivity buyers who might need 5G for work travel.
Cellular connectivity on tablets is a niche feature not many people will buy. Still, those that do will appreciate not getting pigeonholed into one tablet size (even if the Tab S8+ is our favorite Android tablet).
An S Pen Pro...or an S Pen slot?
First, let's discuss the more reasonable option. The Galaxy Tab S series comes with your run-of-the-mill S Pen, which isn't a bad thing: latency on the Tab S8+ and Ultra is an absurdly low 2.8ms now, so smooth and instantaneous that drawing on it feels totally natural. Plus, the pen design makes it quite comfortable to hold.
The only downside is that the pen nub isn't especially durable, and Samsung doesn't ship its S Pens with replacement tips anymore — something we'd love to see changed, but won't necessarily count on.
Ideally, though, Samsung would ship the Tab S9 with the S Pen Pro, or offer it as a bundled in-box upgrade rather than having to buy it in addition to the base S Pen.
The S Pen Pro, which is already compatible with the Tab S8 and S7, gives you three perks: Air Commands for gesture shortcuts, Bluetooth support, and compatibility with other Samsung Galaxy phones if you're a super-user. Bluetooth is most important because the standard S Pen can be easily lost, whereas you can track the S Pen Pro's location using SmartThings as long as the 16-hour battery lasts.
In general, the Galaxy Tab S Pen is easily misplaced because the magnetic strip on the Tab S8's rear isn't especially strong. Put your tablet down anywhere, forgetting that the S Pen is placed there, and it may not stay on the tablet until you pick it up. You can have the tablet notify you if the S Pen is dislodged, but you may not notice until it's too late (without proper Bluetooth tracking to help you find it).
My colleague Namerah Faud Satmi suggested that Samsung add an S Pen slot to the Galaxy Tab S9 as a replacement for the feeble magnetic strip. Samsung has been trying and failing to add an S Pen slot into its Z Fold series for the last couple of generations, and it's a problem of physics for the Galaxy Tab series as well: the S Pen is 6.7 x 5.5 x 130.4mm, while the Galaxy Tab S8 series' thickness ranges from 5.5mm to 6.3mm.
Samsung would need to make the Galaxy Tab S9 thicker and heavier to accommodate an S Pen slot, or else ship the tablet with a smaller S Pen — neither of which is likely. Sorry, Namerah! We'll have to make do with Tab S9 cases that'll keep it secure in place, or an S Pen Pro upgrade to better track it.
A better (censored) keyboard cover
Our Tablets Editor Andrew Myrick made the colorful request above, which tracks given his utter disappointment with the Galaxy Tab S8 Ultra Book Cover Keyboard.
His review said unequivocally that "there's almost no circumstance where I would recommend this keyboard to anyone." He appreciates it for the backlight, decent typing experience, and the automatic switch to DeX mode when you connect it to the tablet; but it's unreliable except on flat surfaces, the trackpad is terrible, and it's just too dang expensive at $350.
I was slightly more bullish on my Tab S8+ keyboard, simply because it cost less than half that price (I tested the keyboard-only accessory rather than the trackpad option). But it's still a far cry in typing quality from any Bluetooth mechanical keyboard you might buy, as the Microsoft Surface-style design limits the key spacing and travel by comparison.
Andrew's recommendation is that Samsung "borrow" Apple's Magic Keyboard style instead for an upgrade, while I'm more hopeful that Samsung will make its keyboard accessories a little more affordable instead. It tends to offer them for free as a preorder perk, but anyone buying a Tab later shouldn't have to spend so much for an average-at-best experience.
A charger and a headphone jack
These requests are both the most reasonable so far, and also the two I'm fairly certain won't happen.
First, Samsung isn't unique in its choice to neglect including a charger with its tech. It didn't provide one with last year's Galaxy Tab S8, this year's Galaxy S23, or most of its devices from the past few years. But the fact is, these S9 tablets will have massive batteries (around 8,000–11,200mAh if they stay the same size), and charging with anything less than 45W will take far too long.
A Samsung 45W Fast Charger costs $50, but no one spending close to a grand on a tablet like the Tab S9 Ultra should have to pay extra on top of that. It's a laptop replacement, and no company would dare sell a laptop without a charger.
As for the 3.5mm headphone jack, Samsung hasn't included one on a flagship tablet since the S4, and it's not coming back. Only cheap Android tablets like the Galaxy Tab A7 Lite seem to have them these days because they're designed primarily for streaming. Hmm, I wonder if anyone might use a pixel-rich AMOLED display with a 120Hz refresh rate for streaming video or gaming?
Sarcasm aside, it's a shame Samsung won't buck its trends for either request, especially the charger.
Next-gen storage, and more of it!
One subtle perk of the latest Galaxy S23 Ultra and S23+ is that both phones start with 256GB of storage as the default. Specifically, they use UFS 4.0 storage that doubles the read & write speeds (4,200MB/s and 2,800MB, respectively) to and from your drive. It allows for faster photo processing, shorter game loading, and reduced power consumption during transfers.
Apparently, Samsung has only developed the technology for storage drives of 256GB and up, which means the 128GB Galaxy S23 downgrades to the old UFS 3.1 standard, something that many consumers won't realize.
That's why we want the Samsung Galaxy Tab S9 to just jump to 256GB UFS 4.0 across the board — or at least starting with the Tab S9+.
We know the Tab S series comes with a microSD slot — something we seriously hope never changes — but Samsung should accommodate the majority of its users that will never buy a microSD card, and make extra storage the default, rather than a preorder perk as it has done in the past.
Stay the course on specs (with a few upgrades)
Most of our requests concern accessories, niche features, and new upgrades that few tablets have offered before (like waterproofing). We haven't had much to say about the design or specifications because, frankly, we already loved the Galaxy Tab S8 series! Why rock the boat?
We're already quite happy with the 120Hz refresh rates and high pixel-per-inch displays (between 240 and 276), the bulky batteries, the punchy quad-speaker audio, the upgraded ultrawide selfie camera with auto-tracking, and other top-class perks that the Tab S9 will inherit from the S8.
The Snapdragon 8 Gen 2 upgrade is what we most look forward to, since last generation's 8 Gen 1 tended to overheat and underperform in many cases. It'll give the Galaxy Tab S9 series an impressive boost for gaming and other intensive applications — especially if they add UFS 4.0 storage.
It's even possible the tablet could sport the unannounced Snapdragon 8 Gen 2+ for a further upgrade in performance, alongside the Galaxy Z Fold 5.
If you had to press us for improvements, we'd ask for Wi-Fi 7 future-proofing, Bluetooth 5.3 support, and a wider DCI-P3 color gamut for the best possible accuracy for creative work.
Perhaps our only difficult request is that the Galaxy Tab S9 Ultra starts with 12GB of RAM instead of 8GB since a flagship tablet at this price should really get an upgrade without an upsell. Serious buyers can still pay extra for 16GB if they want to.
Livelier colors
I suspect that Samsung, Apple, and other brands held a secret meeting years ago to make a sacred pact: all expensive tablets must be sleek, serious, colorless, and generally boring to look at.
Generally speaking, Samsung likes to release its tablets in Black, Silver, a light Bronze or Pink color, and (very occasionally) a fourth color. Samsung begrudgingly launched a Mystic Blue Tab S7 about a year after the rest came out, and hasn't released any new Tab S8 colors since launch.
I want Samsung to cater to people who like rich colors, the same way Apple does with its iPad and iPad Air (though not the iPad Pro). Give me Green, Blue, Purple, Yellow, or anything with a little more personality than its usual achromatic, muted look! I suspect the Samsung Galaxy Tab S9 will have the same colors as its predecessor, but I can hope.
Get the Android Central Newsletter
Instant access to breaking news, the hottest reviews, great deals and helpful tips.
Senior Editor, VR/AR and fitness
Michael spent years freelancing on every tech topic under the sun before settling down on the real exciting stuff: virtual reality, fitness wearables, gaming, and how tech intersects with our world. He's a semi-reformed Apple-to-Android user who loves running, D&D, and Star Wars. Find him on Twitter at @Michael_L_Hicks.