Google Pixel Fold hands-on: An impressive first-gen effort
It has all the perks you'd expect from a Pixel phone, packed into an attractive design — though it isn't without its flaws.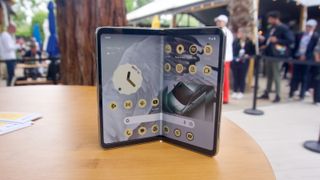 (Image credit: Michael Hicks / Android Central)
Throughout all of the cheering and laughter during the two-hour Google I/O presentation, only one moment stirred up some audible discontent and shock from the crowd: when Rick Osterloh explained that the Pixel Fold would cost $1,799.
Even the promise of a free Pixel Watch or Google One subscription — or the months of Pixel Fold leaks spoiling this price — couldn't soften the blow. Pixel fans are used to more affordable phones, but Osterloh insisted on stage that the Fold needed to cost $1,799 to deliver a quality experience.
When asked during a reporter briefing, Google said that the price point reflects what the phone offers.
"This pricing is in line with the competitors, but we actually thought that with what we're offering and just our real focus on user experience, particularly the form factor as well as the thinnest foldable out there, and all the strides that we've made on the durability of the hinge as well as the device in general and all the efforts around the camera, that we're really excited about how this is going to be received and we are quite confident in the kind of the offering that we have at the moment," George Hwang, product lead for the Pixel Fold, said.
Editor-in-Chief Jeramy Johnson and I got to spend over an hour testing both the Fold and the Pixel Tablet after the Google I/O 2023 keynote. It gave us a glimpse of the Pixel Fold's strengths (cameras, versatile design) and weaknesses (display issues, an overly rigid hinge).
Our Pixel Fold guide will walk you through how Google's foldable does on paper, but these specs only tell half the story. Recognizing that you can only learn so much about a phone in such a short time, here are our Pixel Fold hands-on impressions.
Pixel Fold design: Skinny, versatile, almost flat
"How's the crease?" That's the first question that the AC team's resident foldable fans Nick Sutrich and Andrew Myrick messaged me when I first snatched a Pixel Fold from the press table. It's the one thing that press renders never show for any foldable phone, so you can only judge it properly in person.
Well, the Pixel Fold does have a crease. Considering Samsung LSI manufactured it, and the Galaxy Z Fold 4 crease is a sore point for people, this shouldn't be a surprise. You'll need to look to the OPPO Find N2 for a nearly creaseless experience.
That being said, I'd say that the Pixel Fold crease is surprisingly subtle for a first-generation design, once you manage to pull it flat (more on that later). The glossy screen protector does make the crease (and fingerprints) stand out a bit, but it doesn't seem as pronounced as what I've seen on Nick's Z Fold 4.
The Pixel Fold's stainless-steel hinge feels comfortably rigid when adjusting the folding angle; you have to firmly pull the two sides, and then it settles into that angle with no wobble or give that I could notice. The hinge's strength is what makes new software tools like Google's awesome Tabletop Mode possible.
What surprised me was how difficult it was to unfold the Pixel Fold. The closer it gets to a flat 180º angle, the more pressure you have to use to force it into that position. And I was afraid to force it because I didn't want to be the journalist who broke an $1,800 phone.
Mr. Mobile's Michael Fisher (@Captain2Phones) tweeted that a "knowledgeable source" told him Google "wanted the hinge to be rigid enough to be pose-able at any angle," and this means you have to "exert more effort" to open and close it than with other foldables.
My worry is that this will lead to people breaking their own Pixel Folds trying to force the issue — a side effect of making the hinge more unyielding. We'll have to wait for a proper Fold durability test to see how it deals with rough handling.
As a side note, thanks to the patented Pixel 7 Pro-style camera bump, the Pixel Fold won't lay flat even when you do manage to flatten it. This point matters less, though, since most Fold owners will put a case on it ASAP, and that offsets the bump on the left side.
Image 1 of 4
The caseless Pixel Fold is exactly as thin as Google boasts, giving it a pleasantly dainty feel in your hands when in passport form in your hand. We compared it against Jeramy's Pixel 7a, and you can see in the gallery above how it makes a petite phone look bulky by comparison.
Matched against the too-narrow cover display on the Z Fold series, the Pixel Fold cover display feels like it hits the aspect ratio sweet spot for quick browsing. It's still comfortable in one hand, despite how thick it gets when folded, and the step up to FHD at 120Hz gives the Pixel Fold another point in its favor over the Z Fold 4.
Using the Pixel Fold with Google's official case takes away some of the magic. Compared to the pleasant aluminum grip of the phone itself, the polycarbonate/silicone official case thickens the whole package and feels like a tactile downgrade. I'm curious if the other best Pixel Fold cases do better in this department. Regardless, I would never use a $1,799 phone without a robust case, so it's a bit unfair of me to complain.
Even though the Pixel Fold colors — Obsidian (aka black) and Porcelain (aka beige) — are boring as heck, at least the official cases add more color options. I just think that Coral Pixel Fold would have sold like hotcakes next to its drab siblings.
I'm worried about the Pixel Fold display
When it comes to Pixel Fold display problems, I'm not talking about the Pixel Fold's minor crease, which my boss called a "nothingburger" but some buyers will find distracting and a deal-breaker. It's like how people either can or can't deal with an iPhone notch; it's a matter of preference and tolerance for distractions.
Nor am I referring to the thick bezels running the horizontal length of the display, even if they'll take some getting used to. What I find more distracting — and forgive my unscientific language for this — is the mini-bezel inside the main bezel.
I think this comes from the built-in screen protector above the Ultra Thin Glass, though it could be a quirk of the display itself. Whatever its origin, this little screen sliver calls attention to itself.
Google gave out Pixel Fold test units like free food court samples at the mall, so I probably held about six of them over the course of the hour. And on each one, I noticed white spots along the edge of the Folds' bezels.
Maybe this tiered display portion tends to gather dust and grime easily, but I suspect it's the display shining past the protector's black-bordered edge. Whatever the cause, I found it fairly noticeable, and I don't think there's a solution since you can't remove the screen protector without voiding your warranty and putting the glass at risk of damage.
This, combined with the fact that the Pixel Fold screen protector gets smudged easily with fingerprints, makes the Fold display look cheaper than it is. The Pixel Fold reportedly has stylus support but we're still working on confirming that with Google. But that being said you'll still want to keep plenty of screen wipes on hand!
I was also a bit disappointed by the Pixel Fold's brightness levels. Google says that it hits 1,200 nits for HDR content or 1,550 at peak brightness, which falls short of a Galaxy S23 Ultra or iPhone 14 Pro but is otherwise quite excellent...on paper.
Streaming The Mandalorian in HDR looked suitably vibrant, and the speakers got loud enough to annoy the YouTubers nearby filming content for their channels. But for just regular Chrome browsing or YouTube streaming, everything looked a bit muted and harder to read than I expected at max brightness.
Cameras and software are where the Pixel Fold shines
Despite all the nitpicking I've done about the Pixel Fold, I still find its design attractive and comfortable to use in person. And whatever its faults, you can at least be rest assured that you're getting a much better camera experience than on a typical foldable phone.
Specs-wise, you get a 48MP main rear sensor and dual 10.8MP ultrawide and telephoto sensors. The latter falls short of the 48MP telephoto you get on the Pixel 7 Pro, but you do at least get the same 5X optical zoom.
Despite the megapixel gap from a typical Pixel, the photos I took on the Fold looked excellent thanks to Google's typical postprocessing expertise. I could take a photo that looked average initially, only to pull it up in Google Photos and see the improved focus and color fidelity in no time flat.
For selfies, you can choose between the 9.5MP front and 8MP inner cameras. You can definitely tell that these shots don't have the highest fidelity, but the same principle applies in terms of AI coming to the rescue. And then you have to take specific tricks like Magic Eraser and Photo Unblur into account.
Add in the fact that you can take photos in Tabletop mode for stable long-exposure shots, and the Pixel Fold could prove a popular camera phone option even if it doesn't have a super-powerful 200MP sensor like other recent Android flagships.
I didn't get to spend too long testing every single Google app to see how it's been adapted to the Fold. Some, like the Live Translate tool that uses both displays, won't be available until Android 14 launches but looked terrific in their on-stage demos.
Generally speaking, multitasking on the Pixel Fold takes just a couple of taps and swipes, and the split-screen layout adjusts when you turn the phone to different orientations. Google's software updates have definitely paid off here.
You can also close the Pixel Fold and then check your cover display to see your most recent app appear almost seamlessly, so you can keep watching a video or taking photos.
While I'm still worried that the Google Tensor G2 chip may not have the sheer benchmarked power to compete with the Snapdragon 8 Gen 2 and other chips used by rival foldables, it did its job well enough as I hopped from one app and screen to another. I'm genuinely hoping it defies my expectations, but even with 12GB of RAM, the Fold probably won't be a "gaming phone."
---
Aside from a June release month, we don't know precisely when the Google Pixel Fold will ship, but June 27 is the likely date.
You can preorder the Fold now and get a free Pixel Watch, as well as a six-month Google One subscription at the 2TB tier and three months of YouTube Premium. You can also trade in an old phone and get a decent chunk of the $1,799 price tag off.
You may also want to wait and see what carrier deals become available. With the right smartphone to trade in, you could save up to $1,000 off of the Fold.
The main question, of course, is whether the Pixel Fold is the right phone for you! It has the potential to join the best Android phones available (if price is no object), on the strength of its software and cameras. For Pixel fans, this phone will likely be on the frontlines for all of Google's upcoming AI features. But I do want to test the Pixel Fold more thoroughly to see how the hardware and display hold up to scrutiny.
Preorders are now open
After years of delays, the Google Pixel Fold has finally arrived. It's the skinniest foldable with the best cameras on the market, thanks to Google's AI prowess and Tensor G2 chip. It has 120Hz inner and outer displays, an impressive battery size, and a strong hinge design so it can sit at any angle.
Be an expert in 5 minutes
Get the latest news from Android Central, your trusted companion in the world of Android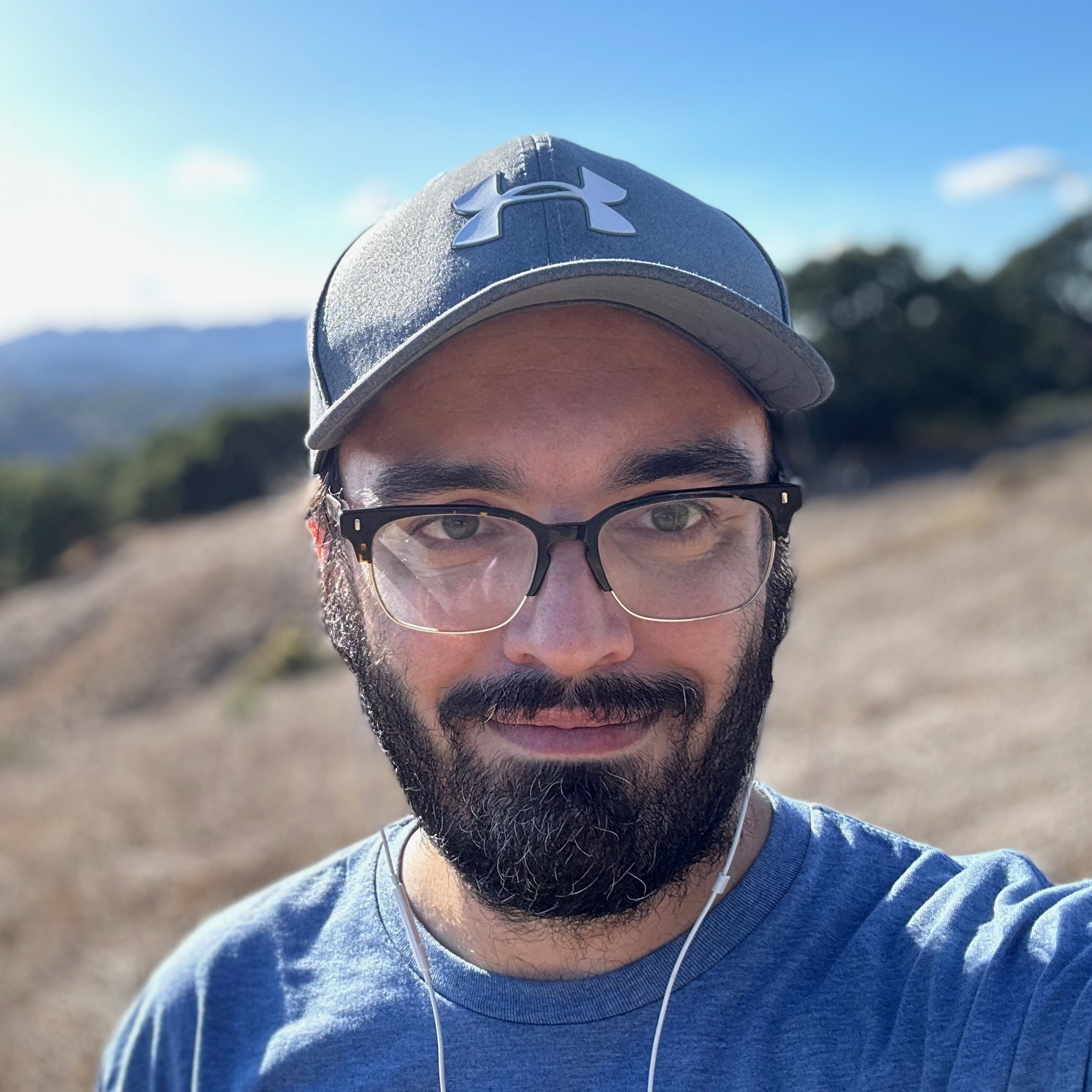 Senior Editor, VR/AR and fitness
Michael is Android Central's resident expert on fitness tech and wearables, with an enthusiast's love of VR tech on the side. After years freelancing for Techradar, Wareable, Windows Central, Digital Trends, and other sites on a variety of tech topics, AC has given him the chance to really dive into the topics he's passionate about. He's also a semi-reformed Apple-to-Android user who loves D&D, Star Wars, and Lord of the Rings.
For wearables, Michael has tested dozens of smartwatches from Garmin, Fitbit, Samsung, Apple, COROS, Polar, Amazfit, and other brands, and will always focus on recommending the best product over the best brand. He's also completed marathons like NYC, SF, Marine Corps, Big Sur, and California International — though he's still trying to break that 4-hour barrier.
I would be surprised if anyone who buys this phone doesn't get the extended warranty. 1st Gen google hardware products don't have a great track record. I am curious who is actually building the device. If it is Samsung, I would feel much more comfortable buying this.

Reply

'Matched against the too-narrow cover display on the Z Fold series' The Fold's cover display is EXACTLY as it should be; easily usable with one hand. Normal smartphones compromise on usability to offer a big screen, but the Fold already has a HUGE screen unfolded. When folded, the narrow outer Fold display is perfect for one-handed use.

Reply