Google One: Everything you need to know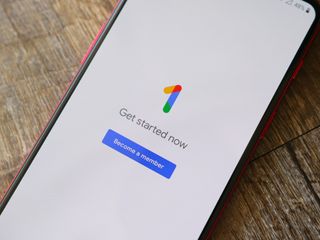 (Image credit: Joe Maring / Android Central)
Google One made its debut in May 2018 as a rebranding for paid Google Drive storage. However, Google One's a lot more than a fresh coat of paint. With new storage plans and extra member benefits, there's never been a better time to upgrade your cloud storage game.
With Google getting rid of the ability to upload unlimited high-quality photos to Google Photos in June 2021, you may need to use Google One to pick up additional storage to continue using Photos.
Here's everything you need to know about Google One!
Google One is now the place for buying paid Google Drive storage
If you want to buy more cloud storage for your Google Drive account, that's now handled through Google One. Google provides 15GB of storage for free to all users, and that's shared across Gmail, Google Drive, and Google Photos. Should you exceed that limit, you will need to pick up a paid plan, and that goes through Google One now.
Your actual files and everything are still in Google Drive — Google One is just the new name under which paid plans are purchased.
Here's how much Google One costs in various markets
All Google accounts come with 15GB of free storage, and in the past, this quota was more than adequate for most users because Google offered unlimited high-quality photo and video uploads to Google Photos. But with that changing in June 2021, you'll need additional storage for your photos.
All photos and videos backed up until June will not count toward your account storage, but any data you upload to Google Photos after that will take up storage. If you end up running out of your 15GB of free quota or realize you're going to need more, you can upgrade to any of the paid plans in Google One. Here's how much it costs in various markets around the world:
Swipe to scroll horizontally
Storage tier
U.S.
UK
Canada
India
100GB
$1.99 monthly
$19.99 yearly
£1.99 monthly
£19.99 yearly
CAD2.99 monthly
CAD25.99 yearly
₹130 monthly
₹1,300 yearly
200GB
$2.99 monthly
$29.99 yearly
£2.99 monthly
£24.99 yearly
CAD3.99 monthly
CAD39.99 yearly
₹210 monthly
₹2,100 yearly
2TB
$9.99 monthly
$99.99 yearly
£7.99 monthly
£79.99 yearly
CAD13.99 monthly
CAD139.99 yearly
₹650 monthly
₹6,500 yearly
5TB
$24.99 monthly
$249.99 yearly
£19.99 monthly
£199.99 yearly
$32.99 monthly
₹1,649 monthly
₹15,900 yearly
10TB
$99.99 monthly
£79.99 monthly
CAD139.99 monthly
₹6,500 monthly
20TB
$199.99 monthly
£159.99 monthly
CAD279.99 monthly
₹13,000 monthly
30TB
$299.99 monthly
£239.99 monthly
CAD419.99 monthly
₹19,500 monthly
The 200GB plan was added to Google One much later, and the $9.99/month option has been upgraded from 1TB to 2TB. If you were previously paying for the 1TB plan, it's upgraded to 2TB at no extra charge to you.
Google quietly introduced a 5TB option in September 2021. It hits the perfect sweet spot between the lower tier and the upper-tier plans, offering a mid-range solution with a price to match. At $24.99 per month, users get 5TB of storage and all the benefits of the more premium plans.
Your phone is always backed up
With Google One, you get the ability to automatically backup the contents of your phone. That includes texts, MMS, contacts, app data, photos, and videos. You don't need to use Google One to do this — most Android phones do this by default anyway — but Google One collates all of these settings into a single app.
For instance, if you'd like to adjust the quality settings for photos and videos backed up via Google Photos, you can do so from within Google One. Also, the ability to back up MMS is limited to Google One subscribers for now, with the default Android Messages only backing up texts.
The ability to seamlessly back up data is what makes using an Android phone hassle-free — the best cheap Android phones do this just as well as flagships, and with Google One, you get just a little bit more.
Share storage with your family
One of the key highlights of Google One is the fact that you can share the storage space with your family. You can do so with up to five other Google accounts, and each gets its own private section of the storage to use. To add your family members, you'll need to set up a family group. Your family members need to be in the same region as you to share the plan.
Your membership comes with extra goodies
Those small changes to the storage plans are nice, but where Google One really shines is with the other features that your membership comes with.
If you sign up for any of the paid plans, you get access to premium customer support and various benefits like Google Play credits, a VPN for Android, and discounts on hotels. The benefits vary based on the region, and they're a nice bonus.
Level up
The easiest way to upgrade your storage.
Google One makes it extremely convenient to manage and buy extra storage for your Google account. The dashboard gives you real-time information on how much data you're using across Google services, and you get the ability to share the storage with up to five family members.
Joe Maring was a Senior Editor for Android Central between 2017 and 2021. You can reach him on Twitter at @JoeMaring1.
Google One saved me 25% of a hotel stay in Plymouth, MA this year, during in season. I's Cloud storage is Pretty tough to beat what you get for the price.

Might be best to mention in the article somewhere that Google One is for personal Gmail accounts only, even now, so setting aside proper Workspace Customers, all those on the legacy free GSuite Family Accounts can't go anywhere near it...

I was just going to say the same thing.
Google really left GSuite Family Accounts out to dry.
And no easy way to convert to something better.
Android Central Newsletter
Thank you for signing up to Android Central. You will receive a verification email shortly.
There was a problem. Please refresh the page and try again.