Google I/O 2023: All of the biggest announcements
Lots of Pixels and even more AI.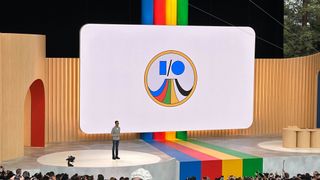 (Image credit: Android Central)
Google I/O 2023 kicked off today, and there were quite a lot of exciting announcements at the event. While the keynote touched on just certain topics, there was still plenty to talk about, and many awesome new products and services were shown off.
It wasn't a short keynote, so to save you the trouble of having to sit through the full two hours, we are highlighting some of the biggest announcements from Google I/O so you can get excited with us (we'll still link the video at the bottom if you really want to watch it).
Artificial Intelligence is everywhere
As you might have guessed, AI was everywhere during the event, to the point where there's now a supercut of Sundar Pichai saying "AI."
During the event, Google announced a number of ways that AI will enhance its products, from the new Magic Composer in the Google Messages app to the cool new features coming to Google Maps and Photos. Google also took the time to highlight the new Duet AI-powered features arriving on Workspace apps like Docs, Sheets, Slides, and more. With these new features, Google can help users compose content, organize plans, and generate images from words.
And for those of you interested in trying out Google Bard, the company has now removed the waitlist, so now everyone can play with the upgraded chatbot. And while a standalone Bard app isn't happening, Google is integrating it into various apps and services like Adobe Firefly.
Google Search, supercharged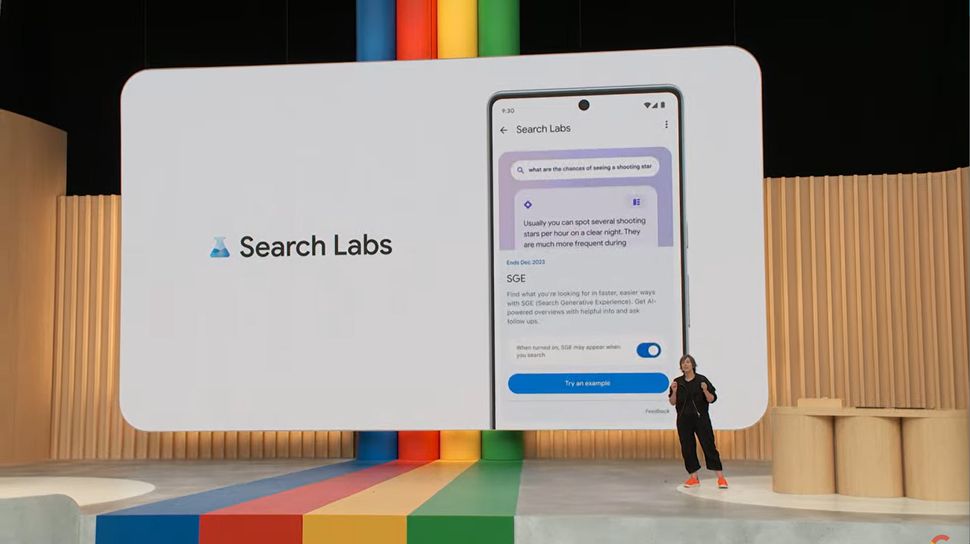 It's been long speculated that Google would integrate generative AI into Search to challenge Bing/ChatGPT. After all, AI has been a big part of Search for a long time (why do you think it's so good?). At I/O, Google revealed a new Search experiment that will let users test out its generative AI. This should allow Search to gain a better understanding of longer-form questions while providing an easy-to-read snapshot of important information that could potentially save you from constantly scrolling for the right answer.
The new Search experience isn't available yet, but you can sign up now for the waitlist through the Google app.
Android 14 and Wear OS 4!
Android 14 has been in beta for some time now, but Google talked a bit more about the upcoming update and more of the features we can expect. For instance, users are gaining more Material You customizations for your lock screen and wallpaper, and something called "Ultra HDR" should really make your photos pop. There are also a host of new privacy features, improved predictive back animations, and more.
Android 14 Beta 2 is already available for Pixels, and the beta Program is now open to even more Android OEMs.
But that's not all. Google also took the time to tease the upcoming Wear OS 4 update. With it, the company promises better battery life, improved accessibility features, better watch faces, and finally a backup and restore feature. Some long-awaited apps are also on the way, such as Gmail and Calendar.
We're still not sure what watches will be eligible for the update, which is a big question since Mobvoi is still having trouble with Wear OS 3. Hopefully, we'll get more information soon.
Google's Pixel Fold is finally coming
One of the most exciting hardware launches was the Pixel Fold. It had been rumored for some time, and after many leaks, the foldable is finally here. And it's gorgeous. Say what you will about foldable phones, but the Pixel Fold is truly a looker and might even put all the other foldable phones to shame.
The phone sports a Tensor G2 chipset, a wide 7.6-inch folding screen, a smaller 5.8-inch external screen, and a 48MP triple camera setup on the back. And thanks to Google's efforts to improve the Android experience on larger screens, Android 13 looks great and works great on the Fold, particularly when it comes to things like multitasking.
As the only folding phone to really challenge Samsung in the U.S., we can't wait to really put it through its paces to see if it's worth the $1799 price tag.
The Pixel 7a offers an incredible value
We were impressed by the Pixel 6a last year, but Google stepped things up quite a bit with the Pixel 7a. Sure, it's a smidge more expensive, but you're getting upgraded cameras, a new 90Hz AMOLED display, the flagship-level Tensor G2 chipset, and the same upgrade promise Google gives to its best phones.
There's a lot to like about the Pixel 7a, including its stunning Sea and Coral colorways, which really stand out. And at just $500, it really puts some other cheap Android phones to shame. Heck, it makes the iPhone SE (2022) look incredibly dated.
Pixel Tablet transforms your idea of a smart home hub
While we didn't get a new Nest Hub, Google launched literally the next best thing: the Pixel Tablet. It's an Android 13 tablet with an 11-inch display that does all the things you expect a tablet to do. But Google gave the tablet a new purpose by including a charging dock. This way, it transforms into a smart display, allowing you to control your smart devices while still being able to interact with your favorite apps.
The best part is that with Chromecast built-in, you can easily cast your content to the Pixel Tablet while it's in hub mode, making it easy to really jam out with the charging dock's powerful speaker.
Google Home gets a long-overdue overhaul
The Google Home app has been undergoing renovations lately, and Google is finally ready to reveal the newly improved app to everyone. With the update, Google Home is more visually appealing, customizable, and useful. You can now have your most-used controls front and center, so you don't have to dig to find your thermostat or lamp.
Camera support has been greatly improved, so not only can you bring your old Nest cameras into the app, but they're now as much as 38% faster in the Google Home app. Wear OS devices also gain new features, such as camera and door lock controls, enhanced notifications for doorbells, and more.
The new Google Home experience will roll out to everyone starting May 11.
Magic Editor is Google's next mind-blowing photo editing tool
There's a lot to love about Google Photos, but one new feature really blew our minds during the keynote. Google demoed "Magic Editor," which takes the Magic Eraser we know and love to another level. Instead of simply removing an object or person from a photo, Magic Editor will let you do things like make the sky brighter or move the subject from one position in the photo to another. It can really give your images a whole new look.
The feature will be available on "select Pixel phones" later this year for users to test the feature out and provide feedback. We hope it will eventually come to other Android phones like Magic Eraser did.
Find My Device gets an upgrade
Google is supercharging its Find My Device feature in order to help users locate devices, even if they're offline or don't support location services. Soon, the new Find My Device network will tap into other Android phones in order to locate a device that may be too far from you.
"The new Find My Device network will harness over a billion Android devices across the world to help you locate your missing belongings like headphones, tracker tags, or even your phone via Bluetooth proximity."
Google says it's also working with companies like Tile, Chipolo, and Pebblebee, who will be able to tap into the Find My Device network.
In addition, Google will also enable a new feature that will alert users if an unknown tracker is following them. This comes not long after Apple and Google announced a joint effort to tackle unwanted tracking.
There's still so much left to digest
Everything announced during the keynote was just the tip of the iceberg. Google I/O has tons of sessions and workshops that provide updates on other topics Google didn't talk about at the keynote or even give deeper insight into things that were talked about.
We'll be diving into these sessions to see what additional updates Google has in store for us throughout this next year.
---
Be an expert in 5 minutes
Get the latest news from Android Central, your trusted companion in the world of Android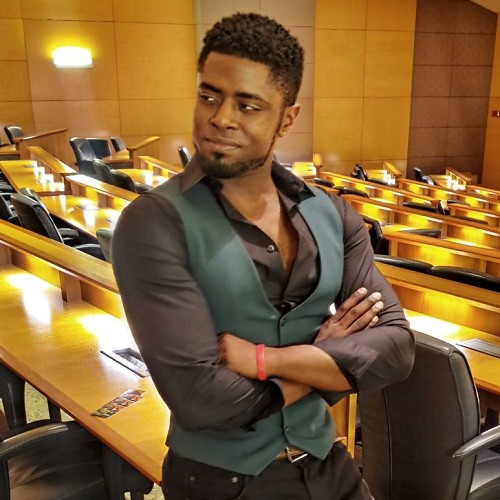 Derrek is a long-time Nokia and LG fanboy who loves astronomy, videography, and sci-fi movies. When he's not working, he's most likely working out or smoldering at the camera.
I saw the news regarding Apple and Google working on bluetooth tracker detection - which is great, but I have not seen anything new regarding the rumored Google tag (maybe a Next branded device) that would be a competitor to the Apple Airtags and fully supported on Android.

Is there any news on the Google trackers, or is that coming later this summer or fall?

Reply