Google Photos: Everything you need to know!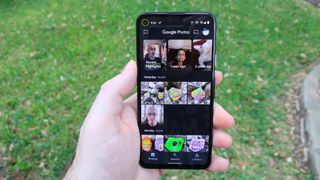 (Image credit: Jeramy Johnson / Android Central)
Google Photos is more than just an app for storing your photos. While it's primarily for backing up photos, there are more ways to edit and share hidden inside. You also have some serious control over every aspect of the photos, from which folders get backed up to image quality and looking back at past photos. It gives you a solid place to store and sync all of your photos so that you never lose one again.
Top photo app
Backup your photos and more
Google Photos is our favorite photo backup solution. Store your photos, make fun creations, and order photo books and prints.
Google Photos Getting started
Google Photos aims to be your one-stop-shop for all of your images and videos. Before you can start to take advantage of the many things you can do by using Google Photos, you need to know the basics. This includes things like choosing your images, deciding on optimal upload quality, and choosing which device folders from your smartphone should be synced with the Google Photos service.
Google Photos Sharing photos
Google Photos makes it so easy to share your memories and photos with friends, family, and colleagues. You have control over who can see the photos that you share and you can even set up specific folders for sharing. You can even share access to your entire Google Photos library with trusted people, such as a spouse or partner. In the unfortunate event of a family member passing away, you can recover their old photos if you remember to follow the right steps.
Another fun way to share photos and communicate in the app is through the messaging feature. This allows you to send photos to specific people in an informal chat format that feels almost like a mini, private social network.
If you want to preserve or share hard copy versions of your memories, you can always order prints, posters, or photo books through the app or you can order prints from third-party retailers such as Walmart, CVS, and Walgreens.
Google Photos Managing your photos
Google makes it easy for you to keep track of all of your photos and optimizing your photo library. You can create new folders, share specific folders, and even add to existing folders or allow folks to collaborate and add their own photos to the folder you have invited them to. If you have a lot of photos tied up in other services, fear not. Google has made it easy to import photos from other services like Facebook or OneDrive.
You can archive photos that you don't want in your main gallery but that you might want to access later, or you can easily get rid of unwanted images like old screenshots. Another great way to save space on your phone is to take advantaged of Google Photos' Free Up Space feature, which can automatically remove photos and videos from your device once they've been safely uploaded to the cloud.
Google Photos' machine learning is incredibly adept at identifying people, places, pets, and things, but you can also easily correct any errors or manually tag photos as you wish.
Google Photos Cost
Since it was first rolled out back in 2015, Google Photos offered free unlimited storage for photos and videos, but with a few caveats. The first caveat was that this unlimited storage only applied to "high-quality" images. The second caveat was that If you wanted to back up all of your photos in "original quality," you'd have to pay for more storage or be using a Google Pixel phone.
With a recently announced policy change, all photos, be they high-quality or original-quality, will count against a user's 15GB free allowance across their Google One storage as of mid-2021. In addition to the new storage limitations, it has been rumored that some new or existing editing features may be locked behind a paywall. Many have argued that even with a price tag, Google Photos remains an amazing service that is worth paying for. However, if you disagree, it's relatively easy to export your pictures from Google Photos and take them elsewhere.
Google Photos Additional features
Source: Google and Android Central
Google Photos has plenty of additional features that you might not have heard about. Just because features are hidden a bit under the surface doesn't mean that you shouldn't check them out, though.
Google recently revamped the editing tools within Google Photos, allowing you to take advantage of powerful AI and machine learning to apply automatically suggested edits or even adjust portrait lighting after the fact. You can create your own fun animations, collages, and "movies" as well.
One of our favorite features is the "on this day" style flashbacks and recent highlights that you can see as soon as you open the Google Photos app on your device. It's also great fun to set up photo slideshows that you can see throughout the day on your Nest Hub or smart screened Google Assistant speakers.
There is also the new Google Maps integrations, that lets you rediscover your memories as hotspots on the world map.
Finally, we'd be remiss if we didn't revisit Google Lens — a fantastic AI tool to learn more about the images in your library. You can get background, translations, shopping links, and more thanks to this impressive feat of engineering!
Are you a fan of Google Photos?
Google Photos delivers a great app that can be used to share, save, upload, and even edit the photos that you take on your smartphone or that you have taken on other devices. With plenty of features that are easy to use, it becomes a great storage tool for the photos you take every day. Do you use Google Photos for storing your snapshots? Be sure to drop us a line in the comments and tell us about it.
Update, November 2020: This article has been updated with all the latest links and relevant Google Photos information.
Top photo app
Backup your photos and more
Google Photos is our favorite photo backup solution. Store your photos, make fun creations, and order photo books and prints.
Get the Android Central Newsletter
Instant access to breaking news, the hottest reviews, great deals and helpful tips.
Jeramy is the Editor-in-Chief of Android Central. He is proud to help *Keep Austin Weird* and loves hiking in the hill country of central Texas with a breakfast taco in each hand. You can follow him on Twitter at @jeramyutgw.
Is there a way to write / draw on the pictures with Google? I downloaded another app to have that access since I was not sure how to do this with Google.

I jump back and forth between iOS and Android - so Google Photos is my go-to photo management app. I have always found Apple Photos to by way too confusing with its various "memories, collections, years" sub-menus - I just want a simple timeline to scroll through. Google Photos also makes it clear which photos have been properly backed up to the cloud, or are just sitting on your device. Can't beat the storage management either! One tap (on Android, two on iOS) to clear out all of the photos taking up space on your phone! I just got married last month and Google Photos was a lifesaver to collect all of the various photos taken at the event - it's pretty much a 50/50 split in my family with iOS and Android - we had everyone download Google Photos and invited them to a shared wedding album. All of the official photos taken by the photographer, as well as our families candid shots are in one shared album for everyone to view.

Is there a way to remove duplicate pictures?

I just started using Google photos along with my wife. It's great to be able to share photos and videos of our son automatically with each other.
I use both a BlackBerry PRIV and an iPhone and this is great to keep all my photos together.
Oh and the video gifs are so fun.

Is there a way to download a large batch of photos to my computer?

Yes. Select photos you want individually, or load up an album. Then click on the vertical ellipse (upper right) and choose 'download all'.

I see several downsides to using Photos as my daily Gallery. The fact that I can't order my albums the way I want to (alphabetical) simply sucks. There's also no way to hide certain folders so that they don't show up. This goes especially for videos. I don't want my videos show in the picture gallery. Some of my videos don't even play in Photos but they show up as a black square.
That app needs lots of improvements to make it a full fledged gallery app. As a storage tool for all my photos it is, however, very valuable!

The most incredible thing is that YOU CAN'T RE-NAME THE PHOTO! It is stunning. Makes it real fun to try to find a photo.

What? You sure can, just click the info button and type a new title.

NO, it does not let you change the name, nor do your instructions. You describe and say yourself, that's the TITLE. That might help with searching, but I would still like to rename the file.

No you can't rename the photos but if you add a comment as described it will be found when searching.

I currently have hundreds (and hundreds!) of photos in albums that I created in my gallery app over time. I keep these on my SD card, which I periodically back up to my laptop (which is then backed up to One Drive). I have been adding to these albums through the last 5 or 6 phones that I have had, so they have grown over time. If I were to download Google Photos will it recognize and retain my existing albums, or would I have to start all over again? I do not like the iPhone/Apple style "camera roll" where everything is listed by date.

You can't add text to your images in Google Photos. I use the Android "Snapseed" app to add text. I have a SmugMug account and use that to add text when I have access to a Windows PC. SmugMug can interface with Google Photos so uploading images is pretty easy.

Google Photos is great...
Really Google is the ONLY all in one ecosystem.
Each new Pixel phone is generally received as best in the business. I have the Pixel Xl everyone always comments on my photos, it is fast and along with project FI cellular the hangouts dialer is awesome
Apple users depend on gmail, and the rest of of the google products along with microsoft etc.
If Google refused to make apps for Apple Users would not take long to see hordes of Apple fans leave..
I digress yes Google Photos is awesome!!

The Free up Space hasn't worked for me for months on my Samsung Galaxy S6. There are always photos still there

Does anyone know how to manually tag a person in a photo?
I have new photos that don't automatically tag the person (new different people).

Love Google photos, it's my go to for all my photos!

Can anyone explain why they removed uploading pictures only when phone is charging?

I love Photos and can't really find a fault with it, the only thing I would like added is being able to access cloud services other than Google Drive as I have a lot of photos on OneDrive as well.

It's just ok. Been using it for awhile because of the free storage.
Image recognition is all over the place. It somehow thinks that my underground sprinkler piping is largemouth bass. It constantly gets faces wrong, I have a ton of album art and it matches people and bands badly, The Fugees are somehow listed under Eddie Vedder and it will not allow me to manually tag.
There is no way to sort other than by date.
It's a great storage app but that's it.

I'm still searching the option to be able to auto-sync only while the device is under charge...
Others are proposing this option, Google Photos seems to not have that. Anyone did find that?