How to reclaim phone storage with Google Photos' Free Up Space feature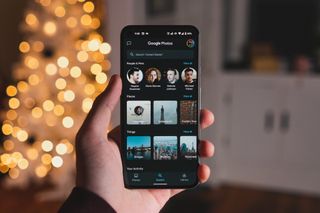 (Image credit: Hayato Huseman / Android Central)
The best Android phones make it all too easy to quickly take a ton of photos that crowd their internal storage, but Google Photos can help you claw back some of that space. In particular, high-resolution photos and especially 4K or 8K video from a phone like the Galaxy S21 Ultra will add up on your phone's limited internal storage, and tracking each file down on your own can become tedious if you're not regularly micro-managing your media library. So, the tools built into Google Photos can come in handy in several ways, like helping you find photos that aren't worth keeping or locate extra-large files.
How to free up space with Google Photos
Launch the Google Photos app.
Tap your user profile icon in the upper right corner.
Tap the "Free up…" option in the settings screen, which will show you how much storage is used by files that have already been backed up to the cloud.
Google Photos will take you to a new screen with more information. Tap "Free up X GB" on this screen.
Once you've gone through this process, Google Photos will have deleted the local copies of photos, videos, and screenshots from your phone's internal storage. The copies will continue to be available in your Google account's cloud storage and accessible through Google Photos.
And don't worry, this will only delete files you've backed up, so files that haven't been copied to the cloud yet won't get deleted. But, if you have large files or folders that aren't backed up, this process will not delete those. You can choose to back those files up and then go through the steps above again, or you can delete them manually. After that, you'll be all set to enjoy your new free space.
Clutter managed
Since Google is no longer providing unlimited free cloud storage for high-quality photo backups, it may be worth taking some time to delete unnecessary photos/videos that have been saved to the cloud. Google can help you do that on the Google Photos storage management page, which automatically identifies blurry photos, large files, and screenshots so you can quickly delete them.
You could also consider turning to external physical storage, like the best USB-C thumb drives. Either way, you can reclaim your phone storage and fill it up with new memories.
Extra storage
(opens in new tab)
Snap away!
The SanDisk Ultra Dual Drive can give your phone a bunch of extra space for your photos if you're running out of Google Photos cloud storage to back your media up to.
So, theoretically, one should not be concerned with how much storage my phone has. Right?

That all depends. If you need originals then you'll eventually have to pay for Google Drive. If it does not matter to you then just backup everything to Photos, and download it from Google as needed. Because what you get in the file manager on your PC after sync is not going to be originals, it will be thumbnails which are basically placeholders that you will need to download your photos and videos on demand. Basically if you have more space on your phone than you have in Google Drive and you need original photos and videos you have some hard decisions to make.

I need all the storage space I can get for downloading podcasts.

If you upload the original quality of your photos and videos, what is provided for free is going to be full in no time.

Unless you have the Google pixel phone if you upload in the original format that is not part of the free backup. The free backup reduces the quality although it is still sufficient for you to download again and print out for photos.

Carlos, there is no limit because they slightly reduce the pic quality

Somebody is paying attention. Average person isn't taking 20 mp photos and shooting 4 K videos so this may not matter to them so much. But a few people are.

Just curious, does this work on iOS as well?

Never actually free's up the storage on my Galaxy. It used to, but the pics are still there via the Galaxy gallery app. So I always have to manually delete them. I've reported it many times but no updates have changed it..

Of course you have to delete them after they are uploaded to the cloud. Google has never given the impression that it wipes your phone of the pics once they are uploaded

I use this and OneDrive. The 2 best back up solutions out there. I am hoping that Microsoft will expand storage to 2 terabytes for it's subscription service to compete with Google Drive.

Only as a last resort. You get the privilege of downloading your photos on demand, and at the parameters that Google wants to store them at on their servers, which could be subject to change if Google changes their terms, which could very well happen if they figure out a better compression scheme. Right now it is not a deal breaker. I would rather have the photo already on my hard drive when I send it to Google. That isn't the way that it works with the free storage. I'd rather have a hard drive and just move the originals out of the folder I'm syncing for permanent storage than to keep relying on (and paying) Google to see my actual files.

I use the "Free up space" command every couple of months, but i don't do that until i have copied the photos to another location like my computer or another cloud service like OneDrive or Dropbox. Google Photos by itself is not a backup. https://learngooglephotos.blogspot.com/2016/11/google-photos-is-not-back...

If you use Google files it does the same thing.
Android Central Newsletter
Get the best of Android Central in in your inbox, every day!
Thank you for signing up to Android Central. You will receive a verification email shortly.
There was a problem. Please refresh the page and try again.