The Pixel 8 doesn't look too different to the Pixel 7, but it is shorter, narrower, and lighter, and that makes it a lot easier to hold and use the phone. The OLED screen gets significantly brighter — particularly outdoors — and you get 120Hz refresh here, a big upgrade. There's also a larger battery, better cameras all around, and seven years of Android OS updates — more than any other phone. The biggest differentiator is AI: Google is offering a slate of new features that take full advantage of its AI and ML wizardry, and while some are limited to the Pro version, there's enough here to make the Pixel 8 warrant attention.
Pros
+

AI features are incredible

+

Even better cameras than last year

+

Brighter OLED screen with 120Hz refresh

+

Gorgeous design

+

Seven years of Android OS updates
Cons
-

Costlier than last year

-

Misses out on manual mode and Night Sight video

-

Charging tech lags behind rivals

-

No charger in the box
Why you can trust Android Central Our expert reviewers spend hours testing and comparing products and services so you can choose the best for you. Find out more about how we test.
AI as a buzzword has been overused so much in the last 12 months that the term has lost all meaning. I used several phones this year that were touted to have AI-assisted cameras, but these so-called features were nothing more than the usual filters and scene recognition algorithms that were already available — just dressed up in a new avatar.
But when Google says that it's using AI extensively on its new phones, it's time to take notice. Unlike other Android manufacturers, Google has the wherewithal to integrate complex ML models on its devices, and it's going all-in with the Pixel 8 and 8 Pro. Both phones get a slate of AI-backed features that include everything from ensuring you get the best group photos, moving objects around in existing photos, altering the audio of existing videos to remove background distractions, and so much more.
The AI features are enticing to say the least, and in the month I used the Pixel 8, they made a meaningful difference in daily use. The best part is that Google made these tools as straightforward as possible to use, and even though the Pixel 8 misses out on Night Sight video recording and a manual mode — both of which are exclusive to the Pro model — there's enough new stuff here to make it a viable upgrade to those on the Pixel 7 or earlier models.
Where the Pixel 8 truly stands out is its size; it is lighter and smaller than the Pixel 7 but still manages to house a larger battery, and the screen now goes up to 120Hz. Oh, and did I mention that it will get seven years of software updates? Although it's costlier than last year, the sheer number of upgrades on offer make the Pixel 8 a no-brainer.
Google Pixel 8: Pricing and availability
Google unveiled the Pixel 8 and Pixel 8 Pro at the Made by Google Event on October 4, 2023, and both models are now up for sale globally. There are enticing trade-in offers with either device that let you save up to $750, so even though the Pixel 8 costs $100 more than its predecessor, Google is incentivizing the launch with attractive offers.
Things aren't as rosy in other markets. In India, the Pixel 8 is available for ₹75,999 ($912), or ₹16,000 ($192) more than the Pixel 7. There are no pre-order bonuses in the country even though customers are having to pay a lot more for the device, and this is the case with the Pixel 8 Pro as well. Google is starting to make its devices available in more regions, with the Pixel 8 and 8 Pro sold in 21 countries.
Google Pixel 8: Design
I've always been a fan of the Pixel's design aesthetic, so it's good to see that Google hasn't changed things much in this area. The Pixel 8 is largely identical to its predecessor, and you get the same camera bar at the back that distinguishes the design. There are subtle variations in the design; the pill-sized cutout that houses the cameras is wider on the Pixel 8, and it looks striking.
The Pixel 8 is available in Hazel, Obsidian, and Rose color variants, and the Hazel version I'm using has a slightly darker green hue to the same model of the Pixel 7 Pro. I'm still not sure why Google limits colors based on the model; the Bay colorway of the Pixel 8 Pro looks incredible, but you don't get it in the standard model. Similarly, the Rose version is exclusive to the Pixel 8. I feel like this is an easy thing to remedy, but Google tends to be stubborn about these things.
Image 1 of 4
On that note, the Pixel 8 still has the power button in the wrong place; all other Android phones have the power button below the volume rocker, but because Google needs to do things differently, the layout is reversed on the Pixel 8. So when you go back to another device, you'll inevitably hit volume up instead of the power button.
Thankfully, that's about the only fault I could find on the design front. Google did a brilliant job with the form factor, and the Pixel 8 is 5.1mm shorter, 2.4mm narrower, and 10g lighter than the Pixel 7 — all while carrying a larger 4575mAh battery. It's not quite as diminutive as the Zenfone 10, but it comes close, and is a delight to use one-handed.
The choice of materials hasn't changed with the Pixel 8, and that means you get an aluminum camera bar that merges seamlessly into the aluminum mid-frame, which is mated to a glass back covered by Gorilla Glass Victus. While the Pixel 8 Pro has a matte coating at the back, the Pixel 8 retains the glossy coat, instead offering matte sides.
I prefer the Pixel 8 in this regard I associate a glossy mid-frame with budget devices (thanks, Samsung), and the standard model definitely doesn't look or feel like one. If anything, it's the Pro model that comes across as a bit basic thanks to those chrome-accented sides; the matte texture on the Pixel 8 makes it much better to hold.
Another point in favor of the Pixel 8 is the size; the phone feels amazing in-hand, and while I tend to prefer larger phones, I had no issues adjusting to the size of the Pixel 8. The rounded corners make a difference in daily use as well, and Google nailed the form factor this year. And like its predecessor, the Pixel 8 retains IP68 dust and water resistance, giving it added resistance against the elements.
A lot has been said about the dearth of compact Android phones, and while the Pixel 8 isn't the smallest device around, it comes close. The best part is that Google hasn't limited the device in terms of the hardware or the screen, and the 6.2-inch panel combined with the diminutive profile make the Pixel 8 a great choice, and if you want a small phone, you'll love what Google has to offer here.
Google Pixel 8: Display
I never understood why Google chose screen refresh rate as a differentiator on its devices; most Android brands offer 120Hz as standard these days, so it was puzzling to see the Pixel 7 limited to 90Hz last year. Thankfully, the brand is rectifying that mistake with the Pixel 8 — you get a 120Hz refresh rate here, and it is better in every way against the screen on the Pixel 7.
Google somehow managed to cram a 6.2-inch panel into a chassis that's considerably smaller than the Pixel 7. That's down to the ultra-thin bezels around the screen, with Google doing a great job maximizing the screen real estate. You don't have to worry about curved screens here — both Pixel 8 models have flat panels — and there's a layer of Gorilla Glass Victus at the front.
Image 1 of 2
What's particularly interesting is that the OLED panel is now able to hit 2,000 nits in short bursts, significantly brighter than the Pixel 7 series. Colors look vibrant and saturated, and I didn't notice any issues with the vibrancy of the panel. The screen misses out on LTPO tech — that's limited to the Pixel 8 Pro — but that isn't a huge omission, and for what it's worth, the switch to 120Hz gives the Pixel 8 a sizeable leg up over its predecessor.
The increased brightness makes a difference when streaming HDR10+ content on the device, and the device is great for streaming content off the likes of Netflix and Prime Video. The phone also gets noticeably brighter in outdoor use than its predecessor, and there are zero issues in this particular area.
Overall, the marginally smaller screen combined with 120Hz refresh and high brightness give the Pixel 8 a distinct edge over its predecessors and immediate rivals. It's good to see Google not limiting the hardware this time around, and that makes the Pixel 8 all the more alluring.
Google Pixel 8: Performance
Google is taking an interesting route with the Tensor G3; it isn't offering the fastest cores or a custom GPU designed to play console-quality games, instead focusing on AI-related use cases. As a result, the chip isn't as fast as the Snapdragon 8 Gen 2 or A17 Pro, but it is leagues ahead of everything else when it comes to running on-device machine learning models.
Google sees this as the differentiator going forward, so it makes sense that the brand decided to focus in that area. I'm not sure how the Pixel 8 and 8 Pro will stand the test of time — they are slated to get more updates than any other Android phone — but Google has shown in the past that it is able to optimize the software to take full advantage of the hardware, so I'm crossing my fingers that it is able to deliver.
Swipe to scroll horizontally
| Category | Google Pixel 8 |
| --- | --- |
| OS | Android 14 |
| Display | 6.2-inch Actua display, 120Hz AMOLED (2400x1080), HDR10+, 2000 nits, Gorilla Glass Victus |
| Chipset | Google Tensor G3, Titan M2 security module |
| RAM | 8GB LPDDR5X |
| Storage | 128GB/256GB UFS 3.1 |
| Rear camera 1 | 50MP f/1.68, 1.2um pixels, PDAF, OIS, 4K at 60fps |
| Rear camera 2 | 12MP f/2.2, 1.25um pixels, 125-degree wide-angle |
| Front camera | 10.5MP f/2.2, 1.22um pixels, wide-angle |
| Connectivity (US, CA, UK, AU) | Wi-Fi 7, Sub-6 5G (mmWave in US), Bluetooth 5.3, NFC, AptX HD, USB-C 3.2 |
| Connectivity (TW, SG, IN) | Wi-Fi 6, Sub-6 5G, Bluetooth 5.3, NFC, AptX HD, USB-C 3.2 |
| Ingress Protection | IP68 dust and water resistance |
| Security | In-screen fingerprint module |
| Audio | Stereo sound, USB-C |
| Battery | 4575mAh, 30W wired charging, 20W wireless charging, 5W reverse wireless charging |
| Dimensions | 150.5 x 70.8 x 8.9mm, 187g |
| Colors | Obsidian, Hazel, Rose |
As for what it's like to use the Pixel 8, I didn't see any issues on the performance front. It's largely similar to last year's devices, and you'll run into the same issues when playing visually-demanding titles — it tends to throttle early, leading to noticeable jitter. In that sense, it's largely similar to last year's phones, and while the Tensor G3 has a newer Cortex X3 that goes up to 3.0GHz, it doesn't feel any faster.
Google is using a unique combination of nine CPU cores in total, with that Cortex X3 joined by four Cortex A715 cores at 2.45GHz and four Cortex A510 efficiency cores at 2.15GHz. The Immortalis-G715s GPU is also new, and it has 10 cores this time. An interesting point to note with the Tensor G3 is that it has higher frequencies across the board, but as of now, I didn't see much in the way of difference in daily use.
Talking about lack of change, Google is using the same 128GB and 256GB UFS 3.1 storage modules as last year, and this feels shortsighted considering how long the device is meant to last. Most phones in this category now offer 256GB of storage and UFS 4.0 modules as standard, and the Pixel 8 misses out in this area. While there are no issues related to storage or memory now, the phone is theoretically meant to last at least seven years, and that's an eternity in this industry.
I'm also annoyed that Google doesn't offer 256GB of storage as standard here; the Pixel 8 has just under 80GB of usable storage with the 128GB model, and that's not even close to being adequate on a 2023 flagship. I didn't run into any issues with connectivity, and while the global model of the Pixel 8 and 8 Pro have a Wi-Fi 7 modem, the Indian version I'm using is limited to Wi-Fi 6. That said, it managed to deliver consistent bandwidth, and had rock-solid connectivity.
It's a similar situation with cellular connectivity as well, and 5G worked reliably well enough in daily use. The phone has NFC, UWB, and AptX HD codecs, and while the USB-C port is based on the USB 3.2 standard, you don't get the ability to connect the Pixel 8 to a portable monitor — it's a software limitation.
Thankfully, Google isn't shortchanging users on the battery front. The Pixel 8 has a 4575mAh battery, and you get 27W charging along with 18W wireless and 5W reverse wireless charging. I didn't see any issues on the battery front even with heavy use, and the Pixel 8 managed to consistently deliver a day's worth of use, averaging just under six hours of screen time.
The 27W charging tech is nowhere close to what you get on Chinese phones, but it is faster than last year, and the Pixel 8 manages to get up to a 50% charge in just under 30 minutes, with a full charge taking 75 minutes. There's no charger in the box, but the phone works over the USB PD standard, so any USB PD GaN charger should be ideal with the device.
Google Pixel 8: Cameras
Cameras are always a key talking point with all Pixel releases, and that's no different this time around. While the Pixel 8 uses the same resolution 50MP main camera and 12MP wide-angle lens, Google is using new modules this time around, and offering autofocus with the wide-angle module. Up front is a 10.5MP camera with the ability to shoot 4K video at 60fps.
The Pixel 8 misses out on a dedicated telephoto lens, but the 50MP camera doubles as a 2x lens, and Google says you get optical-quality images. Other missing features include Night Sight video, a Pro mode that lets you tweak the shooting parameters, Video Boost, and autofocus on the lens at the front.
Obviously, Google is trying to position the Pixel 8 Pro as the ultimate camera package, and with that device costing $300 more, it needed to limit features on the standard model. The result is that the Pixel 8 feels intentionally hobbled, and you're not getting the full potential of what this phone is able to deliver. While I was initially miffed by the feature omissions, there's still plenty on offer — particularly if you're switching from an older device.
Image 1 of 5
Google went overboard with all the AI stuff, and features like Best Take make a real difference when shooting photos. The feature relies on you taking three or four shots of a group photo, and it automatically identifies the best pose of everyone in the shots and applies that. It was a bit finicky when I initially started using the Pixel 8, but Google ironed out the kinks, and it genuinely makes a difference.
What I don't like quite as much is the new camera interface; it now has a toggle at the bottom that lets you switch between photo and video modes, and the addition of this toggle moved the shutter button further up, making it awkward to access while using the phone one-handed.
That said, the Pixel 8 manages to take truly outstanding shots in any scenario, and it outshines its predecessor. Using it alongside the Pixel 7, it's clear that the changes with the Tensor G3 and Google's camera algorithms deliver real-world gains across the board, and it's clear that the Pixel 8 is among the best Android phones in this regard.
Photos taken in daylight have plenty of detail and accurate color rendition, with Google continuing to do a great job when it comes to foliage and outdoor scenes. While there's no zoom lens, the main camera does a decent enough job in its own right at 2x, delivering images that are just as good as those taken at 1x. Similarly, the Pixel 8 has the best wide-angle lens of any phone, and you get the same color balance and detail as the main 50MP lens.
Pixels have always been great at low-light shots, and the Pixel 8 delivers in this area as well. The Night mode kicks in when ambient lighting is under a certain threshold, and it evens out highlights and shadows while still retaining the same level of detail. Google's portrait mode is among the best in the industry, and what I like about it is that it does a brilliant job with inanimate objects. So if I need to take a few product shots to share on social media, I just turn to the Pixel 8.
More than anything else, using the cameras on the Pixel 8 is easy — you get a terrific shot every time, and it's this consistency that makes the phone stand out.
Google Pixel 8: Software
The Pixel 8 runs Android 14 and will get seven years of Android OS updates, security patches, and Feature Drops. That's obviously more than any other device today, and it's crazy to think that the phone will pick up the Android 21 update at some point down the line. As to what features it will actually offer from Android 21, that remains to be seen.
As for right now, there's certainly a lot to like. My favorite feature is Audio Magic Eraser. It's designed to remove background noises from a video, whether that's traffic or wind noises, indistinct chatter, or the hum of an air con, and it works incredibly well. It identifies sounds in the video, and isolates individual layers — music, noise, wind, and so on — and you can then turn down those layers to reduce that particular sound. All of this is done on-device, and it is very cool.
Magic Editor is also a nifty tool that lets you adjust the position of people and objects in a given photo. You can select elements in an image to resize or edit, and the feature uses generative AI to make the requisite tweaks.
Those are just the features available in Google Photos; the Pixel 8 also gets a nifty read-aloud mode that narrates entire pages. Google says it runs on the same text-to-speech model used in its data centers, and all you have to do is pull up Google Assistant when you're on a page that you want read aloud. It works astonishingly well, and the narration is convincingly humanoid enough that it doesn't feel like artificial at all.
Aside from all the AI features, you get a clean interface that's a delight to use. I used One UI for most of 2023, and coming back to the Pixel UI is a breath of fresh air; the bright colors and custom Google features go a long way in differentiating the Pixel 8. You don't have to deal with any bloatware either, and in the month I used the phone, it felt better optimized than its predecessor.
Google Pixel 8: The competition
By guaranteeing seven Android OS updates, Google fundamentally altered the conversation around the Pixel 8 and 8 Pro. No other device will get as many software updates, so there aren't many tangible alternatives here. If you want a similar design and don't mind missing out on all the AI features that are debuting this year, the Pixel 7 is still a fabulous choice, and it's a much better value now that the Pixel 8 is hitting shelves.
The main rival to the Pixel 8 is the Pixel 8 Pro. The Pro variant has a brighter OLED screen, more cameras, and a suite of exclusive features you don't get on the standard Pixel 8. It is considerably larger and has a 5050mAh battery, and this time, Google went with a flat panel that's great in daily use. The downside is that it costs $300 more than the Pixel 8, so you need to figure out if the telephoto lens and a few additional software features are worth the premium.
Google Pixel 8: Should you buy it?
You should buy this if:
You need a smallish phone that doesn't miss out on any features
You're looking for meaningful AI features
You want outstanding cameras
You want a phone with class-leading software updates
You shouldn't buy this if:
You need the best cameras that Google has to offer right now
I like what Google is doing with the Pixel 8 series. It is offering meaningful features that customers will actually end up using rather than chase meaningless specs, and that's a refreshing change of pace. The result is that you get a phone that has tangible gains over its predecessor: it is lighter, easier to use, lasts longer, has a smoother screen, better cameras, and will get more than twice the number of software updates.
The biggest reason for getting the Pixel 8 is the AI-backed features; Best Take, Magic Editor, and Audio Magic Eraser transform how you shoot and edit photos and videos, and those are just the camera-related offerings. You get plenty of nifty features on the phone — most of which you won't find anywhere else.
My main quibble with the Pixel 8 is that Google intentionally limited the software. I don't see why Night Sight video recording or the Pro camera mode are missing here, and the only reason that comes to mind is that Google needed to create differentiation between the Pixel 8 and 8 Pro so that the latter can justify being $300 costlier.
That makes the Pixel 8 a little less enticing, but if you don't need all the latest camera features and are instead looking for a smaller phone, there's still enough here to make a difference. The biggest thing in favor of the device is the smaller size, and if you're not a fan of tall phones, you'll love what Google has on offer.
The Pixel 8 has meaningful upgrades over its predecessor, and you get an entire suite of AI-backed features that transform how you use a phone.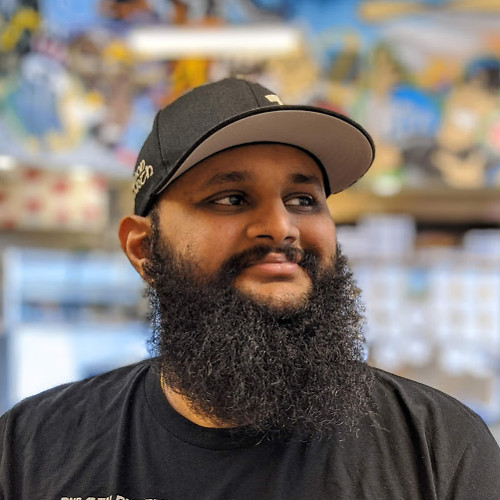 Harish Jonnalagadda is a Senior Editor overseeing Asia at Android Central. He leads the site's coverage of Chinese phone brands, contributing to reviews, features, and buying guides. He also writes about storage servers, audio products, and the semiconductor industry. Contact him on Twitter at @chunkynerd.