How to design and order Google Photo Books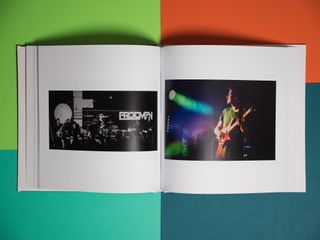 Smartphone cameras just keep getting better, and you've probably taken a few photos over the years that you want to commit to memory forever. Sure, you can post them on social media or get individual prints at your local convenience store, but there's nothing like a nice photo book to organize all of your favorite shots in one place.
Luckily, Google makes it easy to create and order customized photo books through its Photos backup service. Whether you're using the website or the app on your phone, it just takes a few minutes to design something truly special.
How to create a Photo Book
Much like backing up images to Google Photos, creating a Photo Book is actually pretty simple.
In the Google Photos app, tap on the Library tab at the bottom right of the screen.
Tap the Photo books card at the top of the screen.
In the Photo Books menu, you can choose from suggested books or albums, or tap start a book to choose your own photos.
Keep in mind that you can only choose from images in your Google Photos library. If you want to add other images, you'll need to back them up to Google Photos first.
How to configure your book
Once you've selected the photos you want to include, have a scroll through the pages of your book. It's time to organize and configure your book.
Press and hold on any image in the list to enter the editing screen.
Drag photos around to rearrange the list to your liking, or tap the X in the upper right corner of a photo to remove it from the book.
Type in a title for the book, or captions per each page.
Once you're happy with the layout, tap the checkmark in the upper left corner of the screen.
You can change the layout of individual pages, as well. Tap an image, then select your preferred crop — you can use the entire image or punch in and fill the page.
How to order the book
Once you're happy with the layout, it's time to set it in stone. Well, paper anyway.
Once you're ready to order, Tap the blue Next button at the bottom of the screen.
You can choose from either a 7" softcover or a 9" hardcover. Both include up to 42 pages for a flat rate, then charge per additional page afterward; $0.35 and $0.65, respectively.
Once you've chosen a book, tap Select.
Select the quantity, add a gift message if desired, and tap Checkout to complete your order.
That's it! Once you tap Checkout, you'll receive a confirmation email from Google and a follow-up with shipping details shortly afterward. Once it arrives, share it with your friends and enjoy your new photo book!
Hayato was a product reviewer and video editor for Android Central.
Unfortunately the Photo books are not available everywhere, only in the U.S and Canada. So not for me :-(

Yey... Awesome! Another service Google launches that fail to materialize anywhere else in the world except the US.... If I had a mean steak I'd say Google should be at the top of Donald Trump's "Nationalist top 100 companies' Sometimes I wish I was using Apple products, at least they roll out features somewhat consistently globally, Google and their hardware/ software? Not so much sadly. How the **** can it take Google almost two years to roll out proper language support for Google assistant/home? Group faces within Google photos? Yes if you use a VPN to activate it etc... Sigh.
They should team up with localized printing companies around the globe for a faster rollout. Until then, guess blurb will do the trick.

Face recognition is not activated in the EU because of EU law. Google is forced to adhere.

I've used this service twice. Love it! Has worked so well.

I wish it did a better job of doing different layouts for you with different themes like Shutterfly. It looks like all it does is pull photos and sticks them one at a time on pages. I don't want to take the time to try and lay them out myself from scratch.

I bought one for my daughter for Christmas. Filled it to the max and she loved it. Great quality. I got the hard cover.

This is going to be a Mother's Day gift this year, no doubt.

I've tried it myself, you can get different layouts per page by first making a collage with Google Photos Assistant, however, beyond that there's no other way to "design" your photo book. I've made 2 books so far, one with Shutterfly and one with Google Photo Books. Shutterfly left some adhesive on one of the pages and it stuck and ruined that page. Google's was fine. I just wish there were more design options.

If only this was avaliable in the UK

I used the service to create a collection of family photos (1970s to present) that our family had framed and hung on a wall. The end result was easily the best Christmas present I've ever given to my mom.
Some things to know if considering such a scan and print project using Google Photo Books:
1) I had about 130 pictures to scan. Projects are limited to 100 pages. I preproduced some pages to include 2 or 3 pictures of similar subject matter and ended up with 92 pages total.
2) If scanning photos to digital you need to scan at a DPI of 600 or more. That takes time. I spent three days removing pictures from frames and scanning. Some were professionally framed. For those I set up a well -lit area to scan each one using an app to Frankenmerge them into a slick final digital pic.
3) If using scanned photos you'll get a much improved finished product putting them through some sort of digital photo cleanup process.
You will quickly discover there is no one magic set of photo correction settings that will make every scan picture perfect. Always keep a backup of your original scan so you can always start over if your photo fix ends up as a photo fail. Also make sure your processing maintains your current DPI. Settings that promise to save you space on your hard disc will likely reduce the quality of the final photo in your book.
4) "Minimalistic Elegance" is the best way I can describe the feel of the finished hard cover book. The only words you can add to the entire product are for the title which is printed on the spine and front cover. At first I felt this limited what I could accomplish (I had wanted to provide subtitles for various sections of the book) . In the end I think the limitation prevented me from junking up the book and distracting attention from the photos.
5) Each page is laid out as a square. To get the best results with a preproduced page with several photos make sure the page you create is the same width and height. That will ensure your pictures are as large as possible in the finished book... Or the page/pictures don't get unexpectedly cropped.
6) After you've placed your order you also get access to a high quality pdf version of your book. The pages are in a single column (not presented two at a time next to each other like an opened book.) the pdf for my 92 page book was close to 200MB in size. This was great to give to other family members, friends and relatives.
7) You can reorder more copies... but beware. If you have moved or deleted any of the pictures in your Google Photos account they will be missing from the layout. This happened to me. Before reordering I had to re-upload about 20 pages to my account and then put them back in the correct page order to ensure I was making identical copies of the first book.
8) Total price for 92 pages hard copy was around $70. Shipping was free at the times I ordered. The orders arrived in about five days by ground (I believe they promise delivery within 10 days). The books are produced in Oregon. I live in Georgia. Your delivery time might be longer or shorter depending on your distance from Oregon. The only problem I have now is what to do for next year's Christmas gift. I'll never top the impact from the family photo book from Christmas 2017.

I love PhotoBooks. I have about 6, and it is really great. I get SO MANY compliments on them every time I have company. Just great stuff.
Android Central Newsletter
Thank you for signing up to Android Central. You will receive a verification email shortly.
There was a problem. Please refresh the page and try again.