Google Nexus 7 (2013) review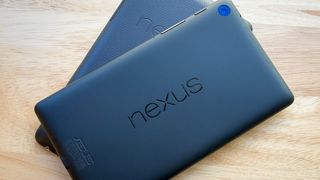 When Google launched the original Nexus 7 in June of last year, it in effect took the fate of Android tablets into its own hands. Sure, there were plenty of Android-powered slates before the Nexus 7 (Google even partnered with Motorola for one) and there have been many since, but the original Nexus 7 saw unprecedented adoption. And rightly so — we'd say that the Nexus 7 was the first "great" Android tablet — one that could actually be mentioned as a competitor to the sales monstrosity that is the iPad.
We wouldn't say that the success of the original Nexus 7 (which may or may not have been expected) put pressure on Google so much as it encouraged it to one-up the original. For once in the history of Nexus devices, Google had its hands on a product that sold like gangbusters, and not just to nerds but to normal people that just wanted a great tablet experience at an affordable price. Hitting that magical $199 price point, it sold millions of units per month up until the day it was replaced by this, the new Nexus 7.
With their second attempt at a 7-inch Nexus tablet, Google and manufacturer ASUS are looking to appeal to that same audience, with sweeping internal upgrades that will also appeal to spec junkies. It's sleek, well made, trimmed down in all of the right places and bulked up in others that are just as important — everything you want to see in a second-generation product.
ASUS and Google have teamed up again and created something wonderful. Read on for our full review of the 2013 Google Nexus 7.
Pros
This is one of the best displays available on a tablet today, and a huge improvement over the original. Pixels solve problems. Likewise, Android 4.3 paired with this high-end hardware absolutely screams no matter what you throw at it. The new hardware styling, materials and build give the Nexus 7 a grown-up look that is several steps above its $229 price point.
Cons
Small bezels on the left and right edges can make it tough for some to hold. The rear camera can be best described as "mediocre," with some processing issues that can be frustrating. Entry-level pricing was increased by $29 this time around.
The Bottom Line
With a great new screen, speedy internal components and sleek casing, Google has hit a home run again with the Nexus 7 in 2013. You can't argue with the incredible value that it offers, even with the $29 (base) price jump over its predecessor. Google is going to sell a whole lot of these to both nerds and regular consumers alike, and each and every one of them will be getting a far greater experience than they paid for.
Swipe to scroll horizontally
From here on out, "Nexus 7" refers to the new 2013 model. We will specifically refer to the "original" or "first-generation" model if we are making a comparison.
Nexus 7 hardware
The Nexus 7 has received a much-needed bump in internal specs, and while it may not be on the absolute bleeding edge it follows in the footsteps of the original by offering more than you'd expect for the price point. Google offers a spec sheet that will look familiar if you know what's inside the Nexus 4 — a 1.5GHz quad-core Snapdragon S4 Pro processor, Adreno 320 graphics and 2GB of RAM.
(As Brian Klug at AnandTech points out, the Nexus 7 might actually live in a weird space between the Snapdragon S4 Pro and the S600. Such idiosyncrasies in nomenclature are annoying, but neither do they affect how we use the Nexus 7. Qualcomm can call it whatever it wants.)
Just as important, the screen resolution has be increased substantially to 1920x1200 (323ppi) and the single speaker on the previous model has been replaced by dual stereo speakers with synthetic surround sound technology.
Build quality
The overall improvement in materials and craftsmanship of the Nexus 7 is immediately apparent when you pick it up for the first time. If for some reason you aren't convinced, picking up the first-generation model will instantly reassure you that Google and ASUS paid more attention to build quality this time around.
In pictures: Two generations of Nexus 7
Gone is the cheap feeling (and looking) silver plastic rim around the display, replaced with a black plastic edge that smoothly completes the transition from glass to the soft-touch-coated back plate. Google ditched the popular leather-like back in favor of a harder case with the aforementioned soft touch coating, which reduces grip a little bit but gives the tablet a more upscale look.
The Nexus 7 retains the same basic shape as the original, but has been trimmed down in all the right places. The device is now 6 mm narrower thanks to reduced bezels on the side of the screen and nearly 2 mm thinner as well. Thankfully Google has decided to keep the top and bottom bezels large (adding 2 mm to the height, actually), which helps with one-handed usability in landscape mode.
The power and volume keys stay in the top right edge of the tablet, although there's a bit more room between the two. The microphone has been repositioned from the bottom edge to directly under the volume buttons, and the headphone jack moves from the bottom up to the top. Missing are the pogo pins on the right edge, subbed out for Qi wireless charging under the back plate.
The new design aesthetic has a decidedly grown-up feel to it — a big improvement from the original, which was clearly designed with a low price point in mind. The Nexus 7 now gives off a premium vibe thanks to higher quality materials and the move to black plastics and coatings all around. The design isn't flashy by any means, which we appreciate — it gives the tablet a much higher-end look than the price tag would suggest.
Ergonomics and feel
As a whole, Google and ASUS' design decisions have improved the ergonomics of the Nexus 7. It is now lighter, thinner and narrower — the three metrics that seriously matter when holding a rather large device one-handed. The improvements aren't overwhelming, however, and it took a little while of using the Nexus 7 to appreciate its subtle changes in size and weight.
While they may have been unsightly, the large side bezels on the original Nexus 7 spoiled us by making it trivially easy to hold the device with the pads of your fingers on the soft leather back and a thumb gripping the bezel. The way you hold the new Nexus 7 is a bit different, as the side bezels have reduced so much that you'll often touch the screen when trying to hold it. With its newly-trimmed dimensions, we found ourselves more holding it like an absurdly large phone — actually reaching all the way around and wrapping our fingers on the bezel opposite our palm.
If you don't happen to have hands on the larger side like us (or need to give your wrist a rest), the reduction in weight and thickness is a big deal for usability. The soft touch back may not have the exact same feeling as the original, but it's a great stand-in considering the ergonomic improvements it also brings.
Once you become acquainted with the new device, holding it one-handed will feel perfectly natural. That being said, we tried our best to use the device as much as possible throughout the day while outdoors — while Bluetooth tethered to a phone for data — and still met the same restrictions as previous tablets of this size. This obviously still isn't a device that will be portable without a bag or purse for most of us, but we're slowly approaching weight and dimensions where that could be a reality in the future.
Nexus 7 display
Google could have simply bumped up the resolution of the Nexus 7's display to the now impressively-high 1920x1200 with the same screen characteristics of the previous generation, and we would've been happy. But not only do we now have a delightful 323 pixels-per-inch IPS display to look at, it's also a really great panel overall.
Setting it down next to the first generation model, the Nexus 7 is notably brighter, has higher contrast and is of course more crisp thanks to the drastic bump in resolution. And we still have the same 7-inch (diagonal) screen size, with the same "gapless" display technology that makes images appear to float on the surface.
In daily use, the display looks fantastic no matter what you're using the Nexus 7 for. Text and images are clean and easy on the eyes, and color reproduction is as accurate as leading LCD panels out there. Tablets are more likely to be viewed by multiple people at once, it's also important to note that the display doesn't distort images or wash out at even obscure viewing angles.
As we noted earlier, we tried to use the Nexus 7 as often as possible while out and about to get a good feel for outdoor viewing of the display. Aside from the issues inherent in using a large, glass-covered display in the amazingly sunny Seattle summer weather, the Nexus 7 display performed well outdoors. Unless it's cloudy out you won't want to drop the screen brightness below 100 percent, but if you need to venture outside for a bit you'll have no problem continuing to use the tablet.
This is one of the best screens we've ever laid eyes on, full stop.
Nexus 7 speakers
The back of the Nexus 7 is now adorned with dual rear-facing stereo speakers, on the left and right sides of the tablet when held in landscape orientation. Building on these new speakers, Google has included synthetic surround sound technology from Fraunhofer that is supposed to create an "immersive audio" experience.
With these changes you're going to notice an increase in both volume and quality across a wide range of audio, from music to movies to spoken word. After listening to a variety of content we were quite impressed with the capability of these small speakers. The bump up to stereo speakers alone makes a world of difference for movie and TV content, and while a single pair of speakers just isn't going to produce anything resembling true surround sound, you can tell there is some background processing going on to at least give a partial surround experience.
The Nexus 7's built-in speakers offer an enjoyable experience, with audio that sounds good through the full range of volumes and doesn't distort at even when maxed out. When comparing directly to the previous generation, there is an appreciable increase in audio quality here. But in the end you're likely to get closer to that immersive experience that Google is marketing with a nice pair of headphones than by blasting sound out of the back of the tablet.
Radios
At the time of writing, Google has only released the Wifi versions of the Nexus 7, with LTE-enabled models hitting the U.S. "in coming weeks." While we would have loved to get our hands on an LTE model for initial review, the Wifi model performed well in terms of connectivity.
The Nexus 7 sports 802.11 a/b/g/n Wifi, Bluetooth 4.0, NFC and all of the requisite sensors and radios that you'd want in a mobile device for 2013. We had nary an issue with any of the radio functions, with strong Wifi connectivity, Bluetooth connection (including tethering from a Nexus 4) and NFC for Android Beaming pictures to and from the tablet.
The new Nexus 7: Wireless charging feature
The other bit of technology wedged under that back plate is a Qi wireless charging coil. While there is no visual indication that it exists — unlike the more obvious pogo pins on the original version — it works just as we've come to expect on other Qi-enabled Android devices.
Battery life
Likely for reasons of weight and thickness, Google has trimmed down the Nexus 7's battery to a (still hefty) 3950 mAh non-removable juicer. Even with the move to a drastically higher resolution (and brighter) display and faster processor, the Nexus 7 is actually quoted as having an hour more of usable battery life than its predecessor — 9 hours video playback or 10 hours browsing.
Battery life can vary dramatically between different use cases, but we have been riding this Nexus 7 pretty hard since we got our hands on it and the battery has held up quite well. While using the tablet for duties normally reserved for our phone — Google Voice messaging, browsing, email and the like — with a mixture of Wifi and Bluetooth tethered data and high (70-percent or above) screen brightness, we easily pushed past two days of usage with multiple hours of "screen on" time.
This falls in line with what we experienced on the original Nexus 7, and is more than acceptable for a tablet of this size. Even when using it as a primary device over a phone, the Nexus 7 battery held up very well to demanding usage. It's a great feeling being able to go to sleep at night and not even consider charging the tablet — knowing with a full day's use starting the next morning it still won't drain completely.
Nexus 7 software
The Nexus 7 is technically the launch device for Android 4.3, and while this isn't the biggest update in terms of user-facing features it has added many new capabilities that users have been wanting.
Android 4.3
While not everyone will use it, restricted profiles are great for the increasing number of parents who are introducing their young children to computing with a tablet — and with the great pricing on the Nexus 7 it is likely to make its way into many young hands this year. Restricted profiles let the main user create new accounts with limited permissions, reduced access to the tablet's settings and a subset of installed apps. Even if you're not a parent with young ones running around, having a restricted profile available for when you hand your tablet to a friend that you want to keep entertained is a handy bit of functionality.
Google officially unveils Android 4.3 Jelly Bean
On the techier end of the spectrum, OpenGL ES 3.0 support in Android 4.3 seriously improves the graphics rendering that the Nexus 7 is capable of. Equally nerdy is Bluetooth 4.0 support, which probably doesn't mean a lot to many people at the moment, but holds serious potential as more Bluetooth peripherals take advantage of the new standard, including wearable devices.
Performance and usability
Google has certainly worked some voodoo magic inside the Nexus 7 (enabling TRIM support in Android 4.3 has helped), and performance on this tablet is nothing short of amazing. Likely a combination of the serious spec increase and some under the hood changes in Android 4.3, the Nexus 7 is quick, smooth and responsive. Across the board from the launcher to menus and in every app, the interface is a delight to use. Beyond app performance, simple things like multitasking, unlocking into apps running in the background and rotating the device while using apps all performed exactly how you expect.
We did have a handful of performance hiccups and just one hot reboot while testing every app we could think of, which is expected on pretty much any device you use today. Other than a couple of app freezes (hard to pin down the cause of these), the Nexus 7 was surprisingly stable for the first device shipping with the latest version of Android.
We found ourselves making excuses to pick up the Nexus 7 just to spend more time with the interface — an experience every manufacturer should be striving to create. You'll be hard pressed to find a task (or set of tasks) that will bog this system down, and we're certain that it is handling all of this computation with plenty of headroom left over for the future.
After spending several days with the Nexus 7, it's apparent that this software has been painstakingly tweaked to perform its best on this device.
Nexus 7 cameras
Google is jumping on board with a new trend in tablet cameras and has decided to include a rear-facing shooter on the Nexus 7 this time around. The 5-megapixel sensor is found in the upper left hand corner of the back plate, and offers a pretty simple set of features. You get basic options for exposure (-2 to +2), five white balance settings, four scene modes and a countdown timer. Significantly, you're not going to have HDR or flash options to choose from.
Though not specific to the Nexus 7, the new Android 4.3 camera interface offers a few subtle tweaks in UI over the previous versions. Rather than having the camera settings laid out in a ring whenever you press a finger onto the viewfinder, you now get a small curved line with multiple tiers of settings accessed by sliding up or down from your initial press. The interface seems no more intuitive than on Android 4.2, but at least some of the options aren't hidden by your thumb now.
Nexus 7 pictures
As you might've guessed given its price point, the Nexus 7's camera isn't the best out there. The megapixels count in itself isn't the issue here, rather the quality of the sensor, as the image processing in stock Android is more than capable of producing great shots on devices like the Nexus 4.
Even in great light, the Nexus 7 struggles to properly meter and adjust for points of very high or low lighting. Photos were often drastically under or over-exposed, even to the point of giving a white haze to an entire picture. When you try to compensate for these issues by using tap-to-focus and manual exposure, things don't get much better.
We experienced issues with getting the auto focus to lock on and let us take pictures more often than we'd like, with the focus ring blinking green but still not taking photos. On the flip side, the tablet would frequently go far out of focus but still allow pictures to be taken. These are issues we haven't experienced on other devices with the stock camera UI, and we have to think there are some processing issues at play here.
When you do end up getting focus to lock properly and have a steady hand, the Nexus 7 can take acceptable snapshots. There is something to be said for having a big viewfinder to appropriately frame and take your shots, which can help less-skilled photographers. Just don't expect the Nexus 7 to produce any images that will rival any mid- or high-end phone camera out there today. Given the low cost of the tablet, though, we'd rather have this quality of camera available than not have one at all.
Click images to open full resolution in new window
Nexus 7 video
On the video side, the Nexus 7 has the processing power to run 1080p footage, but as is often the case it's set to 720p by default (likely due to storage concerns). The issues we have with the sensor carry over to the video camera, with the tablet often struggling to properly expose highlights and shadows. Again, with a steady hand you can get passable video out of the Nexus 7.
Front camera
For tablets, the front-facing camera is often more important than the one on the back. For most people — especially with the Wifi-only model — the Nexus 7 will primarily stay put in the house where it is likely to be used for video calls and spontaneous self portraits alike. The front-facing 1.2MP camera again isn't going to win any awards, but it offers plenty of quality for your Skype and Hangouts video calls. The camera interface offers the same set of exposure, white balance and scene modes as the rear one, but tops out at 720p for video.
The bottom line
It's hard not to be impressed by what Google has to offer with the Nexus 7 in 2013. It is a perfect example of what a "Nexus" has to offer — an excellent marriage of hardware and software that were made for each other. Not a single part of the device was left untouched, with improvements across the board in internals, display quality, physical design and software performance. The Nexus 7 checks all of the boxes for what matters in a tablet, whether you're an Android enthusiast or a casual user.
This is a great tablet experience at any price, and an absolutely amazing device considering that Google is only charging $229. It's hard to find any fault in the formula here, and we expect this iteration of the Nexus 7 to continue pushing the expectations of what an Android tablet can be for the year to come.
Image 1 of 19
Be an expert in 5 minutes
Get the latest news from Android Central, your trusted companion in the world of Android
Andrew was an Executive Editor, U.S. at Android Central between 2012 and 2020.