Review: Motorizer over-the-ear headphones from Motorheadphones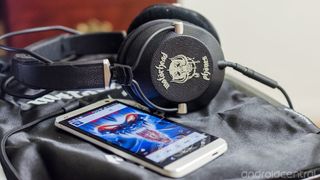 'We told them what to do very specifically. And we threatened them with terrible violence if they didn't get it right, so I'm sure they got it right.' — Lemmy Kilmister
Looking for a set of high-quality headphones that were designed for screaming rock music instead of music with over-processed and overdriven bass tracks? Enter the Motörizer Over-the-Ear Headphones from Motörheadphönes. Designed by rock 'n' roll legend Lemmy himself, these can will make your ears bleed with delight.
They're your typical set of studio-style headphones on the outside (with a little bit of Motörhead branding, of course), but they're built from quality materials. They sport velvet ear cups instead of that horrible fake leather that gets your ears all sweaty, flat woven-cover cords, and a solid closed-back design. They're auto-adjustable, with a thick two-piece rubber headband to fit anyone's noggin. They're fairly heavy at 8.4 ounces, but they're comfortable to wear for extended periods.
Most of us use earbuds with our phones, but if you're like me and appreciate a good set of DJ-style over-the-ear headphones, you'll love the way these fit. If you like your music hard and heavy, you'll love the way they sound.
What's in the box
The Motörheadphönes Motorizer headphones
Instruction booklet
3.5mm to 6.3mm audio adaptor
Retaining clip
2.5-meter single-sided audio cable
1-meter single-sided audio cable with microphone and smartphone controller
Nylon carrying bag
A kick-ass Motörheadphönes sticker
Audio quality
I alluded before that these aren't your average musician-endorsed headphones. If you're looking for something that will let David Guetta's BOOM BOOM BOOM bass mercilessly pound your ears, look elsewhere. The Motörizers were designed to separate the mids and highs from your music, allowing the screaming guitars and bloodcurdling vocals of heavy metal fill you with their absolute goodness. Pick up a pair of Motörizers, and play something like "The Number of the Beast" by Iron Maiden through them. Play it loudly. When you get to the 1:18 mark, and Bruce hits that note, your ears will hurt but your soul will love you forever. And Lemmy won't mind if you pump a little Maiden through them.
Motörheadphönes lists the specifications as a ø40mm neodymium driver, with a sensitivity of 102 dB SPL (1mW) at 1KHz, and a frequency response of 10 – 20,000Hz. What I can tell you is that they sound great, without the hip-hop influenced bass that other brands force on you. They deliver high-quality sound from a phone or a tablet, as well as a computer or guitar amp.
The included 1-meter cable has an inline mic and controller, but like most products it only partially works with non-Apple devices. I guess Lemmy gets to hurt someone over that part, but some of the functions do work with Android phones. You can play, stop, and pause a track with the middle button, and answering/switching calls work fine. The 2.5-meter cable has no controls, and is designed for those times when you just want to get comfortable and listen. You can connect the two cables for 3.5-meters of length with smartphone controls if you're into that sort of thing -- it works as expected.
Call quality
The Motörizers work great for those times when you want to talk on the phone. They sound excellent on both sides, the difference is that you look like a complete badass wearing Motörhead branded headphones while talking to someone. You can answer and end calls with the button on the controller, and it also works with three-way calling and call-waiting.
The verdict
The good
They're freaking Motörhead branded so they are automatically awesome
Made with high quality materials
Comfortable
Detachable, woven cables
They sound great for listening to metal
The bad
The controller was designed for iOS
They're a little heavy
They say Motörhead on the side, so they're pretty conspicuous
They won't sound good if you like lots of bass
Plain and simple -- if you want a good, loud set of cans and want to hear more than the bassline, pick these up. The quality will surprise you, and so will the sound. Grab them from ShopAndroid.
Image 1 of 12
Image 2 of 12
Image 3 of 12
Image 4 of 12
Image 5 of 12
Image 6 of 12
Image 7 of 12
Image 8 of 12
Image 9 of 12
Image 10 of 12
Image 11 of 12
Image 12 of 12
Jerry is an amateur woodworker and struggling shade tree mechanic. There's nothing he can't take apart, but many things he can't reassemble. You'll find him writing and speaking his loud opinion on Android Central and occasionally on Twitter.
Like to see a picture of Jerry wearing them to get a sense of how big they are.

I'm wondering if these are what Jerry was wearing in the last podcast? Posted via Android Central App

Don't forget to try the Grado Headphones as well, it's pretty easy to drive with a smartphone. Cheers

Wearing Head phones while driving is illegal in about every state

False. It varies from state to state. Likewise in TX it is not illegal and can be worn in BOTH ears.

Sound and Vision had good things to say about these in their post CES issue.

But, how do they sound playing "Hydra" by Toto? Old song, but always the standard bearer for sound-checks.

So I guess you're saying they're born to raise hell, and they do it real well.

Argh! Wish I'd known these were being sold at ShopAndroid earlier. Been waiting for these to come back in stock and ship from an order I made at the official Motorheadphone shop for almost two weeks now. :/

I'm not looking to buy headphones at the moment, but I had to read a review by Jerry talking about Rock headphones. I'm glad I made the effort. Great fun review! Posted via Android Central App

Too bad the branding is associated with rock. Not exactly comfortable getting on the subway with rock branding. Posted via Android Central App
Android Central Newsletter
Get the best of Android Central in in your inbox, every day!
Thank you for signing up to Android Central. You will receive a verification email shortly.
There was a problem. Please refresh the page and try again.