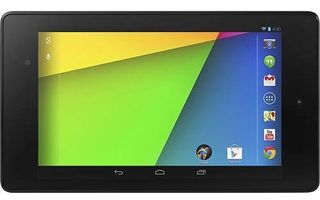 Google has just taken the wraps of its new Nexus 7 tablet, and the spec sheet show it to be a significant upgrade upon last year's Tegra 3-powered version. Check past the break to see how things stack up.
Screen: 7.02" 1920x1200 HD display (323 ppi), 1080p HD IPS, Scratch resistant Corning® Glass
Size: 114 x 200 x 8.65mm
Weight: 0.64lbs (290g) Wi-Fi, 0.66lbs (299g) LTE
Cameras: 5MP rear facing, auto focus, 1.2MP front facing, fixed focus
Audio: Stereo speakers, Surround sound powered by Fraunhofer
Memory: 16GB or 32GB internal storage (formatted capacity will be less)
CPU: Qualcomm Snapdragon™ S4 Pro quad-core processor, 1.5GHz
GPU: Adreno 320, 400 MHz
RAM: 2GB
Wireless: Dual-band Wi-Fi (2.4G/5G) 802.11 a/b/g/n, NFC (Android Beam), Bluetooth 4.0
North America: 4G LTE: 700/750/850/1700/1900/2100 MHZ (Bands: 1/2/4/5/13/17), HSPA+: 850/900/1900/2100/AWS(1700/2100) MHz (Bands: 1/2/4/5/8), GSM: 850/900/1800/1900 MHz
Europe: 4G LTE: 800/850/1700/1800/1900/2100/2600 MHz (Bands: 1/2/3/4/5/7/20), HSPA+: 850/900/1900/2100/AWS(1700/2100) MHz (Bands: 1/2/4/5/8), GSM: 850/900/1800/1900 MHz
Power: 3950 mAh (Up to 9 hours of active use), 9 hrs of HD video playback, 10 hrs of web browsing or e-reading, 300 hrs of standby
Sensors: GPS, Gyroscope, Accelerometer, Compass, Ambient Light
Ports and Connectors: MicroUSB , SlimPort™, 3.5mm audio, Microphone, Power and Volume buttons
OS: Android Jelly Bean, 4.3
Alex was with Android Central for over a decade, producing written and video content for the site, and served as global Executive Editor from 2016 to 2022.
That's awesome. I only wish the battery were slightly larger. Posted via Android Central App

isn't that the same CPU as the Nexus 4 almost a year old now???

Same CPU as last years Nexus 7 and Nexus 4 but thats not necessarily a bad thing.

The 1st gen N7 had a NVIDIA® Tegra® 3 quad-core processor.

Doh. My bad I remember that now.

it is, and the nexus 7 as all nexus devices are built in order to keep prices low, this starts at $229, more than $100 less than the nexus 4. You normally don't get bleeding edge cpu specs on nexus devices, I owned the nexus 4, this device will be plenty fast.

Please tell me what devices had a better SoC than Nexus devices on their release date? I'll wait... No, I won't. You won't find any. The Nexi have had bleeding edge hardware tech at launch AND a ridiculous price point. Of course it's the software that keeps them cutting edge throughout their useful lives.

The original N7's Tegra 3 was - for the time - way more cutting edge then the S4 pro today. BTW : say goodbuy to all the Tegra optimized games you bought for the N7... Posted via Android Central App

The S4 Pro is faster and more battery efficient in every way. The Tegra optimized gaming is all you're giving up. The S4 Pro and its 28nm process is miles ahead of Tegra 3's 40nm process. Granted, Tegra 3 was on the scene well before the S4 Pro. But let's not pretend the S4 Pro isn't a better SoC. It's considerably better in just about every way.

Besides the Nexus One which was one of the first android phones to have a 1Ghz processor. The Nexus One was released to kind of kick the other OEMs in the butt and say "Hey push the envelope don't be so lazy." I kind of wish that was still why Nexus phones were built, because then I would be interested in them, but I dislike that they are now usually about half a cycle behind...

In a way they are still doing that. The GS4 has high end specs but lags, the nexus 4 still runs smooth on this hardware. I'll bet this is still going to run smoother. Optimizing means more than specs. Posted via Android Central App

True the CPU and RAM, are similar to the N4, but there has been a significant improvement in the GPU, screen resolution and it now features 4G. Adreno 320, is just below Snapdragon 800's Adreno 330, it is the same as the Snapdragon 600's GPU, some conformality has been lost, with Nvidia desktop graphics. ZTE Geek phablets have Tegra 4, but don't get rapid software updates.

Looks good, but I just wish they would have made it an 8" screen.

+1 Make it just a tad wider and it would be perfect.

Huge fail on Googles part. It would have even sounded better as their next device. NEXUS 8

They tried to keep it narrow for one handed use

Oh, thats why they put enormous bezels on this thing.

yes it is actually, its meant for one handed use in portrait and two handed use in landscape, hence the large bezel on the top and bottom

And I personally thank them for it. I think the bezel is almost perfect for one-handed use.

+1 With that screen resolution an 8" screen would have been great. Plus it would have made for a perfect comparison to the iPad mini and cost $100 less.

I'm on the opposite side of the fence. An 8 inch screen would be terrible. The 7 inch is the right size to carry around, use in one hand and still fit in my cargo pants (barely) while walking around and carrying it with me.

Agreed, and sales of 7" devices...compared to the slowing sales of larger devices, shows that this was the correct decision.

I wish they'd made it a 6" screen, but each to their own.

Id still like to know how that narrow bezel is going to effect touch input. I mean, your probably always going to have both or atleast one of you thumbs touching the display now.

depends how you use it, I normally use tablets in landscape mode, I think using tablets in landscape mode is more common.

Still, I think there going to have to implement a software solution like apple did when the mini came out. I can see it being annoying when I do use my tablet in portrait mode.

I don't use my old Nexus 7...gave it to the wife... and I am still thinking about buying this....What is wrong with me? Though I do think that screen res keeps me using my GS4 on the couch.... maybe this is what I am thinking.

Will this work with any wireless charger? Does anyone know the best ones to get for cheap? I'm getting this tablet though I can't say I love the CPU.. I was hoping for better. I would have been fine with a slightly bigger screen as well.

Im sure it will work with any Qi wireless charger that it will fit on. Probably the best one for the price is the LG WCP-300. Costs around $30 from verizon.

So wireless charging is not included? I've seen conflicting information. Posted via Android Central App

I wish the bezel was smaller. It seems like a waste of space.

Still not using gorilla glass for the screen, huh?

Isn't corning, gorilla glass?

Correct. They might have just not paid to use the "Gorilla" name. Licensing BS.

I was a little surprised when he said that the the same device (the LTE version) will work on AT&T, T-Mobile, AND Verizon. Posted via Android Central App

It's such an ugly tablet. With IOS 7 on the horizon, I might have to have to switch to an apple tablet. Sorry google

Aesthetics are important, but usability even more so. Make sure you like iOS7 before dropping $330 on one. Nexus 7 rivals the iPad Mini experience at $100 cheaper.

This. Posted via Android Central App

I disagree that aesthetics are important, unless you plan on using it as a fashion accessory. In which case, it will go along nicely with the HTC One that you probably already have :P

Looks fine to me. I wasn't really expecting it to be "pretty"..

This. Posted via Android Central App

Was still hoping for HDMI out and front facing speakers. Ooh well Posted via Android Central App

Dumb me, missed the Slimport spec. Posted via Android Central App

Which carriers will the LTE model work with?

T-Mobile, AT&T, Verizon..

Thanks! I just saw a pic of the slide that shows that.

If I get this will I have to buy a new HDMI out cable? I just got a mini HDMI one last week. Either way I don't plan on buying the new N7 for a couple months as I am still diggin' my Sero 7 Pro *shrug*

Front facing speakers woulda made this perfect. Hope it sounds as good as they say..

Anyone else impressed with the weight. Only 290g?! That has to be the lightest mainstream tablet out there. I mean even the iPad mini is 308g and I thought that was pushing the limit. Still wish the bezels were smaller on the top and bottom but enough of that. I think Google did a really good job. Glad to see they improved the colors (at least according to the presentation) and not just the resolution. Hopefully the processor they've got in there is powerful enough to push all those extra pixels. Certainly seemed like it from what we've seen thus far. Also so glad to see GPS is still there! I was a little worried when they didn't mention it in the presentation. Phew! Looks like a good budget tablet.

Really really wish it had an 8" screen. As others said, Nexus 8 has a nice ring to it. Posted via Android Central App

What about notification light and haptic feedback?

It has a notification light now, near the bottom. Haven't heard about haptic yet.

Interesting, the battery got smaller. OG has a 4325 mAh battery. Posted via Android Central App

Don't get me wrong, I'm always for a larger battery, but in this case you're probably better off with the new one. The Tegra 3 was is a 40nm die size where the Snapdragon S4 Pro is a 28nm die size. That will save power, plus I think Krait will help things in comparison to the Tegra 3.

I really like this improved nexus 7 however I have a nexus 10 at the moment and I'm going to have to pass. The nexus 10 does everything that I need it to do. Still for the price point, it doesn't get any better. I really fought with myself on this decision lol Posted via Android Central App

My big thing is how does it compare to the Asus Memo HD 7. I really wanted sd storage on this. Seems the HD 7 might be a better deal and a bit more functional, though not quite bleeding edge. Opinions?

Only thing I see missing here are the GPIO Pins. Should we assume they are no longer there and Google has dumped the idea of using them? If so that means the current dock is useless. :(

I'm most excited that they can do a full US LTE Nexus phone this fall: North America: 4G LTE: 700/750/850/1700/1900/2100 MHZ (Bands: 1/2/4/5/13/17), HSPA+: 850/900/1900/2100/AWS(1700/2100) MHz (Bands: 1/2/4/5/8), GSM: 850/900/1800/1900 MHz And I suppose a European version too: Europe: 4G LTE: 800/850/1700/1800/1900/2100/2600 MHz (Bands: 1/2/3/4/5/7/20), HSPA+: 850/900/1900/2100/AWS(1700/2100) MHz (Bands: 1/2/4/5/8), GSM: 850/900/1800/1900 MHz

Meh...they already did two LTE Nexus phones. The LTE Gnex and the N4 works great on Band 4 LTE (Tmobile in US) with a tiny bit of hacking.

That said, I'm super pumped for the N5 too, and the single LTE chip.

I don't even *need* this device--im still basking in the glow of my GPe Galaxy S4--but ill be damned if I didn't just pre-order it anyway. It's now official: I'm hopeless. Lol. Posted via Android Central App

You people are picky! This is a great tab. The only flaw is they should've had a slightly bigger battery. Maybe 4100- 4500 mAh.

It uses more efficient hardware and software to get better battery life. A lot more to the puzzle than just the mAh of the battery.

But it is not the revolution the N7 was a year ago... Posted via Android Central App

Then, don't buy it. Posted via Android Central App

Don't forget the kindle fire, this is just as big a revolution in comparison.

This is a great tablet at an excelent price! The only thing I would do differently is give it a MicroHDMI port so I could use my cordless mouse on the USB port while connecting it to the tv with the MicroHDMI. At least it will be fine for video streaming with ChomeCast but until you can ChromeCast apps it would be better with two separate ports.

It HAS HDMI! Alex just forgot to put it in the specs! Go to the announcement and look at the slides! Posted via Android Central App

No mention of miracast anywhere...!

Chromecast. =) Posted via Android Central App

Dang, really wanted an HDMI out port. :-( Posted via Android Central App

7.02" screen? Wtf, I thought it was supposed to have a 7" screen. This will be too large for my tiny thumbs.

So, how long are we going to have to wait for ElGoogle to tell the carriers to piss off and put phone radios in the tablets so we can make phone calls? Seems like Samsung is the only ones that will, and not in the US. :-(

North America: 4G LTE: 700/750/850/1700/1900/2100 MHZ (Bands: 1/2/4/5/13/17), HSPA+: 850/900/1900/2100/AWS(1700/2100) MHz (Bands: 1/2/4/5/8), GSM: 850/900/1800/1900 MHz Europe: 4G LTE: 800/850/1700/1800/1900/2100/2600 MHz (Bands: 1/2/3/4/5/7/20), HSPA+: 850/900/1900/2100/AWS(1700/2100) MHz (Bands: 1/2/4/5/8), GSM: 850/900/1800/1900 MHz I'm confused. Is the device just released in the US also capable of the European LTE bands? As in: Can I go to the states now, get one of these and then use it on LTE in Denmark (bands 3, 7 and 20)?

As soon as I get the pre order email, this Aussie is hitting the credit card, faster than a New York minute.:)!!
Android Central Newsletter
Get the best of Android Central in in your inbox, every day!
Thank you for signing up to Android Central. You will receive a verification email shortly.
There was a problem. Please refresh the page and try again.