Best noise-canceling headphones 2023
Forget that noise when you put these on.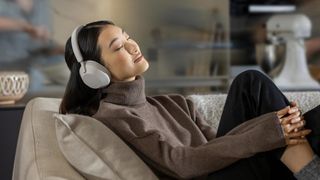 (Image credit: Sony)
If you're a commuter or work in a busy environment, you're likely in the market for some of the best noise-canceling headphones. Drown out all that background noise with active noise-canceling (ANC) technology, which has become one of the most highly sought-after features that's no longer exclusive to expensive headphones. The Sony WH-1000XM5's ANC heads up a group of class-leading headphones through their excellent performance and battery life, making them our top choice. But there are plenty of other options on this list for various lifestyles and budgets on this list.
Sony WH-1000XM5
Best overall
Reasons to buy
+
Class-leading ANC performance
+
Long battery life
+
Customizable sound
+
Fast charging capable
+
Great call quality
+
Pair with two devices at once
Reasons to avoid
-
No simultaneous charging & listening
-
No difference in design
-
No improvement in overall audio quality
Sony has been in the top spot before with its WH-1000XM4, the best ANC headphones on the market before they were replaced by the WH-1000XM5. Sony's flagship cans have become the benchmark for the industry as a whole, forcing others to catch up. What makes them so good is the unique QN1 processor and a dual-noise sensor that work together to block out ambient sound. There are eight microphones at work here, so for a daily commute on a bus or train, walking on a busy street, or sitting on a flight, the WH-10000XM5 are up to the task.
It may not look dramatically different from its predecessors, but that's just Sony sticking to a design and comfort that works for most ears. ANC benefits from that with excellent passive isolation, plus you can pair with two devices simultaneously. This way, you can listen to music on one device and take calls on another, for example. Phone calls also sound better because Sony's Precise Voice Pickup and Speak to Chat features optimize sound and volume during conversations.
Otherwise, much of what made the WH-1000XM4 so good remains in good standing for this pair. They will last up to 30 hours per charge, with fast charging always an option when they're dead. You still can't listen to the WH-1000XM5 when they're charging, however, whether wired or wireless.
Sony chose not to tweak or alter the sound signature, so the same bass-heavy sound comes through. It can sometimes drown out the mids and highs, but Sony's Connect app has a trusty equalizer you can use to offset that. It also has a "clear bass" slider to affect the overall thump of the bass itself. With those tools, you can make these headphones sound more to your preference.
Now that the WH-1000XM5 are Sony's flagship, look for the WH-1000XM4 to eventually drop in price and become more of a value option. Sony's noise-canceling tech has been so good that you can even find it crammed into wireless earbuds.
Bose Noise Canceling Headphones 700
Runner up
Reasons to buy
+
Superb ANC performance
+
Excellent sound quality
+
Very comfortable
+
Great battery life
+
Fast charging
Reasons to avoid
-
Non-foldable, bulky design
-
Competitors beat battery life
-
More expensive than top pick
Bose has positioned itself into the conversation among the best in the business in this category, where the NCH 700 belongs. Taking over from the highly-acclaimed QC35 II, these cans are equal or better in almost every way. First, sound quality gets a boost with Bose dialing back sibilance from the treble to make them sound less piercing, without changing anything else about the rest of the sound signature. Needless to say, the NCH 700 aren't lacking in sound.
It doesn't hurt that the ANC performance is so good, too. They don't quite hit Sony's level, but they're a solid alternative that does a solid job of blocking out most persistent noises, like engines, and some mid-range sounds like people talking. Higher-pitched sounds are a challenge for any pair of ANC headphones, and that's where the NCH 700 are a bit shaky. However, you do get up to 11 steps of ANC, making this one of the most versatile ANC experiences available.
The NCH 700 are also one of the most comfortable pairs to wear. A softer headband and ear cups don't feel too constricting, so you may not even notice how long you're wearing them. The trade-off in doing that was Bose had to actually make these headphones bigger than the QC35 II. They also don't fold, which may be an issue when traveling or commuting, taking up more space in your bag.
At up to 20 hours per charge, battery life is above average. A quick 15-minute fast charge through USB-C will deliver up to two hours of playback, ensuring you can listen to some tunes in a pinch.
Sennheiser Momentum 4 Wireless
Best sound quality
Reasons to buy
+
Excellent sound
+
Very comfortable fit
+
Simultaneous listening & charging
+
Reliable controls
+
Very good ANC performance
+
Outstanding battery life
Reasons to avoid
-
EQ could be more elaborate
-
Not the flashiest design
Sennheiser's pedigree for sound quality is well-known, and we found the Momentum 4 Wireless carry that same torch in our own review. A rich soundstage helps deliver the kind of definition associated with the brand. Bass is slightly boosted, with clear midrange and smooth treble to balance it all out. It's wide enough to suit almost every musical genre — instruments, vocals, and electronic elements never sound out of place.
The most advanced ANC performance doesn't always match the company's audio fidelity, and that contrast didn't take a big leap forward here. That's not to say the ANC is bad: They block out a decent amount of low-end noise, and though improved with higher pitches, it won't match what Sony and Bose are able to do with their headphones. One plus to note is the wind noise reduction that is pretty effective at cutting down how much wind can affect what you're listening to.
The Momentum 4 Wireless sport an all-new design but are really comfortable to wear, even after long periods. Thanks to a well-made headband and ear cups soft enough to enjoy whenever you listen to audio, you don't feel much of a squeeze with these.
Sennheiser completely reversed the mediocre battery life of the previous pair and hit it out of the park with this pair. Expect up to 60 hours on a single charge — with ANC on, though volume levels will have an impact. If need be, you can use the USB-C port for simultaneous listening and charging when connected to an Android phone or tablet.
1More SonoFlow
Great battery life on a budget
Reasons to buy
+
Great sound quality
+
Excellent ANC performance
+
Comfortable fit
+
Solid app support
+
Really long battery life
Reasons to avoid
-
No aptX, if you're looking for that
-
Wired mode cuts out all features
The SonoFlow may not look it at first, but they are an impressive pair of cans. Comfortable to wear for long periods, they neatly fold up into their case and have physical buttons for controls.
Active noise cancelation (ANC) is one of the major selling points, performing as well as pricier headphones, and that's a big reason they made the cut. They do a great job drowning out background noise, with particular strength in muffling low-frequency sounds, and for a pair of affordable headphones, the results can sometimes seem surprising. If you plug the cable in to listen in wired mode, you lose out on any ANC features, treating the headphones as standard analog cans.
If you care about codecs, you'll like that the SonoFlow support LDAC codec for hi-res audio, though you may not like that aptX is missing, leaving you only SBC and AAC as the other alternatives. At least everything sounds good regardless of which codec's playing. Plus, you can always use the 1More Music app to tune the sound however you want.
Doesn't hurt that you can expect up to 50 hours per charge with ANC on (up to 70 hours with it off). A quick five-minute charge could get you up to five hours of playback, depending on volume levels.
Cleer Audio Enduro ANC
Great battery life
Reasons to buy
+
Ridiculously long battery life
+
Customizable sound
+
Excellent comfort
+
Solid ANC support
+
Multipoint connections
Reasons to avoid
-
Shorter connectivity range
Cleer Audio may not be the household name others are on this list, but the Enduro ANC are the kind of headphones that make you remember who they are. The long battery life certainly stands out, giving you up to 60 hours on a single charge. They also feel comfortable for longer stretches, complementing the outstanding battery performance. Plus, if you need a quick charge, plug them in for five minutes and you can get up to two hours of playback.
Sound quality may also come as a surprise, and the best part is you can tinker with it through the Cleer+ app. The onboard equalizer lets you ramp up or dial back the bass, along with the other parts of the spectrum to get these headphones playing even better. ANC performance is pretty good, and even when on, battery life doesn't take a huge hit. You'll find they cancel noise out best on a plane, train, or bus.
They're also nifty in other ways, like multipoint connections to pair with two devices simultaneously, and wired playback through the included 3.5mm cable and airplane adapter. Cleer Audio also throws in a case to keep the headphones safe.
Best budget over-ear headphones
Reasons to buy
+
Ridiculously long battery life
+
Comfortable fit
+
Made for bass-lovers
+
Solid ANC performance for the price
+
Affordable price
+
Great app support
Reasons to avoid
-
Too much bass for some
-
ANC could be better
Budget headphones sometimes punch way above their weight, or carry a particular feature or performance aspect that stands out. In our review, we saw how the Anker Soundcore Life Q30 excels for its battery life. Lots of it. These can play for up to 40 hours on a single charge — and that's with ANC enabled. Disable it, and they can play for an outlandish 60 hours.
ANC on the Life Q30 is a little better than it was on the Life Q20 and with some extra support through the excellent Soundcore app. There, you can adjust ANC between three modes: Indoor, Outdoor, and Transport. Where the Life Q20 was surprisingly adept at muffling higher-pitched noises, the Life Q30 improved in blocking the more consistent background sounds, like engines, fans, heaters, and more.
Not surprisingly, the bass is still abundant in how they sound. It's boosted to a point where it may be an acquired taste, but anyone seeking an extra boom won't be disappointed with how low these go. At least the midrange is balanced enough to add some depth and help carry the treble, which is only slightly boosted. Plus, the Soundcore app has an EQ, with several presets already available to try out. If you prefer, you can also set up your own.
You should be comfortable wearing these over more extended periods, including for larger heads. What stands out is Anker did a better job crafting them than they did with the Life Q20. As a result, they're sturdier, with a more premium look and feel that belies their price.
Bowers & Wilkins PX8
Most luxurious
Reasons to buy
+
Superb sound quality
+
Great noise cancelation
+
USB-C for charging and listening
+
Great battery life
+
Premium build and stylish design
Reasons to avoid
-
App could offer more features
-
Expensive
Bowers & Wilkins is a luxury brand, and its products come with an expectation of looking good. The PX8 are easy to look at, even if you don't consider yourself the type to put design over all else. And it doesn't matter if it's the black or tan variant — they exude class.
On top of the slick aesthetic, they also come with a pretty unique feature set. One standout is the ability to use the headphone's USB-C port for audio. So just plug them into your phone's USB-C port, and not only will you get audio, but power as well. A 3.5mm cable also comes in the box.
The PX8 are a sonic powerhouse in so many ways. It's not just the balanced sound signature that plays well with every genre, the sound is spacious and pronounced, where instruments and vocals feel warm, resonant, and full. It wouldn't be a stretch to say these may be the headphones to beat from a pure audio perspective. You do have to pay a hefty price for them though.
Improved ANC helps muffle background noise, but they're not quite at the level of Sony and Bose yet. At this price range, you could expect better results, and on the bright side, the soft cushioning and superb fit help with effective passive isolation. The Bowers & Wilkins app offers limited customization, however, as you can't adjust the range of ANC, while the EQ is limited to just bass and treble sliders.
Battery life is solid, with up to 30 hours per charge. The USB-C port is always convenient, as is the fast charging support. If the PX7 are dead, a 15-minute charge will get you a good seven hours of listening time.
Best earbuds
Reasons to buy
+
Outstanding ANC performance
+
Stellar sound quality
+
Amazing battery life
+
Wireless charging case with USB-C
+
LDAC and 360 Audio support
+
Solid app support
Reasons to avoid
-
Touch controls need work
-
Smaller ears may not feel comfy
-
Single-bud mode only in right buds
More true wireless earbuds are coming with ANC on board, including at different price points, but the Sony WF-1000XM4 are the pair to beat based on our own testing. They benefit from the same ANC tech found in Sony's over-ear WH-1000XM4, which is a big reason why they're so effective. Despite their size, they prove to be more than capable of blocking out a good amount of noise, including consistent sounds you would come across while commuting.
Sony also preferred to go with a more neutral soundstage, leaving plenty of room to customize it through the equalizer settings in the Headphones Connect app. The mids come through with greater detail, while the highs feel warm, standing out independently. The bass is less pronounced out of the box, and that's why the EQ may be necessary to deepen and balance the sound further.
The fit may not be for everyone because of the bulkier form factor, while the Adaptive Sound Control mode isn't as effective as Sony claims it is. Plus, it's not worth using them when water is too close with no official water or sweat resistance. However, for the reverse of ANC, the WF-1000XM4 do have an ambient sound mode that uses the onboard mics to filter ambient sound and hear your surroundings without taking them off.
Battery life is solid at up to eight hours per charge, and an additional 24 hours with their charging case, which is 40% smaller than the previous model was. The USB-C port is convenient, as is the fast charging ability. A quick 15-minute charge can provide a few hours of playback in a pinch.
AirPods Pro (2nd Gen)
Best for Apple users
Reasons to buy
+
Excellent noise cancelation
+
Transparency mode works very well
+
Super comfortable design
+
Improved controls
+
Solid Spatial Audio
+
Compact, high-quality charging case
Reasons to avoid
-
So-so battery life
-
No customization on Android
-
Lightning for charging
-
Expensive
The AirPods Pro (2nd Gen) belong in the conversation among the best noise-canceling true wireless earbuds available. They're not as good as what Sony and Bose deliver, but improved performance helps them block out most low and mid-range ambient noise. While they will struggle more with higher-pitched tones, that's typical of ANC headphones and earbuds.
Sound quality is solid, with noticeably better bass and mids than the regular AirPods 3 can ever manage, though not a real sonic upgrade over the previous AirPods Pro. The soundstage still focuses more on the mids to create the illusion the sound is moving closer to you. Consequently, the highs suffer, creating an uneven profile that may be more obvious depending on what you're listening to. Unfortunately, Apple doesn't offer much of an EQ to tweak the sound further, but you could try third-party ones.
Comfort is nice, due in large part to the unique design at play here. Apple slightly changed it without really impacting how comfortable they already were. The stems now have more to do with volume controls embedded this time.
Battery life is pretty pedestrian for something at this price. They can go up to five hours of playback with ANC on — six hours with ANC off — though that's at the default volume level. Thankfully, the charging case can offer another 25-30 hours of additional listening time. Apple users won't mind that it charges over its proprietary Lightning connector, whereas Android users will have to keep that cable handy. You could charge them wirelessly to get around that, however.
Get rid of that noise
Why you can trust Android Central Our expert reviewers spend hours testing and comparing products and services so you can choose the best for you. Find out more about how we test.
The headphone jack has pulled a disappearing act for the last couple of years, putting the onus on wireless Bluetooth headphones to keep the audio flowing to your ears.
If you're willing to pay the price, Sony's WH-1000XM5 are the best noise-canceling headphones you can get right now. They're fully loaded with fantastic noise-canceling technology, great sound, long battery life, handy controls, and a comfortable fit. Unfortunately, finding great wireless headphones or wireless earbuds with equally good ANC performance isn't as easy as it may seem, despite how ubiquitous the feature is now becoming.
What makes Sony's pair even better is that the ANC supports everything else that's good about the WH-1000XM5. They don't look or sound all that different from their predecessors, except phone calls are better, as is any average commute once you can drown out all that background chatter and dull noise.
Get the Android Central Newsletter
Instant access to breaking news, the hottest reviews, great deals and helpful tips.
Contributor, Audio Reviewer
Ted Kritsonis loves taking photos when the opportunity arises, be it on a camera or smartphone. Beyond sports and world history, you can find him tinkering with gadgets or enjoying a cigar. Often times, that will be with a pair of headphones or earbuds playing tunes. When he's not testing something, he's working on the next episode of his podcast, Tednologic.