Best VR Headsets in 2023
The Meta Quest 2 is still on top, but with the PS VR2 on the horizon, there's more competition than ever.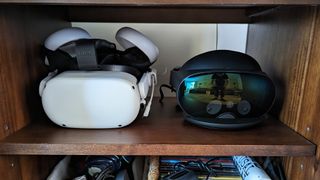 (Image credit: Nicholas Sutrich / Android Central)
When it comes to virtual reality, Oculus (or Meta, as it's called now), has dominated the conversation for years, and is the most well-known among casual VR fans. But despite the fact that the Meta Quest 2 is the best VR headset available today, other VR headsets may prove better depending on your hardware, budget, local region, and other factors. We'll run through your options so you know which VR headset to buy or whether or not you should consider upgrading.
The very best VR headset
Reasons to buy
+
Easy to set up, even easier to use
+
Ultra-crisp 90Hz display (with 120Hz support)
+
Lots of developer support
+
Regularly updated with new features
+
Can be used as a PC VR headset
Reasons to avoid
-
No expandable storage
-
Battery life can be limiting for long play sessions
While every other major VR headset on the market requires a smartphone, PC, or console to power the experience, Oculus has built a headset that does everything you could ever want, all without needing to connect it to any external system. Using a Oculus Quest 2 is as easy as putting the headset on and immediately entering the world of VR. There's no fiddling with settings, no tangling around wires, and no worrying about incompatibilities with the latest games or apps. Just make sure it's charged and go.
The Meta Quest 2 is a significant upgrade over the original Oculus Quest in almost every way. In our Meta Quest 2 review, we detail exactly why, but in a nutshell, the Quest 2 is not just significantly more powerful than its predecessor: It features a 50% higher resolution screen, better speakers, faster Wi-Fi 6 connectivity, and plenty of extras you might not even consider.
That new 50% higher resolution display utilizes a specialized fast-switching LCD panel built for VR, featuring an ultra-crisp RGB-stripe sub-pixel arrangement. It's also running at 90Hz — which makes the action 25% smoother than the original Quest and helps cut down on motion sickness — and later added 120Hz gaming support. The speakers are in the same place as the original Quest, but are louder and deliver higher-quality sound.
On top of this, the new cloth head strap can be completely removed and changed out with different straps, like the Elite Strap with Battery. This strap not only makes gaming on the Quest 2 more comfortable, but it also doubles the battery life to up to six hours on a single charge. Speaking of battery life, Oculus improved the Oculus Touch controllers this time around with better ergonomics, better button placement, a thumb rest, and battery life that's out of this world. Many people have reported still having full battery after a month of usage, which is unheard of on any console.
You can play the Oculus Quest 2 anywhere thanks to the Oculus Guardian system, which utilizes the four cameras on the headset to see and map the environment around you so you don't knock into anything. Because of the lack of wires, you'll find experiences on the Meta Quest 2 that you can't get anywhere else, like the incredible Supernatural VR fitness program. However, if you have a gaming PC, you can hook the Quest up with a single USB Type-C cable, known as an Oculus Link cable, turning it into a full-fledged Oculus Rift.
Meta sells the Quest 2 with either 128GB or 256GB of storage, and while this storage isn't expandable, you'll be able to house dozens of installed games; plus, the Quest 2 now supports cloud saves, so you can delete a game after you beat it without losing your progress for good.
The Meta Quest 2 has sold well over ten million headsets, and should remain popular until the Quest 3 arrives later this year. Wide-reaching developer support, an extensive community, and exclusive features like hand-tracking make this the very best VR headset you can buy.
PlayStation VR Headset
The best VR headset for consoles (for now)
Reasons to buy
+
Beautiful OLED display
+
120Hz refresh rate
+
Lots of exclusive games and experiences
+
Unique gun controller for shooter games
+
Works on PS4 and PS5
Reasons to avoid
-
Wires can be tricky to avoid
-
Controllers can limit movement
-
Doesn't support full roomscale VR
-
No built-in speakers
-
Will be replaced by PS VR2 very soon
Originally released in 2016, the PlayStation VR (PSVR) stuck around for years while Oculus released several new VR consoles, adding high-quality gaming exclusives like Iron Man VR, Blood & Truth, Resident Evil VII, and Astro Bot Rescue Mission, just to name a few.
Despite its age, we still love the PSVR because of its smooth 120Hz OLED display, ultra-comfortable padded design, extensive gaming library, and the plug-and-play software that made it so accessible. You can still use the PSVR today, either on the original PS4 or on the PS5 with a free adapter from Sony. Its wired design is less convenient for immersion than the Quest 2, but the power of a console gives it superior graphical power despite being much older.
That being said, there's very little reason to buy a PSVR today, since the PS VR2 will arrive in February 2023 with major hardware upgrades, including much better controller tracking, eye tracking, and a 4K display. But the new console won't have backwards compatibility, so if you can snag the PSVR for cheap, you will at least have a large library of VR classics to enjoy.
Valve Index
The best for PCs (if you've got the hardware)
Reasons to buy
+
Finger-tracking controllers
+
Stunningly crisp display
+
144Hz maximum refresh rate
+
130-degree field of view
+
Best built-in speakers on any headset
+
Super comfortable headstrap design
Reasons to avoid
-
The cord can get in the way
-
Third-party software required to play Oculus titles
-
Requires a beefy gaming PC
-
Expensive
When nothing but the absolute best will do, you get a Valve Index. When Valve announced the Index, it blew the minds of VR enthusiasts everywhere. From its incredibly comfortable design to the super-high refresh rate display, the finger-tracking controllers, and even the unparalleled built-in speakers, the Valve Index is just about everything a PC gamer could want in a VR headset.
Part and parcel of the Valve Index experience are the controllers, which are unmatched in terms of precision and realism in the virtual world. Valve's controllers don't just offer a wide range of buttons and movement inputs, but they also can precisely track your fingers and the movements of your hands. You can even let go of the controllers completely and they won't go anywhere thanks to an ingenious handstrap design.
With this design in tow, the Valve Index can provide gamers with unparalleled immersion as they pick up crowbars in games like Boneworks, or explore the deeply interactive world of Half-Life: Alyx. Being able to actually feel like you're grabbing or picking up things in the virtual world helps deliver an experience you simply won't find anywhere else.
Valve utilizes the SteamVR tracking system, which is the most precise tracking system on the market and features compatibility with dozens of accessories. It still requires external sensors to be installed in the room, however. You'll also still be plugged into a PC (preferably a powerful one to take full advantage of the Index's specs).
The Valve Index headset is among the single-most comfortable pieces of hardware on the market, with intelligently-designed headstraps that help balance weight and alleviate the strain that other headstrap designs can leave. It's even got the industry's best built-in headphones which, interestingly enough, hover just over your ears and provide an impressive range of sound and volume.
Like the Oculus Quest 2, the Valve index features a fast-switching LCD panel with a tight pixel structure that helps eliminate that nasty "screen-door effect" that previous-generation VR headsets had. As a result, the Index delivers one of the crispest, sharpest images in the industry. On top of that, the ultra-high refresh rate display ensures VR motion sickness is a thing of the past, and the ultra-wide-angle lenses reveal more of the virtual world than you'll get on any other headset.
Why choose the Quest 2 over the Valve Index? You can also play SteamVR games on the Quest 2, in addition to standalone titles that the Valve Index can't play. And the Index is just too pricey for a lot of people, if you also add the cost of a required PC gaming rig on top of it.
The best...if you can afford it
Reasons to buy
+
Sleek ergonomic design
+
Zero latency
+
Powerful graphics rendering
+
Tracks eye movements down to the nearest twitch
Reasons to avoid
-
The $1,500 price
-
Short battery life
-
Limited Pro-exclusive software
-
Did we mention the price?
This is the VR headset that Mark Zuckerberg has been teasing us with in those creepy Metaverse videos. The Meta Quest Pro may just be a "niche headset" but if you've got the scratch to pick one up, it's an impressive step toward the future of virtual reality access.
The Meta Quest Pro is a sleek and powerful piece of hardware that's designed more with developers in mind, but it's also got plenty of cool features even if you're not trying to design the next virtual multiplayer shooter. The headset houses a Qualcomm Snapdragon XR2+ Gen 1 that offers a 50 percent bump in graphics capabilities compared to Meta's cheaper model. It can even track eye movements for foveated rendering, which gives certain games a graphical boost of its own.
Plus, you get the fantastic Quest Pro controllers, which have their own embedded Snapdragon chips that let the headset track their positioning via a dedicated signal instead of inside-out cameras, giving much more accurate results. You can buy them separately for the Quest 2, but they cost a whopping $300 standalone.
You get an extra 10º for the field of view on the brand-new QLED display, which has 500 individual dimming zones for a visual boost. The headset itself has a built-in Elite Strap that gives you a secure and comfortable fit, whereas the Quest 2 makes you buy the replacement yourself. Really, there are several ways that the Quest Pro beats the Quest 2, though it obviously should when it costs three times as much.
Still, you shouldn't buy a headset this expensive just for minor visual and graphical upgrades. The main reason to buy the Quest Pro is if you're an actual prosumer developer, who needs a headset with almost no latency between the headset and computer, as well as fantastic full-color passthrough so you can spend your day in mixed-reality instead of virtual reality. You can see your surroundings so you don't feel isolated, while still getting an augmented view of the world and access to virtual desktops.
Pico 4
The headset that could knock the Quest 2 down a peg or two
Reasons to buy
+
1,200ppi and 105º vertical FOV
+
Lightweight thanks to pancake lenses
+
Full-color passthrough
+
Similar standalone library to Quest 2
Reasons to avoid
-
Only available in 17 countries
-
Missing Quest's exclusives
While Meta has a stranglehold on standalone VR in certain parts of the world, mainly the US, it hasn't done as well in other regions like Germany, where it was up until recently banned due to privacy issues. The Pico 4 recently launched in Europe and Asia as a standalone VR competitor, giving people a tempting alternative.
The Pico 4 is lighter than the Quest 2 because of its pancake lenses, something currently exclusive to the Quest 3. And its strap uses an Elite Strap design by default — whereas the Quest 2 makes you buy that for an extra $60 — so it is more balanced and easier to use for exercise apps. Add in a more comfortable facial interface, and the Pico 4 will require fewer accessories than the Quest 2 out of the box.
Generally speaking, the Pico 4 takes the Quest 2 template and just makes everything a little better. It has a wider and taller field of view and higher resolution, though it struggles to hit the same refresh rates as the Quest 2 with the same Snapdragon XR1 chipset. Plus, its IPD adjustments are more variable, so it's more likely to match your eyes' gap exactly.
While the Pico 4 benefits from its parent company (ByteDance) and has support for TikTok, it misses out on many of the best Quest 2 games that are Meta exclusives, though the company has worked to significantly grow its library to well over 100 games since launch.
We hope that Pico will eventually challenge Meta on its home turf and bring its headsets to the United States, so that American VR fans have more variety in their standalone VR options.
Bottom line
Why you can trust Android Central Our expert reviewers spend hours testing and comparing products and services so you can choose the best for you. Find out more about how we test.
Ultimately, the Oculus Quest 2 is the best VR headset you can buy, regardless of whether you own a PC or a console. That's because the Oculus Quest 2 doesn't need any PC, console, or even a smartphone to run the experience. All of it is built-in, and the experience is even better than other headsets because of this fact.
The Meta Quest 2 is great for gaming and social activities, and you can even bring it to your friends' and families' houses, since there are no cords and barely any setup involved in the process. What's more, you can even connect the Oculus Quest 2 to your gaming PC to unlock the full power of PC-powered VR.
Android Central Newsletter
Get instant access to breaking news, the hottest reviews, great deals and helpful tips
Senior Content Producer — Smartphones & VR
Nick started with DOS and NES and uses those fond memories of floppy disks and cartridges to fuel his opinions on modern tech. Whether it's VR, smart home gadgets, or something else that beeps and boops, he's been writing about it since 2011. Reach him on Twitter or Instagram @Gwanatu
Android Central Newsletter
Get instant access to breaking news, the hottest reviews, great deals and helpful tips
Thank you for signing up to Android Central. You will receive a verification email shortly.
There was a problem. Please refresh the page and try again.