Meta Quest 3 vs. PSVR 2: Mixed-reality wireless or wired graphical power?
Both headsets cost about the same but have very different approaches to VR (or MR) innovation.
Best Quest to date
Meta's singular focus on virtual and mixed reality comes across in a standalone product that improves on the popular Quest 2 across the board, mainly in enhanced graphics, visuals, and full-color passthrough. It also has many of the same cost-cutting drawbacks, except with a higher list price.
For
Higher-resolution display with sharper pancake lenses
Wireless, standalone
Full-color mixed-reality experiences
Has built-in speakers
Massive library of games, apps
Due to receive years of post-launch updates
Against
No eye tracking
Short battery life
LCD instead of OLED
Needs accessories for better fit
From the legendary console maker
The PlayStation VR2 isn't a standalone device; it's a PS5 accessory. That's a positive if you want graphically stunning games from recognizable IPs first and foremost, but a negative if you don't own the PS5 or want a cable distracting you from total immersion into VR.
For
Rich OLED display
Powerful PS5-backed graphics
First-party and AAA titles
Built-in halo strap with haptics
Eye tracking for foveated rendering
No battery life concerns
Against
Wired design tethers and distracts while gaming
Requires a PS5
No built-in speakers
Lenses have noticeable sweet spot
The PlayStation VR2 and Meta Quest 3 are two next-gen VR headsets that took very different approaches to innovation.
Sony gave the PSVR 2 haptics, eye tracking, a higher-quality display, a more supportive built-in halo strap, and AAA games that Meta couldn't offer.
Meta instead gave the Quest 3 full-color passthrough, lightweight ringless controllers, pancake lenses, and a wireless design that still delivers robust performance, while Sony's headset remains console-tethered.
We gave both devices glowing reviews, but each has distinct drawbacks that'll turn off some VR fans but won't matter to others. Let's run through these differences and drawbacks to help you pick one to buy.
Quest 3 vs. PSVR 2: Breaking down the specs
Why you can trust Android Central Our expert reviewers spend hours testing and comparing products and services so you can choose the best for you. Find out more about how we test.
Swipe to scroll horizontally
| Specifications | Meta Quest 3 | PSVR 2 |
| --- | --- | --- |
| Chipset | Snapdragon XR2 Gen 2 | PS5: 8-core AMD Zen 2 (3.5GHz); PSVR 2: Unnamed MediaTek chip for camera processing |
| RAM | 8GB | 16GB (PS5) |
| Storage & pricing | 128GB ($499); 512GB ($649) | 825GB (PS5; $550) |
| Dimensions | 184 x 160 x 98mm | 212 × 158 × 278mm |
| Weight | 515g; 18.17oz | 560g; 19.8 oz |
| Lenses | Pancake | Fresnel |
| Display | LCD | OLED |
| Resolution | 2,064 x 2,208 pixels per eye; 1,218 pixels per inch; 25 pixels per degree | 2,000 x 2,040 pixels per eye; about 800 pixels per inch; about 20 pixels per degree |
| Field of View | 110º horizontal; 96º vertical | 110º |
| Average battery life | 2.2 hours | N/A (Wired) |
| Charge time | 2 hours | N/A (Wired) |
| Audio | Built-in mic & speakers, 3.5mm jack | Built-in mic, 3.5mm jack |
| Haptics | Controllers only | Headset and controller |
| Passthrough | Full color | Black and white |
| Eye tracking | None | 1 IR camera per eye |
Quest 3 vs. PSVR 2: Lenses and display
The PSVR 2 uses fresnel lenses, the same type found in the Quest 2 and most other VR headsets, while the Quest 3 uses next-gen pancake lenses that have clear advantages.
Without diving into overly technical details, fresnel lenses were a popular option for their time that kept headset costs low, but they're relatively thick and lead to light artifacts, ghosting, and other visual issues. They make headsets more front-heavy, and they have a clear "sweet spot" in their center that makes things blurrier or foggier on the outer edges.
Meta's pancake lenses use an accordion-style design that bounces light across lenses that are folded on top of one another, taking up less room and delivering a sharper image with fewer visual artifacts.
They make the Quest 3 significantly skinnier than the Quest 2; aside from being 45g (1.6oz) lighter than the PSVR 2, it also has a more balanced weight profile. And they don't have as rigid of a sweet spot, so it's not as much of an issue if the interpupillary distance (IPD) isn't exact or it's not resting on the perfect spot on your head.
In terms of visual field of view (FoV), the Quest 3 has a 110-degree horizontal and 96-degree vertical FoV, while Sony lists a 110-degree FoV but doesn't specify if this is horizontal or diagonal. In theory, both headsets are comparable in this area.
Both headsets use their respective lenses to highlight the small displays underneath, and the Quest 3 and PSVR 2 each have their respective strengths.
In the Quest 3's favor, it has a very impressive 2,064 x 2,208 pixels per eye or 25 pixels per degree, while the PSVR 2 hits 2,000 x 2,040 pixels per eye or 20 pixels per degree.
Meta's headset packs more visual information in despite relying on a mobile processor. The PSVR 2 resolution certainly isn't bad compared to last-gen models like the Quest 2, and hits a similar 90–120Hz refresh rate, but it does fall short.
In its favor, however, the PSVR 2 uses an OLED display instead of LCD, and that makes a significant difference by giving you richer colors and deeper blacks. No matter how many pixels the Quest 3 packs in, its choice of LCD does ensure that its colors don't have as much of an impact.
Quest 3 vs. PSVR 2: Design and comfort
Circling back to Meta's new pancake lenses, they ensure that the Quest 3 headset is quite skinny and that it won't press quite as heavily on your forehead. Still, that doesn't mean the Quest 3 completely avoided design issues. It's still a headset designed for affordability, putting the onus on you to upgrade it with accessories.
Our reviewer noted that the new cloth strap does beat the Quest 2's for balanced support on either side of your head but that it's still inferior to the Elite Strap design for comfort — meaning most people will want to spend an extra $80 to get a better feel.
He also found himself frustrated that the default facial interface still allows for lens fogging due to the lack of proper venting. He did praise that the default face gasket lets you move the headset further or closer to your face, leaving room for glasses without a spacer. But he ultimately said that he'd seek out a third-party option to get rid of the fogging.
As a final point, the Quest 3 fixed the Quest 2's issues with IPD adjustment, letting you perfectly match the lens gap to the gap between your eyes to within a millimeter.
The PSVR 2 is more of a complete package. You can find accessories out there, but as our review said, it's a "plug-and-play" device that needs "no modding whatsoever."
That starts with the built-in halo strap, which provides support on the forehead, around the eyes, and the back of the head. It opens up and slides onto your face, after which you tighten the rear knob so it's properly secured. Then you pull the headset onto your face, leaving room for glasses-wearers but letting you snugly secure the lenses close to your face if you want.
Because the PSVR 2 has eye tracking, it can use a useful tool that tells you if your eyes are properly sitting within the sweet spot of the fresnel lenses; if not, it'll recommend you adjust the IPD wheel until everything is clear. That's not something the Quest 3 can give you.
It's heavier than the Quest 3, but once you add an Elite Strap for a similar secure fit, their weights might be comparable. Unlike Meta's standalone headset, the PSVR 2 doesn't have to include a robust chip with RAM, storage, battery, or other tech that's housed inside the PS5. Our reviewer found that it's comfortable enough for a couple of hours before you start to feel the pressure.
On that topic, though, we have to address the PSVR 2's wired design, which "can break the immersion if you let it," as our reviewer put it. It has enough length that you're not rigidly tethered close to the PS5, but that means it's probably going to drape on your back or shoulder depending on which way you face.
You have to be careful about tripping over the PSVR 2 cable and either yanking your head down or the PS5 over, and you can't play it anywhere besides the living room. That's a point in the Quest 3's favor: you can play it elsewhere in the house where you won't be in the way for roommates or family.
Closing out this discussion, the PSVR 2 has no built-in speakers, relying solely on the 3.5mm headphone jack — though it thankfully comes with some basic earbuds shown in the picture above, with little slots to place them when putting the headset away. The Quest 3 has built-in speakers that are much louder and richer than the Quest 2's speakers, as well as a headphone jack if you want to keep your audio private.
Quest 3 vs. PSVR 2: Games and graphics
The PlayStation 5 is an incredibly powerful console with plenty of RAM and storage, and it powers the PSVR 2. You can play AAA games like Resident Evil Village or Gran Turismo 7 in virtual reality, with graphical fidelity that a wireless headset won't be able to offer for years (if ever).
On that same note, the PSVR 2 benefits from Sony's partnerships and first-party studios. It gets exclusives like Horizon Call of the Mountain and Humanity that'll never come to a Meta headset, though we frankly hoped to see more exclusives than we have thus far.
For the most part, though, you'll find that the PSVR 2 library is full of Meta Quest games, only with enhanced graphics and unique perks like eye tracking and headset haptics. Meta has its own exclusives, but for the most part, you won't miss out on too many experiences from the biggest VR developers.
Unfortunately for PSVR 1 owners, your old libraries aren't compatible with the PSVR 2, due to differences with how tracking and controls were handled on the old console. Thankfully, many of the most popular last-gen titles got PSVR 2 enhancements that were given to PSVR1 buyers for free.
The PSVR 2's clear advantage is in its eye tracking, which allows developers to enable foveated rendering and deliver even better graphical performance to specific portions of the display where the player is looking. Games can even use eye tracking data to have in-game characters make eye contact with you, based on where you're looking.
The Meta Quest 3 uses the Snapdragon XR2 Gen 2, a revamped processor that gives twice the graphical power as the Quest 2, along with 8GB of RAM instead of 6GB on the Quest 2 — or 16GB on the PS5.
Put another way, Quest 3 games look significantly better with more textures and better lighting, but they're still not on par with what the PS5 can offer; you can't expect that when Meta's engineers have to prevent overheating and only have mobile hardware to work with, while Sony does all of its processing outside the PSVR 2.
The list of best Quest 3 and 2 games is ludicrously long. The best-selling Quest 2 attracted VR developers large and small, with amateur developers making thousands of games for the App Lab to go with hundreds of Meta-approved titles. Since the Quest 3 can play all Quest 2 games with graphical enhancements, it benefits from that same massive library.
Meta itself has a few exclusive studios like Ready at Dawn (Lone Echo II), Beat Games (Beat Saber), and Sanzaru Games (Asgard's Wrath 2), but aside from Beat Saber — which is available on the PSVR 2 — none of its intellectual properties are especially famous outside of the niche VR space. It also occasionally makes deals with major publishers for recognizable properties like Resident Evil 4 VR or Assassin's Creed VR Nexus.
Meta's Oculus Publishing initiative is helping to deliver hundreds of games to the Quest 3. Many of them will also go to the PSVR 2, as Meta doesn't demand developers stay exclusive with them. But it's fair to say that games are designed for Quest first and then enhanced for PSVR 2 rather than the other way around.
If Meta has one key gaming strength, it's for VR exercise games. Because of its wireless design and third-party silicone face covers, you can go all-out in sweat-inducing boxing games or fitness apps like Supernatural and Les Mills Bodycombat. The PSVR 2 has ports of some of these games, but it's just not designed for fitness in the same way.
It also has the capacity to play SteamVR games, either through a wired connection to your PC or via the wireless Air Link software. It's a nice optional tool for folks that have gaming rigs and want graphical prowess on par with what the PS5 can deliver. But we'll stress that it's not the same: Sony's headset works seamlessly with a $500 console, while PC VR gaming requires a more expensive computer and more work behind the scenes to make games work properly.
Quest 3 vs. PSVR 2: Software and updates
Sony designed the PSVR 2 as a VR gaming accessory, full stop. Meta has grander ambitions, which you may or may not care about.
Along with VR games, the Quest 3 has full-color passthrough that lets you play mixed-reality games and see your surroundings with a quick double-tap of your headset, so you rarely need to take off your headset and adjust the head strap. Some people see MR as a gimmick; others see it as a potential avenue for new experiences that VR alone can't offer. The jury's still out, as mixed reality remains a fledgling technology while VR design has had years to gestate.
Sony, by contrast, does offer a passthrough with a fairly clear resolution, with a dedicated button to enable it with a single press. But it's only in black and white, showing that Sony only intended it as a utilitarian feature to prevent players from hurting themselves — not something to use for gaming.
The Quest 3 has plenty of media VR apps like Netflix, Vudu, YouTube, ESPN, and others to let you stream content in-headset. It has Horizon Worlds, Rec Room, Roblox, and other social spheres for people to connect in virtual reality, along with in-headset apps like Instagram and Facebook. Meta has even made productivity a priority, adding a browser for checking email and certain apps for working in-headset.
The Quest 3 is a new console, but we're 100% certain that it'll receive regular updates with fresh features over the next few years. As our post about the Quest 2's two-year anniversary outlines, that headset transformed into something better over its lifespan thanks to OTA software updates, adding experimental features like 120Hz refresh rates and Air Link that are later converted into official features.
Some of Meta's features and updates are more fleshed out than others; I don't think many people will actually work using the Quest 3, for example. But it's fair to say that Meta tries more with its headset — which is a standalone console — than Sony does with its VR headset accessory to the PS5 (its main priority).
Quest 3 vs. PSVR 2: Which should you buy?
If you don't own a PS5, then investing in both the console and the PSVR 2 will cost you more than a grand. That's not a fair thing to ask when you can get a comparable gaming library on the Quest 3 for half the price.
On the other hand, if you do own the PS5, then the PSVR 2 may end up being cheaper. Yes, it costs $50 more, but I guarantee that the Quest 3 will end up costing much more when you factor in replacement straps, face covers, battery packs, and other accessories.
Cost aside, your choice really depends on what you're looking for in a VR headset. The PSVR 2 has its gorgeous OLED display, exclusive AAA titles, and more powerful graphics, but you can only play it in one spot, and you're less likely to move about freely with the ever-present cable restricting your movements.
The Quest 3 benefits from its wireless design, improving over the Quest 2 in so many significant ways; on the other hand, it still has many of the same drawbacks like short battery life, graphics reminiscent of last-generation consoles, and a modular design that really benefits from expensive accessories.
Neither is the wrong choice, necessarily; they're the two best VR headsets available today. Simply because we want to recommend something for any gamer, the Quest 3 claims that recommendation because it's designed to work in any room has colorful mixed reality to prevent accidents, and has a huge library of games from pro and amateur developers.
Best Quest to date
Choose the Quest 3 if you want a standalone, wire-free VR experience for gaming, along with other mixed-reality perks and the promise of future, unknown features years down the road. Don't choose it if you want the best possible graphics or a plug-and-play device that doesn't require modding.
From the legendary console maker
Choose the PSVR 2 if you want powerful graphics, rich colors, and the chance to step into your favorite PS5 worlds — and then play those same games outside the headset if you want. Don't choose the PSVR 2 if you want more flexibility to play anywhere without worrying about wires or if you can't afford a PS5.
Sign up for Black Friday email alerts!
Get the hottest deals available in your inbox plus news, reviews, opinion, analysis and more from the Android Central team.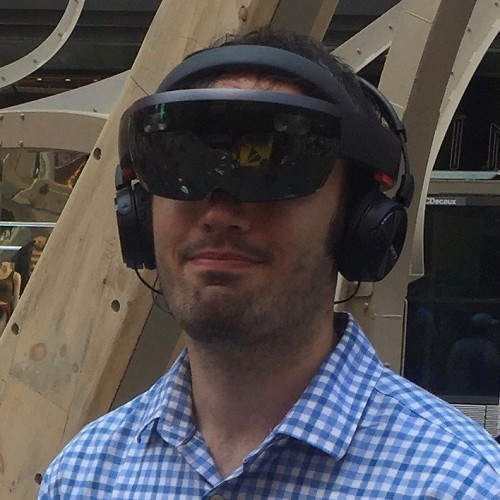 Senior Editor, VR/AR and fitness
Michael spent years freelancing on every tech topic under the sun before settling down on the real exciting stuff: virtual reality, fitness wearables, gaming, and how tech intersects with our world. He's a semi-reformed Apple-to-Android user who loves running, D&D, and Star Wars. Find him on Twitter at @Michael_L_Hicks.