Apple Vision Pro vs. Meta Quest 3: Next-gen XR headsets with very different focuses
The Quest 3 technically does most of what the Apple Vision Pro does, but with budget hardware that limits some of its potential.
If Apple is charging more than three MacBook Airs for one "spatial computer," then it'd better be as good as the Apple Vision Pro. Next-gen visual quality, top-tier Apple silicon performance, and twelve simultaneous camera feeds drain a lot of power, so you have to accept wearing a battery pack while using it. Arriving in 2024, the Vision Pro is intriguing but more than most people can afford.
For
Micro-OLED with 23 million pixels
Laptop-quality M2 chip
Face and eye tracking
Modular design fits different head sizes
Better productivity software
Against
$3,500 (7x the price)
Requires wired battery pack
Only 90Hz refresh rate
Lack of controllers limits VR gaming options
Meta has the daunting task of following up on the most popular VR device of all time. The Meta Quest 3 follows the wireless Quest 2 template and keeps the same game library, but it has improved controllers, twice the graphical power, a 40% slimmer body, and 10x more pixels for full-color passthrough. Despite all these upgrades, it has to compromise on specs to hit a reasonable price, which means the Quest 3 can't possibly match the Vision Pro in most areas.
For
Powerful wireless performance
Full-color mixed reality
Ships with controllers
Significantly more affordable
Better gaming software
Against
Lower-resolution LCD
Less powerful performance than Vision Pro
No eye tracking
Still too expensive for some
Virtual reality has become increasingly mainstream. But for the tech companies diving into this space, VR alone isn't enough anymore. Mixed reality has become the biggest focal point for future devices, with companies like Samsung choosing to delay their headsets to better compete with the Apple Vision Pro. Only the Meta Quest 3 is standing firm as a more gaming-focused XR competitor.
Meta and Apple will release their new headsets in late 2023 and early 2024, respectively. The Quest 3 will cost one-seventh of what the Vision Pro does out of the gate, making them very different in terms of what they can do. But considering most people won't or can't spend $3,500 on a "spatial computer," is the mixed-reality Quest 3 a proper alternative?
Let's break down the Apple Vision Pro vs. Meta Quest 3 designs, specs, software, and other considerations to help you decide which is worth waiting for.
Apple Vision Pro vs. Meta Quest 3: Design
Evoking a high-tech set of ski or lab goggles, the Apple Vision Pro design looks fairly similar to the Meta Quest Pro. It has the same black glass front with rounded edges and an elevated bottom-middle portion to accommodate your nose. Of course, the Quest Pro doesn't use Apple's EyeSight to project your real-world eyes onto the outer display, which gives it a much different vibe.
Also, like the Quest Pro, the Apple Vision Pro has no top strap, with all of the weight of the headset resting on the user's forehead, sides, and back of the head.
The Quest Pro has received criticism for this design, which puts too much pressure on specific cranial points to comfortably wear it all day. But MacRumors notes that Apple gave out the Vision Pro at its press event with an optional cloth head strap that "disperses" the weight and suggested that "most people will want to use it."
The "optional" but vital top strap will just make the Vision Pro look a bit less futuristic, which is why Apple is keeping it out of most marketing materials. Compare that to the Quest 3, which doesn't hide its cloth strap.
Also, unlike the Quest Pro, the Apple Vision Pro has a "modular" design. In its press materials, Apple notes that the Head Band comes in multiple sizes to accommodate different head sizes; the same applies to the soft textile Light Seal that surrounds your face since it can "conform to a user's face for a precise fit."
This modular approach is similar to how Oculus made the Quest 2 and how Meta will make the Quest 3. The first headset lets you remove the strap and facial interface easily, letting you add more comfortable options, battery packs, and other third-party mods to improve your VR experience.
The difference is that Apple is actually tailoring its Head Band to different head sizes, whereas Meta takes a one-size-fits-all approach that makes you rely on third-party accessory makers.
The Quest 3 will use a cloth strap, but at least unlike the Quest 2, it has two top straps running vertically on both sides of your head. This should balance the weight, whereas the Quest 2 had one center strap that tended to slip to either side.
Apple's single attachable top strap runs horizontally, but there's less chance of it slipping because the headset itself has a Fit Dial to keep it secured. You'll need to pay extra for the Quest 3 Elite Strap to get the same experience; the Quest 2 Elite Strap costs $59 (or $119 for the Battery version), so we expect the new accessory will have a similar price.
The main perk of the Meta Quest 3 is that it's fully wireless. You'll be able to buy a Link cable to connect to a PC, but you can also use Air Link to sync wirelessly. Honestly, most Quest users don't bother with this, relying on the headset as a standalone device for gaming. We'll talk more about productivity software in a later section.
The Apple Vision Pro is both wired and wireless. It seamlessly connects to a MacBook as a Mac Virtual Display without any wires, but it requires a wired battery pack that you'll need to wear on your waist for just a 2-hour maximum usage time. Otherwise, you will have to remain plugged into a power source and remain in a fixed position for all-day use.
The Quest 3, like the Quest 2, will likely have a 3-hour battery maximum. But like the Quest 2 battery packs that attach to the headset and double or triple this capacity, the Quest 3 will have the same option for hardcore users who enjoy all-day VR use. It means less time being tethered.
We'll have to wait and see if people come up with a mounted battery setup for the Vision Pro, but it would undoubtedly be heavy. The current battery pack is quite large.
We don't know the official weights of either headset yet. Scuttlebutt from Apple Vision Pro demos suggests that the aluminum alloy headset could weigh anywhere from 1 to 1.5 pounds, with testers saying it felt pretty comfortable. The Quest 3, meanwhile, is 40% skinnier than the Quest 2 thanks to its new pancake lenses; the Quest 2 weighs 503g (just over 1 pound), so 40% less plastic could make the Quest 3 significantly lighter.
Apple Vision Pro vs. Meta Quest 3: Performance
The Apple Vision Pro uses an M2 chip with Apple's own silicon. It's a 2nd-gen 5nm chip found in laptops like the MacBook Air 2022 that can deliver powerful computing performance, especially when packed with a lot of RAM.
We don't know (A) how much memory the Vision Pro will have or (B) how efficiently it can use the M2 with its unique form factor without overheating. Theoretically, using it will be on par with a top-end laptop, except that VisionOS will rely on iPadOS-esque apps that you can "tap" with your fingers in mid-air.
Apple also used an R1 chip that's specifically in charge of processing the data from the 12 cameras, five sensors, and six microphones, to deliver real-time mixed reality.
Turning to the Quest 3, Meta says it has a "next-generation Snapdragon chipset" with "more than twice the graphical performance" as the Quest 2 GPU. That headset used the Snapdragon XR2 Gen 1, based on the 2019 Snapdragon 865 mobile CPU.
The company didn't specify a chip name, but leaker Brad Lynch claims it'll be the Snapdragon XR2 Gen 2, based on the 4nm Snapdragon 8 Gen 2 found in 2023 flagships like the Samsung Galaxy S23 Ultra.
Obviously, a mobile chipset can't compete by any metric with a laptop chipset. It's especially not a fair comparison because the Quest 3 costs so much less. But Samsung, at least, is using this powerful chipset to try and sell the Galaxy Tab S9 as a portable laptop replacement. Plus, Lynch's anonymous source claims the Quest 3 will have an upgraded variant with up to 12GB of RAM, which would make it as fast as the turbo-charged S23 Ultra.
The question, once again, is whether Meta can use this chip to its full potential without overheating. Allegedly, the headset has just one cooling fan packed in; but the Snapdragon 8 Gen 2 has proven to run quite efficiently, so it should hopefully handle the VR form factor quite well.
In addition, the chipset will need to handle both gaming performance and camera processing simultaneously. As far as we know, Meta won't use a coprocessor for the Quest 3, as the Vision Pro does with the M2 and R1.
We'll also point out that Meta's performance will be restricted to immersive gaming, whereas Apple's headset focuses on more mixed-reality experiences with floating displays appearing in your passthrough environment. The Quest 3 won't have much in the way of productivity software, while the Vision Pro will offer Apple Arcade but seemingly not much else gaming-wise.
Apple Vision Pro vs. Meta Quest 3: Specs and cameras
Swipe to scroll horizontally
| Category | Apple Vision Pro | Meta Quest 3 |
| --- | --- | --- |
| Price | $3,499 | $499 and up |
| Chipset | Apple M2 + R1 | Snapdragon XR2 Gen 2 (rumored) |
| RAM | Unknown | 6–12GB (rumored) |
| Storage | Unknown | 128GB (confirmed); up to 512GB (rumored) |
| Lenses | Catadioptric | Pancake |
| Display | Micro-OLED | LCD (rumored) |
| Resolution | 11.5 million pixels per eye | 4.5 million pixels per eye (rumored) |
| Refresh rate | 90Hz | 120Hz |
| Battery life | 2 hours with battery pack | ~3 hours |
| Cameras | 12 (6 external, 2 TrueDepth, 4 internal) | 7 (4 front, 2 bottom/sides, 1 depth) |
| Microphones | 6 | Yes, number unknown |
| Controllers | None (hand tracking only) | Touch Plus |
| Weight | About 1-1.5 pounds (rumored) | Less than Quest 2 (~1.1 pounds |
Even though the Meta Quest 3 and Apple Vision Pro have both been "revealed" ahead of launch, we still don't know a lot of specific information about either device. So in some cases, we can only judge based on rumors.
For the Vision Pro, we know it'll have a display with 23 million pixels (halve that number per eye), which is above and beyond what most of today's best VR headsets offer. Resolutions for the Quest 2 (1832 x 1900 per eye), PSVR 2 (2000 x 2040), and Quest Pro (1800 x 1920) fall into the 3–4 million pixels-per-eye range, well short of 11.5 million. That last number is well above 4K resolution per eye.
In addition, the Vision Pro will use a pair of micro-OLED displays that deliver rich color and range. We don't know for certain that the Quest 3 will use an LCD like its predecessor, but that's what current leaks suggest. It's the more affordable option, even if it means the headset could struggle to display deep blacks (like the Quest 2).
In the Quest 3's favor, we know Meta's new headset will support a 120Hz refresh rate, compared to Apple's fixed 90Hz rate. And the Quest 3 will have the same battery life as the Quest 2, according to Meta's CTO; that means a 3-hour battery life without a battery pack, with the option to add a couple of hours more with one. Apple's 2-hour battery pack maximum, with no wireless option, is a real downside for comfort.
In terms of cameras, the Meta Quest 3 has three overt camera pills on its front. Inside, the left and right pills each have two camera sensors; Meta says the Quest 3 has "dual 4MP RGB color cameras" for passthrough, so we believe the other sensors are for hand/controller tracking. The center pill has a depth sensor to support mixed-reality experiences, and you'll also notice two small spheres on the Quest 3's bottom-side edges for tracking in its periphery.
The Apple Vision Pro, unsurprisingly, packs in more cameras. It has six external cameras and two depth sensors. We don't know the resolution of the MR passthrough, but it should be high-definition enough that it takes advantage of the 4K+ displays. Certainly, it'll beat the 4MP sensors Meta has on offer.
Looking inward, the Vision Pro has four cameras for facial and eye tracking, enabling all kinds of unique software tricks like the option to select things based on where you're looking. EyeSight will project your eyes onto the outer display so people can see where you're looking, while face tracking is used to create a digital avatar for FaceTiming.
Unfortunately, all signs point to the Quest 3 not supporting face/eye tracking like the Quest Pro, which means it'll miss out on tools like foveated rendering for improved gaming performance or Meta's own personalized avatars.
Apple Vision Pro vs. Meta Quest 3 controllers
The Apple Vision Pro has no controllers, relying entirely on hand-tracked gesture controls. According to The Verge, they considered a finger-based controller — like Samsung's rumored Galaxy Ring — but eventually decided on this solution.
In practice, this makes the Vision Pro more dependent on accessories for serious applications. You'll need to use your actual laptop or Bluetooth keyboard for working or use a Bluetooth controller for any games that require more than casual swiping.
The Meta Quest 3 also supports hand tracking; its improved cameras will ideally make controller-less gaming better than ever. But for most experiences, you'll use the new Quest Touch Plus controllers.
They look fairly similar to the Quest 2's Oculus Touch controllers, except they no longer need a massive outer ring for tracking. This will make the Touch Plus controllers more comfortable and lighter but also remove any protection from slamming your hands into walls if you don't set a proper Guardian.
The Quest 3 will also support the Quest Pro controllers, which have built-in Snapdragon chips that make them self-tracked. This allows you to move the controllers out of range of the headset cameras (e.g., behind your back or above your head) without losing tracking. The only downside is that these controllers cost a whopping $300, more than half the cost of the headset itself.
Apple Vision Pro vs. Meta Quest 3 games and software
If you want a VR headset for gaming, the Meta Quest 3 is the obvious choice. If you want a MR headset for productivity, the Apple Vision Pro is the obvious choice (if you can afford it). We'll explain why, but this is the obvious takeaway to keep in mind.
Look through the best Quest 2 games, and you'll find dozens of fantastic experiences across every genre. We know for certain that the Quest 3 will be backward compatible with Quest 2 games while also supporting a whole new generation of games; back in March, Oculus Publishing claimed it was developing or in partnership with third-party studios on over 150 games.
Meta will also use its new full-color cameras for mixed-reality gaming experiences. We're not convinced that these games will be more than an exciting novelty compared to proper VR experiences that let you immerse yourself fully, however.
We know from TechCrunch that Unity has made its PolySpatial VR gaming engine work with VisionOS, so devs can port their VR games to the platform. The obvious problem is that most VR games are made with motion controllers in mind, so how will gamers play those games? Some support hand tracking, but it's just not as reliable for certain genres as proper buttons and joysticks.
During its unveiling, Apple showed someone playing an Apple Arcade game with a controller. We're certain that developers will find a way to port their traditional 2D games to Vision Pro, so you can play them in your virtual displays. But outside of acting like a $3,500 monitor, the Vision Pro may not be a proper "gaming device."
On the other hand, Apple's mixed-reality experiences truly look "next-gen," in a way that Meta's more low-resolution, gaming-focused MR apps don't.
On the more serious side, Apple is selling the Vision Pro as a "spatial computer" with a full productivity software suite, leveraging its experience with MacOS, iPadOS, and ARKit. It's also relying on its partnerships with various software brands like Adobe, Microsoft, Unity, and Disney. It syncs with Apple devices, but you technically won't need another Apple device to use one.
Meta has also partnered with software companies to bring applications to the Quest 2 and Quest Pro in the past. Unfortunately, a lot of those announcements haven't panned out in a way we hoped. The Quest 2 has very few 2D apps, while the Quest Pro is still missing promised apps well after launch. For the most part, people using the Quest Pro for work rely on the Oculus Browser.
The Quest 3's mobile power is enough for basic applications, but most people won't consider actually working with one. It has mixed reality support, and the option to connect with a Bluetooth keyboard and mouse or a laptop, but its lower-resolution display and cameras probably won't give you the crisp resolution necessary to make it nearly as seamless.
Summary
A $3,500 mixed-reality spatial computer with no physical keyboard may struggle to gain much traction, when competing against actual computers at a much lower price point. We won't know until early 2024 how many people will actually spend that much on the Apple Vision Pro
The same applies for a $500 VR gaming console priced on par with the PS5 or Xbox Series X. The Oculus Quest 2 has allegedly sold upwards of 20 million devices, but that came at a $300 price point, and sales have dropped sharply when Meta tried to raise the price. Will the Quest 3's next-gen graphics help it fare better?
In the end, these are two extremely different products, though they share a newfound focus on mixed reality instead of mere virtual reality. The Quest 3 could be the best VR gaming console we've ever seen, while the Vision Pro is stepping into the same niche as the Quest Pro with far superior specs. There's room for both to succeed (or fail) on their own merits.
Die-hard Apple fans, professional XR developers, and scalpers will line up in the virtual queue to buy the Vision Pro. So far, most of its applications look amazing but are focused on productivity or casual use, rather than VR's traditional use case: gaming.
The Quest 3 is destined to sell more than the Vision Pro, simply because it's the only headset that's remotely accessible to consumers. Still, we'll have to wait and see if VR superfans or casual fans want to replace their Quest 2s for the promise of slightly better performance and mixed reality demos when the Vision Pro's supercharged tech overshadows it.
Get the Android Central Newsletter
Instant access to breaking news, the hottest reviews, great deals and helpful tips.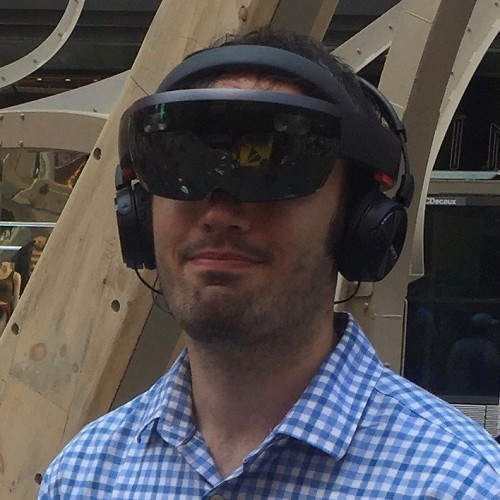 Senior Editor, VR/AR and fitness
Michael spent years freelancing on every tech topic under the sun before settling down on the real exciting stuff: virtual reality, fitness wearables, gaming, and how tech intersects with our world. He's a semi-reformed Apple-to-Android user who loves running, D&D, and Star Wars. Find him on Twitter at @Michael_L_Hicks.