Sony Xperia Tablet Z review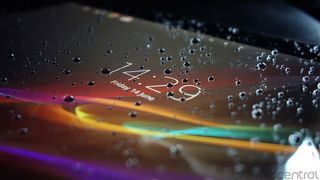 Let's not mince words — in a market dominated by Apple's iPad, any high-priced 10-inch Android tablet is a tough sell. Over the past year, the Android slates that have proved the most successful have been smaller, less expensive models like ASUS and Google's Nexus 7. Yet from the start Sony has concentrated its efforts on the high-end tablet space, with the Xperia Tablet S and Sony Tablet S before that. This year the strategy remains much the same — push a high-end tablet with unique multimedia functionality — but the resulting device promises to be more than just another Android tablet.
So here comes the Xperia Tablet Z, a super-thin, super-light water-resistant tablet with LTE connectivity, some unique battery-conservation tricks and a camera that's more than an afterthought. But with prices starting at £400 in the UK, it's packing a premium price tag. So how does it measure up? Read on to find out.
Pros
Thin, light, attractive design. Good-looking screen with wide viewing angles. Speedy performance. Useful software features like double-tap to wake and battery stamina. Water resistance and LTE connectivity. Great battery life for a tablet this thin.
Cons
It's a dust, lint and fingerprint magnet. Annoying plastic flaps cover connection ports. High starting price. CPU and display not quite cutting edge. Decidedly average rear camera.
The Bottom Line
Swipe to scroll horizontally
Xperia Table​t Z video walkthrough
Xperia Tablet Z hardware and build quality
Sony has flirted with a great many tablet and smartphone designs over the years. Earlier tablets have employed wedge-shaped chassis intended to resemble a folded magazine. On the smartphone side, it's turned out models with concave backs and transparent glowing bars. This year, however, the Japanese manufacturer seems to have settled on one dominant look, referred to as "omnibalance," which can be found in the Xperia Z, Z Ultra and Tablet Z.
Like its smartphone brethren, the Tablet Z is a mostly featureless black rectangle — from a distance, it could easily be a sheet of black glass — but come closer and some trademark Sony details start to emerge. First things first, the Tablet Z is extremely thin and extremely rectangular. Measuring 6.9mm, it's about as thick as two pound coins stacked on top of each other.
The trim around the sides of the tablet are almost identical to the Xperia Z's border, with a soft touch coating on the edges and a glossier texture on the inner area. Sony's previously told us that this design helps devices survive unintended tumbles to the ground, as the outer exoskeleton (which, by the way, isn't directly connected to the screen) absorbs most of the impact. A side-effect of this, as we noted in our Xperia Z review, is that the device becomes a magnet for dust and lint, as there's a millimeter gap between the screen outer edge of the chassis. Unfortunately that's still the case, and if you put the Tablet Z anywhere near a dusty coffee table or bag you'll soon need to reach for the nearest microfiber cloth.
Despite this, it's easy to hold and use, on account of the sizeable bezels either side of the 10-inch display. The grippier soft-touch coating of the back panel avoids slippage, and provides a welcome contrast from the glass front. It's completely bare except for the Xperia and regulatory logos logos, and the 8-megapixel camera in the top right corner.
Like its little brother the Xperia Z, the Xperia Tablet Z is also water-resistant, and is rated IP55/57, meaning it'll survive for up to 30 minutes under 1 meter of water. So you can use it in the rain, or take in a YouTube video in the shower, but you're not going to want to take it scuba-diving. (And as you might expect, the touchscreen doesn't fare so well under anything more than a light sprinkling of rain.)
Because of its water-resistant credentials, the Tablet Z makes use of tiny sealed plastic flaps to protect its various ports, including microSD, headphones, microSIM and microSD slots. A minor annoyance, but this is more problematic on a tablet, where it's less apparent which way is up, and as such, where all your various ports are. To add to the frustration microSIM card involves wrestling with the plastic cover, then fumbling around with the tiny plastic tray that guides the SIM into the tablet. For most this will be a one-off annoyance, but bears mentioning all the same.
Fortunately the two main buttons — the power key and volume rocker — are relatively easy to locate. The former stands out with its large, metallic, circular design, while the latter is easy to feel directly underneath it. In addition, there's a software option to set a double-tap of the touchscreen to wake the tablet up, which is a hugely useful alternative to pressing a tiny physical button.
There are also gold charging contacts on the side of the tablet, which can be used with Sony's official dock accessory — that gives you a first-party alternative to fiddling with plastic flaps and a microUSB cable when it's charging time.
The display itself is a 10-inch 1920x1200 panel boasting bright, vibrant colors, deep blacks and wide viewing angles. That's a particular relief after witnessing lackluster displays being used in Sony smartphones like the Xperia Z. 1080p (ish) is now the standard resolution for high-end smartphones, but it's still more than enough pixels to spread across a 10-inch tablet. The display is plenty bright for outdoor viewing too, and Sony's brightness options allow the base level to be tweaked while still enabling automatic adjustment. Sony's Mobile Bravia Engine tech kicks into action when viewing photo and videos, just as it does on the manufacturer's phones, and on a tablet the effect is even more staggering, making colors appear even bolder and images sharper, while cutting down on visible noise.
The screen is coated with one of Sony's permanently-attached screen protectors, of which we've never been huge fans. The plasticky layer on top of the display attracts smudges more easily than glass, and the lip between the edge of the glass and the plastic covering attracts dust and fluff. What's more, as we've discovered on Sony phones, it's actually easier to scratch than the glass it's protecting. We wish Sony would reconsider the use of these screen protectors, however given their presence on newer devices like the Xperia Z Ultra, that's not looking very likely.
The Xperia Tablet Z is powered by a 1.5GHz quad-core Snapdragon S4 Pro CPU, backed up by 2GB of RAM. Despite packing much the same hardware as the Xperia Z smartphone, the Tablet Z (on the latest firmware) was markedly smoother in day-to-day operation, with almost no performance hiccups, and smooth scrolling in home screens, menus and apps alike. The S4 Pro's beefy Adreno 320 GPU also means you're well-equipped for high-end games.
There's 16 or 32GB of internal storage — we had 16 on our LTE-enabled tablet, of which 11.5 was available for apps and media — and that's expandable via microSD card. Your SD card is good for photos, videos and music, but not apps.
Connectivity-wise, you're looking at Wifi a/b/g/n, Bluetooth 4.0, NFC and HSPA/LTE, should you opt for the cellular-enabled Tablet Z. And if you've got the cash to splash, we'd recommend you do. Tablets — particularly waterproof tablets with high quality cameras — really come into their own when you can actually take them out into the world. All radios worked as expected, and we didn't run into any connectivity issues during our time with the Tablet Z.
Xperia Tablet Z specs​
Xperia Tab​let Z software
The Sony Xperia Tablet Z runs Android 4.1.2 Jelly Bean, augmented with Sony's suite of tablet software. If you've used a Sony smartphone before, you'll be in for a familiar experience, as fonts, wallpapers, visual and auditory cues have been brought over from the manufacturer's smartphone software.
Since it's running Android 4.1 rather than 4.2, you get an older-style Android tablet UI, with an action bar down below and notifications contained in the bottom right corner. The adjustment is easy enough to make — and you could even argue that on a larger screen the tablet UI makes more sense. In any case, Sony's UI doesn't stray too far from Google's vanilla Android look and feel.
With Jelly Bean running the show and a speedy quad-core Snapdragon under the hood, we expected a smooth, fast software experience from the Tablet Z, and that's what we got — eventually. The initial firmware release on our review unit had a tendency to stutter through animations at times, but a software update seemed to fix these issues. So on the latest firmware there's no animation lag, nor stuttering, which is something we couldn't say of the tablet's smartphone brethren, the Xperia Z.
One notable addition is "small apps" support, also found on Sony's smartphones. This allows floating windowed applications to be used on top of whichever app has focus. There's a stopwatch, a calculator, even a miniature browser window, but most useful of all, a TV remote app, which hooks into the Tablet Z's built-in IR blaster. Unlike similar offerings from Samsung and HTC, this isn't just a re-badged Peel app, but instead an original Sony creation. The setup process is incredibly simple, with less trial and error than Peel, and the remote app even supports recording macros, if you want to get a little more advanced.
As is the case on the manufacturer's smartphones, Sony's ecosystem is front and center on the Xperia Tablet Z. You've got a Walkman-branded music app that hooks into Sony's Music Unlimited service. The Video Unlimited app is pre-loaded too, and works much the same as it does on a phone. If you're already invested in Sony's "Reader" ebook ecosystem, you'll find that app loaded out of the box, too. And the PlayMemories cloud service can handle photo uploading and storage duties, should you desire it.
It's a familiar experience for those already living in the Sony ecosystem, and of course content is of crucial importance on a larger tablet. Between Sony's own applications and content, and the vast selection available through Google Play, the Xperia Tablet Z is well positioned as a great entertainment-centric Android device.
Xperia​ Tablet Z battery life
Despite the relatively small (for a 10-inch tablet) 6,000 mAh battery, the Xperia Tablet Z performed admirably when faced with our usual array of tablet tasks. These included content consumption duties while indoors — mainly Netflix, YouTube, BBC iPlayer and browsing through Google Chrome — and more sporadic browsing, email checking and messaging over HSPA and LTE when out and about.
Before we get into the nitty-gritty, we should note the software features Sony's included to extend battery life, because if you use a tablet as a secondary device alongside a smartphone, these are options you're going to want to turn on. The big one is battery stamina mode, or "Battery STAMINA mode," to give it the proper capitalization. A feature originally seen on Sony smartphones, this really comes into its own on a tablet, allowing you to disable all network connectivity while the screen is off, thus vastly reducing idle battery consumption. (There's also a whitelist allowing you to let certain apps through.)
On a smartphone we didn't find this especially useful, but on tablet it really comes into its own. Most of the time a tablet is a device that's used sporadically — exactly the type of gadget you don't necessarily want syncing emails, tweets and messages in the background. It's a consumption (and occasionally creation) device, not so much a communication device. Enabling stamina mode gives you background data when you need it — when you're actually using the device — without quietly draining your battery with unnecessary data traffic while it's not in use.
So in our day-to-day use of the Tablet Z, we made use of this feature to get the most out of our battery. As a result, during periods of less heavy use we were able to get several days out of a single charge. During this time, we'd get a total around 10-12 hours of intensive use — for example, streaming Netflix over Wifi or continuous browsing over LTE — out of a single charge. That's pretty impressive considering the battery spec and thin profile of the Tablet Z.
Xperia Tablet Z camera​
Let's be honest here — most tablet cameras are pretty crappy. The kinds of shooters you'll find on even a high-end Android tablet are roughly equivalent to the cheap, blurry, grainy cameras found on low-end smartphones. So Sony's looking to set itself apart by including an 8-megapixel Exmor RS rear camera on the Xperia Tablet Z. (That's in addition to a basic 2-megapixel front-facer.) The 8MP Exmor RS unit is one of the manufacturer's newest sensors, which aims to deliver a larger light-sensitive area on the sensor by moving other hardware components underneath it. We've seen these sensors perform admirably on Sony smartphones like the Xperia Z and Xperia SP.
The Tablet Z also benefits from Sony's excellent Android camera app, which works just as well on a larger screen. You get a wide selection of scene modes to choose from, in addition to the Superior Auto shooting mode we've praised in previous Sony reviews.
Image 1 of 7
So how does this combination of hardware and software impact image quality? Well unfortunately, while shots taken on the Tablet Z's rear camera don't look as bad as we've seen from other Android tablets, they don't match the standard set by Sony's high-end smartphones. When viewed away from the tablet's Bravia-enhanced display, colors are frequently dull, and it's clear that there's a lot of noise reduction being done to shots before they're saved, meaning there's not much fine detail to be had. Images don't look terrible, but they fall short of the standard we were expecting from a device wearing the Exmor RS badge. As far as low-light photography goes, the Tablet Z copes reasonably well shooting in darker conditions, though the lack of any kind of flash will limit your low-light shooting
Tablet's video recording capabilities are somewhat better, relatively speaking. It'll shoot at up to 1080p resolution with 30 frames per second, producing decent-looking (if slightly fuzzy) footage. Use it for impromptu cat videos, not priceless memories you want to treasure forever.
And finally, we can confirm that technology has not yet advanced to the point where you don't look completely ridiculous taking photos and shooting video on a 10-inch tablet. So that's something else to consider.
Xperia Tablet Z hackability
Sony's demonstrated a willingness to engage with the Android hacking and custom ROM community, and as such Tablet Z owners can unlock their devices through the official Sony bootloader unlock program. For those wanting to compile their own code, there's also AOSP (Android Open Source Project) code available for the device via Sony's own repository — and the presence of this code means there's a pretty vibrant custom ROM community around the tablet, including a port of CyanogenMod 10.1.
The bottom line
It's taken a good deal of time — longer than it should have, if we're honest — for Android tablets to start offering a good, fast user experience on high-quality hardware. And good 10-inch tablets have been even harder to come by over the past year, as cheaper 7-to-8-inchers have dominated the Android tablet space.
Sony's sidestepping the crowded budget tablet market for now, and instead the Xperia Tablet Z is a high-end tablet with an expectedly premium price tag. The Tablet Z isn't an impulse buy, and as such it's going to be competing against the likes of Apple's iPad in the big-boy tablet space. Android's still catching up in terms of dedicated tablet applications, and that makes the Sony's offering, like other 10-inch Androids, a tough sell.
Regardless, the Xperia Tablet Z is the best 10-inch Android tablet you can buy right now, if you can stomach the £400 starting price. Rivals like the Nexus 10 offer a higher-res screen for less cash, but Sony pushes ahead with water resistance, LTE connectivity, expandable storage and battery-extending software features. However with newer chips like NVIDIA's Tegra 4 and Qualcomm's Snapdragon 800 on the horizon — with much faster performance support for higher-resolution screens — the Tablet Z could be quickly eclipsed in the months ahead.
Get the Android Central Newsletter
Instant access to breaking news, the hottest reviews, great deals and helpful tips.
Alex was with Android Central for over a decade, producing written and video content for the site, and served as global Executive Editor from 2016 to 2022.
A good review. A question: by when can we expect to have the latest android os version on it?

i just wanted to correct you in the fact of the resolution of the screen, in the video you state that the screen is a 1080p when in fact it is 1980 x 1200 resolution.

1980? nope...
and everything over 1080 vertically is full hd

Lol, it's 1080 horizontally. 675x1080 on a tablet would suck.

I wouldn't ming having one. I hope Motorola makes another tablet so I cab have a Motorola tablet and phone combo. Posted via Droid RAZR M on the Android Central App

"The S4 Pro's beefy Adreno 320 GPU also means you're well-equipped for high-end games like" Like what?? :)

It is just so damn pretty.

I got one of these a few weeks back and it's a lovely looking device with a very smooth implementation of the OS. BUT, Chrome is truely awful on it with Firefox not much better. Anyone else seeing the same?

I haven't noticed any issues with Chrome on mine.

Agreed, I was shocked at the performance of Chrome. I don't think its necessarily Sony's fault though, Chrome has been going backwards in performance for a while.

I have had one for a few weeks now, but I've not been having the same browser issues. Care to elaborate?

Hard to describe but Chrome just felt very juddery. When scrolling it would stutter and was almost stop start. Firefox seemed to have real problems when a page wasn't fully loaded. It would move focus around the page until everything had settled down

I don't really think that is a problem with your tablet. Chrome does that to me all the time on my Galaxy tab. Chrome really has a lot to catch up as far as smoothness goes.

Even on the desktop computer Chrome hangs when launched or when loading a web page. I had to go back to using Firefox and IE 9

I'm having a similar experience. Chrome is very slow and frequently mistakes scrolling for zoom. Very buggy...I need to log in/out most times I use Chrome to get it to operate correctly. Very painful experience.

I've waited a while for a 10in tablet. I wanted the N10 but held off. After waiting, I haven't been too impressed. Prices are obviously going to be above 7in tablets but they still haven't dropped like I expected. Think I will wait for Google's next then buy the current N10 when the price drops. I also feel like a Android tablet is more of a luxury at this point. The Windows convertibles entice me more for productivity as I need a new laptop too. They are expensive though and a laptop and tablet would likely be cheaper.

Tablet are mostly used to play little puzzle games by women (Solitaire et al) and web browsing by men, with media playback being something everyone does. Typical people just don't use a tablet much for taking pictures. It's too big and clunky a device for this purpose. Using an average specced camera with 8Mp instead of a 20Mpx cam is a perfectly acceptable compromise to keep the price in check. So is the 1.5Ghz CPU. There's always a new processor on the horizon, and limiting one's decision because of this would lead to eternal procrastination. As a reader, what I want you to spend time on, as a reviewer, to give me INSIGHTFULL information, like details about the UI customizability, it's lock-screen features, it's basic stock widgets, small apps, and how the UI works with all these. You have done a better than average job, considering Android Central's typical reviews, but when it come to attributing final marks, you attach far too much importance to the cameras, and not enough on the UI and user experience. On a phone, a camera is of a slightly higher concern, even though it remains secondary to user experience. But on a tablet... The camera is a bit of a non-issue to most, as long as it's 720p or better...You should make your pros and cons a lot more about the experience. Hardware is important, but not paramount.

"So is the 1.5Ghz CPU. There's always a new processor on the horizon, and limiting one's decision because of this would lead to eternal procrastination." Not really the same thing. The 800 isn't on the horizon, it's already out and it will be the best processor along with the Tegra 4 for quite some time. The S4 Pro came out last year, so if you buy this tablet, you'll be getting a year old processor. If you wait a little bit longer, you'll have the current processor.

Bought this tablet last week and I'm very happy with it so far. It is hard to appreciate how thin it is until you hold it. One thing of note, the model for sale in the US right now (at the Sony stores) is a WiFi only version.

I have had this tablet for a couple weeks now to replace an iPad 3. I really do like it. The one drawback I have found is the wifi. Sometimes for no reason it will lose the connection and then reconnect. Nothing wrong with the wifi router. Anyone else see any wifi issues?

That might be a Sony issue. My Sony Tablet S had the same problems

Looks good but i prefer my Nexus 10. Posted via Android Central App

My next tablet. It will go very nicely with my Xperia ZL.

I have this tablet and it's great! :) Posted via Android Central App

How ironic that AC should finally publish their review the day I receive my refund from Sony after taking my XTZ back. And let me say, it wasn't easy. This is a great tablet. I loved my XTZ, but I already have a $600 tablet-an iPad 4 and the fact is, that while this is an amazing tablet it didn't do anything better than my iPad, and, while things are improving, the dearth of tablet optimized apps in the Play Store, meant that my iPad did many things better than my XTZ. Even though I was able to find tablet version of my most commonly used apps, even many of those were less well designed than their iPad versions (I'm looking straight at you, Netflix). I just couldn't reconcile having two $600 gadgets filling the same purpose, so the XTZ went back. But, when it's time to replace the iPad, I will be taking a hard look at what Sony is offering at the time. A few observations on the XTZ:
1. It's light. Every review says so, but nothing prepared me for just how light. On the other hand,it's so light it feels like a toy. My wife made the same observation. It's not cheaply made by any means, it's just so....light. And plastic. 2. I also had issues with the Wifi. 3. You can't praise the XTZ for being water resistant on the one hand then damn it for having port covers on the other. One necessitates the other, and the ports have little divots on them that you can easily catch with a fingernail and pull open. The cover for the power port has a hook on it and hole for it to snap into so it's not hanging free when you're plugged in. 4. The SD card slot (I had the US, Wifi only version) is a real pain. Getting the SD card in there requires longish nails or something to push it with. But once it's in there, you shouldn't have to mess with it. 5. I really, really like the 10.1 16:9 form factor for watching video. Hulu and Slingplayer both looked right at home (naturally) and the Bravia Engine really made the picture pop. I already miss that when watching video on the iPad. 6. I also miss Swype. I still catch myself trying to swipe on the iPad. :(

There is no serious competition for the iPad 4 which includes the Nexus 10. That's why so many Android phone users have IPads instead of Android tablets. The gap will widen further in a few months with a thinner and lighter iPad 5 with iOS 7.

I prefer Android to iOS and I prefer the 10.1 inch form factor. All things being equal between the iPad and the XTZ, I would've chosen the XTZ. It's *Android* that's the problem in this equation, specifically the dearth of nicely made tablet customized apps.

Ridiculously low screen res for the price. The reviews here are real softballs.

Really like the look of it but my wages don't allow for it. I also haven't really got into the tablet hype. I think I smartphone does the necessary for on the go, and for a few hundred squid more you can get an incredible laptop or desktop p.c. Just my opinion though. Posted via Android Central App

I had the Sony Xperia z & it died after a few weeks. I received a new one and after the update I received the blue screen of death. I gave up on the tablet!

I bought 1 last day. so far its killer.

Do people have crushes on tablets and cell phones?! I don't really know about that but I totally do. And my latest crush is Xperia Tablet Z. One just has to check out its amazing features to be mesmerized by its looks and built. Slim and sleek and fully loaded. Oh! N did I add water resistant?....! What else could one possibly want more?!!! Sandra V.
Bolee.com

"...What else could one possibly want more?!!! " Apparently,reviewers want DSLRs on their bloody tablets, Google-brown-nosers who want free phones and tablets preach that they want more "pure Google goodness", AKA bland and uniform OS pushing to be more like an Iphone, and pushing for no local storage at all. According to a bunch of website polls and general impressions, most of the Android user base wants more battery life, and are willing to have a slightly heavier and thicker phone to have this, and half of the user base is crying foul because of the lack of removable storage pushed by Google. Yet, designers pander to the brown-nosing press drones which seem to be obsessed with "slimness" and bloody cameras. Google just killed Motorola, by making it a "Nexus" type of device. Hang-on to your socks, more acquisitions will happen, and the ecosystem will slowly deteriorate to lame, uniform, and boring devices that force use of costly bandwidth to store anything, and that will be on a cloud server to which users will have given consent for anyone to pilfer as per complicated and un-readable TOS agrements.

A decent review but why use ounces to display weight? Even Pounds/lbs is preferably though grams is preferred.

I just got this tablet on clearance from Best Buy and absolutely love it. I already had their smart phone. The camera is underwhelming, but other than that this is excellent. Sony seems to be the only manufacturer currently who can do Android right.