Where to find the Disney Plus apps for download: Every platform in 2022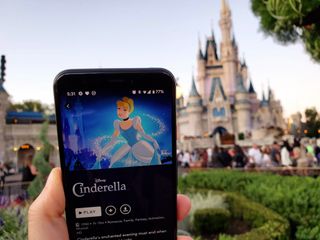 (Image credit: Ara Wagoner / Android Central)
With the launch of Disney+ come and gone, now you have to figure out where to download all the apps — and there are so many platforms to find! We have a list here of all the places you can get the app right now, and I'm sure the list will grow over time.
On your Roku
Roku is the most popular way to stream content in the U.S., so of course, Disney would make sure there is a Roku app. It's straightforward to find too, head over to the channel store on your Roku, or click this link (opens in new tab)
A lot of Roku TVs have the Disney+ logo plastered all over them right now, so you should be able to find it easily.
On your Fire Stick
Amazon's Fire stick (opens in new tab) is used the world over and hosts all the primary streaming services, including Disney+. Happily, getting the app for your fire stick is also the same as getting it for your Fire tablet, so the process is simplified.
Just head over to the Amazon Appstore (opens in new tab) to download it to any of your Amazon-branded devices, well almost all, they don't have an Echo Show or Kindle version; yet!
For your phone
We have been using smartphones for the last decade, so I think we all know how to get apps. If you have an Android device you can download it on the Google Play Store (opens in new tab) — that works for Android TV as well as phones and tablets — and if you are using an Apple device, including iPhones, iPads, and Apple TV, then you can grab the app from Apple App Store. (opens in new tab)
One of the best parts of these streaming services is having them available on mobile. There is nothing quite like sitting on a train, with your headphones on and being able to watch the Mandalorian.
On your console
Right now, you can watch Disney+ plus on two of the big three consoles. The Nintendo Switch app isn't available yet, but hopefully, it will be in the new year. Right now you can get the Xbox app over at the Microsoft Store (opens in new tab) and if you are a PlayStation user you can grab the app from the PlayStation Store.
Where to find it on your Smart TV
Almost any smart TV is likely to have a Disney+ app. Whether it's a TV with Roku built-in, your Samsung smart TV, or your Web OS LG TV, it's likely to be one of the first things you see when you turn on the TV. Installing it depends on the TV model, but you should be able to navigate to the Disney+ logo and click install.
Unfortunately, there are no links we can give you for the Smart TVs as they don't exist outside its ecosystem, but it shouldn't be too hard to find, especially if your TV has a search function.
Casting to your Chromecast
Both the iOS app and the Android app will let you cast to a Chromecast. In case you don't know, a Chromecast is a small dongle that allows you stream services to your TV, and it's controlled through your phone. It's a simple way to get quality content, and it's cheap. You can pick up the latest Chromecast — the Chromecast Ultra — at Amazon for just $70. (opens in new tab) The Chromecast Ultra will also stream those excellent Disney+ shows in 4K so you can watch the Mandalorian the way it was meant to be seen.
To watch Disney+ through your Chromecast, make sure your phone and your Chromecast are on the same Wi-Fi network. When you load the app, you should see the cast button in the top right — it looks like a square with a Wi-Fi symbol in the bottom corner — if you tap that icon, you will see it animate as it connects. Once it's connected, a Disney+ splash screen will appear on your TV, waiting for you to choose a show.
Windows 10 Progressive Web App
Progressive Web Apps (PWA) are incredibly helpful when a company doesn't make an app for Windows 10. Strangely, Disney didn't make an app for Windows even though they already have one for Xbox, especially as the Xbox app kind of works on Windows 10.
Making a PWA for Windows 10, will create a self-contained instance of Disney+ that you can pin to your taskbar and access anytime you need.
So many options
Disney has made a concerted effort to make sure you can use Disney+ on almost anything with a screen — except for your Echo Show, unfortunately — so however you want to watch, there is likely an app for it. I'm partial to the Chromecast myself; it's simple and streams in 4K so I can get the most out of the shows I watch. Unfortunately there is no longer a Disney+ free trial, but you can get started for just $7 per month.
A magical streaming service
The new home for anything Disney's light touches.
Disney, Star Wars, National Geographic, Marvel, Disney Channel, and Fox programs are all finally on one service for you to savor on all your devices.
Since the days of the HTC Hero James has had two or three Android phones stuffed into pockets. James is always on hand to offer advice on phones, apps and most recently, PlayStation, especially VR, It's now something of an obsession. Find him @keridel wherever Media Socials itself.
The Roku app isn't listed in the channel store yet, but it's live and you can manually add it to your Roku here: https://my.roku.com/account/add?channel=DISNEYPLUS You can't do anything yet, though, it just displays a splash screen saying that streaming starts tomorrow.

Scratch that, it's been updated and now it's fully armed and operational. Watching The Mandalorian now.

I'm genuinely stumped - why have you been putting out multiple articles a day on Disney+ on Android Central for weeks now? Apart from it being part of an SEO strategy I really can't see any reason for it? It'll be a pretty small number of readers that are going to subscribe and it's only tangentially related to Android! Really degrades the content of your site I'm afraid.

This stuff probably gets the most clicks, so they get ad revenue.

Pokémon, playstation, deafening ads and now disney+ this app gets more like the pound shop every day! You go in thinking there will be something worth going in for but by the time you've walked up and down the aisles you realise it's 99% garbage. Sorry to be so blunt but used to really enjoy this site.
Android Central Newsletter
Thank you for signing up to Android Central. You will receive a verification email shortly.
There was a problem. Please refresh the page and try again.