Best Quick and Easy Games for your Android Phone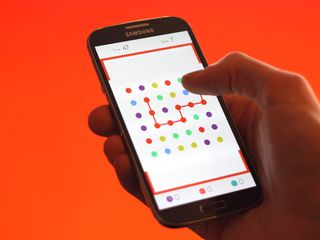 Looking for a fast fix with your Android games for your phone? Look no further
Playing games while on the move can be tricky. You're dealing with the relatively small screen of a smartphone and short amounts of free time. Meanwhile many games focus on longer play sessions and small, detailed controls. For tablet play that's fine, but we're rounding up bite-sized, finger-friendly fun available on Android that's best suited for smartphones.
Super Hexagon
Super Hexagon is an actiongame where players dive through a maze of walls that are continually spinning and fallinginwards. A constant, disorienting motion makes accomplishing this insanely difficult, and an amazing soundtrack doesn't help the nerves either. As you beat each stage, a harder version of the level is unlocked. Before long, things get well and truly ridicadonk.
Super Hexagon is the game of choice for gluttons of punishment.
Dumb Ways to Die
Players in Dumb Ways to Die have to survive a barrage of deadly mini-games which get harder as time goes on. These include swatting away deadly wasps, shooing piranhas away from your crotch, and holding onto balloons so you don't dive onto the tracks. Three adorable animated deaths and it's game over. As you progress, your collection of dancing cartoon corpses grows.
All in all, Dumb Ways to Die is a fantastically morbid test of reflexes.
Despicable Me: Minion Rush
Despicable Me: Minion Rush is an endless runner featuring the adorable little creatures from the popular animated film. Players have to swipe left and right to avoid incoming obstacles and collect bananas and power-ups. Camera angles and control types change regularly, demanding players stay on their toes, and with lots of unlockable content, including costumes and new running areas, the game stays fresh for a long time.
Despicable Me: Minion Rush is hugely entertaining and a great way to kill a few minutes.
Dots
Dots is an easygoing puzzle title that involves lining up identically-colored dots as quickly as possible. Gather up dots by drawing a line through them, and get bonuses for creating closed loops. At the end of a round, either by time or number of moves, the gathered dots can be spent on power-ups to help in future matches. Pass-and-play multiplayer is also available, if you want to see how you stack up against your buddies.
Dots is easy to pick up, and great to look at.
Canabalt
Canabalt is a fast and furious endless runner with a minimalist art style. All you have to do is tap the screen anywhere to jump gaps between the buildings you're running over. There are a lot of other one-touch endless runners on Android, but Canabalt excels for its high speed, fluid animation, and short play cycle. You won't find any in-app purchases, power-ups, or anything like that here; the only challenge is to make it farther than your last run before faceplanting into another skyscraper.
Despite its age, Canabalt is a pure, pared-down runner.
Fruit Ninja
Fruit Ninja is a hugely popular action game. Players make quick swipes to slice fruit tossed in the air before it hits the ground, but be sure not to hit the bombs. Though it's an older game, the developer has been updating regularly with new content. There's a premium currency, starfruit, that players earn through gameplay which is used to buy these bomb deflectors, bonus fruit, and new blades.
Fruit Ninja has weathered the test of time and remains accessible and fun.
Flick Soccer
For a casual futbol game, Flick Soccer is great. It presents a variety of kicking games where players have to race against the clock, hit targets, and otherwise score some goals. The swipe recognition is highly polished and results in some very natural-feeling arcs. Even after the kick has landed, you can alter the trajectory with a quick swipe.
Tetris Blitz
Tetris Blitz is a reimagining of the classic block-dropping puzzle. Random blocks spawn at the top of the screen, and you have to tap a location to drop them so a solid row of blocks is formed. That row disappears, and you get points; the more rows you take out at once, the more points you get. The catch is that you only have two minutes to score as many points as possible. They've also tossed in power-ups which help you along the way, and a Frenzy meter which fills up as you score points and ultimately initiates a massive spout of points bonuses.
Tetris Blitz is a fun, fast twist on a classic.
Major Mayhem
Major Mayhem is side-scrolling shooter with dirt-simple controls. Players tap on secret agents and ninjas as they pop out from behind cover to open fire. Save scientists from the evil clutches of ne'er-do-wells, earn coins, and unlock new weapons and outfits.
Major Mayhem is a goofy, action-packed ride with lots of flavor.
Beach Buggy Blitz
In Beach Buggy Blitz players drive along the beach for as long as possible. There are plenty of obstacles along the way that slow you down if you hit them, and if you can't make the next checkpoint before the clock runs out, it's back to the starting line. Coins are scattered along the route which fund upgrades like new rides and power-ups. Dust, water, and lighting effects are all hugely impressive, and add up to a surprisingly rich experience.
Though Beach Buggy Blitz is kid-friendly, it's a ton of fun for everybody
Your favorite games for Android phones?
Those are our favorite short-and-sweet Android games for phones, but what are yours?
Get the Android Central Newsletter
Instant access to breaking news, the hottest reviews, great deals and helpful tips.
Simon has been covering mobile since before the first iPhone came out. After producing news articles, podcasts, review videos, and everything in between, he's now helping industry partners get the word about their latest products. Get in touch with him at simon@futurenet.com.