Best Quick and Easy Games for your Android Phone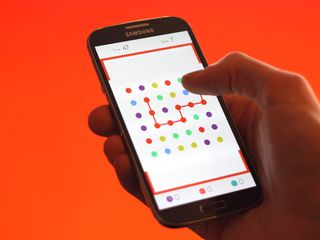 Looking for a fast fix with your Android games for your phone? Look no further
Playing games while on the move can be tricky. You're dealing with the relatively small screen of a smartphone and short amounts of free time. Meanwhile many games focus on longer play sessions and small, detailed controls. For tablet play that's fine, but we're rounding up bite-sized, finger-friendly fun available on Android that's best suited for smartphones.
Super Hexagon
Super Hexagon is an actiongame where players dive through a maze of walls that are continually spinning and fallinginwards. A constant, disorienting motion makes accomplishing this insanely difficult, and an amazing soundtrack doesn't help the nerves either. As you beat each stage, a harder version of the level is unlocked. Before long, things get well and truly ridicadonk.
Super Hexagon is the game of choice for gluttons of punishment.
Dumb Ways to Die
Players in Dumb Ways to Die have to survive a barrage of deadly mini-games which get harder as time goes on. These include swatting away deadly wasps, shooing piranhas away from your crotch, and holding onto balloons so you don't dive onto the tracks. Three adorable animated deaths and it's game over. As you progress, your collection of dancing cartoon corpses grows.
All in all, Dumb Ways to Die is a fantastically morbid test of reflexes.
Despicable Me: Minion Rush
Despicable Me: Minion Rush is an endless runner featuring the adorable little creatures from the popular animated film. Players have to swipe left and right to avoid incoming obstacles and collect bananas and power-ups. Camera angles and control types change regularly, demanding players stay on their toes, and with lots of unlockable content, including costumes and new running areas, the game stays fresh for a long time.
Despicable Me: Minion Rush is hugely entertaining and a great way to kill a few minutes.
Dots
Dots is an easygoing puzzle title that involves lining up identically-colored dots as quickly as possible. Gather up dots by drawing a line through them, and get bonuses for creating closed loops. At the end of a round, either by time or number of moves, the gathered dots can be spent on power-ups to help in future matches. Pass-and-play multiplayer is also available, if you want to see how you stack up against your buddies.
Dots is easy to pick up, and great to look at.
Canabalt
Canabalt is a fast and furious endless runner with a minimalist art style. All you have to do is tap the screen anywhere to jump gaps between the buildings you're running over. There are a lot of other one-touch endless runners on Android, but Canabalt excels for its high speed, fluid animation, and short play cycle. You won't find any in-app purchases, power-ups, or anything like that here; the only challenge is to make it farther than your last run before faceplanting into another skyscraper.
Despite its age, Canabalt is a pure, pared-down runner.
Fruit Ninja
Fruit Ninja is a hugely popular action game. Players make quick swipes to slice fruit tossed in the air before it hits the ground, but be sure not to hit the bombs. Though it's an older game, the developer has been updating regularly with new content. There's a premium currency, starfruit, that players earn through gameplay which is used to buy these bomb deflectors, bonus fruit, and new blades.
Fruit Ninja has weathered the test of time and remains accessible and fun.
Flick Soccer
For a casual futbol game, Flick Soccer is great. It presents a variety of kicking games where players have to race against the clock, hit targets, and otherwise score some goals. The swipe recognition is highly polished and results in some very natural-feeling arcs. Even after the kick has landed, you can alter the trajectory with a quick swipe.
Tetris Blitz
Tetris Blitz is a reimagining of the classic block-dropping puzzle. Random blocks spawn at the top of the screen, and you have to tap a location to drop them so a solid row of blocks is formed. That row disappears, and you get points; the more rows you take out at once, the more points you get. The catch is that you only have two minutes to score as many points as possible. They've also tossed in power-ups which help you along the way, and a Frenzy meter which fills up as you score points and ultimately initiates a massive spout of points bonuses.
Tetris Blitz is a fun, fast twist on a classic.
Major Mayhem
Major Mayhem is side-scrolling shooter with dirt-simple controls. Players tap on secret agents and ninjas as they pop out from behind cover to open fire. Save scientists from the evil clutches of ne'er-do-wells, earn coins, and unlock new weapons and outfits.
Major Mayhem is a goofy, action-packed ride with lots of flavor.
Beach Buggy Blitz
In Beach Buggy Blitz players drive along the beach for as long as possible. There are plenty of obstacles along the way that slow you down if you hit them, and if you can't make the next checkpoint before the clock runs out, it's back to the starting line. Coins are scattered along the route which fund upgrades like new rides and power-ups. Dust, water, and lighting effects are all hugely impressive, and add up to a surprisingly rich experience.
Though Beach Buggy Blitz is kid-friendly, it's a ton of fun for everybody
Your favorite games for Android phones?
Those are our favorite short-and-sweet Android games for phones, but what are yours?
Get the Android Central Newsletter
Instant access to breaking news, the hottest reviews, great deals and helpful tips.
Simon has been covering mobile since before the first iPhone came out. After producing news articles, podcasts, review videos, and everything in between, he's now helping industry partners get the word about their latest products. Get in touch with him at simon@futurenet.com.
Dungeon Hunter is my favorite Posted via Android Central App

Threes has ruined my life.

I know, right? My top score is around 20,000 or so. I was shy about including a lot of puzzle games here because finishing a round can end up taking a pretty long time.

20, 000, geez. I can only muster just shy of 3000

I've got some hints that might help you out. :)

Thank you very much sir :)

Plz suggests me a simple android game for my android project
The game which never known before n which logical n easy........
I need ur help

I needed this post. Been starving for new games. I'm on lvl 348 on candy crush -__- Posted via Android Central App

Ben trying to get past 450 for a few days ~My $0.02~

Fives and still enjoying The Room. Via a cool AC App on a great Nexus 4

The Room 2 took over my life for a whole day. I hope they make a third one because the first two were the most enjoyable times of frustration I've ever had. Sent via my Verizon Moto X

my tablet is loaded with games...my phone however, not so much.
Granny Smith
Quiz UP
Badland
Into the Dead
Dots
Red Wrecker I need/like simple controls on my phone...there just isn't enough room for my massive thumbs to hit.

Quiz up is starting to be a fave ~My $0.02~

Tablets are definitely for games, among other things. But games are great on tablets. Sent via my Verizon Moto X

I have played a frankly troubling amount of Cribbage Pro.

Me three and I swear the darn thing is rigged! (don't do multi-player).

The Room and The Room Two are great, but not very casual they kinda suck you in and can take up a lot more of your time than you initially planned.

Two or three nights without sleeping can attest to that :) hehe LOVED both games. Kinda reminded me a bit of the old Zork games or The 7th Guest.

with your bare hands? dang, I remember dialing up the mainframe on the speedy 300 baud modem to play zork on the teletype.. reams of paper.. hand drawn maps covering the wall... ah, the joys of youth.

I immediately thought of 7th Guest when I started playing The Room.

I really hope they bring that one back... I remember there was a fan-based campaign a few years back to make a sequel, but AFAIK, that never happened.

Just bought Titanfall on Xbox one and haven't played it yet due to buying the room. Best 69p ever lol Posted via Android Central App

SmashHit is a good one. Posted from Moto X via Android Central App

It's really great, but I've found when I'm on a roll, I can play for about 10 minutes before dying. For these I was trying to keep play cycles under 5 minutes.

What, you can't go over five minutes on Super Hexagon? :-) Posted from one of an unnecessarily large collection of Nexus devices because I'm That Guy

you can click on the home and when you get back, it asks if you wish to resume. At least it does on my Rezound.

That game can be a real time-suck when you get into it.

Plants vs Zombies
Hero Academy
Scrabble
Wind-Up Knight
Pinball Deluxe and if you have a little more adventuring time to spare, Arcane Legends

I was considering including asynchronous games like Hero Academy and Scrabble since it doesn't take long to submit a turn. I think the biggest problem is that there's never a guarantee that you'll have a turn to make at any given time, and you gotta be able to play at any time for this list. I suppose if you queue up enough matches, it becomes less of an issue. How many games do you usually have running at once?

I maintain the max for Hero Academy, which is 40 games. Usually 10 or so for Scrabble but if I have no turns I can always play the CPU or start a new random match.

GYRO is sweet, simple and ADDICTIVE! Posted via Android Central App on my Galaxy S4 (SCH-I545)

Oh, I forgot about Gyro. That's a perfect fit for this list.

Maybe it will be on their next "Best Android Games" list. ;) Posted via Android Central App on my Galaxy S4 (SCH-I545)

Remember when it was difficult to recommend a good game that ran well on most phones, ah how far we have come.

+1 Posted via my oldie but goodie Nexii 4 using the Android Central App

Tried threes yesterday. Very good. I also love dots. Slightly off topic but i really appreciate how android central clearly identifies if there are IAPs in games they recommend. Thanks!

Try out Puzzle Trooper. Fantastic game that is simple to play but can be really hard to beat. I've lost many hours of sleep to that game. Plus, it free! Posted via Android Central App

The Room, Smash Hit, Osmos HD

Wind Up Knight, Kingdom Rush/Frontiers, and Ski Safari automatically go on any phone or tablet I pick up. Best time sinks ever.

Tapped Out (tsnatcha), O&C Online and SpongeBob Moves In. MMORPG and town building all day! njo¡!

No PvZ? An oldie but a goodie -------------------------------------------
You really should see the crap I don't post. Sorry if honesty offends you

I hate to say it, but despite its souless insane greed counter mechanism, I am actually enjoying Dungeon Keeper a lot. Just not paying anything for it and digging my one day blocks on day at a time.

No shame, I've been putting time into it too, just to see how bad things scale later on. Honestly, it's no worse than Clash of Clans as far as balance goes, and the graphics are way better. They almost got me with an IAP when they offered a free imp with the first gem purchase. Then I saw that the minimum gem pack was five bucks. :/

I'm enjoying Dungeon Keeper too. I've seen everything bashing the game, but ultimately I still have fun playing it. So I don't care about the soul-less aspect. I'm also addicted to Clash, but Keeper has more options in setting up a defense than Clash.

Quiz up
Punch quest
Aces of luffette (sorry if I misspelled)
threes
Compulsive These are the games I enjoy ATM Posted via Android Central App

just a few off top: DeadEffect, QuizUp, SmashHit, SlamDunk 2, Neon Shadow. Posted via Android Central App

Drifty Driver and Pixel Dungeon.

The final boss on Swordigo is kicking my ass. Posted from one of an unnecessarily large collection of Nexus devices because I'm That Guy

Man, I'm stuck in the caves. The part with the infinitive roads.
Any advice? :( Posted via Android Central App

The trick here is to look at the background. When you take the exits in a certain order, torches light up. If you mess it up, you have to start over.
The order is:
•••Spoiler: Top left, bottom left, bottom right, top right.

One touch draw ... ( 0ppo F5) ...

Pixel Dungeon is a great roguelike designed for mobile from the ground up. Free, no IAPs and gets content updates occasionally that keep it exciting. It's also currently an Android exclusive, which makes a change!

best games for android.
scumm emulator and lucasarts games upto grim fandango.
if i start playing at train stations,i always get at least one person ask and sometimes a small crowd will want to know what i am playing,thhey still look very good,just on screen control can be tricky,started using from my sony/ericsson p800 onwards through most of my devices.
they are small(ish) and easy to run.,and you can get them all onto one msd card.
hardest part is getting hold of the original games files,luckely i had kept all my pc discs from donkeys years ago cos some are quite hard to source now.not realy "andriod" games,just fun games on any platform.
andcthey should make some more new ones.

oh! how could i forget 'clash of clans'!

Just downloaded three games i never heard of. none of them on the list. thanx AC commentors! no shade to the article just played those all. surprised beach buggy is still on the list. say i suck if you want but i cant get very far in that game and its kinda lame if you dont get to see the other scenery. which is why i loved despicable me cuz you can start different places

I recommend Smash Hit. It is probably the most addicting of all of the apps I have on my phone. The game has a paid version but the only benefit u have from buying it is starting from checkpoints. Game has nice visuals and mechanics. Posted via Android Central App

Flappy Bird Posted via Android Central App

Quiz Up, Smash Hit, and Ultimate Puzzle are my new favs.

Threes, Pastry Push and candy crush!

Cytus, deemo, contre jour, drake rider, chaos ring, sonic, house of the dead, kavinsky, chuck's challenge, strata, demon's core aaaaaand super hexagon.

Currently playing Wake Up ! Penguins, theses little penguins are so cute <3

Need for speed most wanted and bejewelled blitz Posted via Android Central App

I recommend new game Header challenge, it's as addictive as flappy bird

Would love to see a movement where games have a paid version with no IAPs. I will not install a game that has IAPs Posted via Android Central App

I mostly agree with these choices, but Beachbugy Blitz is anything but quick once you get good and have upgraded your car. A single run easily lasts me a half hour. I still think its the best Android game ever though.

Wow, that's pretty crazy. Will reconsider that pick next time we update this list.

Gyro, Flick Golf, Flick Golf Extreme and Jetpack Joyride are my go-tos for quick games right now.

5s is the most addicting (better version of 3s) I've played in a while. https://www.androidcentral.com/e?link=https2F2F...

That's a cool list of the android applications, I have played the game named as Tetris Blitz and enjoyed playing it. <a href="http://www.utradestudios.com/feed-your-bird/"> The game is full of challenges and player can complete it using skills</a>. This is a great opportunity for kids to polish their logic and physical skills. Thanks for sharing some really great apps here.

I like to play Flip
https://www.androidcentral.com/e?link=https2F2F...

If i feel like playing games on the go i bring my 3DS. There are few decent games on mobile devices and even then i find better versions elsewhere. I would recommend Dots though. Havent played 3's yet. Posted via Android Central App

I particularly love Boost 2. It's addictive as hell -> http://bit.ly/1ivm6E0

Osmos HD. Quell (all of them). Zen Bound 2. Spirits. Cogs. World of Goo. All beautiful, relaxing, imaginative games.

Battle Run S2 junkie here. Searching for a new game to get addicted to.

"Blogger, gamer, giant. " hahaha epic ;)

Grid Solitaire is by far my favorite app at the mo, spend far too much time on it :/
https://www.androidcentral.com/e?link=https2F2F...

Nice list Simon, Being a soccer fan i like Flick soccer very much and dots is very addictive . I have recently written an article on most addictive android games, take a look http://techdrag.com/most-addictive-android-games.html

Where is Hardest Math ever? https://www.androidcentral.com/e?link=https2F2F...

I have just started playing a game called Reotate, going to be my next quick fix:
https://www.androidcentral.com/e?link=https2F2F...

'Flappy Death Run' has just come out, this should be in this list! Yeah same idea but done really well.
https://www.androidcentral.com/e?link=https2F2F...

Nice ! Do check One of Best Moto Racing game "Moto Racer WL" https://www.androidcentral.com/e?link=https2F2F...

Check out this awesome little game, Super simple and fun take on a classic brick game. Def. good waste of time :-) https://www.androidcentral.com/e?link=https2F2F...

Try this one Rebound - No Escape, simple but challenging.
https://www.androidcentral.com/e?link=https2F2F...