We've gathered all of the day's best deals on tech and more below to save you having to hunt them down alone. Most are limited in time, so make sure you don't miss out.
Apple AirPods 2 - $129 (from $159)
With the AirPods 2 true wireless earbuds you get the H1 chip inside instead of the W1 on the original AirPOds, which still offers the easy pairing but also enables features like the ability to have your SMS messages read to you while the headphones are in use. This deal is on the version that does not include the wireless charging case, so you'll need to charge these using a Lightning cable instead. These can be used with any device that offers a Bluetooth connection, like Android phones, Windows PCs, and more.
Hey Siri enabled
Treat your ears to true wireless freedom with this $30 AirPods price drop. They've never gone lower than this at Amazon, though we don't know how long this discount will stick around for.
$129.00 $159.00 $30 off
Arris Surfboard cable modem and router - $249.99 (from $290)
The Arris Surfboard SBG8300 is actually a cable modem and Wi-Fi router in one. You'll get a DOCSIS 3.1 cable modem with 32 downstream and 8 upstream channels. It also has OFDM channels, which helps your network deal with multiple devices all connected to the same Wi-Fi and streaming at once. The Wi-Fi router is dual band, which means it has 2.4GHz and 5GHz bands with MIMO antenna configuration, which is also important for all the many different devices we have connected these days. The router has four Gigabit Ethernet ports built in, too.
Combo
You get a DOCSIS 3.1 cable modem, dual-band Wi-Fi, and a 4-port Gigabit router. The modem has 32 downstream and eight upstream channels along with OFDM channels to help with having multiple devices on the same network. Can use with Alexa.
$249.99 $290.00 $40 off
The deal given is no longer valid and we do not have a better one. However, we have found some similar deals
Tineco A10 Master cordless vacuum - $209 (from $270)
The Tineco A10 Master uses a 350W brushless motor designed to provide powerful suction while keeping the machine as ultra quiet as possible. It also has two 2000mAh lithium batteries that deliver 25 minutes of runtime each. You can use both together for a total of 50 minutes. They are detachable and rechargeable. You can also convert the Tineco to a handheld vacuum to clean places the main vacuum can't go, like between cushions or the stairs. Use the variety of tools like the crevice tool and 2-in-1 dusting brush to give your house a full clean.
Cleaning Power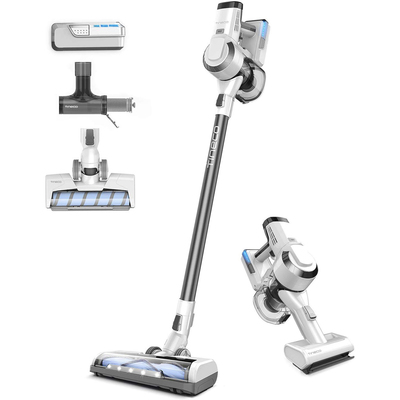 Has a 350W brushless motor and that helps keep the powerful suction ultra quiet. It even converts to a handheld and comes with floor-to-ceiling accessories. Clip the on-page coupon to score the best price.
$204.00 $270.00 $66 off
NutriBullet N17-1001 Rx blender - $89.99 (from $150)
The NutriBullet uses a 1700-watt motor, and that's strong enough for even some of the toughest blend. It can pulverize ice, whole fruits, and seeds in just seconds. You'll liquify solid ingredients and quickly create purees, juices, and smoothies with an even consistency. The blender includes functionality for smoothies, heating, blending, and a SouperBlast mode, which is great if you need to make soups, sauces, and other warm foods.
Smoothie time
Functions for smoothies, heating, blending, and SouperBlast. Pulverizes ice, whole fruits, and seeds with 1700W motor. Stainless steel blades and dishwasher-safe removable parts. Step-by-step instructions and recipe book included.
$89.99 $150.00 $60 off
The deal given is no longer valid and we do not have a better one. However, we have found some similar deals
Anker PowerPort 5 wireless charging pad - $7.99 (from $18)
This Anker 5W wireless charging pad works with nearly all Qi-enabled devices, from smartphones like the latest iPhone and Samsung devices to the Apple AirPods and more. It can even charge through your phone case, as long as it's not 5mm wide or thicker. Magnetic or metal attachments that you may have added to help with mounting your phone in your car will also get in the way of charging properly.
New Year New Tech
This 5W charging pad can power Qi-compatible devices 10% faster than similar models and even works with your phone case on. Anker includes an 18-month warranty with its purchase.
$7.99 $17.99 $10 off
The deal given is no longer valid and we do not have a better one. However, we have found some similar deals
Dettifoss true wireless earbuds - $15.75 (from $34)
Today you can pick up the Dettifoss Bluetooth 5.0 True Wireless Earbuds on sale at Amazon for only $15.75 when you enter promo code 556KVQCL during checkout. This pair of earbuds regularly sells for $40 and hasn't ever dropped this low without a code before.
These True Wireless Earbuds utilize Bluetooth 5.0 for a stable wireless connection. They're IPX5-rated for water resistance so you can safely bring them to the beach or out in the rain. The earbuds last for up to four hours on a single charge, though you'll also receive a charging case with the purchase. That allows you to power them up anywhere you go approximately three times before the case will need to be recharged. That gives you a total of 12 hours of listening time while on-the-go.
DuoTen waterproof Bluetooth speaker - $14.49 (from $33)
If you're someone who never wants to turn off the music or podcasts you're listening to, owning a speaker like the DuoTen waterproof Bluetooth speaker is essential. It's waterproof up to three feet and designed to float on water so you can listen to it in the bath, at the pool, or in the shower without worry. Though they're regularly sold for just under $35, today you can pick up a pair for only $14.49 at Amazon. Simply clip the on-page coupon and then use promo code TEAF4DJ8 during checkout to snag this low price.
Mint Mobile is offering up to 40% off its service plans for three months when you join now! You can score any data plan for only $15 monthly for three months, though you'll need to pay the full three-month cost in advance.
$15 per month at Mint Mobile
Security and privacy are important, but that doesn't mean you can't make a saving! This limited-time holiday offer at PureVPN drops the monthly cost to just $1.19 with code THRIFTER10. It works great on iOS, Android, macOS, Windows, and more.
$1.19 per month at PureVPN
This service launched earlier this year costs only $8 a month anyway, but you can get three months for free. The Essential bundle includes 300 channels of music, comedy, talk radio, and more. It's only for online streaming not using your car's satellite radio. Remember it will auto renew.
Free at SiriusXM
We may earn a commission for purchases using our links. Learn more.