How to recover lost Google contacts for Android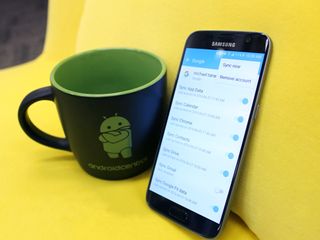 If you think you've somehow lost all of your Google contacts on your Android phone, don't sweat. The Google account associated with your Android device (that you likely set up when you set up your phone) keeps a handy backup for just such an occasion.
If your Google account is synced with your phone, then you should be able to restore a backup of all of your contacts as far back as 30 days. You'll just have to access and restore things via your computer. Here's how.
How to recover lost Google contacts for Android
You would've had to enter all of your contacts into your Gmail account for this to work. Google won't retrieve contents stored on your SIM card.
Launch your web browser from the desktop, taskbar, Dock, or application folder of your computer.
Navigate to your Gmail account.
Click the Gmail dropdown in the upper lefthand corner of your screen.
Click Contacts.
Click More just under the search bar.
Click Restore Contacts...
Click a time to restore to. If you click Custom you can set it to restore from as far back as 29 days, 23 hours, and 59 minutes ago.
Click Restore.
Pick up your Android phone.
Launch Settings from your home screen, the Notification Shade, or the app drawer.
Tap Accounts.
Tap Google.
Tap the account that your contacts are associated with if you have more than one.
Tap the menu button in the top righthand corner of your screen. It's three vertical dots.
Tap Sync now.
Your phone should now sync with your Google account and the Google contacts you thought were lost from your phone should now be right back where they belong.
Mick is a writer and duty editor for Android Central. When he's not on the job, he can usually be found vacuuming up pet hair or trying to convince his wife that he needs more guitars.
I had a similar issue, but the contact was online but not in my phone. The solution for me was to clear data/cache on 'contacts storage' app.. You need to check show system apps to be able to see it.

Why go through the trouble of using the Gmail interface?? Use contacts.google.com instead

If you use Fruux for your back end contact storage they also keep a backup, even if you actually deleted them all!

So will this work if I accidentally deleted a contact, letting me recover just the deleted one? My concern is if I had edited 3 contacts, accidentally delete one, then go to recover it, does it replace all current contacts with the backed up data, even the ones I edited since the backup date? I wasn't aware of this so I'm wondering if it's all or nothing... Posted via the Android Central App

What do you do if Google won't sync your contacts on your phone, but syncs every other thing, i.e.calendar, photos, etc...? I've had this problem since my SGS3 in 2012. I currently backup my contacts periodically from an app and place them on my cloud storage. Posted via the Android Central App

Hey thank you so much Posted via the Android Central App
Android Central Newsletter
Get the best of Android Central in in your inbox, every day!
Thank you for signing up to Android Central. You will receive a verification email shortly.
There was a problem. Please refresh the page and try again.