Google Pay shouldn't be so terrible in 2022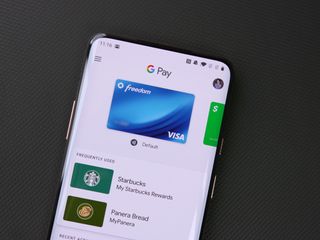 (Image credit: Android Central)
In 2012, Apple announced something it called "Passbook" — an app for the iPhone that allowed you to store digital copies of coupons, boarding passes, movie tickets, and more. Passbook evolved into Apple Wallet in 2015 following the release of Apple Pay, giving you one central location on your phone for debit/credit cards, rewards programs, tickets, passes, etc.
While Android is our preference around these parts, I'll be the first to admit that this is one area in which Apple knocked it out of the park with iOS — and continues to put Google's efforts in the digital wallet space to shame.
It wasn't until 2015, a year after Apple Pay debuted in 2014, that Google announced its contactless payment solution in the form of Android Pay (following a failed attempt to get it off the ground with Google Wallet a few years prior). Similar to Apple Pay, Android Pay allowed you to use your Android phone to pay for things at stores that accepted NFC. The process of using Android Pay was fast, simple, and Google was able to build up a large base of banks and credit unions that supported it.
That side of things was great, but something Android Pay never supported was digital passes.
2018 came around, and in February of that year, Android Pay was rebranded as "Google Pay." The goal here was to merge Android Pay and Google Wallet (Google's P2P payment service) under one umbrella, and it worked. Then, in May 2018, Google finally upgraded Google Pay with the ability to store digital passes.
Everything was looking up for Google Pay, and at the time, I genuinely believed that Google was on the right track to finally have a fully-fledged competitor to Apple Wallet. A little over a year later, however, Google Pay is still lacking. A lot.
To be clear, the act of paying for things with your debit/credit card works wonderfully. Adding cards to Google Pay is a breeze, just about every major financial institution is supported with new ones being added all the time, and using it at supported stores works without a hitch.
My issue with Google Pay has to do with the fact that its digital passes have made very little progress in the 14+ months that they've been available. A lot of major brands aren't supported at all, and for the ones that are, the functionality you get with the passes on Google Pay pales in comparison to their Apple Wallet counterparts.
On the note of missing passes, two big ones I've noticed in my usage are Delta Airlines and AMC — one of the world's largest airlines and the biggest movie theater chain on the planet.
Delta is my airline of choice, and while airplane boarding passes are technically supported in Google Pay, Delta (and American Airlines, for that matter) is nowhere to be found.
If I have an upcoming flight, I can hop on the Delta app on my iPhone, add my boarding pass to Apple Wallet, and then it'll be there for me at the time of my flight to show me my boarding QR code, which gate I'm flying out of, time of departure, etc.
On Google Pay with the Delta app, there's no such option.
To Google's credit, boarding passes that are supported are nearly identical compared to Apple Wallet passes. United and Southwest are the two biggest names that support Google Pay passes, but the fact that both Delta and American are totally MIA is unacceptable over a year since this functionality was added.
Similarly, the AMC app for iOS allows you to add digital copies of your movie tickets to Apple Wallet. Buy the ticket through the AMC app, tap "Add to Apple Wallet," and you're good to go. On the AMC Android app, that doesn't exist. No matter what you do, there's no way to add your AMC ticket to Google Pay.
A reminder here that we're talking about the largest theater chain in the world not working with Google Pay. For comparison's sake, Celebration! Cinema (a local Michigan-only theater I go to) even lets you store movie tickets on Apple Wallet. If that's not a prime example of how much work Google has to do, I'm not sure what is.
Apple Wallet passes
To add insult to injury, passes that are supported on Google Pay don't always come with the same functionality. In fact, for a lot of the passes I use regularly, there's a clear difference between them on Google Pay and Apple Wallet.
Take the Starbucks pass, for example. On Apple Wallet, I can see the design of the card I'm using and how much money is left on it in addition to the barcode that needs to be scanned. The integration is perfect, and if I want to add more money, all I need to do is tap the Starbucks logo near the bottom left of the pass to open the full app. On Google Pay, all you get is the barcode.
With AMC's Stubs rewards pass, it's the same situation on Google Pay — just a barcode and nothing else. On Apple Wallet, the AMC Stubs pass shows how many points I've earned, my next billing date, and is specially-designed based on which tier of Stubs you're subscribed to.
Google Pay passes
Finally, there's Panera Bread. Panera Bread's pass on Google Pay looks much better than some of the other ones, going as far to show how many visits you have left until your next reward. Unfortunately, there's no easy way to redeem your rewards. Instead, all you see is your membership number. The Apple Wallet pass also shows how many visits you have until your next reward, but here you can use NFC to hold the pass near a terminal at Panera to use your membership.
The reason for this, at least from what I've been able to tell, is that passes aren't integrated as tightly in Google Pay as they are in Apple Wallet.
Adding an AMC pass to Apple Wallet (left) and Google Pay (right)
If I want to add the AMC Stubs pass to Apple Wallet, all I do is open AMC, go to my membership page, and tap the "Add to Apple Wallet" button. It's integrated right within AMC and works like a charm. On Google Pay, you need to go the Google Pay app, search for the pass you want, and then either manually type in your membership number or scan the barcode of your physical card. In other words, you're just adding a barcode with no real integration for that membership. Not only do you lose out on features, but the process for adding these passes is a lot clunkier.
Who's to blame for all of this? While I can't definitively say one way or the other, this does seem to be an issue of app developers not integrating proper pass support. Google Pay does support passes, and as we've seen from companies like Southwest, they can be integrated quite nicely. For whatever reason, however, they're still mostly being ignored.
As a result of this, Google Pay is still playing catch-up to Apple Wallet. The potential for greatness is there, but if you want your digital wallet to do more than hold debit/credit cards, it's an overall worse experience.
I'm not entirely sure what Google can do (if anything) to get devs up off their butts and start taking Google Pay seriously, but it's about time something happens.
Google Pixel 4: News, Leaks, Release Date, Specs, and Rumors!
Android Central Newsletter
Get instant access to breaking news, the hottest reviews, great deals and helpful tips
Joe Maring was a Senior Editor for Android Central between 2017 and 2021. You can reach him on Twitter at @JoeMaring1.
Compare things with Samsung Pay.
It has everything and in my opinion ,is the best there is!

But not everyone has a flagship Samsung phone with MST integration. So that makes it non universal solution.

As long as you live in the U.S, because very few banks support it in the UK.

Samsung Pay is only available on Samsung Android phones. So you have to register your card to both Samsung and Google Pay if you want to be able to send and receive cash or use it with iOS users. It's good at vendors that don't have NFC, but putting your bank account in multiple places isn't exactly optimal.

You forgot Google Wallet, which was the precursor to Android Pay and was doing NFCs payments in 2011.

I dare say GW had more functionality than GooglePay

I think Joe was still in diapers in 2011.

You are 100% correct Google Wallet allowed you to pay with your phone and stored your Store discount cards. I used it as much as I could and it also came well before Apple Pay. Verizon and some retailers tried to kill off Google Wallet and Google didn't help the matter with the name changes I guess to look and work more like Apple. Stop kissing Apples behind, Google did it First. Stop shopping at retailers that refuse to enable NFC payment, MST is older less secure technology. IE, I no longer shop at walmart because they refuse to allow you to pay with your phone unless your using there service, I now do my shopping at Target which allows Google Pay.

but they were not the first. ISIS (later known as softcard) was before google wallet. the problem with NFC mobile payments at the time was very few terminals supported it. I was using it then until google purchased them but then it was no longer supported on my specific phone nor did my phone supported android pay. something to do with knox security.

While Google was busy deploying early tech without much I ndusty support in many markets, Apple held off and struck the deals before even launching the phone with NFC. Strategically, Apple is just better than Google, and it always works in their favor. We see the same thing with the News app. And the same thing happened with the iTunes store, years ago. Apple is willing to put these things on the backbone until they are useful to the mass market. Google throws things in, but they end up not being competitive advantages because they aren't mass market products at those times. Same thing happened in other areas. Apple didn't raise their camera resolution until they were nearing UHD video recording. Meanwhile, they were well ahead of Android rivals with things like slow motion - and iOS camera APIs predated the Camera2 framework in Android, which OEMs like Samsung still have fairly poor support for. This is the way Apple develops their products. This is probably why Google transitioned from a Nexus to Pixel focus. It wasn't just a change in branding, but also a change in strategy, moving forwards. I still feel like Android phones may boast better specs on paper, but Apple's user experience is on a completely different - and higher - level. Especially when paired with their other products - including PCs running actual desktop apps (something Google and Android OEMs don't offer).

Exactly, Ender81.
I've had my loyalty cards stored in Google Wallet and have been paying with NFC since 2012 using my Galaxy Nexus.
Suggesting that they only started the digital wallet a year after Apple pay launched is incorrect and irresponsible on the author's part.
Google Pay's integrations could be better, but it's nowhere close to terrible.

Google Pay is by far the best of Gpay, Samsung Pay and Apple Pay It's so much easier to use than the others - wake screen, tap to terminal... job done. No passcodes, no fingerprints or face scans. You don't even have to touch the screen with raise to wake enabled.

I've never used Samsung Pay before, how is it worse than Google Pay in this regard?

Google pay is garbage. Without MST nothing can even come close to Samsung pay. I never even have to wonder if a terminal accepts mobile payment cause Samsung pay works EVERYWHERE.

You're having a laugh right? I don't have to wonder if a terminal accepts Google Pay either...because literally everywhere has NFC. MST is only a thing in North America still. It died in most countries about 10-11 years ago. Don't blame the app, blame your country for being stuck so far in the past. @Vega007, with Samsung Pay you have to authenticate each payment with Biometrics. Not a huge deal to some people but with Google Pay you don't have to do anything at all other than make sure your screen is awake. It's that simplicity and ease of use that makes it a joy to use

You don't lock your phone? I'd never do that, especially with google pay set up.

Who doesn't lock their phone? I use fingerprint, face unlock and pattern code. No need for any of those to make a payment

Okay I am confused. With Google Pay, you have to unlocked your phone, then place your phone to the terminal and it works. With Samsung, I am assuming here, you unlock your phone, bring up Samsung pay, then have to unlock again with bio-metrics, then it works. Is that right? Is there no shortcut to just bring up Samsung pay, use bio-metric, pay?

Yeah, swipe up from the bottom of your lock screen and use your fingerprints and pay.

so, Dove1978, you DO have to use some type of unlocking. I just double tap my iphone home button which is my print scanner that works faster than any android phone I had, and pay pops up. Much faster than your having to unlock your phone.

With Google Pay, your phone just has to have locking enabled. It doesn't have to be locked at the time of purchase.
As long as it was unlocked anytime in the last 15 minutes, and the screen is on, you just put the phone on the terminal. It's effortless and quick. There's no app to open.
If you're in a supermarket or any retailer which has a loyalty card, and you decide open the Google Pay app, the card of the retailer you are in will automatically pop up and be ready for the cashier to scan. Really convenient.

What are you actually slabbering about @kojakjku? I do not... I repeat DO NOT have to unlock my phone to make a payment with Google Pay. I simply raise my phone to wake the screen, touch it to the terminal and the payment goes though. Is that clearly enough explained for you? I don't press ANY buttons, I don't use ANY fingerprints, no face unlock etc etc. So NO. Your phone clearly faster than any Android phone but nice try

MST er? wow, The U.S.A has come so far

samsung pay does not work everywhere and it tends to be embarrassing when it cannot find the magic spot when using MST - especially when there is a line behind you.

I could care less about the line behind me. I get it the first time nowadays. But in the beginning I would keep trying until it works. I still get wow that's awesome comments when people ask if that's apple pay cause they said it never works for them with their iPhones..

Yeah. We on Android have gotten that "trial and error" period out of the way since 2011. It just works now. Every retailer that upgraded to "the chip" automatically also has NFC. It's everywhere. A handful of retailers deliberately disabled it (Walmart, CVS, Target, Home Depot.) But at least Target and CVS came to their senses last year.

I have got to know what witchcraft you use to get an MST payment to go through. S10+ and I can never get it to work.

I agree with this. I have a note 8 so I can use Samsung Pay with mst BUT the ease of use with google pay makes it so easy to use I prefer it. As I pull the phone from my pocket, slide my finger across the scanner and am signed in by the time I get it to the scanner without looking at it. Unlike Samsung Pay where you have to slide up then authenticate. It is slower and unable to watch the prices as my purchases got scanned because I am busy with the phone. cannot do it in advance because it times out too quick. I have yet to use a pass or rewards card on either system though I several scanned in.

You definitely have to use a fingerprint before you can use Google pay.

To be honest I use to.but recently when I get gas at quick trip I just tap my phone without even waking the screen

You don't. I haven't ever. Not even once

No, phone locking just has to be enabled.
Any method would work. Pin code, pattern lock work too. And if you use smart lock, the phone only gets locked after four hours of inactivity.
For payments you only have to lock it and unlock it within 15 minutes of paying.

No, you don't unless it has changed, I used it with my old Nexus 4, no fingerprint scanner on there.

Wow, sounds nice and "secure" dov1978. How do you prevent people from using it if they steal your phone?

Well you remotely block your phone the same way you would anyway. How do you secure your debit card from contactless payments if someone steals your card which is far more likely and easy?

Nothing comparable to Apple Pay Cash (yet). No MST Support. Worse support for Web Payments, etc. Apple Pay is better. Samsung is good for niche situations - basically only MST payments (otherwise its co.pletely redundant, and of no use if you have Google Pay). I do like that Google Pay money transfers go directly to your bank account, though (because no cash card I intermediary like Apple, which has it's own advantages like allowing people without bank accounts to still use those funds I largely the same manner).

Android phones had NFC long before Apple added it to the iPhone. But on the iPhone, Apple restricts NFC to only making payments whereas NFC on Android is not restricted and can be used for many different things

How many people use NFC for anything other than making payments, though? Not many, I'd guess. The current IoT, smart devices, Messaging, cloud storage, etc. markets have largely obsolete things like NFC tags and Android Beam - which was badly implemented and always worse than Samsung's implementation, which used WiFi Direct instead of Bluetooth... not to mention. AirDrop). Most OEMs knew this, which is why Windows and BB devices used NFC predominantly for pairing and payments only. It was basically a gimmick. History has proven that.

I tap and buy things. It works. No problems here.

Lol exactly. I don't care if it doesn't work everywhere. It works at 80% of the places I shop at. That little wallet thing does the job for the other places.

Until Google uses MST life Samsung Pay and no LG Pay, then Google Pay will always be terrible.

How can google use MST? They make software, not hardware. Do you know MST is hardware dependent and has to be included in the phone itself? Infact it's only available on Premium Samsung flagships now. Samsung seems to be ditching it slowly and slowly. Also it's not a permanent solution. As NFC becomes widespread, MST will go useless.

How will MST "go away", when it is accepted at any credit card terminal?

Most countries do not really use MST now, it seems the good old U.S of A is a bit behind. Even we in the little old Uk dropped MST years ago.

Yes, the US is behind, and Samsung Pay is partly to blame.

Correct. Samsung took advantage of the fact that the US is behind.

I am not sure which card issuer, visa or Mastercard, but one of them more or less forced us to chip and pin, so two U.S companies could force us and yet they can not get people in their own country to change. Now they are forcing stores to have contactless and yet they can not do it in their own country.
wow, just, wow.

Never used Samsung Pay that much because a lot of banks, etc. are not supported in Canada. Most of the banks use either Apple or Google but only just recently for Google (Royal Bank). Having said that, I was impressed with how Apple wallet worked in the brief time that I used an Apple phone last year. Back on Samsung now (S10e) and using Google Pay with relatively few issues, but I don't use it for passes, etc. Just debit and credit cards.

Completely disagree. Paying with Gpay is pure nightmare. There is no option to authenticate transaction beforehand. I go to terminal, terminal rejects transaction, then asks me to put my finger onto scan and I need to try again. What a horror of usability. It's so embarrassing I stopped using it. I wish to move to Samsung pay but this one is dead in the UK. Accepts only few rare cars and haven't changed in 3 years

Been using it for years across many phones. Never had an issue like that even once. You don't even need to use a fingerprint for most payments

Axon 7 by any chance? Had a similar issue. You can NOT unlock using fingerprint and have the payment go through. It'll error just like yours, though it will be happy with a fingerprint for try #2. What worked every time is unlocking via PIN.

The others are more versatile but I would only use Google Pay. Because it's Google and the MST strip is outdated and is still only a "thing" in North America where Europe and rest of the world uses NFC.

Woah woah. Don't lump Canada in there we've had Chip and PIN cards forever and NFC for quite a long time. MST is almost never used anymore. Though some merchants don't activate NFC (I suspect because it has higher service charges). Simple solution there, Visa and MasterCard need to change the merchant agreements to require NFC be active.

Exactly. When I travelled to the states, (i refuse to anymore), I always laughed at their antiquated pay system. I figured they would be leading that charge. Boy was I wrong.

No worries! We won't miss you. :-P

MST is popular in US and Australia. US has 5x the population of the UK and is 10x the size, with far more stores, shops, etc. It's much harder to change these things here. It costs money to buy these new machines. They aren't free, and every store isn't a Fortune 500 company. Those machines also can break, malfunction, etc. The people ranting about this are ignorant. This is a transition that costs Billions of dollars and a lot of time. This is like the people complaining about the lack of High Speed Rail in the US. Have you ever been here?

I do not see the problem, if you can't use your phone to do these things, then do it the normal way, if you want to do it with a phone and android don't support it then go for apple phone. I used google pay a few times on my Nexus 4 and that was it, I now either pay by chip and pin or cash, mostly cash. too many companies want us to put apps on our phone for this and for that. Only got so much memory on my phone, I also do not want to use contactless anyway, even told my bank to send me a normal chip and pin debit card and even that is getting hard for some people as some banks will only send out contactless.
the phone I have now have NFC, but it is turned off.

90% of article: Google Pay, Y U no support my favorite thing? Last 10% of article: oh, maybe it's because the developers didn't integrate it. I worked for a (small) ticketing company, and it took us about a week to add a basic "add this ticket to your wallet"- for both iOS and Android. If your thing isn't supported, it's not Google's fault.

It clearly is Google's fault. If your account is in some "unsupported" country you can't even install Google Pay either on Android Phone or on Wear OS.
Even if it's fully functional when you are able to obtain the App via some workarounds.

Exactly what I was thinking jsabo! How does a company get support for its product on Google Pay? Does Google develop it for them or are they responsible?

I started with Google Pay, but it never worked. I started using Samsung Pay and it's always worked. Maybe I'll give Google Pay another chance.

I have both lit off on my Note 9, because I keep forgetting my wallet at home, but have only used Samsung Pay, so far. Getting old sucks!

Samsung's MST tech and LG's WMC tech will only matter in countries that still haven't fully moved away from magnetic swipes on their terminals. Unfortunately, we still use them in some places here in the U.S. This is why I use Samsung pay more on my Gear S3 watch than GPay on my phone for payments. If GPay gets the passes integration right like how iOS does, it would inspire me to use GPay more, especially since my watch doesn't show passes. If LG Pay on the other hand does a better job with passes, then I'll use that more since I currently use an LG G8 which has support for WMC here in the States.

I don't use a lot of the functions mentioned in this article. I'd be much happier, however, if more mercs made use of tap-to-pay on their credit card terminals. At any rate, the success rate for apps like these ultimately hinge on third-party participation. In my area, at least, it's a slow, arduous process.

It's 2019 and Google idiotic policy is blocking install of Google Pay in some European countries. A single currency area!
Any help request, complaint or asking them to fix this security issue is just deleted. Go figure.
Apple on the other hand is catching up fast. Even if my Android phone at got NFC way before Apple's iPhone it stays useless because Google is either seriously short sighted.

It's not about currency. It's about laws. #Bliss

Pay with your phone? That's so last year.... Pay with your Gear S3 watch and you don't even have to pull your phone out. Samsung Pay for the win!

I recently got a Gear S3, and moved away from lagging Wear OS. It's pretty cool to pay with my watch (in the USA)!

I use G Pay all the time. Pretty much all places I shop accept it now.

My debit card works just fine. No need for this garbage.

The debit card chip fails way too often. Too many times I have to take the chip out and reinsert it and try again. Then you have to leave it in there three or four seconds after the annoying beeping. If you take it out immediately when it starts beeping, the transaction will fail. And not to mention how horribly slow the whole transaction is.
The phone is more reliable at this point.

I like how we don't see that commercial, boasting how much faster credit card paying is, over cash, since chips have taken over and are so very slow at competing the transaction.

Really? Bang...I'm in and out and I don't have to fiddle with the stupid phone.

Must be something wrong with your card.

Tap and Go has been in Australia for years we can even do tap and go at ATM's now. As well as careless cash if you forget your ATM card. Apple wallet works well I do not have a lot of cards or memberships but the ones I do have are nicely stored and easy to access either via my Apple Watch or by my iPhone.

What is this careless cash you speak of?

Google pay is terrible, my account was hacked and they took almost $800. Google wouldn't help with the problem and denied the request to dispute the charges. They said they don't cover customer disputes even though I don't even deal with customers and it's the only time my account was ever used. So don't enter any bank info or cards, they will not cover you if anything happens. Terrible costumer service. Use any other way to pay that covers fraud except gpay

Your bank should handle fraudulent charges.

And than there is still 0 actually digital WALLET apps in the world. Nothing to get you know status of your transaction (if it was delivered to bank, declined for some reason etc), nothing to additional context (list of purchases? ability to feedback for goods or service?). Nothing to manually limit usage of payment cards to some targets or sums. Nothing to share/split money with your family or friends.
It's not digital wallets, it's digital promotional platform. In this context, you know, that Apple ready to gain any grain of money thay can from their devices. And google have so much money and so wide web dominance, that thay simple experiment with some markets, without actually care about profitability.
On user side, devs not care = lack of usability, so we have it in full extension on most google apps.

Samsung Pay sends a notification, shortly after a transaction, stating merchant and amount.

So here's the deal. Financial institutions are transactional. If they were to allow a third party, say Google or Apple permissions to set spending limits it would cost them money. They might loose overdraft fees, transaction fees and anything else. Why do you think Apple started their own credit card? To circumvent the companies from this limitations.

Joe Maring is irresponsible for stating that digital passes didn't come to Google Pay untill 2018. I've had all of mine stored in Google Wallet since 2012, and they've all carried over through the name changes to Android Pay and Google Pay. Also, his experience with Panera bread on Apple Wallet is my exact experience on Google Pay with 7-11 Rewards, and similarly with Walgreens Ballance rewards. In fact with Walgreens, the act of using NFC to pay actually registers your loyalty card info. You don't actually need to scan the barcode from the screen.
So it kinda depends on where you go and which retailer has put in the effort. The whole thing isn't quite as lopsided as you suggest, Joe. Google Pay is far from terrible.

BUT...BUT... EYE PHONE! ;-)

Totally agree. Blaming Google and not the crap companies that either choose to implement poorly or not at all is ridiculous. Joe had a deadline for this piece and obviously forced it out without fully thinking things through.

And neither is Google's music services, messaging or smart home offerings (still can't change wake word or send messages? Seriously?). Google IS a software/technology company right?

You wouldn't know it by their fractured messaging platforms over the years.

Seems like your problems with Delta and AMC are on them. Google can't just access that data. They need permission. For whatever reasons those companies have not agreed to terms. So bark up those trees first. Until then, use their apps and airport them for their poor choices.

I purchased the Google Pixel 3a and Google Pay is the only reason I sold it and went back to an iPhone. Google Pay is garbage compared to Apple Wallet / Pay and Samsung Pay. Once they fix Google Pay I'll go back as I loved everything else about the phone.

Never used it...but it seems like one of those Android features that are just there... limping along... I think quite a few stores (especially grocery store chains) and banks do support Google Pay in my neck of the woods, but they sure as hell don't advertise it. I don't think that it's as widespread as Apple Pay. I've seen active advertising for Apple Pay... hardly ever for Google Pay... Besides, banks don't seem too keen to support either. Mine has been offering that damn Mobile Wallet and Mobile Pay for years. But it stinks and it is a privacy and identity theft nightmare...
Android Central Newsletter
Get instant access to breaking news, the hottest reviews, great deals and helpful tips
Thank you for signing up to Android Central. You will receive a verification email shortly.
There was a problem. Please refresh the page and try again.