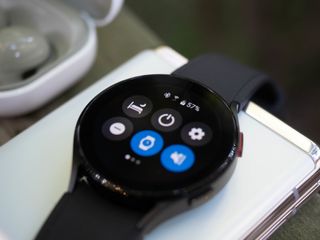 (Image credit: Daniel Bader / Android Central)
If you're looking for the best Android smartwatch, you'll notice many of the options are Wear OS watches, including the Samsung Galaxy Watch 4 and Watch 4 Classic. Now that Wear OS 3 has arrived, the smartwatch landscape is changing. However, not all existing watches on the current platform are eligible to upgrade, which is something to consider when making your decision. If you want to enjoy the new platform now, the Samsung Galaxy Watch 4 might be the best Wear OS watch. Fortunately, there are many other Android smartwatches for Wear OS users to choose from.
Best overall: Samsung Galaxy Watch 4
Samsung Galaxy Watch 4 Smartwatch
Wear OS 3 is in the building
GPS, HRM, NFC
Optional LTE
Great performance
Improved health/fitness tracking
Several size options
Not your typical Wear OS experience
Mediocre battery life
By now, you've probably heard that the Samsung Galaxy Watch 4 has arrived. While this typically wouldn't mean anything to Wear OS users, this Samsung smartwatch is the first wearable to run on Wear OS 3. There are two variants to pick from: the Samsung Galaxy Watch 4 and the Galaxy Watch 4 Classic. The only difference between these two is case size and physical design elements. The Watch 4 comes in a 40mm or 44mm aluminum case with a digital rotating bezel. The Watch 4 Classic comes in a 42mm or 46mm stainless steel case with a physical rotating bezel.
Other than the long-awaited debut of Wear OS 3, there are several improvements, but that's certainly a big draw. Samsung has outdone itself with the new 3-in-1 BioActive sensor. This clever technology uses a single chip for several key sensors. It offers optical heart rate, electrical heart (ECG), blood pressure, and Bioelectrical Impedance Analysis (BIA). The new BIA sensor can analyze your body composition by recording key metrics. Some examples include body water and fat percentage, skeletal muscle mass, basal metabolic rate, and more.
The performance on the Galaxy Watch 4 is quite impressive, thanks to Samsung's Exynos W920 SoC. Combined with 1.5GB of RAM and 16GB of storage, you'll enjoy snappy performance. If you've gotten comfortable with Wear OS, don't worry. You won't experience a night-and-day difference that feels like an impossible adjustment. One positive change is improved app support. You'll find several preloaded apps aside from the usual Samsung ones. Now, you'll also have Google Maps, Messages by Google, and Google Pay.
Right now, the Samsung Galaxy Watch 4 and Watch 4 Classic are the only devices running Wear OS 3. However, Google says that existing eligible smartwatches should start receiving the update during the mid or second half of this year.
Best budget-friendly watch: Fossil Gen 5E
Fossil Women's Gen 5E 42mm Stainless Steel Touchscreen Smartwatch
Heart-rate monitoring
Activity/health tracking
Built-in mic/speaker
Google Assistant
Google Pay
Less storage than original Gen 5 models
Lacks built-in GPS
Short battery life
If you're a fan of Fossil watches but want something slim and sleek, you'll appreciate the 5E's refined design. More importantly, it's packed with essential features that most users will find useful. You can choose whether you want a men's model in a larger 44mm case or the women's model in a 42mm case. Both Fossil Gen 5E variants are compatible with interchangeable bands. There are numerous color options, including Silver/Gold, Rose Gold, Pink, Black, and more.
As far as features go, there is a lot to unpack. The Fossil Gen 5E offers heart-rate monitoring, activity/health tracking, NFC payments, smartphone notifications, Google Assistant, and multiple battery-saving modes. It also has a built-in microphone/speaker, so it can easily take Bluetooth calls on your wrist. It's water-resistant up to 30 meters, so you don't have to panic if it gets wet.
You might've picked up on this by now, but one of the main missing features is onboard GPS. You'll need to use your phone for connected GPS. You get the same Snapdragon 3100 Wear processor that the original Gen 5 models have, but you'll get 4GB of storage instead of the previous 8GB. Users can take advantage of the multi-day battery modes to prevent the watch from dying, but these modes limit what features are available for use. Considering the low price tag, it's not surprising that you'll have to make a few compromises. With that said, the Fossil Gen 5E is the best Wear OS watch for budget shoppers.
Best value: Ticwatch E3
Ticwatch E3 Smart Watch
The most bang for your buck
GPS, HRM, NFC
Activity/health tracking
Built-in mic/speaker
Google Assistant
Ultra-smooth performance
Bulky bezel
Mediocre battery life
One of the newest watches from Mobvoi is the TicWatch E3. It's also the second watch from the company to run the Snapdragon Wear 4100 chipset, so that you can expect stellar performance from this watch. Depending on usage, you'll get around two days of battery life on a single charge. Fortunately, this watch has Essential Mode. This feature disables the always-on display, but you can still use tilt-to-wake. The display will show the date, time, step count, heart rate, and battery indicator. In fact, the watch will still track your sleep in Essential Mode.
The design is similar to what you've seen on previous TicWatch E models. For starters, you get a large and bright 1.3" HD display. It is encompassed by a rather large and bulky bezel that you'll either love or hate depending on your preferences. Fortunately, the watch is compatible with 20mm interchangeable bands, so swapping it out for a new one is never an issue. It offers IP68 water resistance is suitable for pool swimming,
You get more than your share of features on the health and fitness side of things. The Mobvoi TicWatch E3 offers onboard GPS, activity tracking, heart-rate monitoring, sleep tracking, and more. There are a few extra perks, including Google Assistant and Google Pay. These are all fantastic perks, but the short battery life is a drawback. This is not unheard of for Wear OS watches, though. If you can live with that and the chunky bezel, this is an incredible value that's hard to beat. Most importantly, the TicWatch E3 will be eligible for the Wear OS 3 update.
Best style: Skagen Falster Gen 6
Skagen Falster Gen 6
GPS, HRM, NFC
SpO2 tracking
Sleek, attractive design
Built-in mic/speaker
Google Assistant
Short battery life
No Wear OS 3 yet
Skagen has a knack for delivering stylish wearables, and the latest Falster Gen 6 smartwatch is no exception. It also falls under the umbrella of Wear OS watches that will upgrade to the new platform this year. Once again, you'll be waiting a little longer to enjoy it, but you won't have to worry about the fate of your watch. The Skagen Falster Gen 6 comes in a sleek 41mm stainless steel case and works with 20mm bands. The 1.28-inch AMOLED display is accompanied by two push buttons on the side and a rotating home button.
Despite running an older version of Wear OS (for now), the Skagen Falster Gen 6 offers smooth performance thanks to the updated Snapdragon Wear 4100+ processor. It still suffers the same unfortunate reality of other Wear OS watches with dismal battery life, but the fast charging speeds make it more tolerable. The watch can go from zero to 80% charged in about 30 minutes. This smartwatch comes with both a microphone and a speaker, which means using Google Assistant is more enjoyable, and you can take Bluetooth calls on your wrist.
While this watch is nearly identical to the Fossil Gen 6 in every way, the design is where the two differ. Some users want a subtle yet stylish design, which Skagen is all about. When you're headed to the office after an intense workout at the gym, you'll be glad to know your watch is made for both occasions. We'd love to see an improvement in battery life, but fast charging helps soften the blow.
Best upgrade pick: TicWatch Pro 3 Ultra GPS
TicWatch Pro 3 Ultra GPS Smartwatch
GPS, HRM, NFC
Stellar performance
More durable design
Customizable backlight
Google Assistant
Pretty expensive
Only comes in one color
A bit large for some wrists
No Wear OS 3 yet
The new TicWatch Pro 3 Ultra GPS is one of those upgrade picks that just feels right. Sometimes, an upgrade to a new model doesn't offer many improvements. However, that's not the case with this new smartwatch from Mobvoi. For starters, the improved design provides a new customizable backlight feature display's top layer. You can also now choose from 18 different vibrant backlight colors. What's more, the battery will last for up to 72 hours, and you can extend that figure quite a bit when you use Essential mode, but it does shut off key features.
Another improvement is the launch of new software features for the TicHealth suite. If you're a frequent health and fitness tracking user on your smartwatch, you'll appreciate this upgrade. The TicWatch Pro 3 Ultra GPS is also more durable than the previous model. It comes with a MIL-STD-810G rating, so you can feel confident that this watch is equipped to handle your intense workouts and rugged adventures.
Now more than ever, users are thinking about the longevity of a device before they buy it, especially now that Wear OS 3 is here. The good news is that the TicWatch Pro 3 Ultra GPS will be eligible to upgrade to the new platform, but you'll have to wait until later this year for it to become available. This might be a drawback for some people, but at least you know your watch will eventually upgrade to Wear OS 3.
Best for fitness buffs: Suunto 7
SUUNTO 7 GPS Sports Smart Watch
GPS, HRM, NFC
Durable, sporty design
Superior activity tracking
Full-color mapping
Google Assistant
Gigantic
Mediocre battery life
Too expensive for some
If you're a fitness buff, you're probably looking for more from a Wear OS watch. The Suunto 7 fits the bill. It comes in a large, durable case, but it's also packed with fitness features that will likely meet all of your tracking needs. It might not be as popular or well-known as some of the other options on this list, but it's got some serious potential.
Not only do you get built-in GPS and full-color accurate mapping software, but you also have access to more than 70 sports modes. We should also mention that with the apps available from Suunto, you can view helpful metrics that go into further detail than what's available on Google Fit, such as training load, training recovery, and much more. This watch is 5 ATM water-resistant.
These features are undeniably great, especially if you're a hardcore fitness buff. However, make sure that you're content with only two days of battery life in smartwatch mode. It's also not uncommon to experience sluggish performance due to the ever-evolving nature of Wear OS, but that's not exactly a new problem. This is the best choice for serious athletes if you can deal with these minor flaws.
Best for connectivity: Fossil Gen 5 LTE
Fossil Gen 5 LTE Smartwatch
LTE connectivity
Built-in GPS
Two color options
Activity/health tracking
Google Pay & Google Assistant
Only one size option
Verizon exclusive
Missing Snapdragon Wear 4100
Those longing for a Wear OS smartwatch with improved performance and LTE connectivity will be more than pleased with the Fossil Gen 5 LTE. This model was just recently announced, so it's relatively new to the market. This is also the first Fossil smartwatch to offer LTE. The one thing to note here is that it's only available on Verizon. This model has the same features that the original Gen 5 smartwatches had. The design is similar as well. You get a 45mm stainless steel case available in rose gold or Smoke. Both models are water-resistant up to 30 meters.
If you need a quick refresher on those features, we've got you covered. You'll get built-in GPS, heart-rate monitoring, activity/health tracking, Google, Pay, smartphone notifications, and Google Assistant. The new feature, of course, is LTE connectivity. This means you can leave your phone at home and still take calls, send texts, and stream music. Not bad, right? As you might've guessed, you also get the battery-saving modes on this Wear OS watch.
The only real problem might be that the Fossil Gen 5 LTE is exclusive to Verizon. If you're an existing customer, you might've hit the jackpot. If not, it might be more trouble than it's worth to switch carriers. We also would've liked to see the new Snapdragon Wear 4100 processor, but Fossil stuck with the 3100. You'll also want to be aware that LTE smartwatches aren't exactly cheap, so be prepared for the hefty price tag.
Best lifestyle watch: Fossil Gen 6
Fossil Gen 6 Touchscreen Smartwatch
GPS, HRM, NFC
Multiple design options
Improved health tracking
Google Assistant
Fast charging speeds
No Wear OS 3 yet
Short battery life
Perhaps you're interested in finding a wearable that blends stunning design elements with a solid set of smartwatch perks. If so, the Fossil Gen 6 may be what you're searching for. This latest release from Fossil offers improved performance, fast charging speeds, accurate health tracking, and more. Keep in mind that this smartwatch is one of the lucky Wear OS devices that will upgrade to the new platform later this year. Gamers may want to consider the limited-edition Razer X Fossil Gen 6 variant, which offers all the same features plus exclusive Razer watch faces.
One of the most notable improvements to the Fossil Gen 6 is that it's equipped with the Qualcomm Snapdragon 4100+ chipset, so performance is smooth and seamless. Additionally, the 1.7GHz co-processor allows this watch to use always-on health metrics without negatively affecting performance or draining the battery life. You'll get more detailed heart rate readings, more precise sleep tracking, and better health statistics all around.
While the Fossil Gen 6 is an excellent lifestyle smartwatch, there's one thorn in this wearable's side that has yet to go away. If you're familiar with Wear OS watches, battery life has always been an issue. The Fossil Gen 6 is estimated to last around 24 hours on a single charge. While smart battery modes can help a bit, there's nothing groundbreaking. Fortunately, Fossil offers ultra-fast charging on the new Gen 6 models. Users can charge their watch up to 80% after only 30 minutes on the charger.
Best Wear OS watch: Making a choice
As you can see, Wear OS covers quite a bit of ground in the wearable market. While it might be slightly different from the Wear OS experience you're used to, the Samsung Galaxy Watch 4 is the best option for most people. This is especially true when you consider that many watches on the old platform won't be eligible to upgrade to Wear OS 3 for a while longer. Therefore, it's time to start thinking about this ever-changing landscape when shopping for the best Wear OS watch.
The Samsung Galaxy Watch 4 has a lot to offer to loyal Wear OS users and new ones. You get to choose whether you want a physical bezel or a digital one, for starters. You can also opt for a model with LTE connectivity if you'd like. Other key features include onboard GPS, heart-rate monitoring, activity/sleep tracking, and many sophisticated health sensors to keep you informed of your overall well-being.
If the Samsung Galaxy Watch 4 isn't quite what you're looking for, you'll have several other options. Most importantly, a decent selection of Wear OS watches out there will soon upgrade to the new platform. So if you can wait a few more months, there are plenty of excellent options worth considering. So whether you're a serious athlete, a budget shopper, or someone who wants to stay connected with LTE, you'll be able to find the best Wear OS watch for your needs.
Credits — The team that worked on this guide
Courtney Lynch is a freelance writer at Android Central. She's obsessed with all things health, fitness, and music. At any given time, she can be found checking out the latest and greatest gadgets while simultaneously petting her dog and sipping iced coffee.
Android Central Newsletter
Get the best of Android Central in in your inbox, every day!
Thank you for signing up to Android Central. You will receive a verification email shortly.
There was a problem. Please refresh the page and try again.