Best smartwatch for fitness 2022
Garmin stands at the top, followed by the usual suspects.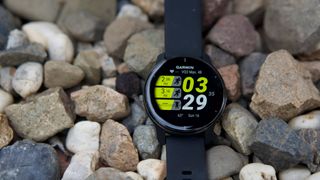 (Image credit: Michael Hicks / Android Central)
Choosing the best fitness smartwatch is about deciding how much you care about its fitness tools versus its smartwatch tools. Most flagship smartwatches come with all the right features needed for amateurs, but fitness-focused individuals could be left wanting more. Fitness-brand smartwatches have much better battery life and fitness data, but their apps and smarts are far more limited, often abandoning tools like touchscreens or mic/speakers.
We've generally looked for balanced fitness smartwatches that will help you work out but don't abandon the smarts and style you'll want. But we've also included picks that skew one way or the other, so everyone's needs are met. Starting with the excellent Garmin Venu 2 Pl, these are the best fitness smartwatches available today.
Achieve your fitness goals with these smartwatches
Why you can trust Android Central Our expert reviewers spend hours testing and comparing products and services so you can choose the best for you. Find out more about how we test.
The best fitness smartwatch
Reasons to buy
+
Gorgeous AMOLED touch display
+
Up to 9 days of battery life
+
Built-in GPS
+
HRM & SpO2
+
Built-in mic and speaker
Reasons to avoid
-
Pretty expensive
-
Garmin watches aren't the "smartest"
It's an open secret that Garmin watches give you beneficial data and long battery life but also look somewhere between boring and ugly and have very few smart features. The Garmin Venu 2 Plus is the closest the company has come to addressing this reputation, adding a beautifully bright AMOLED touch display and a mic/speaker to a smartwatch while still offering nine days of battery life.
Any of the best Garmin watches could fill this top slot if fitness is your sole priority. But the Venu 2 Plus strikes the best balance of the bunch. It has all the core Garmin tools like Body Battery, fitness age, sleep/stress tracking, animated exercises, and so on, but without losing smarts like NFC payments or music storage.
Our Venu 2 Plus review praised everything from the "vibrant screen" to the dual option of three buttons and the touchscreen for navigating menus since touch isn't the best option during a sweaty workout but is far superior for daily life. The watch lives up to Garmin's nine-day battery life estimate or across 24 GPS-tracked hours, which beats what most watches offer, even those with worse non-touch LCDs. And it's the rare Garmin watch that can actually take phone calls or lets you speak to a voice assistant.
The biggest knock against it is that it's pretty expensive. You can downgrade to the equally solid Garmin Venu 2 if you don't need the mic/speaker but do want the same beautiful display. Or you could even drop to the petite Garmin Venu Sq if you're OK with just the Garmin essentials. But for the best fitness smartwatch experience, you'll want to go Plus.
Best mid-range fitness smartwatch
Reasons to buy
+
Sleek, slim design
+
Six days of battery life
+
Onboard GPS
+
Active Zone Minutes
+
Built-in mic and speaker
+
Fitbit Pay
Reasons to avoid
-
Old bands aren't compatible
-
Small app selection
There's a lot to say about the Fitbit Versa 3: It's a great device that successfully pairs the company's best fitness features with some outstanding smartwatch perks like onboard GPS (finally!), six or more days of battery life, improved heart-rate technology, Active Zone Minutes, and Fitbit Pay. It also boasts a slimmer, sleeker design than its predecessor, as well as a built-in microphone and speaker, making it easier to use Google Assistant or Alexa. Not to mention that you can now handle Bluetooth calls from your wrist.
As far as fitness goes, the Versa 3 gives you all of the features you'd expect, such as 24/7 heart-rate monitoring along with tracking for activity, sleep stages, and women's health. You'll also enjoy the benefit of on-screen workouts that coach you through each move. It's water-resistant up to 50M as well. The new Active Zone Minutes feature helps you get the most of your workouts by knowing when you enter your personalized target heart-rate zone.
Our Fitbit Versa 3 review preferred petite fitness trackers to fitness smartwatches but found the Versa 3 to be the exception that would make him switch. He praised the comfortable, lightweight squircle design and the bundle of smart features you'd typically find in a more expensive, heavier watch. It fills the same niche as the Garmin Venu 2 Plus, only for about half the price; keep in mind you'll need to pay for Fitbit Premium to get the most out of it, which closes the price gap over time.
Note: The Fitbit Versa 4 will launch in late September with some minor updates. Once we review it and confirm it performs as well as the last model, it will very likely take this slot.
Best lifestyle watch for fitness
Reasons to buy
+
Wear OS 3.5 apps, smarts and performance
+
HRM, SpO2, ECG, BIA, temperature sensors
+
Optional LTE connectivity
+
Sapphire Glass protection
+
Fast charging speeds
Reasons to avoid
-
Relatively short battery life
-
Relies on touch bezel
Now let's turn to the other side of the spectrum of fitness smartwatches. The Samsung Galaxy Watch 5 is primarily an Android smartwatch with fitness tools rather than a "fitness smartwatch." It doesn't have the in-depth metrics and workout suggestions of a Garmin or Fitbit. But that arguably doesn't matter because it supports a variety of fitness apps, from Samsung Health to 3rd-party apps like Strava or Nike Run Club. Thanks to Wear OS 3, it runs laps around other devices in performance, and in addition to tracked workouts, it has more health sensors than most fitness-focused watches.
The Galaxy Watch 5 can track your heart rate, blood oxygen, heart rhythm (ECG), and Bioelectrical Impedance Analysis; it also measures blood pressure in some territories, and it added a temperature sensor that will improve sleep tracking once Samsung activates it. The BIA sensor is designed to measure your overall body composition by recording key metrics, including body water and fat percentage, skeletal muscle mass, and more. If you're serious about fitness as a way to stay in shape, the Galaxy Watch 5 can track your body's progress very closely.
As our Galaxy Watch, 5 review pointed out, Samsung "played it safe" with this model, not making too many changes from the Galaxy Watch 4. It has the same performance and mediocre battery life: it lasts 40 hours in ideal conditions, but continuous sensor data or GPS tracking will cut into that estimate. But it did double the charging speed so you can top up to 50% in less than a half-hour, and the watch itself was redesigned, so the sensors sit closer on your wrist for more accurate results.
Most importantly, the Galaxy Watch 4 was already the best Wear OS watch by a mile before the Galaxy Watch 5 came around, and Samsung's newer watch still owns that title. If you own an Android phone and want a watch, you can text friends on, manage your calendar, speak to Google Assistant, and use other tools besides fitness widgets, start and end your search with the Galaxy Watch 5.
Fitness tracking smartwatch for beginners
Reasons to buy
+
Onboard GPS
+
Heart-rate monitoring
+
4-in-1 health measurement
+
Automatic workout detection
+
Up to 12 days of battery life
Reasons to avoid
-
Lacks third-party apps
-
No NFC payments
-
No speaker
If you're buying a fitness smartwatch for the first time, you might be a tad overwhelmed by how many options you have. Luckily, several wearables cater to beginners and first-time users. You may not need a watch equipped with every fancy feature under the sun. If you're just getting started, you should check out the new Amazfit GTS 3, which our reviewer called "as close as you'll get to an Apple Watch without spending a fortune on the real thing."
This smartwatch is robust and affordable, which is a rare combo in the wearable world. It offers activity/sleep tracking, heart-rate monitoring, onboard GPS, blood-oxygen tracking, and much more. So when you're in a hurry, select the "one-tap measuring" feature to get a detailed reading in under a minute. This 4-in-1 health measurement records your heart rate, blood oxygen, stress, and breathing rate all at once.
Fitness enthusiasts always on the go don't usually have time for charging their watch every other day. However, the Amazfit GTS 3 still offers double-digit battery life even when recording a daily workout. It can last up to 12 days, depending on your usage. While this figure may vary a bit, it's pretty impressive to get anywhere near that number in the first place, especially from a budget smartwatch.
It may not be overflowing with smartwatch features like some of the other watches on this list, but the Amazfit GTS 3 does come with Amazon Alexa built-in. This voice assistant can do it all. Whether you need to ask a question, set an alarm, or launch a workout, you'll have the assistance you need. There's no speaker on the watch, so you'll have to read responses on the watch display. If you're pining for a speaker, consider getting the older GTS 2 instead of the GTS 3. There are no third-party apps available, so don't expect to be downloading your favorites on this watch. If you're focused on finding an affordable fitness watch that's perfect for daily wear, you'll love this one.
Best budget Garmin fitness smartwatch
Reasons to buy
+
Two size options
+
Heart-rate monitoring
+
Built-in GPS
+
50-meter waterproofing
+
NFC for Garmin Pay
+
Up to eight days of battery life
Reasons to avoid
-
Pretty expensive
-
Missing newer Garmin software
The Garmin Vivoactive 4 isn't the newest watch on the market anymore, but it's still one of the best fitness smartwatches you can buy and can also be found at a huge discount these days.
It offers some significant upgrades compared to its predecessor, including on-screen workouts, two size options, and music storage as a standard feature. It's not quite as expensive as it once was, but it's not the cheapest option either. That said, it's a phenomenal fitness smartwatch that tracks your every move. It's also an ideal option if you want a running watch that can help you improve your performance.
On the fitness side of things, you've got your usual heart-rate monitoring with activity and sleep tracking. New features include a Pulse Ox sensor, Body Battery energy monitoring, and 20-plus preloaded sports apps. If you're not familiar, the Pulse Ox sensor monitors blood-oxygen saturation levels, and the Body Battery checks your energy levels throughout the day, so you can schedule your workouts and rest time accordingly. The built-in GPS allows you to map outdoor runs without bringing your phone, and the watch is waterproof up to 50 meters.
When you combine all of that with an NFC chip for Garmin Pay, the eight-day battery life in smartwatch mode (or six hours in GPS mode with music), and a lovely stainless steel design, it's easy to see why this was our former top pick. The Venu 2 beats the Vivoactive 4 because the older watch is missing newer tools like sleep score, fitness age, Health Snapshot, heart rate variance tracking, and so on. As our Vivoactive 4 reviewer put it, it's "an ideal option for those who want more than a basic activity tracker but don't want to spend a fortune on a premium watch that's loaded with features they won't use."
Best premium lifestyle/fitness watch
Reasons to buy
+
All the same perks as Galaxy Watch 5
+
3-day battery life
+
1.4-inch display
+
Titanium case with elevated bezel
+
GPX maps and trackback feature
Reasons to avoid
-
Heavy, thick design
-
Expensive
-
Not many "pro" features
The biggest drawback of the Galaxy Watch 5 is its short battery life, an issue with most lifestyle watches. It makes it unreliable for long races or multi-day treks. So Samsung took that design and added a giant 590mAh battery to double the watch's battery life to 80 days. Although the Galaxy Watch 5 Pro has a couple of exclusive features — hiking/cycling maps and Trackback — it's essentially a bulkier, costlier Galaxy Watch 5 in every other respect.
The good news is that the device lived up to Samsung's estimates in our Galaxy Watch 5 Pro review. It'll last 3+ days with continuous heart rate and blood oxygen monitoring as well as sleep tracking, even taking some light GPS tracking into account. If you add tools like AOD, always-listening assistant, or music storage, it comes closer to 20-30 hours; or you can likely have it last across 10 GPS hours with full charge. Other watches last longer but give you no reason to wear them outside of a workout; the Galaxy Watch 5 Pro justifies wearing it all day, even though it's heavy enough to weigh down your wrist after a while.
Whether you choose the Galaxy Watch 5 or Watch 5 Pro depends on how much of a concern battery life is to you. Other lifestyle watch owners make do with daily charges, and the base model will last across a marathon if you fully charge it beforehand and don't use extra features. The Pro gives you a huge buffer so that you know it'll rarely die on you, even with extras, but it's really only a good fit for people with large wrists. The Pro is the best Android watch available if you can live with the weight.
The more affordable big-battery option
Reasons to buy
+
Improved performance
+
Built-in GPS
+
Heart-rate monitor
+
Blood-oxygen tracking
+
Military-grade durability
+
New customizable display
Reasons to avoid
-
Too large for some wrists
-
Expensive price tag
Mobvoi has done a fantastic job perfecting the TicWatch Pro lineup over the years, and the newest TicWatch Pro 3 Ultra GPS is no exception. This watch is still equipped with features that users know and love while offering some useful improvements to the overall user experience. The combination of these features makes the TicWatch Pro 3 Ultra GPS one of the best Android smartwatches out there.
The design was already a popular feature, but it's been further refined with a new customizable backlight for the display's top layer. Mobvoi also added some amazing new software features to the TicHealth suite. If you're seeking the best fitness smartwatch on Wear OS, this could very well be the watch of your dreams. Users who embark on rugged adventures will appreciate its improved durability thanks to the MIL-STD-810G rating.
So why, you ask, should you buy the TicWatch Pro 3 Ultra GPS instead of a Galaxy Watch, considering Mobvoi has yet to update it to Wear OS 3? For starters, it's due to receive the update before the end of 2022. So if you're patient, you'll have an even better wearable experience when your watch starts running Wear OS 3.
More importantly, it'll last for up to 72 hours in smart mode, something our TicWatch Pro 3 Ultra review confirmed: thanks to the 577mAh battery, it lasts three days with "24-hour heart rate monitoring and blood oxygen tracking, Wi-Fi, Bluetooth, sleep tracking, notifications, and even a workout or two," though it's closer to 2 days with GPS workouts. That's pretty much exactly the same as the Galaxy Watch 5 Pro...except that the watch itself is $150 less at full price and often costs even less. And despite the equal battery size to the Pro, it weighs significantly less, making it more comfortable for long-term wear.
It's not as fancy as a Samsung watch, but it'll give you what you need in a fitness smartwatch.
Apple's best fitness feature smartwatch
Reasons to buy
+
Activity/sleep tracking
+
ECG & SPO2 sensors
+
Apple Fitness+
+
Faster charging speeds
+
Optional LTE connectivity
Reasons to avoid
-
Pretty expensive
-
Daily charging required
-
Not compatible with Android
Given the Apple Watch Series 8 recently launched, that will soon take this slot once we've had a chance to review it. But in the meantime, if you're an iPhone user considering which fitness smartwatch to buy, you'll have the same consideration as Android users with Samsung watches. You have to decide if the Apple Watch Series 7 (or 8) fits your needs because of its smarts or doesn't because of its battery life.
Despite being an Android site, we called the Apple Watch Series 7 the "only premium smartwatch you should buy" in our review. Assuming you have an iPhone to pair it with, you'll enjoy seamless connectivity between your phone and wrist, a stylish slim-bezeled squircle design, a bright OLED display with zippy performance, a full QWERTY keyboard for on-wrist texting, and key sensors (HRM, SpO2, ECG).
More importantly for this discussion, the latest watchOS added tons of useful fitness-tracking data and watch faces. You can see your heart rate activity zones, elevation, running power, stride length, vertical oscillation, and more on your wrist while you work out. And you can create custom workouts encouraging you to hit certain benchmarks like pace, distance, heart rate, or cadence for a certain amount of time. It's exactly what you need in a fitness smartwatch.
Of course, if you're buying an Apple Watch to support your fitness routine, then you'll want to consider getting an Apple Fitness+ subscription. This service offers an extensive library of video-led workouts. You can pick the one you want, and the video will display on your preferred Apple device. The real-time Apple Watch data will be displayed right on the screen during your workout.
The biggest downside is that an Apple Watch will barely last a day with regular use and will quickly drain with GPS tracking after a few hours. The Apple Watch Ultra solves that issue, but most people can't afford that behemoth or won't like its massive size. So you're stuck with daily charging or twice-daily if you track your sleep. But at least the new USB-C charging option gives it a faster recharge, letting it jump from zero to 80% in less than an hour or add 8 hours in 8 minutes.
Here comes the elephant in the room: If you have an Android phone, the Apple Watch Series 7 is completely useless. You can't use it with even the best Android devices, so you're better off with the Galaxy Watch 4 or something else on this list instead.
Best fitness smartwatches: How to decide
The ultimate fitness smartwatch comes with numerous sporting and workout modes that can be applied to the real world, comprehensive health, and workout tracking functionalities. It provides valuable feedback and analytics that you can benefit from. It is important to get a wearable with a heart rate monitor, along with as many other sensors as you need for health, sleep, and stress tracking.
Bonus features such as Google Pay and third-party apps are nice, but they aren't entirely essential. You need your smartwatch to be a portable health and fitness trainer for your fitness needs. The best fitness smartwatch will help you on your journey, aid you in your workouts, and track your progress.
We feel confident that the Garmin Venu 2 Plus is the best fitness smartwatch for most users. You have a little bit of everything, including an attractive design, solid fitness features, and a few extra smartwatch perks. But it sits closer to the fitness side of things than the "smart" side, even with its mic/speaker and music storage. A Galaxy or Apple Watch will serve you better if you need fitness tools but don't want to make them the focus of your watch.
On the other hand, you'll want to turn to Garmin, Fitbit, Polar, or another fitness-focused brand if that's your number one priority. These watches may not have superfluous battery-draining apps. Still, they'll actively guide your training with recommendations for today's workout and subsequent recovery time. In contrast, a lifestyle watch will simply tell you to close your rings every day with little other guidance.
Your preferences are your own, but whichever way you lean, these picks should guide you towards a healthier body or your next PR.