Best Garmin watch 2023
These are the best across the Venu, Forerunner, Vivoactive, Instinct, Fenix, and other Garmin lineups, for every type of athlete.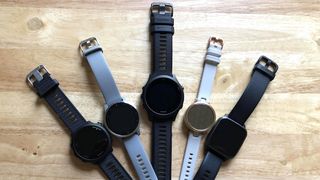 (Image credit: Courtney Lynch / Android Central)
You won't find a more prolific fitness brand than Garmin. It targets a wide range of serious and casual athletes with five main product lineups — Fenix, Forerunner, Instinct, Venu, and Vivoactive — adding up to dozens of options.
Across all brands, you'll get fantastic battery life, superb health and GPS tracking, and all the data and metrics you could ever want. But figuring out which to buy, and whether it's worth upgrading to the pricier models, can be tricky. So while the Garmin Forerunner 265 is the best Garmin watch available in our minds, we've selected all the other models that might fit your specific needs, whether you're an athlete or just trying to get healthier.
What are the best Garmin smartwatches?
Why you can trust Android Central Our expert reviewers spend hours testing and comparing products and services so you can choose the best for you. Find out more about how we test.
Best Garmin watch overall
Reasons to buy
+
Bright, high-res AMOLED touch display
+
Up to 15-day/ 24-hour GPS battery life
+
Multi-band/ All-Systems tracking
+
Acute load and training readiness
+
Two size options
Reasons to avoid
-
No built-in maps like Forerunner 965
-
More expensive, shorter-lived than Forerunner 255
Not every Garmin user needs hardcore running tools like the Forerunner series offers. But the Forerunner 265 doesn't hold back for runners, cyclists, and swimmers who need guidance on when to push themselves or focus on recovery, and it finally replaces the efficient, hard-to-read MIP displays of most Garmin watches with a beautiful AMOLED — without hurting battery life too much.
As our Garmin Forerunner 265 reviewer explains, this watch is essentially a Forerunner 255 Music with a better display and a couple new software tricks. If you don't need the AMOLED, music storage, or training readiness, then you can save $100 and get an equally excellent experience with key tools like Garmin Coach, ultra-accurate multi-band tracking, acute load data, and heart rate variance (HRV) data.
That being said, the Forerunner 265 is just so much easier to read without eye strain while indoors, as well as easier to navigate through menus thanks to the touchscreen. And training readiness is a much more useful feature than Body Battery because it measures more than your general energy level after sleep, but also factors in recovery time, HRV, and recent workout load to suggest when and how hard to train.
Plus, the Forerunner 265 is one of the rare watches with wrist-based running dynamics, meaning you can use it to check your cadence, oscillation, stride length, and other data without needing to wear the optional Garmin Pod accessory on your shorts.
We consider the Forerunner 265 the best running watch available across all fitness brands; its only real competition is the Forerunner 965, which adds full-color mapping and real-time stamina for an even more hardcore experience. But most runners and/or Garmin fans can save the extra cash and stick with this option. You may want to choose the Forerunner 265S, which shrinks the display from 1.3 to 1.1 inches but actually lasts 2 days or 4 GPS hours longer than the larger model.
Best affordable watch for runners
Reasons to buy
+
Reasonable price
+
Lightweight design
+
Built-in GPS + HRM
+
5 ATM
+
14-day battery life
+
Garmin Coach and Pacepro
Reasons to avoid
-
No NFC, SpO2, altimeter
-
Low-res display
Picking the best Garmin watch depends largely on your wallet, since almost none of them are especially "affordable" compared to the price of most fitness watches. If that's a concern, then the Forerunner 55 is a long-time favorite of ours that's less than half the price of the Forerunner 265.
The Forerunner 55 doesn't have some of the sensors you'd need to get a total glimpse of your health or your effort in high-altitude environments. But our reviewer raved that "the Forerunner 55 is a great place to start if you're a new runner or someone who's starting to track their workouts for the first time," with better tools than you'll find on most other Garmin watches at a lower price.
In terms of features, you get all the core running essentials like Garmin Coach, Pacepro, cadence alerts, race predictor, recovery advisor, Body Battery, Intensity minutes, respiration tracking, and women's health tracking. Several of these aren't available on more expensive non-Forerunner Garmin watches, and generally speaking, these offer plenty of feedback and guidance for getting into better running shape.
It'll last you two weeks per charge with 20 hours of GPS tracking — the same as the 265. At 37g, it's on the lighter end for a Garmin watch, and it has 5 ATM water protection, which older budget Forerunners like the 45 lacked. And with support for 20mm quick-release watch bands, you'll find plenty of great Forerunner 55 bands to try and swap between.
If you're uncertain whether to buy the Forerunner 255, Forerunner 55, or another option, we have a guide on which Garmin Forerunner model is best, complete with tables comparing which features are on which watch.
Best Garmin lifestyle watch
Reasons to buy
+
GPS, HRM, NFC
+
Crisp AMOLED display
+
Voice assistant & phone calling
+
5 ATM water resistance
+
9 days of battery life
Reasons to avoid
-
Expensive price tag
-
No LTE connectivity
Garmin watches may never be known for their "smarts," compared to a Wear OS watch or even a Fitbit with Google apps. The Garmin OS isn't built for anything too complex. But if you want a Garmin watch that's as close to a traditional smartwatch as possible, you want the Garmin Venu 2 Plus.
Like the Forerunner 265, it has a bright, 1.3-inch AMOLED display with touchscreen controls, which the Venu 2 Plus uses to great effect for tools like thousands of animated exercises and HIIT workout timers. The exclusive feature is the built-in mic and speaker, giving you the ability to take phone calls or ask your voice assistant questions with your phone stuck in your pocket.
Our Garmin Venu 2 Plus reviewer praised it as a great watch for cross-training or gym workouts that's so much more attractive and readable than most Garmin watches with its stainless steel bezel and AMOLED display. He also appreciated the three-button layout, with a dedicated button for shortcuts like calling Google Assistant or Siri, activating Garmin Pay, or summoning music controls. It's dependent on your phone — no LTE here — but at least makes it easy to keep your phone in your pocket during a run.
So despite its lack of third-party apps, the Venu 2 Plus remains our favorite fitness smartwatch available today.
Best affordable lifestyle watch
Reasons to buy
+
Onboard GPS
+
Heart-rate monitoring
+
5 ATM water resistance
+
Pulse Ox & Body Battery
+
Six days of battery life
+
Garmin Pay
Reasons to avoid
-
Music version with Wi-Fi costs more
-
Lacks altimeter, gyroscope
Those who want a bit of everything Garmin offers without breaking the bank, designed with an Apple Watch-like squircle design, will appreciate the Venu Sq 2. As the name suggests, this is a square version of the Venu 2, with a beautiful 1.4-inch AMOLED display instead of the 1.3-inch LCD on the original Venu Sq.
It doesn't have the mic/speaker combo of the Venu 2 Plus, and it misses out from a couple features on the Venu 2 as well. Garmin removed the altimeter for stair tracking and elevation measurement, the gyroscope for a muscle map feature, the exercise guide animations, and live watch faces. You'll also have to pay $50 extra for the Venu Sq 2 Music to get music storage and a wi-fi connection.
Still, it's rare to find a Garmin watch at this price point that isn't compromised in some way, and our Venu Sq 2 reviewer even called it the "Goldilocks smartwatch" because of how it struck the right balance between affordability and packing in enough features. You get the essentials like Body Battery, sleep score, HIIT timers, Garmin Coach, and preloaded workouts to guide you to success.
Best Garmin hybrid watch
Reasons to buy
+
Classic design with silver or gold finishes
+
Pixel-dense LCD touchscreen
+
Qi wireless charging
+
Activity, stress, sleep, and heart-rate tracking
Reasons to avoid
-
Lacks built-in GPS
-
Touchscreen navigation can be tricky
-
Low battery life
If you're not quite ready for a full-blown smartwatch, you might be interested in a hybrid model instead. Garmin has an impressive hybrid lineup, including the vívomove Trend and vívomove Sport, both of which resemble traditional analog watches but with hidden LCD or OLED panels in the display.
Hybrid smartwatches are made for fashion-forward folks who still want to enjoy some extra perks at a reasonable price compared to "regular" smartwatches, and the vívomove Trend is our latest favorite because it improves on our previous pick (the vívomove Sport) in a few key ways.
Available in Silver, Slate, Cream Gold, or Peach Gold bezels, the Trend is incredibly stylish compared to most Garmin watches, even if it means you miss out on a lot of functionality. As our reviewer described it, this hybrid watch is best if "you'd rather have a watch that looks stylish and feels comfortable to wear than some bulky lump on your wrist."
That being said, the vívomove Trend still packs in plenty of useful features. You get a few key activities — Walk, Run, Cardio, Bike, Strength, Breathwork, Yoga, Pool Swim, Treadmill, and Other — Sleep score, Body Battery, respiration and hydration tracking, menstrual cycles, intensity minutes, Pulse Ox, and fitness age. Or the "Garmin Starter Pack," as our reviewer dubbed this suite of tools.
It has an older Elevate heart sensor and no built-in GPS, which is for the best since the battery life is on the shorter side. But it's still far more useful than many hybrid watches without the Garmin connection, and its monocolor LCD display is surprisingly readable compared to the vívomove Sport's multicolor, low-res display.
Best for battery life
Reasons to buy
+
48 hours of GPS tracking
+
Military-grade fall and water protection
+
Improved metrics and display over Instinct 1
+
Garmin Pay support
+
Upgraded Elevate 4.0 HRM
Reasons to avoid
-
No music storage
-
Bulky
-
Fairly pricey with no specialization
Nearly all Garmin watches will last you 5 to 10 days, but only if you don't regularly use GPS tracking. In actuality, they'll require a recharge every few days if you're physically active. It's not nearly as bad as the daily recharge required by a Galaxy or Apple Watch, but if you really want a watch that'll last weeks even with daily workouts, the Instinct 2 Solar is unmatched.
We'll let the numbers speak for themselves: the non-Solar Instinct 2 lasts 28 days or 30 GPS-tracked hours. Spend $100 more for the Solar Panel display, and it'll add an extra 18 GPS hours before you need a charge; and in Max Battery GPS Mode (which tracks you every minute), it'll last 370 hours with solar. Add in 10ATM water resistance and a durable design meant to handle shocks and drops, and it's virtually impossible for the Instinct 2 Solar to fail you during a long trek.
The Instinct 2 series lacks the specialization of a Forerunner, the affordability of a Vivoactive, or the advanced mapping and metric tools of a Fenix. But it has core features like Body Battery, sleep/stress tracking, Pulse Ox, VO2 Max HIIT workouts, training and recovery time suggestions, training effect, and training load.
It's the opposite of a lifestyle watch, but the Instinct 2 Solar gives you the core essentials and a watch you know will never die on you during a race. Trust us on that: our Instinct 2 Solar reviewer wore one during a marathon, and it still had over 20 days of life left at the end. It more than lived up to Garmin's estimates, and can even gain back a few days of battery life if you leave it sitting in direct sunlight.
Note: The new Garmin Instinct 2X Solar costs the same and comes with a few key upgrades; we intend to review it soon, at which point it may replace the standard Instinct 2 Solar on this list.
Best for women's fashion
Reasons to buy
+
Activity/sleep tracking
+
5 ATM water resistance
+
Music controls and notifications
+
Heart-rate monitoring
+
Up to 5 days of battery life
Reasons to avoid
-
Lacks built-in GPS, NFC payments
-
Monochrome display isn't for everyone
-
Proprietary bands
The Garmin Lily is a small but efficient smartwatch specifically designed for women by women. This watch is a solid option because it balances style with smartwatch features, so you're not forced to choose one over the other like with the hybrid Vivomove Sport. The Garmin Lily may just be one of the best smartwatches for women.
One of the first things you'll notice is that this smartwatch has a monochrome display. If you're used to bright and shiny AMOLED displays, this might be a bit of a drag. However, the text and numbers are large, crisp, and easy to read. Not to mention, you'll enjoy up to five days of battery life on a single charge.
Other key features include heart-rate monitoring, 5 ATM water resistance, activity/sleep tracking, blood-oxygen monitoring, and much more. You'll also be able to choose whether you want the Sport model with aluminum hardware and a silicone band or the Classic model with stainless steel hardware and a leather band. As you might've guessed, the Classic model is a bit more expensive.
It's worth mentioning that the Garmin Lily lacks a few key features. Our Garmin Lily reviewer warns that you should "manage your expectations regarding how smart this smartwatch is," beyond basic activity tracking. She enjoyed the design, but missed some tools like built-in GPS, music storage, or NFC payments.
Garmin Fenix 7
Best for adventurers
Reasons to buy
+
GPS, HRM, NFC, SpO2
+
10 ATM water resistance
+
New touchscreen design
+
Built-in flashlight (select models)
+
Multi-day battery life
Reasons to avoid
-
One of the most expensive options
-
Not the most stylish wearable
The long-awaited Fenix 7 smartwatches are here with some significant upgrades that true adventurers will love. Previous models required users to navigate the UI with side buttons. By contrast, the Garmin Fenix 7 models offer a touchscreen design as well as side buttons. There are several variants to pick from, with the 7S and 7 models being the most affordable — but they still cost a pretty penny. If you want a specific design, size, or extra features, you can opt for the 7X Solar or 7X Sapphire Solar.
The 7S models come in a 42mm case with 11 days of battery. The standard Fenix 7 models come in a 47mm case with 18 days of battery life. The larger 7X models come in a 51mm case and can last for a whopping 28 days. All battery life figures can be stretched further with battery saver modes. It's also worth noting that the 7X offers a new multi-LED flashlight. Garmin says this multi-purpose tool will change the game for adventurers. Whether you're setting up camp or running while it's dark outside, you'll have the confidence you need. The red or adjustable white light will illuminate the way for improved visibility and situational awareness.
It should come as no surprise that the Garmin Fenix 7 models are made to be durable. The 10 ATM water resistance rating ensures your watch can withstand rugged environments. You'll have tons of built-in sports apps, GPS, preloaded maps, heart-rate monitoring, daily workout suggestions, and a recovery time advisor. The new real-time stamina tool lets you monitor and track exertion levels during a run or bike activity. The new visual race predictor tool considers your running history and overall fitness to deliver race estimates and insights into how training is progressing. As you might've guessed, these upgrades aren't cheap. But, if you spend a good chunk of time adventuring, the price tag just might be worth it.
Best last-gen Garmin
Reasons to buy
+
Built-in GPS with great tracking features
+
5 ATM water resistance
+
Garmin Pay
+
Music storage
+
Good battery life
+
Pulse Ox sensor
Reasons to avoid
-
45 mm has fewer color options
-
Lackluster display
-
Lacks newer software widgets
The Garmin Vivoactive 4 may not be the newest Garmin smartwatch on the market, but it's overflowing with features that make it a worthy upgrade from the previous model. You get all the essentials, like built-in GPS, smartphone notifications, Garmin Pay, and 5 ATM water resistance. It added music storage and a Pulse Ox sensor to track blood oxygen saturation for more insightful sleep data.
Body Battery lets you check your energy levels during the day by gathering data from heart rate variability (HRV), stress, sleep, and activity. Then, it'll help you schedule your workouts and rest periods at optimal times. There are on-screen workouts for strength training, cardio, yoga, and Pilates; animations on the watch demonstrate proper form and technique.
You can choose between two sizes: 45mm and 40mm. The larger model gives you an extra day of battery life in smartwatch mode at eight days. It'll last six hours when it's in GPS and music mode. The smaller model dips down to seven days and five hours, respectively. If you go with the larger 45 mm watch, you'll only have the color choice of Slate or Silver. However, you can find plenty of Garmin Vivoactive 4 bands that allow you to personalize your wearable further.
Our Garmin Vivoactive 4 reviewer wished it would have a richer display at this price point, but the Vivoactive 4 uses the same transflective display as most Garmin wearables on this list. It's also slightly chunkier than newer models, and while it tracks health data well, it lacks some of the sport guidance tools you'd find on a Forerunner. But for self-guided athletes needing all the essentials at a fair price, the Vivoactive 4 can't be beaten.
Best for kids
Reasons to buy
+
12-month battery life per charge
+
5ATM resistance and outdoor visibility
+
Activity challenges, sleep tracking, and task reminders
+
Designed for small wrists
+
Comes in Star Wars, Marvel, and Disney Princess themes
Reasons to avoid
-
Very small screen
-
Limited parental or communication tools
Garmin watch designs can be too large for many adults' wrists, let alone children's little arm bones. Most of the features are too advanced, sport-specific, or workout-specific for kids' unstructured playtime, and Garmin watches just aren't that fun-looking. But the Garmin Vivofit Jr. 3 is the exception to the rule, as the best kids' smartwatch geared specifically towards fitness.
For starters, the Vivofit Jr. 3 design with 5ATM water resistance and a battery big enough to last one year per charge ensures that it'll never die on your kid. And you can buy one based on their interests: along with the new Star Wars-themed Vivofit Jr. 3 with Mandalorian or Grogu designs, you can get Little Mermaid, Black Panther, Iron Man, or any number of cute color choices.
Whichever you pick, your kid will have cute themed challenges rewarding them for completing chores or 60 minutes of activity per day. You set up what chores you want them to complete and what rewards they'll receive for doing so. Our reviewer found that his kid enjoyed trying to beat his workout and sleep scores, and found it comfortable to wear while sleeping.
Other kids' watches will offer features like GPS tracking and wrist-based calling, if you're more concerned with keeping tabs on your kids than about their fitness. Our Garmin Vivofit Jr. 3 reviewer instead praised it for encouraging kids to compete with other family members wearing their own Garmin watches, while the reward system for completing chores "can help a child learn valuable lessons" like independence and responsibility.
---
Best Garmin smartwatch: Which should you buy?
Considering how many incredible choices you have, it's challenging to crown only one of these wearables as the best Garmin watch. You can choose an Instinct for battery power, Venu for lifestyle tools, vívomove for style, the Forerunner for in-depth running and cycling tools, or a Fenix for all of the bells and whistles possible.
Since it's our job to recommend just one, we have to go back to the Garmin Forerunner 265 and 265S. Whether you're a runner, swimmer, cyclist, or triathlete, these watches have all the software tricks you'd possibly want to guide you towards your latest PR, to the point that you'll have to spend weeks finding every feature to take full advantage of it.
Otherwise, if you're looking for something more affordable, the Venu Sq 2, Forerunner 55, or Vivoactive 4 are three fantastic options that'll save you money and still give you the Garmin essentials you crave.
Get the Android Central Newsletter
Instant access to breaking news, the hottest reviews, great deals and helpful tips.
Senior Editor, VR/AR and fitness
Michael spent years freelancing on every tech topic under the sun before settling down on the real exciting stuff: virtual reality, fitness wearables, gaming, and how tech intersects with our world. He's a semi-reformed Apple-to-Android user who loves running, D&D, and Star Wars. Find him on Twitter at @Michael_L_Hicks.