Best smartwatches that can measure blood oxygen saturation levels 2023
Make sure you're getting enough air, or if you could have a breathing condition you don't know about.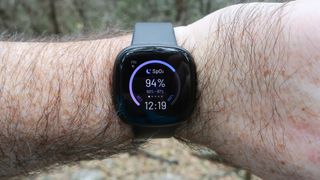 (Image credit: Jeramy Johnson / Android Central)
If you're a passionate smartwatch enthusiast, you're probably aware that blood oxygen monitoring is a common feature these days. It's especially helpful during sleep tracking or when you're at high altitudes. Not to mention, it can also alert you to potential issues such as sleep apnea and other respiratory conditions that require medical attention. Aside from budget models, most fitness watches include the SpO2 sensor these days. But some models are better than others at helping you access that data or at measuring it constantly without destroying the battery life. Starting with the Garmin Forerunner 255, we've rounded up some of the best smartwatches with blood oxygen monitoring.
Get a breath of fresh air with these great SpO2-compatible watches
Why you can trust Android Central Our expert reviewers spend hours testing and comparing products and services so you can choose the best for you. Find out more about how we test.
Best overall
Reasons to buy
+
All-day Pulse Ox mode
+
Body Battery testing
+
HRM with HRV testing
+
2-week battery life
+
Built-in GPS with altimeter
+
Two size options + music upgrade
Reasons to avoid
-
Somewhat bulky for sleep tracking
-
No touchscreen
One of the best ways to improve your blood oxygen levels is to exercise, and Garmin watches are among the best for encouraging and tracking activity and health data. The Garmin Forerunner 255 is the brand's best affordable running watch that also caters to swimmers and cyclists. And it includes an All-Day Pulse Ox setting that checks your oxygen levels every 5-15 minutes, as well as a spot-check watch face (pictured above) that's easily accessible or a sleep-only option.
In normal conditions, the watch lasts for two full weeks per charge. When our Forerunner 255 reviewer activated continuous SpO2 tracking, it dipped its likely battery life by several days; combined with regular GPS-tracked workouts, it'll probably need charging every 7 days. But that's a heck of a lot better than most of the other options on this list, which fall closer to 1-4 days per charge without taking GPS into account.
We'd be remiss not to mention that this watch also has the company's exclusive Body Battery feature, which is designed to track your energy levels throughout the day. This feature will help you determine the optimal times for activity and rest, taking your blood oxygen levels into account and determining whether your sleep is actually recharging your energy or not.
To achieve its long battery life, the Forerunner 255 has a relatively thick build that may not feel the most comfortable when worn at night — though the smaller 255S may help on that front. And although it has tap-to-pay and a music storage option, it's not the "smartest" of smartwatches. But it gives you the data you need without inconvenient recharges or charging you for the data.
It doesn't get any better
Reasons to buy
+
Onboard GPS
+
On-screen workouts
+
6-day battery life
+
Heart-rate monitoring
+
5 ATM water resistance
+
Amazon Alexa and Google Assistant
Reasons to avoid
-
App selection needs work
-
Old Versa bands aren't compatible
-
Need watch face to see SpO2 data
Fitbit has made a name for itself as one of the most trusted names in the world of fitness trackers, and the Versa 3 is no exception. As usual, you'll enjoy impeccable sleep tracking, but you also have the added benefit of a built-in SpO2 sensor for blood oxygen tracking. You have to install the Fitbit SpO2 app and watch face, at which point your battery life will be cut in half. You'll then be able to see your most recent score on the face and your nighttime averages on the app. There isn't a SpO2 spot-check option, however, and you need Premium to see more than a week back in your nightly SpO2 data.
Still, in our Fitbit Versa 3 review, we noted how easy it is to "transition from SpO2 to step count, to heart rate, to Active Zone Minutes, to floors climbed" with just a few taps. It makes all of your information feel accessible at any time, while other watches make this data harder to find. And it uses this data to give you information like a Daily Readiness Score and Sleep Score that's very handy for gauging your current health and energy.
The Versa 3 maintains the unique squircle design with a modern twist and an improved band system that's much easier to use. It has a built-in microphone and speaker for calls and using the voice assistant, as well as Fitbit Pay and onboard GPS. In other words, it's "smarter" than the Forerunner 255 but will still last several days with SpO2 tracking active.
Overall, the Fitbit Versa 3 has a lot to offer for the price. It may not be an advanced smartwatch with premium features, but it makes up for it in other areas. Just keep in mind that you'll likely need to pay for Fitbit Premium to get the most out of it.
Note: The newer Fitbit Versa 4 will launch in late September with most of the same features and some new software upgrades. You'll likely want to buy the newer model, but we can't officially recommend it until we can review it for ourselves.
A stunning watch that does it all
Reasons to buy
+
Onboard GPS
+
Up to eleven-day battery life
+
Garmin Pay & music storage
+
Excellent health/activity tracking
+
Sleep score and fitness age
+
5 ATM water resistance
Reasons to avoid
-
Expensive
-
Venu 2 lacks mic/speaker
-
Fewer features than Forerunner series
If you liked all of the perks described for the Forerunner 255 but want a more traditional smartwatch experience, the Garmin Venu 2 is the brand's best compromise pick. It gives you the excellent Garmin data and metrics you're used to, but with a beautiful AMOLED display for a more stylish design than the brand typically sells. And like other Garmin trackers, it gives you the option to turn SpO2 tracking on all day or during sleep. Thanks to the 11-day battery life, it can absorb the blood oxygen battery hit better than any Fitbit or cheaper Garmin model.
Our Garmin Venu 2 review breaks down all the ways it gives you a premium fitness smartwatch experience. The combination of buttons and touchscreen makes it easier to navigate than watches that only offer one or the other, the battery holds up to Garmin's claims, and you get in-depth health metrics like fitness age, sleep score, and body battery so you know exactly how your body is doing. You even get HIIT workout timers and animated exercises for the gym to help improve your fitness.
For the complete feature package, you'll have to upgrade to the Venu 2 Plus: it adds a mic and speaker for answering calls or speaking to your voice assistant, plus a third button for shortcuts, but costs slightly extra and lasts 2 days less. Our reviewer loved it as well, though it lacks the running-specific widgets of the Forerunner series. It's up to you to decide whether you care more about answering calls on your wrist or gaining an extra day or two of blood oxygen tracking.
Just keep in mind that even if the Venu 2 and Venu 2 Plus are two of the best Garmin watches, they're still running the limited Garmin OS. You'll need to choose a proper lifestyle watch from Samsung or another brand for more apps and smarts, in addition to blood oxygen monitoring.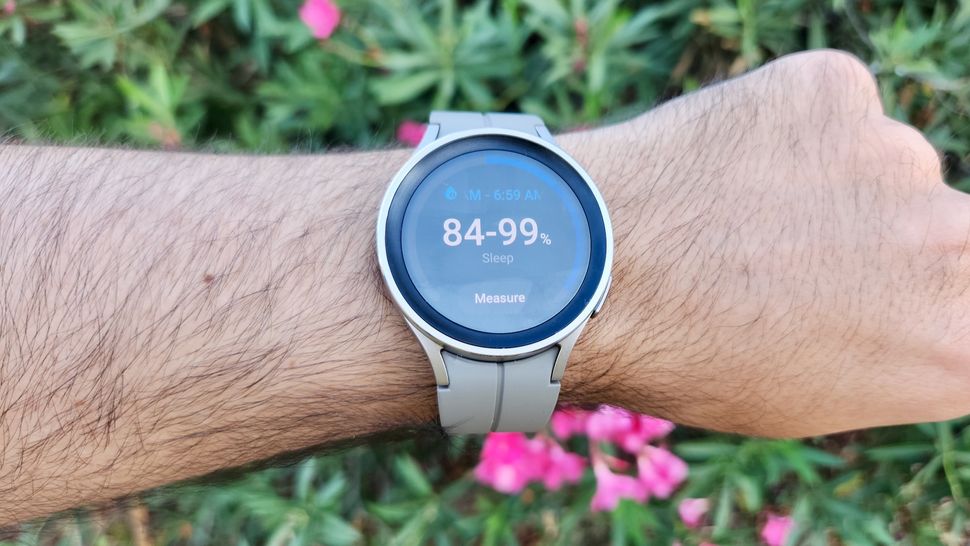 Premium features and performance
Reasons to buy
+
Up to 3-day battery life with continuous SpO2 tracking
+
Wear OS 3.5
+
Onboard GPS / optional LTE
+
Google Assistant/Wallet
+
HRM, ECG, BIA, skin temperature sensors
Reasons to avoid
-
Thick, heavy design
-
Expensive
-
Android-only, some features Samsung phone-exclusive
The two best Android smartwatches available are the Galaxy Watch 5 and Watch 5 Pro, and it's not close. Only watchOS rivals Samsung's One UI Watch OS for quality and ease of use, and Samsung added a ridiculous number of health sensors only rivaled by Fitbit, measuring your heart rhythm, body composition, skin temperature (once Samsung activates the new sensor), and blood oxygen. For the latter, you can measure it minute-by-minute all day, during sleep, or spot-check the result.
We've included both watches here because it's difficult to determine which is "better" for blood oxygen monitoring. Our Galaxy Watch 5 Pro reviewer successfully hit Samsung's 3-day battery life estimate with SpO2 measurements running continuously in the background, something other lifestyle watches can't come close to hitting. But he also warned that the thick, heavy design makes it uncomfortable to wear for sleep tracking, which undercuts the point of the watch.
As for our Galaxy Watch 5 review, it highlights how the "slightly flattened" bottom makes the watch more comfortable to wear and gives more accurate sensor readings than the Galaxy Watch 4, and he enjoyed using it for sleep tracking. The downside to it is that it "never even came close" to Samsung's 40-hour battery estimate and died overnight during sleep tracking with SpO2 when he went to bed with 15% charge. It charges very quickly, but the smaller design means you need to be more mindful of keeping it topped off as you track your health.
So in the end, which Galaxy Watch 5 is the better SpO2-tracking watch depends on whether you want to track it all day with no battery issues or all night with no comfort issues.
For health nuts
Reasons to buy
+
Onboard GPS
+
Heart-rate monitoring
+
5 ATM water resistance
+
ECG, EDA, skin temperature sensors
+
Six-day battery life
+
Fitbit Pay
Reasons to avoid
-
Requires SpO2 app and Premium
-
Prone to scratches
-
Limited smartwatch functionality
Like the Versa 3, the Fitbit Sense supports SpO2 tracking but with the same limitations. You'll need to install the watch face to see the readings on the Sense itself, or pay for Fitbit Premium to see your full history of O2 readings over time. Otherwise, you'll need to install the app and accept the 6-to-3-day battery life drop to see your overall blood oxygen trends while sleeping. Arguably, this is more valuable than spot checks during the day, but you may still lack the inability to take an instant reading as with other watches.
If it helps, the Fitbit Sense offers excellent health data to go along with its SpO2 readings. New health features include an electrocardiogram (ECG) sensor for checking your heart's rhythm. This sensor can help detect irregularities such as atrial fibrillation, also known as AFib. You also get the electrodermal activity (EDA) sensor, measuring how your body responds to stress.
Fitbit's goal is to provide you with a better understanding of your stress levels throughout the day while encouraging you to take care of your mental and physical health. Additionally, a temperature sensor offers minute-by-minute readings of how your body temperature changes while you're asleep at night.
Overall, while it's more expensive than many other Fitbit watches, all the health tracking it provides makes it one of our favorites. Our Fitbit Sense review not only praised the gorgeous display and battery life, but also how Fitbit has updated its software regularly over the last year to make it a more well-rounded device.
Note: Once again, the Fitbit Sense will soon be replaced by the Sense 2. We would suggest looking at the newer model, but can't officially recommend it until we review it later this month. We'll then update this guide.
Withings ScanWatch
Actually FDA approved
Reasons to buy
+
Specifically designed to detect health conditions
+
Medically rated to test for AFib
+
Approved to detect sleep apnea
+
30-day battery life
Reasons to avoid
-
Only a hybrid smartwatch with limited features
-
No built-in GPS
Most smartwatches have Pulse Ox these days, but you can never be fully sure how accurate the readings are. While most smartwatches ask for FDA approval for the accuracy of their heart rate monitors, they don't do the same for their SpO2 sensors because they're much more difficult to get right. In fact, as far as we know, only one smartwatch has SpO2 tracking FDA approval (opens in new tab): the Withings ScanWatch.
This isn't your traditional smartwatch with proper apps, but that ensures it can last 30 days per charge with automatic 24/7 heart rate monitoring. And it has "clinically validated oxygen saturation" readings and combines it with the HRM, breathing, and movement data for some of the best sleep tracking data and sleep apnea detection you can get from a device that isn't medical-grade. It can also detect AFib and offers some standard workout tracking, though not quite at the level of a Garmin or Fitbit.
If you can accept the tiny circular display and the fact that most of its data must be viewed on your phone, the ScanWatch is what you want if accurate SpO2 readings are what matter to you, first and foremost.
Apple Watch Series 8
iOS users only
Reasons to buy
+
Onboard GPS with optional LTE
+
Crash detection
+
ECG, SpO2, and a temperature sensor
+
Larger Display
+
Fast charging
Reasons to avoid
-
Not compatible with Android phones
-
Expensive
-
Underwhelming battery life
The Apple Watch Series 8 is hardly a surprise in terms of look and feel with a design that iterates on what made the previous generation such a strong pick. It adds a handful of new features including a low-power mode, a temperature sensor, and crash detection. The Apple Watch Series 8 review from our friends at iMore notes that this isn't a worthwhile update for those already rocking a Series 7 Apple Watch, but if you're using an older generation and are ready for something new, the Series 8 is a good pick.
What makes the Series 8 especially convenient as a health tracking watch is that you can quickly and simply measure your blood oxygen levels or take an ECG simply by placing your finger on the digital crown. Otherwise, you can set your watch to send SpO2 readings while you're sleeping or unmoving, via the Blood Oxygen app. As a cool side note, there's a Theater mode option where it dims the screen and disables SpO2 readings, so the flashing lights of the sensor don't distract anyone.
There's a new temperature sensor onboard that can detect small changes in body temperature in order to detect illness early. This is also key in ovulation tracking for women's health. Another new addition is crash detection which uses a gyroscope and accelerometer to detect if you've been in a crash and can automatically notify emergency services.
As with any lifestyle smartwatch, battery life is the issue here. It can last 1.5 days without SpO2, but will certainly need daily charging with it enabled. And, as Apple itself days, its sensor is considered a "wellness" sensor that's meant to be instructive, rather than something as accurate as the Withings ScanWatch.
Best smartwatches with blood oxygen monitoring: How to choose
Blood oxygen monitoring has become so commonplace in advanced smartwatches that you almost assume it'll be there. But beyond the physical presence of the sensor, it's just as important how the Pulse Ox actually works on your watch, and how the software makes use of the data.
Both Fitbit and Garmin generally take a similar approach, silently collecting blood oxygen data and giving you a score or average of how well you're actually sleeping. The difference is that you can manually take a SpO2 reading on the Garmin Forerunner 255 (or any Garmin) whenever you want, while the Fitbits mostly run behind the scenes. Either way, they'll give you a general sense if you're having trouble getting enough oxygen while sleeping, and their large batteries ensure running the Pulse Ox won't require daily charges.
Otherwise, Apple and Samsung support nightly Pulse Ox readings as well, with Samsung, in particular, offering the most health data and frequent SpO2 readings. Or you can accept a less "smart" watch and choose the Withings ScanWatch, instead.
Get the Android Central Newsletter
Instant access to breaking news, the hottest reviews, great deals and helpful tips.
Senior Editor, VR/AR and fitness
Michael spent years freelancing on every tech topic under the sun before settling down on the real exciting stuff: virtual reality, fitness wearables, gaming, and how tech intersects with our world. He's a semi-reformed Apple-to-Android user who loves running, D&D, and Star Wars. Find him on Twitter at @Michael_L_Hicks.