The extra-large Instinct 2X Solar delivers the longest-lasting battery life in a smartwatch we've ever tested, with military-grade protection to handle rough terrain on weeks-long excursions. It's also one of the largest watches we've tested, and it lacks the smarts that some nature lovers will want. But it's still an impressive piece of hardware.
Pros
+

Strong built-in LED flashlight

+

MIL-STD-810 thermal, shock, and water resistance

+

40 days/ 145 GPS-tracked hours of battery

+

Hyper-accurate multi-band GPS and HRM

+

Better training software than Instinct 2
Cons
-

Large and heavy design

-

Low-resolution display

-

Slow to perform some tasks
Why you can trust Android Central Our expert reviewers spend hours testing and comparing products and services so you can choose the best for you. Find out more about how we test.
The Garmin Instinct series stands out for its rugged, solar-recharging watches. Not counting the spin-off models for truck drivers, soldiers, or surfers, most Garmin Instinct 2 buyers probably choose it for its long-lived simplicity. You strap it on your wrist, start an activity, and then forget about it.
With the Garmin Instinct 2X Solar, the prolific fitness watch brand changed its strategy a bit. On the software front, the 2X is far less bare-bones than its predecessors, adding popular tools like Training Readiness and the Morning Report that the slow Instinct 2 chip couldn't handle. And for hardware, Garmin poached the more efficient solar panel and LED flashlight from the thousand-dollar Fenix 7X.
I loved the Garmin Instinct 2 Solar when I reviewed it last year, but what a difference a year makes! The Instinct 2X Solar isn't just an iterative upgrade: its improvements to ruggedness, battery life, and software tools make it less of a stark downgrade compared to Forerunner or Venu models that cost the same but have much better software suites and displays.
The newly enlarged Garmin Instinct 2X Solar may feel too cumbersome for smaller wrists, and it lacks key features that more specialized Garmin watches offer. Despite that, this new model is easily one of the best fitness watches of the year, even if — like the other Instincts — it's not for everyone.
Garmin Instinct 2X Solar: Price and models
The Garmin Instinct 2X Solar launched in April 2023 at $450, the same price as the 2022 Garmin Instinct 2 Solar — though that model often sells at a discount today. It's available through Garmin's own site, as well as a few outdoorsy shops like Backcountry and (technically) Amazon via third-party sellers.
Garmin also sells a Garmin Instinct 2X Solar Tactical Edition for $500, with all the same specs and perks along with a few specific software tools like a Kill Switch, Stealth Mode, Night Vision Mode, Jumpmaster Mode, and Ballistics software. Our Instinct 2X vs. 2X Tactical guide runs through the differences in more depth.
Unlike the standard Instinct 2 series, you won't find a non-Solar version of the 2X for $100 less. Also, the other Instinct 2 special-edition models (Camo, Surf, and dēzl) did not transfer to the 2X series.
The main Garmin Instinct 2X Solar colors include Graphite, Moss, Whitestone, and Flame Red; the Tactical Edition ships in Black and Coyote Tan.
Garmin Instinct 2X Solar design and display
If you compare the Garmin Instinct 2X Solar vs. 2 Solar on the surface level, it's clear the newer model took the same design and made it larger, with a few tweaks. Unless you've trained your wrist muscles with the larger Fenix or Enduro watches, the Instinct 2X Solar is going to feel heavier than you're used to.
The original Instinct 2 Solar weighed at the higher end of a "normal" Garmin watch at 53g with strap, but because of the thick, elevated bezel, it could only squeeze in a 0.9-inch display, part of which is taken up by the second circular window. That, combined with the wimpy backlight, meant you had to hold it pretty close to your face to read notifications.
Choosing the Instinct 2X Solar means the case size jumps from 45mm to 50mm. That extra space boosts the display to a more reasonable 1.1 inches but adds another 14g of weight. The 2X rests flat against your wrist, and the larger case means the extra mass distributes more widely on your wrist. It's more comfortable than I expected at first, but I can't deny that it's heavier and more noticeable than before.
On its own merits, the monochrome Instinct 2X Solar display is low-resolution and not especially pleasant to look at, even compared to other memory-in-pixel Garmin displays. It's a trade-off that pays off in better battery life.
But in the context of the Instinct lineup, the 2X has the best display due to its size and brightness. And the elevated bezel looks more natural on the 2X because the larger display doesn't feel as tightly enveloped by it. It's more proportional, in other words.
At the standard 20% backlight factory settings, the Instinct 2X display is infinitely more readable than the last generation. Better contrast between the white text and black background makes the 2 Solar display look surprisingly dull in hindsight. Just make sure to enable the "After sunset" setting for Gesture raise-to-wake; without it, the Instinct 2X is completely unreadable away from direct lighting until you press a button.
Garmin also made the newer watch MIL-STD-810 compliant for thermal and shock damage; even though the Instinct 2 Solar was thermal and shock resistant, you had to pay extra for the Tactical Edition to get "official" protection. Not anymore! Perhaps this is just confirmation bias, but the Instinct 2X Solar bezel polymer seems to be slightly firmer than the older watch, which tracks with this change.
I also appreciate that the Garmin Instinct 2X buttons offer a satisfying click when you press them, a returning quality from the last model. I've found many Garmin Forerunner and Venu watch buttons annoyingly squishy and unreliable, but the Instinct gives you a nice textured feel and deliberate tactile feedback.
Still, you're going to miss the lack of a touchscreen when you click one-by-one through a lot of Settings and Glance widgets.
The two-window display uses the dedicated circular space to show important data like your heart rate during a workout, or an icon when looking at a notification or menu. Generally speaking, I find this mini-data window useful.
Since I haven't tested a Garmin Fenix yet, this is my first model with external screws on the outer case. I'll admit my ignorance here and say I don't know what the benefit is of exposing these, except perhaps for easier repairs or fit adjustments. Subjectively, I'd say they look pretty neat, but others won't like how they clash with the rest of the bezel.
Garmin Instinct 2X Solar sensors and software
Swipe to scroll horizontally
| Specs | Garmin Instinct 2X Solar |
| --- | --- |
| Materials | Polymer case & bezel, Power Glass lens |
| Display type | Monochrome, sunlight-visible, transflective memory-in-pixel (MIP) |
| Display size | 1.1-inch, 176 x 176 |
| Protection | 10ATM, MIL-STD-810 for thermal, shock and water resistance |
| Size & weight | 50 x 50 x 14.5 mm, 67g |
| Watch band | 26mm band, 145-228mm wrist circumference |
| LED flashlight | White (four intensities), Red (low), Strobe: Blink, Blitz, Beacon, Pulse, and Custom |
| Positioning | GPS, GLONASS, GALILEO, All Systems GNSS, Multi-Band GPS |
| Sensors | Altimeter, Compass, Gyroscope, Accelerometer, Thermometer, Pulse Ox |
| Memory/ history | 64MB |
| Colors | Graphite, Moss, Whitestone, Flame Red |
Garmin gave the Instinct 2X Solar all of the sensors you'd need in a mountaineering watch: an altimeter to properly measure elevation, a compass for orientation, and an accelerometer and gyroscope to properly measure (among other things) distance calculations, swimming motions, and gym exercise reps.
Like the Forerunner 265 and other recent Garmin models, the Instinct 2X Solar has both All-Systems GNSS and Multi-Band GPS tracking options, giving you much more pinpoint results for your runs and hikes. I found the Instinct 2X Solar highly accurate to my real-life running path on the higher settings, sticking to my actual path even when my routes took me under satellite obstacles.
The only thing it's missing is the new SatIQ system that auto-switches between settings whenever it senses these obstacles, so you only use the battery-guzzling multi-band setting when you need it. Even though the Instinct 2X Solar has an absurdly powerful battery life on paper, it's not limitless; SatIQ would have been a welcome addition.
Rather than list out every Garmin software feature available on the Instinct 2X Solar, I've grouped them into categories below showing what you can expect from it.
Health tracking: As with most Garmin watches, you get all-day heart rate tracking, stress tracking, respiration data, and (if you enable it) blood oxygen levels, as well as detailed sleep monitoring data. It uses this data to help generate a Body Battery score. A less common tool is heart rate variability (HRV) status, which is very useful for accurately judging your recovery from tough workouts (or too much drinking).
Training data: Using running as an example, your Instinct 2X Solar will show you the training effect of a run, recommend how long you need to recover afterward and suggest daily workouts based on your energy level and training readiness. You'll see your current performance condition and likely race pace before an event, and get guided during a run if you're off your target pace.
New features: The Morning Report widget sleep quality, local weather, recommended workout, and other data when you first wake up. Grade-adjusted pace shows how fast you're running or biking relative to the uphill or downhill slope you're on. Training Readiness is my favorite new feature from the Forerunner series, combining your sleep and stress scores, acute load, HRV status, recovery time, and other data to tell you if you're ready to work out — and at what intensity.
Compared to most Forerunner watches, you'll miss out on specific tools like Pacepro, wrist-based running form info, or full-color maps. But you have many more outdoor sports profiles like obstacle course racing to enjoy, and you can pre-download hiking trails and use breadcrumb trail routing to follow a mapped line to your destination.
Really, the biggest problem with the Instinct 2X Solar, just like its predecessor, is that it sometimes suffers from lag. You'll notice minor delays when scrolling through menus, or long loading screens in specific instances like ending a workout. There's no Wi-Fi for downloading updates or course data, either.
Garmin Instinct 2X Solar flashlight
The most exciting feature of the Instinct 2X Solar is the LED flashlight, or "Torch" as it's labeled on the watch itself. It gives you a way to signal your presence or light your path forward during night runs and rides.
At any time, you can double-tap the top-left button to turn the flashlight on or off. Hold down that button, and you'll find the Torch and Strobe settings. Torch lets you choose one of four intensities for the white LED, the one red LED, or (on the Tactical Edition) the green LED.
Strobe lets you choose between different LED-blinking patterns: Blink, Blitz, Beacon, Pulse, and Custom. The latter lets you choose the pattern, speed, and color. Using a Strobe setting can be a great way to signal to other runners and cyclists that you're there.
There's also one last Torch setting: Cadence. If you go into your Run activity settings, you can enable it so the flashlight shines to match your running stride, either at all times or only after sunset.
My smartphone camera's automatic light adjustment makes it difficult to show exactly how much the Instinct 2X Solar brightens an area. In person, the white LED does manage to illuminate the area in front of you at higher intensities...but only if you keep your arm parallel to your chest, so the flashlight faces forward.
With a natural running or walking motion, you'll get glimpses of what's ahead, but then your arm will draw back. The Instinct 2X flashlight is undoubtedly helpful, but it does mean holding your watch hand more rigidly than you normally would.
The other caveat to remember is that the LED utterly consumes the Garmin Instinct 2X Solar battery, especially at high intensities and coupled with GPS tracking.
When you turn on the flashlight, the battery estimate on the watch auto-updates. When my watch showed 14 days of battery left, I started running with the flashlight active and swapped between the four intensities; the estimated time remaining switched to 6 hours at the lowest intensity and 1–2 hours at the highest intensity, eventually showing a "Low" battery warning.
In other words, if you go for a run with multi-band GPS and the full-power flashlight active, even at full charge, the Instinct 2X Solar may only last you a couple of hours at most. But if you make do with a lower-intensity setting, it should easily last through a long nighttime run with battery to spare.
Garmin Instinct 2X Solar battery and solar recharge
The biggest boost between the Instinct 2 Solar and 2X Solar is in battery life. Aside from having a larger battery capacity, the 2X Power Glass panel is (according to Garmin) 50% more efficient than the previous generation.
I thought to test this for myself by putting both watches in a sunny spot in my backyard and see how the lux hours registered on both devices. Unfortunately, I forgot that the older model only shows a percentage, so I couldn't directly compare what a "100%" charge means for one or the other.
So we have to rely on the official numbers from Garmin, which tell a pretty clear story:
Swipe to scroll horizontally
| Battery mode | Garmin Instinct 2X Solar | Garmin Instinct 2 Solar |
| --- | --- | --- |
| Smartwatch mode | 40 days / Unlimited with solar | 28 days / Unlimited with solar |
| GPS only | 60 hours / 145 with solar | 30 hours / 48 with solar |
| All Satellite Systems | 40 hours / 65 with solar | 🚫 |
| All + Multi-Band | 27 hours / 36 with solar | 🚫 |
| Max Battery GPS Mode | 150 hours / Unlimited with solar | 70 hours / 370 with solar |
| Expedition GPS Activity | 60 days / Unlimited with solar | 32 days / Unlimited with solar |
If you stick to GPS or one of the more intermittent tracking settings like Expedition Mode, you can track yourself for weeks at a time, though only if you get at least 3 hours of sunlight per day. The effect is lessened significantly if you use more accurate tracking, but even then, the 2X Solar in multi-band mode lasts just 3 hours less than the 2 Solar in GPS mode (ignoring solar recharge).
The Instinct 2X Solar will only be "unlimited" if you stick to very basic health tracking and notification checking. The more you activate GPS, or most especially the flashlight, the more you'll miss out on battery life.
Despite this, over 100 hours of GPS tracking, or 65 with the default All-Systems tracking, is head and shoulders above any other GPS watch I've ever tested. This is what makes the low-res display worth it to people who need consistent battery life for long periods with no guarantee of being able to charge their watch.
Without this powerful capacity, you wouldn't be able to support a built-in LED flashlight in the first place!
As a final point, I love that I can actually see the real-time sunlight data on my watch, both in graph form and on the main watch face. Like tracking my daily steps, it feels like it almost gamifies the solar-recharging perk, as I try to get outside more and hit a certain lux threshold to regain lost battery life.
Competition
As this review has probably made clear, the Instinct 2 Solar is smaller, has no flashlight, is missing a few key software tools, and has a less readable display. But if you see one for $100 less than the 2X Solar, and you're someone with a smaller wrist, you may accept those downgrades. Or, you can look at the hybrid Instinct Crossover model with similar features (including a solar panel) and traditional watch hands for a more retro look.
If you want a long-lasting smartwatch but don't consistently get outdoors enough for a solar panel to pay off, consider the COROS APEX 2 Pro. It actually beats the Instinct 2X with 75 GPS hours or 45 All-Systems GNSS hours (without taking solar into account), and has a much bigger color LCD display, stylish titanium casing and Sapphire Glass, and plenty of useful software tools that mirror Garmin's.
Otherwise, you'll obviously want to look at the other fantastic Garmin watches out there. The Venu series is, in many ways, the inverse of the Instinct series, focusing more on a stylish display and lifestyle features like music storage and a mic/speaker for phone calls. Or, for rugged designs paired with better displays, you'll have to turn to the more expensive Fenix series.
Garmin Instinct 2X Solar: Should you buy it?
You should buy the Instinct 2X Solar if...
Long battery life is your number one concern.
You need a design rugged enough to handle anything you throw at it.
You can't afford a Garmin Fenix, Enduro, or Epix watch, but want the next best thing.
You shouldn't buy the Instinct 2X Solar if...
You want a watch that feels light and breezy.
Tons of battery life is superfluous to you.
You care more about smarts and phone connectivity than fitness tracking.
The Garmin Instinct 2X Solar isn't designed with me in mind. I, unfortunately, don't get enough time out in the sunlight to benefit from the solar panel or embark on excursions where an ultra-rugged design is necessary. Still, I can appreciate a great fitness watch for what it is, even if I'm not the target audience.
I do really like having the flashlight for when my evening runs take longer than expected, and I'd sure love for this tool to end up on other Garmin models like the Forerunner series in the future. But it probably won't work on another model because you need an ultra-powerful battery for it to persist long enough to be worth the addition.
Ultimately, I highly recommend the Garmin Instinct 2X Solar to anyone who fits the criteria above and can handle wearing a larger watch than what most people are used to. I called the Instinct 2 Solar the "marathoner of fitness smartwatches" in my review last year, which makes the Instinct 2X Solar the ultramarathoner.
A rugged design, improved software, ridiculously good battery life and solar recharge, and the handy new flashlight make the 2X one of the best fitness watches of the year.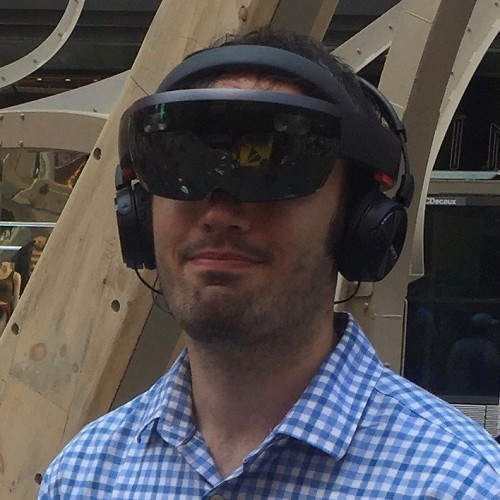 Senior Editor, VR/AR and fitness
Michael spent years freelancing on every tech topic under the sun before settling down on the real exciting stuff: virtual reality, fitness wearables, gaming, and how tech intersects with our world. He's a semi-reformed Apple-to-Android user who loves running, D&D, and Star Wars. Find him on Twitter at @Michael_L_Hicks.