The Garmin Forerunner 965 takes the winning formula of the Forerunner 955 and fixes its biggest flaw: the MIP display. The main reason to buy a high-end Forerunner is for the maps, and the AMOLED upgrade lets Garmin squeeze in more details on its 1.4-inch screen. It's just too bad that Garmin couldn't find other upgrades over the 955 besides the display.
Pros
+

Pixel-rich, glare-free AMOLED touch display

+

GPS, HRM are as hyper-accurate as ever

+

Best running metrics on the market

+

Reliably long-lasting battery

+

Cheaper, lighter than Epix Pro with most of the same tools
Cons
-

Too expensive or heavy for some runners

-

Occasional lag when using maps

-

No Forerunner 965S size

-

No AFib detection yet
Why you can trust Android Central Our expert reviewers spend hours testing and comparing products and services so you can choose the best for you. Find out more about how we test.
Garmin sure loves to make me eat my words. Earlier this year, I called the Forerunner 955 the "best runner's watch, period." Then I got my hands on the Forerunner 965 with its AMOLED display, and now I can't imagine going back to the 955.
It's just like how I loved the Instinct 2 Solar for its "epic" battery life...until the Instinct 2X Solar arrived a year later, offering nearly 100 extra GPS hours.
Since I started reviewing Garmin watches two years ago, the company hasn't rested on its laurels; it keeps making incremental but vital upgrades. They're exciting but also frustrating to people who spent $400–500 on watches that become outdated in key areas a year later — like the 955's dim memory-in-pixel (MIP) display.
As you can guess from the review score, the Garmin Forerunner 965 is a fantastic watch, bridging the gap between the excellent-but-pricey Forerunner 265 and premium Garmin models like the Epix Pro Gen 2 that cost close to half of my monthly mortgage. But AMOLED boost aside, it's not so different that someone who bought the 955 can easily justify spending even more money. Most people don't get free watches sent to them for work.
This review has to take the $600 price tag into account; Garmin has plenty of alternatives just above or below this price, and anyone willing to spend this much may be tempted by cheaper Forerunners, top-class Epixes or Fenixes, or even the Apple Watch Ultra. So, should you buy the Forerunner 965 or look elsewhere? Do you need what it brings to the table, or should you spend less (or more)?
Garmin Forerunner 965 Price and availability
The Garmin Forerunner 965 retails for $599.99 / £599.99 / €649.99. Unlike many Garmin watches, the Forerunner 965 only comes in one size (1.4-inch display) with no Forerunner 965S option. Small-wristed Garmin lovers may want to look elsewhere.
You'll find the Forerunner 965 available on Amazon and many outdoor merch stores like REI or Backcountry. For context, here are prices for comparable Garmin watches:
Garmin Forerunner 265: $449.99
Garmin Venu 2 Plus: $449.99
Garmin Forerunner 945: $599.99
Garmin Forerunner 955 / 955 Solar: $499.99 / $599.99
Garmin Epix Pro Gen 2: $799–$999
Unlike the Forerunner 955, the 965 does not have a Solar upgrade. The 955 Solar also costs $599, so you can step back a generation for the same price. Ironically, that watch lasts three fewer days than the 965 in smartwatch mode, though it adds 18 GPS-tracked hours (or just 3 multi-band GPS hours). There isn't much reason to choose the 955 Solar unless you frequently use UltraTrac mode, which gives you 110 hours instead of a mere 34 with the 965.
You get three color options with the Forerunner 965. Two offer a Carbon Gray bezel (which is near-black) with a black case and either a Black/Powder Gray or Amp Yellow/Black Silicone Band. The third option has a metallic Titanium bezel with Whitestone Case and Whitestone/Powder Gray Silicone Band.
Display and design
The Garmin Forerunner 965 is, essentially, a 955 with an AMOLED display slapped on top. Just like when I reviewed the Forerunner 265 and called it a "prettier 255," the Forerunner 965 only has a few differences over the 955 to justify the $100 price jump. And most of them have to do with the display quality and overall design.
Specifically, you jump from a 1.3-inch, 260x260 MIP touch display to a 1.4-inch, 454x454 AMOLED touch display with richer colors and much better brightness for indoor use. Generally speaking, the 965's pixels per inch (PPI) ratio is on par with most high-end smartwatches, where the 955 felt underbaked for its price.
Using the 955 outdoors was fine because it kicked in the max brightness, but indoors its dimness was keenly felt, even with the ambient light tool keeping it readable for your surroundings. The Forerunner 965 refreshes more quickly when scrolling through widgets or panning through maps and can pack a lot more topographical detail or text into a map or watch face.
The other important watch display to compare here is the Forerunner 265 and 265S. Their 1.3- or 1.1-inch displays have comparable PPIs and brightness, but they use Gorilla Glass 3 instead of GG 3 DX. Corning says this standard gives you 75% reduced light reflection and 50% better color contrast over GG 3.
I can't judge by percentages, but the 965 is noticeably more readable in direct sunlight and doesn't accentuate my finger oil smudges as much. I didn't mind it when I tested the 265 first; I just got used to adjusting my wrist angle to avoid too much glare. Now, I'm enjoying the 965's visual upgrade and don't want to go back. Plus, I believe the DX standard is slightly more scratch-resistant.
As for the overall Garmin Forerunner 965 design, it really depends on your perspective. Family members who aren't used to Garmin watches' trademark thickness pointed at the 965 and said, "What kind of watch is that?" or "That's one heck of a watch," in a bewildered tone. Compared to most popular smartwatches, it's a beefy timepiece for sure, liable to feel heavy until you get accustomed to its weight and size.
But if you're used to Garmin watches, it's only slightly above the current standard. It weighs 6g more than the Forerunner 265 or 2g more than the Venu 2 Plus. And at 13.2mm thick, it's actually 1.2mm thinner than the Forerunner 955 while weighing just 1g more; it's just 0.3mm thicker than the 265.
If you're looking at high-end Garmin watches specifically, a 1.4-inch Garmin Fenix or Epix watch with steel casing weighs about 30–40g more than the mostly-polymer Forerunner 965 case. Sometimes, plastic really pays off for athletes that care more about comfort than style; the Forerunner 965 gives you most of the Fenix/Epix software suite for hundreds less, too.
Aside from the newly slimmed design, you get two other perks from the 955-to-965 switch: the titanium bezel and two-tone watch band.
The titanium edge around the display gives it a slightly more high-end look compared to the last gen's cheap all-polymer feel. Now, my Forerunner 965 bezel did pick up some small scrapes in the month or two that I've worn it, but they blend into the carbon fiber tone unless you squint. The other titanium (aka silver) bezel option would make the high-end material stand out more but would also make scratches more obvious.
As I explained in my Forerunner 265 review, the new two-toned silicone straps just look nicer. Brighter straps like my Amp Yellow are muted by the black-edged lug holes, while darker straps get a bit of brightness coming through instead. And aesthetics aside, the band itself is soft enough to wear for days on end and feels like you can snugly tighten it to your wrist without it feeling restrictive.
Like most Garmin watches, the Forerunner 965 has 5ATM water resistance, meaning swimmers and triathletes can use it.
Hardware and health sensors
Swipe to scroll horizontally
| Category | Garmin Forerunner 965 |
| --- | --- |
| Materials | Titanium bezel, plastic case |
| Display | 1.4-inch (454 x 454) AMOLED touch display |
| Lens | Gorilla Glass 3 DX |
| Band | 22mm Quickfit silicone |
| Dimensions | 47.2 x 47.2 x 13.2mm |
| Weight | 53g |
| Water resistance | 5ATM |
| Sensors | GPS, GLONASS, GALILEO, HRM, barometric altimeter, compass, gyroscope, accelerometer, thermometer, ambient light sensor, SpO2 |
| Connectivity | Garmin Pay (NFC), Bluetooth, ANT+, Wi-Fi |
| Music / map storage | 32GB |
If Garmin has a weak point, it lies in its hardware. Not because there's anything wrong with the 965's internals but because Garmin isn't innovating in areas where other smartwatch brands are racing to improve every generation.
Unlike Wear OS watches, which have numbered Snapdragon Wear or Exynos chips and plenty of RAM for proper app support, Garmin watches don't advertise their internals, so we never know if Garmin has updated the processing power or not. With the Forerunner 965, you'll occasionally notice lag when panning through map views or opening widgets, but nothing too egregious.
Garmin also stuck to its usual sensor suite. You can measure heart rate, blood oxygen, stress, respiration, wrist movement via the accelerometer and gyroscope, and effort at elevation via the altimeter.
You don't have any way to measure heart rate rhythm; only the Venu 2 Plus can actively take ECG readings, and Garmin has yet to offer passive AFib detection — an increasingly common trick for major smartwatch brands. Nor will you find a temperature sensor, body composition stats, or other health data that a Galaxy Watch 6 or Fitbit Sense 2 can measure.
Why do I still give Garmin a pass? Because it does extremely well in the areas that it does prioritize.
Thanks to its impressive battery life (see the next section), the Garmin Forerunner 965 can deliver continuous heart rate and blood oxygen data without it needing daily charges.
The heart rate data closely matches what I registered with my heart rate strap. While wrist-based HR data always lags behind a strap when it comes to sudden changes (i.e., when you start sprinting), the Forerunner 965 is faster at registering the change than other watches I've tested, such as the Galaxy Watch 6 Classic.
As for SpO2 data, the Forerunner 965 has an altitude acclimation widget for runners or mountaineers that travel to high elevations; it'll use your blood oxygen data to tell you how well you've adjusted to the altitude (or heat) and adjust your VO2 Max score accordingly so you don't overtrain until you're ready.
Although at least 10GB of its 32GB of storage will go towards pre-downloaded maps, you still have plenty of space for adding music storage if you want to pair wireless earbuds. I typically run with my phone, so I'm more interested in the maps (again, see below). It gives the Forerunner 965 a real reason to have an AMOLED display, a killer app that the Forerunner 265 lacks.
Lastly, you'll appreciate that the Forerunner 965 has NFC tap-to-pay, wi-fi for quicker downloads and uploads than what Bluetooth can deliver, and ANT+ for connecting to accessories like heart rate straps or cycling computers while using less battery than Bluetooth. Some fitness brands like Fitbit can't even connect to 3rd-party accessories, so I don't take Garmin's ANT+ compatibility for granted.
Battery life and GPS accuracy
Almost every time I review a Garmin watch (besides the Instinct lineup), I say some variation of the same thing: the battery life falls a few hours or days short of Garmin's GPS estimates in real-world use, but it's still much longer than the competition so you won't mind.
With the Garmin Forerunner 965, I'm pleased to say that it actually seems to live up to the estimates across months of use. It's reached the point that I have to be careful not to lose the proprietary USB-C charging cable because I use it so infrequently.
I've never hit 23 days because that estimate doesn't take GPS tracking into account. But with daily runs or walks with SatIQ active, along with continuous heart rate monitoring, I can make the Forerunner 965 last close to two weeks before needing a recharge.
Swipe to scroll horizontally
| Battery mode | Lifespan |
| --- | --- |
| Smartwatch mode | Up to 23 days |
| Smartwatch mode with Always-on display | Up to 7 days |
| GPS only | 31 hours |
| All-Systems mode | 24 hours |
| SatIQ mode (auto-select) | 22 hours |
| All-Systems + Multi-Band GNSS mode | 19 hours |
| GPS with music | 10.5 hours |
| SatIQ with music | 9.5 hours |
| Multi-band with music | 8.5 hours |
For context, SatIQ mode auto-switches to all-systems GNSS or multi-band GPS when it detects satellite signal blockage, so you get the benefit of more accurate tracking without the extra drain of constant dual-frequency tracking.
Depending on whether you choose SatIQ or a set GPS mode, you'll get anywhere from 5–10 more hours than what the Forerunner 265 offers.
After a hard workout and a full night of sleep tracking, the Forerunner 965 typically only loses about 5 percent of its battery — maybe 10 percent after a long run. As I write this, I ran a half marathon 10 days ago with dual-band active and then began doing daily walks or runs with SatIQ active as I tried to hit at least 10,000 steps a day. The battery's currently at 12 percent, so I'll finally have to charge it soon.
The more repetitive portion of this review has to do with tracking accuracy. Like all of the Garmin watches I've tested with support for multi-band GPS, it's certifiably accurate when running around buildings, foliage, and other satellite obstacles.
Any time I check my post-run map in Garmin Connect, I can see the exact moments when I ran around pedestrians or stepped off the path to catch my breath or take a photo. Case in point, during a Galaxy Watch 6 fitness test, I compared its map against the Forerunner 965 and found that its GPS-only data consistently drifts off course into houses or car-filled streets while Garmin's data stayed consistent and reliable in SatIQ mode.
Of course, you get the exact same experience with the Forerunner 265, or even the Forerunner 255 which costs $250 less than the 965. The Forerunner 265 even won my recent step-counting challenge against other brands, so you can count on most Garmin watches being highly accurate for casual fitness data, too.
Garmin has reached a comfortable plateau above other brands for tracking, and future Garmin watches will have multi-band GPS too — and not just the premium watches. So you can skip the 965 for something cheaper down the line and still get accurate tracking data.
Maps
Aside from the longer battery life, larger display, and titanium bezel, the real reasons someone would upgrade from the Forerunner 265 to the 965 are maps and fitness software. To the first point, the 265 has a really basic map widget that only works if you import 3rd-party courses via GPX files.
With the Garmin Forerunner 965, you get pre-downloaded TopoActive maps based on your region, and you can download others if you travel to another country or continent — they're about 10GB or less, so you have room for multiple. That includes inland maps, coastal charts, and regional geological survey maps that show points of interest like nearby food, parks, and camping areas.
As I mentioned earlier, Garmin's slow processor does come into play when you're panning and zooming through super-detailed topographical or road maps. But if you can accept the fact that this isn't a battery-guzzling Google Maps equivalent and have a little patience, these maps are an excellent tool for keeping you oriented. If things are working properly, it gives you the info you need without needing to interact with it much.
If you pay for Strava Premium, you can see Strava Live Segments pop up on your wrist to guide you on hitting a PR pace. If you're just hiking blind through a national park, the NextFork feature uses your satellite position to tell you when you'll reach the next trailhead without needing a course. Or the Round Trip tool will give you a few options back to where you started an activity — with Trendline telling you what the most popular routes are — and then give you step-by-step guidance on your wrist.
Perhaps my favorite feature is ClimbPro. If you're hiking on a dedicated trail course, the widget will tell you the grade, distance, and elevation gain of upcoming hills so you can mentally prepare yourself for what's coming — or know if you should probably turn around.
In terms of the mapping features you miss out on compared to an Epix Pro or Fenix 7 Pro, the Forerunner 965 doesn't let you use Outdoor+, Garmin's map subscription that gives you satellite imagery, elevation contours, land boundaries, wildlife areas, hunting boundaries, and other niche tools.
You do get 43,000 golf courses pre-downloaded on the Forerunner 965, though the Epix has more specific golf app tools like a virtual caddie or touch-targeting a custom point. You don't get the Epix's SkiView maps for 2,000 ski resorts, however.
Most people don't need these niche tools, but this is a moment where Garmin's hazy hardware makes me ask questions. Does the Forerunner 965 have slower memory than the Epix, so it can't handle Outdoor Maps+? Or is this just Garmin artificially reserving key features for pricier watches? I can't say, but I do think Garmin should offer all of its mapping tools on a $600 watch.
Software
Compared to the Forerunner 955, the 965 software suite is largely the same. Any new tricks have since been ported to the older model, either in stable or beta updates. So I'll mainly focus on the unique 965 tools that you don't get with the Forerunner 265.
First, for those unfamiliar with Garmin's software, here's a brief summary of what to expect with the 965 or 265:
Overnight, the Garmin Forerunner 965 offers sleep tracking, measuring your time spent in light, deep, or REM sleep (or awake) and your HRV status.
When you wake up, you'll receive a Morning Report telling you your scheduled workout, training readiness, scheduled workout or upcoming race, weather, and steps goal.
Before a run, you can use Garmin Coach or daily suggested workouts to get a run based on your VO2 Max, recovery time, training goals, and upcoming race calendar.
During a run, you can see a ton of useful metrics for pacing, heart rate zones, elevation, etc., and a guided workout will buzz your wrist if you're above or below your target.
After a run, you'll see the aerobic and anaerobic effect, your acute load, and recommended recovery time. These will play into your Training Readiness score the next day.
Most of your Garmin Forerunner 965 analysis is going to depend on your Training Readiness, Acute Load, and Load Focus. At least, that's what I've focused on, and it's helped me bump up my VO2 Max score in the past couple of months.
The first feature's name speaks for itself, giving you an easily understandable score to tell you if you're partially or mostly ready to work out again, even if you're not fully recovered.
Acute load measures your last seven days of effort to see how it falls into your current fitness level, and load focus splits your activities into anaerobic, high aerobic, or low aerobic categories to help you achieve a balanced fitness regimen. My daily suggested workouts were frustratingly repetitive until I managed to fix my low aerobic shortage, but now I'm getting more varied suggestions.
Two new elements with the Garmin Forerunner 965 are Chronic Load and Load Ratio. Chronic Load quadruples your load data, showing how it has progressed over the past four weeks. The Load Ratio compares your Acute Load against your Chronic Load: a ratio higher than 1.0 means you're pushing harder than average, which means you should be careful about overtraining. Too low, and you're slacking off.
Real-time stamina, another 965 exclusive, takes stock of your current Body Battery and fitness levels during a run and estimates how many miles your body has left in it. The widget is a useful reminder not to overtrain, or when you should turn around and head back home, so you're not stuck walking for miles when your stamina runs out.
As I already mentioned, the Forerunner 965 uses SpO2 data more effectively, telling you how well you've acclimated to the heat or altitude. Frankly, I've noticed that I still haven't acclimated to the California heat late into summer, so this tool is more of a warning sign than anything actionable from my experience.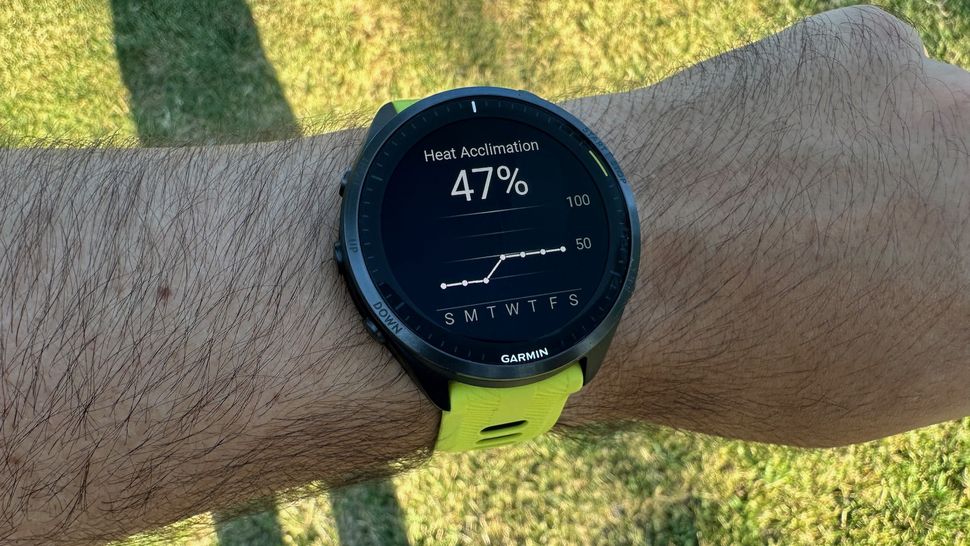 Cyclists only get Advanced Cycling Dynamics or MTB Grit & Flow, both of which tell you information like the difficulty of the trail, how well you maintain speed during turns, and your left/right balance. But the swimming tools are identical.
Otherwise, the Forerunner 965 is mainly useful for branching out beyond Garmin's core apps. If you're interested in golfing, bouldering, kayaking, disc golfing, gravel biking, or other niche activities, you won't find those sports modes on the Forerunner 265.
As a final point, the Garmin Forerunner 965 will continue to receive new software that trickles down from the Fenix and Epix lineups. Case in point, the August 2023 Forerunner beta will add Hill and Endurance scores. The Hill Score will look at your recent elevation gain and judge your current strength and endurance while climbing. The Endurance Score will be somewhat comparable to your VO2 Max but goes into more depth about how your body's abilities translate into performance and fatigue resistance.
Competition
The most obvious rivals to the Garmin Forerunner 965 come directly from Garmin itself. If you can do without mapping, chronic load, real-time stamina, and a Gorilla Glass 3 DX display, the Forerunner 265 offers nearly all of the same perks for runners for $150 less and comes in two sizes to fit more wrist types.
Looking through the other best Garmin watches, the Venu 2 Plus gives you solid battery life combined with a mic and speaker for Bluetooth calling and voice assistant tools; as a downside, it doesn't have many of the Forerunner's key running metrics, so you may want to wait for the rumored Venu 3 instead.
Or if money is no object, the Epix Pro Gen 2 gives you cutting-edge tricks like a visual race predictor, Maps+, and a built-in LED flashlight. Just be ready for its hefty weight.
Moving away from Garmin towards other fitness smartwatch brands, you have to consider if you care more about running tools or traditional watch smarts.
For Android phone owners, you can consider the Galaxy Watch 6 Classic. Despite the fact that Samsung Health is still too basic for runners, you can find other third-party apps like Strava or Komoot and enjoy maps or live segments on a far more advanced watch. The main downside, of course, is that you'll have to recharge it daily in exchange for increased power.
iPhone owners have an obvious option: the Apple Watch Ultra, which my colleagues at iMore called the "best watch Apple has ever created." You get a massive display, solid fitness tools with Fitness+ and watchOS 10, great SOS tools, and other perks. Still, this $800 watch is heavier than the 965 and doesn't have the benefit of Garmin's training and recovery metrics.
Garmin Forerunner 965: Should you buy it?
Shell out the $600 if...
You want robust mapping software for navigating the wilderness.
You need cutting-edge software for your self-guided running plans.
You want a watch that lasts weeks per charge.
You don't mind a slightly beefy design.
Choose an alternative option if...
You can make do with the excellent Forerunner 265.
You can't do without the smarts of an Apple/ Galaxy Watch.
You need to monitor your heart rate rhythm for health reasons.
I highly recommend the Forerunner 965 for serious runners trying to maintain that excellent VO2 Max score or (like me) trying to hit that metric for the first time. Training Readiness, accurate GPS data, and a reliable battery make it a watch you can count on.
But as much as I like it, I myself would probably buy the Forerunner 265 on my own dime, simply because I don't have time to explore the wilderness and take full advantage of the 965's suite of maps. The Forerunner 265 will keep its #1 spot on our best runners watches guide above the 965 because more people will be able to afford it.
---
I'm currently reviewing other fitness watches like the Galaxy Watch 6 and a pair of Amazfit watches. While testing them, I end up wearing the Forerunner 965 on my other wrist. Not only because I want to judge their accuracy against my new favorite running watch, but also because I really like challenging myself with Garmin's training tools, and I don't want to lose track of my acute load progress while switching to another ecosystem.
No doubt Garmin will come back with the Forerunner 975 in a year or two with new tricks, but the Forerunner 965 will likely receive many of those tricks after launch, and its AMOLED display makes it more likely to stand the test of time than the 955. It certainly should, at this price.
The Garmin Forerunner 965 gives you in-depth coaching on your wrist in the best possible way. Despite its high price tag, it should pay off in guiding you into better running shape with training load data, suggested workouts, real-time stamina, and more.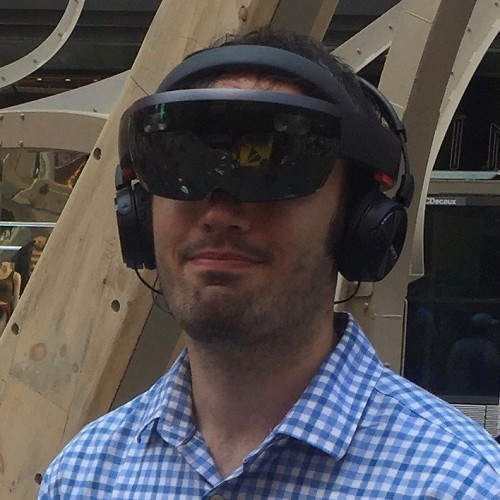 Senior Editor, VR/AR and fitness
Michael spent years freelancing on every tech topic under the sun before settling down on the real exciting stuff: virtual reality, fitness wearables, gaming, and how tech intersects with our world. He's a semi-reformed Apple-to-Android user who loves running, D&D, and Star Wars. Find him on Twitter at @Michael_L_Hicks.