Best Screen Protectors for Samsung Gear Fit 2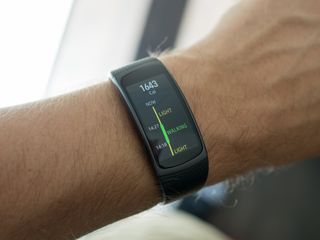 The Samsung Geart Fit 2 is a smart fitness tracker with a long display that can get scuffed and marked while you work out. If you'd like to keep your wearable's screen blemish-free, pick up one of these screen protectors.
RinoGear
Why you can trust Android Central Our expert reviewers spend hours testing and comparing products and services so you can choose the best for you. Find out more about how we test.
RinoGear's Shield screen protector for the Gear Fit 2 is as clear as they come, highly rated on Amazon, and so inexpensive that you can't afford not to get one — it's about $2 for an eight-pack.
This military-grade film is self-healing and flexible TPU, which will keep your Gear Fit 2's screen scratch-free. If the screen protector starts to look a little worn, grab another from the eight-pack and easily install it using a convenient and simple wet-install method.
See at Amazon (opens in new tab)
Spectre Shield
Spectre Shield's screen protector allows for full touch sensitivity and won't cloud up your Gear Fit 2's display. Spectre Shield promises that your wearable will feel like it's wearing nothing at all, thanks to a natural-feeling, proprietary material.
Spectre Shield protectors are laser cut and install easily with the liquid application method, which allows you to adjust things during installation, making sure you get it perfectly lined up. An eight-pack is around $2.
See at Amazon (opens in new tab)
Illumi AquaShield
Illumi's two-pack of Gear Fit 2 screen protectors comes with a lifetime warranty so that you can buy with confidence knowing your protector is backed up for good. This military-grade TPU features a UV-resistant layer to prevent yellowing over time, and once installed and dried, Illumi promises a glass-like finish that's smooth, bubble-free, and frictionless.
See at Amazon (opens in new tab)
Your favorite?
Have you found another great Gear Fit 2 screen protector? Sound off in the comments below.
Get the Android Central Newsletter
Instant access to breaking news, the hottest reviews, great deals and helpful tips.
Mick is a writer and duty editor for Android Central. When he's not on the job, he can usually be found vacuuming up pet hair or trying to convince his wife that he needs more guitars.
be awesome if my gear fit 2's screen didnt randomly crack (explode). its tiny but research shows that the glass just sucks, not even for scratches, but for cracks randomly without warning.

All these commercial screen protector stuff brings me back to the days of plastic wrap around furniture. They are meant to be used, lets just assume that the products we get are going to be subject to some wear and tear.

I've been going naked since December and not a single scratch! Granted, I'm not hard on my electronics & don't go in triathlons with it (lol, me run?, yea right) but I do wear it all day everyday in a hospital while at work so I'm not sitting still either. I'm sure if I were an outdoorsy type it'd be more worn and weathered .

Been naked almost a year...no scratches...and it's fallen off a few times...