Amazon's Echo hardware is extremely popular because it combines some great tech with an affordable price. The company is no stranger to discounts, and right now you can pick up an Echo Show 5 for just $64.99, which happens to be a match of the lowest price it has ever hit. The only other time it dropped this low was during Amazon's Prime Day sales, and since then it's been selling at the regular $90 price point.
At a glance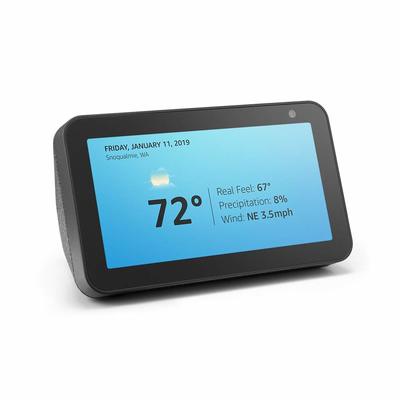 This 5.5-inch smart display lets you check the weather, watch movie trailers, listen to music, and control smart home devices with Alexa. Today's price equals its best outside of Prime Day.
$64.99 $89.99 $25 off
The recently-released Echo Show 5 offers a 5.5-inch display in a nice small package that you can set on a counter, your night stand or event your desk. Alexa, Amazon's powerful voice asssistant, is built right into the Show 5, so it can easily control your smart home devices, show you the weather, and you can even use the display to view cooking recipes and follow along step by step.
You can pick from a few different clock face types to find one that best suits your preferences, and you're also able to set a custom photo as the background. Since a lot of people are concerned about privacy these days, Amazon has built-in the ability to disable both the microphone and camera with just the press of a button. The camera has a physical button that you move to slide a shutter over it, so you never have to worry about creeping eyes.
Alongside the discounted Echo Show 5 is a package that contains a TP-Link smart plug for just $5 more or one that includes two Sengled smart bulbs for an extra $20. Amazon also has its Fire 7 tablet down to $30 and the Fire HD 8 tablet is at $50. There are lots of great deals, but odds are the pricing will only stick around for a limited amount of time, so don't miss out.
We may earn a commission for purchases using our links. Learn more.