Galaxy Nexus set to blow in on WIND Mobile on Feb. 3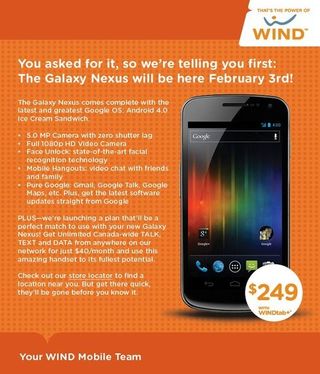 WIND Mobile, one of Canada's youngest wireless carriers, will begin selling the Samsung Galaxy Nexus this Friday, February 3, for $599 without a contract. The flagship device, the first to run Android 4.0 Ice Cream Sandwich will cost customers with a WINDtab+ a reduced price of $249.
WIND Mobile launched in 2009 as an alternative to Canada's big two, Bell Mobility and Rogers. WIND has earned a name for itself for its no-contract options and low monthly rates, including a new unlimited voice, text, and data package for $40. WIND's WINDtab+ system subsidizes the cost of a phone by allowing customers to pay for the device over a three-year period using an allocation from the existing monthly payments.
The Galaxy Nexus is just the latest high-end Android device to make it to the low-cost carrier; it joins a respectable line up that includes the Nexus S, the HTC Amaze 4G, and the LG Optimus 2X. WIND's full presser can be found after the jump.
WIND MOBILE SHARES THE LOVE IN FEBRUARY WITH A SUITE OF NEW SMARTPHONES AND THE BEST PLANS TO TAKE ADVANTAGE OF THEIR FEATURES
Highly-anticipated Galaxy Nexus by Samsung, BlackBerry Bold 9790, and BlackBerry Curve 9360 in white come to WIND
TORONTO, ON – February 1, 2012 – On Friday, February 3rd, three of the most highly-coveted smartphones will be available at WIND Mobile: the Galaxy Nexus, the world's first smartphone powered by Android 4.0, Ice Cream Sandwich; the BlackBerry Bold 9790, the lightweight, touchscreen + QWERTY addition to the BlackBerry 7 lineup; and the BlackBerry Curve 9360, now available in white as well as in black.
"Our customers are always on the lookout for the newest technology and we're proud to add these state-of-the-art smartphones to our offering and pair them with plans that allow customers to make the most of all their features," said Anthony Lacavera, Chairman and CEO of WIND Mobile.
As the first smartphone to feature a 4.65'' display with a market-leading resolution of 720p, the Galaxy Nexus ensures superior clarity for entertainment capabilities, fast web browsing, and high-definition gaming and video streaming with its 1.2GHz dual core processor. The Ice Cream Sandwich operating system introduces innovations such as Face Unlock which uses facial recognition to unlock the device. Other innovations include NFC technology with Android Beam which allows for the rapid sharing of web pages, apps, and online videos by simply tapping two devices together.
With a super-slim form factor and superior battery life, the BlackBerry Bold 9790 delivers non-stop BlackBerry 7 OS power in a barely-there design. Featuring a 1 GHz processor, 768 MB RAM and 8 GB of onboard memory, this new BlackBerry lets users take care of business faster than ever before.
WIND customers can take full advantage of everything the Galaxy Nexus and the Bold 9790 have to offer with a new Leap Plan featuring unlimited Canada-wide talk, text and data for $40 per month. The Galaxy Nexus will be available for $249 with WINDtab+ or $599 outright while the BlackBerry Bold 9790 is available for $49 with WINDtab+ or $399 outright.
Alongside the introduction of the BlackBerry Curve 9360 in white, WIND will be offering a special Share The Love Combo in February. Lovers can get two BlackBerry Curve 9360 smartphones for $0 with WINDtab and two plans with unlimited talk, text, and data for $65 per month.
About WIND Mobile and Globalive Holdings
WIND Mobile provides voice, text and data services to Canadians on a next-generation wireless network and is committed to offering a level of wireless service presently not available in Canada. WIND is built on actual conversations that are happening with Canadians who are passionate about wireless and creating a better mobile offering nationally. For more information about WIND Mobile, please visit WINDmobile.ca.
Globalive Holdings is a leading provider of telecommunications solutions in Canada and internationally to the consumer, business and hospitality markets. The Globalive companies include: WIND Mobile, Yak Communications, One Connect, Canopco and Globalive Carrier Services. For more information, visit Globalive.com.
Get the Android Central Newsletter
Instant access to breaking news, the hottest reviews, great deals and helpful tips.