Best Google Pixel 3 Deals for February 2022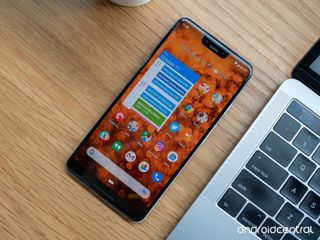 (Image credit: Android Central)
While it can certainly be fun, shopping for a new phone like the Google Pixel 3 and Google Pixel 3 XL can also be a daunting task, especially when you're trying to spend consciously. Hunting down the best deals isn't easy, but we've got you covered. Whether you're interested in financing, scoring some freebies, or just saving money outright, we've rounded up the best Google Pixel 3 and Pixel 3 XL deals that are available right now.
Best Google Pixel 3 Deal: $499.99
Why you can trust Android Central Our expert reviewers spend hours testing and comparing products and services so you can choose the best for you. Find out more about how we test.
Want to pick up the smaller of the two phones but avoid paying full price? It's not often that you find great deals on the Pixel phones. Google hardly ever discounts them, and sometimes you'll see a few dollars off each month through Verizon, or a random deal at a retailer. Right now however, you can find nearly $300 off the unlocked device at several retailers such as Amazon, Best Buy, Project Fi and more.
Pixel Perfect
(opens in new tab)

Amazon is taking $299 off the cost of the unlocked Google Pixel 3 while supplies last in your choice of Just Black or Clearly White. On the other hand, the Pixel 3 XL is on sale as well at just $100 more.
$499.99 $799 $299 off
Best Google Pixel 3 XL Deal: $599.99
If you're on the hunt for the larger XL version, you'll want to check out the offer below instead. Most of the time you'll find a similar deal on the Pixel 3 XL as you would on the Pixel 3, but sometimes the discounts are a little larger because it costs more. Currently, you can score a $299 discount on the Pixel 3 XL at various retailers while supplies last, matching the discount seen on the smaller Pixel 3 device.
Bigger and Better
(opens in new tab)

The Pixel 3 XL is nearly $300 off at Amazon right now, giving you the opportunity to snag Google's greatest phone yet at one of the best prices it's ever reached. This deal is available in Just Black and Clearly White.
$599.99 $899 $299 off
Best Carrier Deal: $20.83/month + $200 prepaid Mastercard
Rather than paying a bunch of money all at once to own your next phone outright, you can save quite a bit by leasing it from Verizon instead. Available in your choice of Just Black, Clearly White, or Not Pink, this deal allows you to score a 64GB or 128GB model for as low as $20.83 a month with a 24-month lease. Customers who switch to a new line of service on Verizon's Unlimited plan can even score a $200 prepaid Mastercard after purchase when you visit this page and enter code SWITCHNOW along with the other required information.
Those who switch or upgrade to the Unlimited plan can save even further (up to $450 off) with select device trade-ins.
Can You Hear Me Now?

Verizon's offering up to $300 off the Google Pixel 3 when you sign up for a 24-month lease. Those who switch to an Unlimited plan can even score a $200 prepaid Mastercard in the process, or save up to $450 extra with an eligible device trade-in.
Starting at $20.83 monthly
How to get the best Google Pixel 3 deals
As time passes, we'll start to see prices on these devices drop even further. Right now, we're seeing some of the best deals ever offered on Pixel 3 models, but of course, who knows how long those will last for. To make sure you're always seeing the latest offers, you can take a trip to Thrifter or follow Thrifter on Twitter which shares the latest price drops on smartphones and tech essentials every day.
On the other hand, if the Pixel 3 is still out of your price range, check out our best Pixel 3A deals for a more affordable version of the device. Have you noticed any other deals on the Pixel 3 or Pixel 3 XL? If so, be sure to drop a line in the comments letting us know where the deal is and why other people may be interested.
With its two-tone glass back, knockout camera, and the latest Android software inside, the Google Pixel 3 and 3 XL are dashing, debonair flagships ready to star in your daily technological adventures, but no star is complete without a few sidekicks to help it along and make it look even better than it does out of the box. These accessories are ready to help your Pixel 3 shine, for now and years to come.
Louryn saves money on everything she buys (which is a lot.) In between waiting for Amazon deliveries, she pines for the next Elder Scrolls installment and checks Reddit for gaming rumors. She also loves Hearthstone, makeup, and beer. Find her on Twitter: @lourynstrampe