Photoshop Express, Snapseed and the best photo editing apps for Android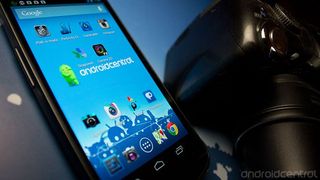 Fixing pictures on your phone has become a pretty big deal lately. Big players like Facebook and Twitter are starting to bundle photo filter and adjustment tools into their apps, but there's still a home for the dedicate photography app. There are a ton of popular ones that continue to thrive and offer armchair photographers the opportunity to share some really slick shots. As a point of comparison, I'll be using three pictures and sending them through each of the apps to give you an idea of what to expect: one portrait, one close-up, and one landscape shot. Here are the originals.
So, in order of personal preference, my top photograph editing apps are...
Download now (opens in new tab)
Snapseed is my top pick for post-processing apps on Android. It has a really innovative and natural-feeling user interface that relies on horizontal and vertical swipes. Pinch gestures allow for fairly localized adjustments, which is something you hardly see in other photo editing apps. There are a few creative filters, but not an avalanche of them, and they're all cleanly categorized for easy access. I gotta say, it's a great thing that Google acquired the developer, because I'd love to see Snapseed functions loaded in the native Android camera or gallery app.
Download now (opens in new tab)
Camera Zoom FX has a really slick Holo-style theme and acts as a great default camera replacement by leaping right into shooting mode from the get-go. Filters are busted up into sensible, easy-to-access categories, or you can screw around and make your own manually then save them as favorites. If that's not enough for you, you can also download additional "goodies" from Google Play which further expand what's available in Camera Zoom FX. Some are free, some aren't, but the fact that they aren't in-app purchases is really helpful for seeing what's actually included.
Download now (opens in new tab)
The user interface for CameraMX is generally pretty usable, though the effects pane is a little cramped and for some reason it needs you to register an account to access certain filters. I do like that every effect has a slider so you can adjust the intensity of each one individually. The standard adjustments are similar, and cover the usual ropes such as contrast, saturation, white balance, and all the rest. Best of all, you can get a live preview of what the effects will look like before you start hitting the shutter button.
Download now (opens in new tab)
Perfectly Clear is less about filters as it is about correction. You won't find anything especially artsy here, but there are a ton of practical, adjustable alterations here, such as skin smoothing, eye enhancements, and a very cool before and after slider that lets you quickly see just how much your original photo has changed. Overall, PerfectlyClear does a great job on portraits specifically, and the before/after slider is extremely useful in knowing if you're getting a good bang for buck.
Download now (opens in new tab)
Aviary is the engine that Twitter has picked to power their photo adjustment, and it's easy to see why. The stand-alone app has a large, finger-friendly user interface that's easy to navigate. Premium themed content packs are available for those that want to expand the selection of filters and adjustments available, but those in the free version should be enough to get you started. If you feel like getting goofy, there are stickers, drawing, and text which can be overlaid on your photos. A redeye, tooth whitening, and manual blemish remover make Aviary just about as well-suited to portraits as Perfectly Clear.
Download now (opens in new tab)
PicsArt has a bunch of dramatic, highly adjustable filters available. Most of the effects have two, if not three sliders which you can tweak to suit your taste, and full-screen filters and borders can be switched between a variety of different additive effects, such as screen, overlay, darken, or multiply. Many effects can be painted in to specific areas with a brush, and color pickers are available at just about every turn, though there's plenty of goofier stuff too, such as clipart, stickers, drawing, and talk bubbles.
Download now (opens in new tab)
The classic photo filter app still does very well for itself, even with a whole slew of pretenders to the throne. Instagram's biggest selling point remains its social angle (and will continue to be now that Facebook owns it), but the filters it has to offer remain very nice. The UI and animations while navigating Instagram on Android are make the experience an absolute pleasure. Of course, you'll have to deal with your photo's aspect ratio being cropped into a square, but for many, this is their primary way of sharing pictures out to the world.
Download now (opens in new tab)
The original photo editing app is available in two formats, though only one of them is smartphone-friendly. Photoshop Express is free, fast to process, and has all of the important adjustment tools you would need to have to fine-tune your pictures. There are easy-to-access undo and redo buttons so you can bounce between your edits very easily. There are a handful of creative filters available too, but the main focus of Photoshop Express is to be fast and clutter-free. Of course, it helps that Photoshop Express plugs in pretty seamlessly to other Adobe properties, including the desktop client and cloud service. If you're looking for something more full-bodied, be sure to try out Photoshop Touch for tablets (opens in new tab).
Download now (opens in new tab)
Vingette is meant more as a photographing app, with lots of tools available available to apply effects directly after shooting, but you can also share shots from your device's photo gallery to do some post-processing later on. Vingette offers a ton of different filter options, and includes many preloaded collections. Many of them play around with aspect ratio in some interesting ways, such as providing presets for Google+ and Facebook cover images, in addition to providing the more traditional adjustments, such as contrast, brightness, and saturation. The UI is fairly bare-bones and more text-heavy than a photography app should be, but the sheer amount of customizability options makes up for the stark navigation.
Download now (opens in new tab)
The one thing Pixlr-o-matic has going for it is sheer volume of filters and effects you can add to pictures. There aren't a lot of options as far as classic photography adjustments go, but between the three separate types of filters, you will not be hurting for quick and easy options to spruce up your next profile picture. You may want to also check out Pixlr Express (opens in new tab), which has more of a focus on fine tuning than filters.
Honorable mention: Paper Camera (opens in new tab), because it's just so darned cute.
There are plenty of other photography apps out there in Google Play - what are your favorites? How much post-processing do you put into the photos that you share from your phone?
Get the Android Central Newsletter
Instant access to breaking news, the hottest reviews, great deals and helpful tips.
Simon has been covering mobile since before the first iPhone came out. After producing news articles, podcasts, review videos, and everything in between, he's now helping industry partners get the word about their latest products. Get in touch with him at simon@futurenet.com.
I'm a big fan of StreamZoo. Easy to use, good user community, and free. Very nice.

What, no mention of Afterfocus? I have the pro version and it really is an awesome app.
https://www.androidcentral.com/e?link=https2F2F... Pixlr-o-matic is in the list while Pixlr Express is left out. Yet it has everything Pixlr-o-matic has and a lot more.
https://www.androidcentral.com/e?link=https2F2F... And of course, if you're using a tablet there's Photoshop Touch.
https://www.androidcentral.com/e?link=https2F2F...

I agree that Pixlr Express should've made the list.

still take time to install, and you must have android, if you want to use on in browser, cross platform then there's http://www.onlinephotoshopfree.net which I'm using for the last 1 month.
similarly you can try pixlr.

I recently downloaded Pixlr Express, for such a small app it has a lot of nice features.

+1 for streamzoo no stupid cropping off my photos like um instagram

But the app is dumb. I have to re-login 20 times a day and the filters are nowhere near as nice as Instagram's.

While style is subjective, I'm yet to see an Instagram filter that it improves on the picture. It seems geared for people that think that past tech is better then what we have now.

No, Instagram is geared for people who wish they were photographers but would rather pretend instead of getting a real camera and actually learning true photography skills.

LOL, person things Instagram had nice filters... /snort!

On my phone, I end up using Pixlr Express and PicSay Pro. Camera Zoom FX and PicShop are both nice as well. On my Nexus 7, I am starting to use Photoshop Touch a lot more. I use Photoshop on my computer for my photography business and like the features they have included in their tablet version. I just wish PST worked on the Note 2!

I second that, about PST working on the Note 2, especially with support for the stylus. I've actually found it's a lot of fun drawing with Autodesk's Sketchboard Studio on my Note 2. I just really need a "blur" or "blend" tool to simulate rubbing my finger across the page for when I'm sketching.

I used Camera360 and Camera Zoom FX until I found Pixlr Express... I'm totally in love. If it only let you add your custom overlays like Camera Zoom FX does, that'd make it the perfect app...

no pixlr express??? its amazing...

Thanks for a great article Simon! I'm making the switch from iOS in March (plan to buy the Nexus 4 if I can haha) and have been wondering what photo apps I should look at. I have a ton for the iPhone, but didn't really know what apps to look for on Android :) Bookmarking this now!

I haven't tried all of them but I think befunky (http://www.mevvy.com/tools/befunky/) should definitevely be on the list, it is great from your phone and even better from your computer, where all the editing can be done online

Using Snapseed and it's really nice, I'm glad to see it's getting positive feedback. I also use PicSay Pro, Vignette, Paper Camera, Instagram and the stock gallery apps. On my Tablet I also use Photoshop Touch.

I just want one for simple cropping/ image resizing.....

CameraZoom FX was one of the first to support burst mode and do it right on Android. I still use Picsay Pro for editing. The GS3 has a good burst mode built in so I don't use CZFX anymore but they are still fun to use and if your phone doesn't come with good camera features these will help. Paper Camera is also a fun one to play with, I bought all of these on sale throughout the years and I still use them from time to time

Afterfocus Pro, Snapseed, Pixlr Express and Picsay Pro on my phone.

Why does everyone keep gushing over Camera ZOOM FX? It doesn't do anything that my stock camera + something like Pixlr Express can do, and it CAN'T mute my shutter sound (like my stock camera or most other camera apps can) or change ISO settings or customize on-screen buttons. What's the point? Nice looking interface?

you should prob try the app before you criticize it... it can def change iso and many many other diff things... the only diff is that all the settings are not cluttered on one screen almost blocking you from seeing the photo you are taking... and yes... its got a nice interface...

I've tried them all, and nothing comes remotely close to Snapseed.

Thanks guys -- didn't know about Pixlr Express. Will try that, as I like the efficacy of PIxlr-o-matic. The terrible reviews of the Photoshop products on Play indicate it's a loser ... has something changed recently? I'm a big fan of QuickPic, great gallery app, with several editing functions for quick resizing and such for online. Only thing I can't do (yet?) is put a personal semi-opaque watermark on images like I do in Photoshop CS2 on my laptop.

pixlr is amazing, as per my as it has geat functiuon, you can also use http://www.toolpic.com Photoshop Online Free which is similar to pixlr , but it has animation feature also

Hi... Photoshop express is a good one and i am using it on my android device. but since it is only for mobile devices that's why i am using a web-based photo editor which is free and just like the adobe photoshop. you can find it at www.onlinephotoshop.net. it is a free tool and can be used within the browser.

Why does everyone keep gushing over Camera ZOOM FX? It doesn't do anything that my stock camera + something like Pixlr Express can do, and it CAN'T mute my shutter sound (like my stock camera or most other camera apps can) or change ISO settings or customize on-screen buttons. What's the point? Nice looking interface? http://histoire-bateaux-aviron.fr/