Best Clips alternatives for Android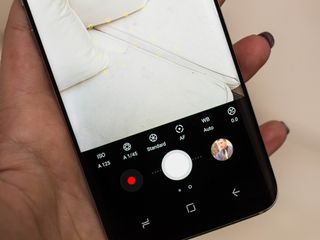 Clips, "a new video sketching app from Apple that aims to give everything from your iMessage to your Insta a whole new level of lit", launched this week, and people are pretty pumped about it for a few reasons:
1) It allows you to shoot video with a wide variety live filters.
2) You can speak and have your words appear onscreen (almost flawlessly) in real-time, making editing captions after the fact totally unnecessary.
3) Forget knock-off, crummy, royalty-free music – you get to pick from tracks from artists like Hans Zimmer, Dick Haggerty, Alvin Risk, and more.
The app is a little bit of something new with stickers and filters and funky new features, and a little bit of your old fashioned standard video editor, but one thing that it isn't is available for Android.
While they won't come super-duper close to the real thing, here are three Clips alternatives that you can use on Android right now!
Funimate Video Effects Editor
Why you can trust Android Central Our expert reviewers spend hours testing and comparing products and services so you can choose the best for you. Find out more about how we test.
Clips is a super simple app to use: just open it up, adjust your filters and live text settings, hit the big red button, add music, add stickers, save your clip, and you're good to go. Another app that mirrors that simplicity and effortless fun feel is the Funimate Video Effects Editor for Android!
After you're done recording your video with Funimate Video Effects Editor, you can add different transition effects, filters, text, and more. You can even upload your video to the Funimate community and connect with other video creators!
One big difference between Funimate and Clips is the live text – you can't talk with Funimate and have the text instantly appear on screen. If you have text you'd like to add, you're going to have to do it the old fashioned way — with captions.
Download: Funimate Video Effects Editor (free)
Magisto Video Editor & Maker
If you're looking for an auto video-making app that will make sharing your videos simple (like Clips), allows you to add filters and effects (like Clips) and lets you pick your own music or select from its massive music library (like Clips), then take a peek at the Magisto Video Editor & Maker for Android!
Magisto Video Editor & Maker has been downloaded and used by over 80 million users worldwide, and was featured in Google Play Editors' Choice, Google's list of Best Android Apps, and CES best app of the year, so you know it has to be good.
After selecting your clips and uploading them to Magisto, you can pick your theme (there are options like Dance, Storyteller, Memories, Travel, etc), select your perfect soundtrack, set your movie length, and then make your movie. It's that simple!
While this app is super similar to Clips, there are a few differences: one, you can't add stickers or random captions across your movie, and two, there's no live text talking option. But it's still the closest thing we Android users have!
Download:Magisto Video Editor & Maker (free)
Quik - Free Video Editor
If you want a video app that does super similar things to Clips for your Android, that's just as reliable and fun to use, and has almost as much potential for you to edit and get creative with your footage, then keep the Quik - Free Video Editor in the back of your mind.
I mean, a video editing app from GoPro has to be pretty awesome, right?
With the app, you can either choose to record on the spot, or you can upload up to 75 photos and video clips from your albums, galleries, Google Photos, Facebook, or even GoPro Plus. The app does a ton of work for you, using face detect to frame each photo and video clip perfectly (and if you're not happy with the auto-edits, you can always change it yourself).
With Quik, you can pick and edit over 22 video styles with different transitions and graphics, while still having creative control over font, eye-catching graphics, and effect filters for any type of video.
The only big difference between Quik and Clips? You guessed it – no live text talking option, so you'll have to add in any speech/talking afterwards with captions.
What would you say is the closest app to Clips?
Is there an app that we missed on our list that you think is a dead-set dupe for Clips? Let us know what your thoughts are in the comments below!
Sign up for Black Friday email alerts!
Get the hottest deals available in your inbox plus news, reviews, opinion, analysis and more from the Android Central team.